The iPhone 15 is now official, and there isn't a lot that is new, but just enough that you might be considering switching to the latest iPhone out there. Well, if you're pre-ordering your iPhone, or have already done so, here are the best iPhone 15 and iPhone 15 Plus cases and covers you can buy to make sure you don't break your iPhone (or, in fact, your wallet).
1. Spigen Mag Armor
Spigen's Mag Armor case is a great choice if you're looking for an iPhone 15 case that has a minimal yet unique look. The case comes with a chevron pattern on the back which makes it look good and adds grip. It is made out of TPU, and features air cushion for added drop protection, and raised bumpers around the camera and display to protect your iPhone from scratches.
Buy the Spigen Mag Armor Case: iPhone 15 ($19.99), iPhone 15 Plus ($19.99)
2. Caseology Nano Pop Mag
Caseology's Nano Pop case is perfect for those looking for that subtle splash of color to make their iPhone 15 or iPhone 15 Plus stand out. The silicone case features magnets inside to align and hold your phone in place, and supports MagSafe accessories. It will protect your phone from drops and scratches, and its silicone construction ensures that it remains grippy. Plus, you can get it in a range of colors including Blueberry Navy, Black Sesame, Avo Green, and more.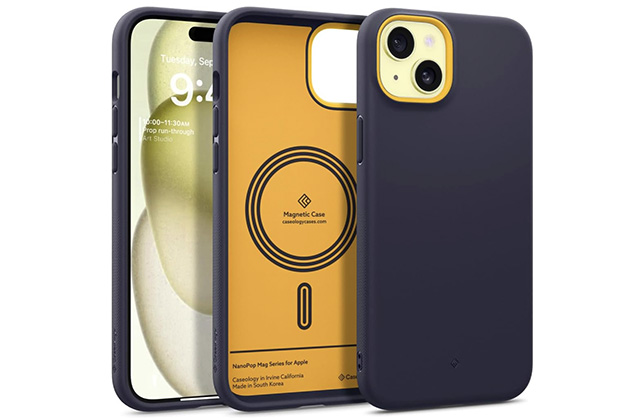 Buy the Caseology Nano Pop Case: iPhone 15 ($18.99), iPhone 15 Plus ($18.99)
3. Otterbox Symmetry Series Clear Case
If you wanna show off your brand new iPhone 15 but also keep it protected, the Otterbox Symmetry series clear case is for you. This case offers a great balance between looks and protection with its slim form factor, polycarbonate and synthetic rubber build, and Otterbox's Drop+ rating for drop protection. It's also compatible with MagSafe accessories so you can use all your favourite wireless chargers and more without having to take off the case.
Buy the Otterbox Symmetry Series Clear Case: iPhone 15 ($49.95), iPhone 15 Plus ($49.95)
4. ESR Boost Kickstand Case
The ESR Boost Kickstand case is another great pick for your iPhone 15 or iPhone 15 Plus. The clear case comes with an integrated kickstand at the back which you can use to prop up your iPhone in landscape and portrait orientations and easily watch movies, attend FaceTime calls, and more. Moreover, the case offers military grade protection, and has raised edges around the camera and the screen to prevent scratches. The only thing that this case doesn't have is MagSafe compatibility, but if that's not a deal breaker for you, you should definitely check out this case for its versatility.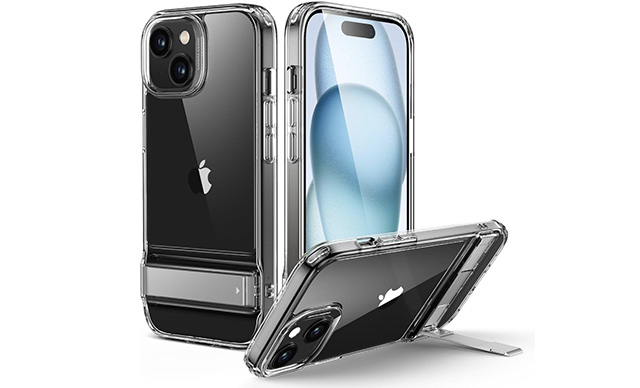 Buy the ESR Boost Kickstand Case: iPhone 15 ($28.99), iPhone 15 Plus ($20.99)
5. Speck Presidio2 Pro
The Speck Presidio2 Pro case is a really nice, soft-touch iPhone case that will make your iPhone stand out while making sure it's well protected. It comes with 13 feet drop protection, which means you never have to worry if you accidentally drop your iPhone, and it features MagSafe compatibility to let you easily connect all your MagSafe accessories to your iPhone 15 and iPhone 15 Plus. It's also available in a range of colors, including Black, Charcoal Grey, and Blue.
Buy the Speck Presidio2 Pro: iPhone 15 ($49.95), iPhone 15 Plus ($49.95)
6. Nomad Modern Leather Case
The Nomad Modern Leather case, which also features in our list of best cases for the iPhone 15 Pro series, is an amazing accessory for your iPhone to look even more luxurious than ever. The case is made out of full grain, sustainably sourced leather, and develops a beautiful patina with time. It also offers 8 feet of drop protection, aluminium buttons, and is compatible with MagSafe accessories.
Buy the Nomad Modern Leather Case: iPhone 15 ($50), iPhone 15 Plus ($50)
7. Incipio Duo for MagSafe
The Incipio Duo for iPhone 15 and iPhone 15 Plus is a beautiful-looking two-piece case. It offers drop protection for drops as high as 12 feet, which is more than enough for most people, and comes with a raised edge around the display to protect the screen. It also has impact struts to reduce the impact force on your iPhone when you drop it, and it's scratch resistant. You also get support for MagSafe accessories.
Buy the Incipio Duo: iPhone 15 ($44.99), iPhone 15 Plus ($44.99)