The Portrait mode marked its entry with the iPhone 7 Plus launched back in 2016. Ever since then, every iPhone model has a Portrait mode that can detect the depth level and blur the background to bring the subject into the spotlight. However, you would have to switch to the Portrait mode before taking a photo, and sometimes, you might miss the moment you were waiting for. Interestingly, with the latest iPhone 15 series, the Portrait mode got a major upgrade with 'next-gen portraits'. You can now turn a normal photo into a portrait mode photo on iPhone 15, 15 Plus, 15 Pro, and 15 Pro Max. Also, you can shift the focus to a different subject or part of the frame, if you want. Keep reading to know how to blur the background and apply portrait effects after a photo is taken in the Photo mode on iPhone 15.
Prerequisites to Turn a Regular Photo into a Portrait Mode Photo
First, you need to understand that you cannot turn every photo into a Portrait mode photo. Your iPhone needs to record the depth information to apply the portrait effect. Unfortunately, your iPhone doesn't do this for every photo. An iPhone 15 model will automatically capture the depth information when it detects a person, dog, or cat in the frame. The phone also captures this information when you tap the frame to focus on a subject.
In addition to this, you need to know the following:
The depth information is saved only on photos taken on an iPhone 15 model. So, you can turn a photo captured on iPhone 15 into a portrait mode photo on any iPhone. However, the reverse is not true. It means you cannot convert a photo taken on any other iPhone into a portrait one using your iPhone 15.
You can use the next-gen Portrait feature with your iPhone's main, telephoto, or front camera.
This feature will also work with Live Photos turned on. However, your phone will only save the depth information for the key photo of your Live Photos burst. Therefore, you can apply Portrait mode to a live photo, but only the main photo will have the blurred background effect.
How to Turn a Normal Photo into a Portrait on iPhone 15
The 'next-gen Portrait mode' is an iPhone 15-exclusive feature that lets you apply a soft and artful bokeh effect to the background and puts all the attention on the subject after you've taken a photo. So, if you've got an iPhone 15, 15 Plus, 15 Pro, or 15 Pro Max, you can easily turn a normal photo into a Portrait after you've captured it. Here's how you do it:
Open the Photos app on your iPhone.
Then, open a suitable photo that you want to turn into portrait.
Tap on Portrait from the top-left corner. You'll see that Portrait Off is selected by default.
Finally, tap on Portrait. A blurred background will be instantly applied to your photo.
How to Edit Portrait Effects in Photos
After you've turned a regular picture into a portrait, you can also adjust the level of the background blur and intensity of the lighting effects. Here's how to do it.
Tap on Edit from the top-right corner. This will bring up the editing window.
You can use the Depth Control slider to increase or decrease the strength of the background blur.
If there's more than one subject in the photo, you can tap on the other subject to change your focus. The yellow autofocus box will then shift to the new subject.
You can also apply filters or crop the photo using the editing options available at the bottom. That's not all. There's an Adjust option that lets you tweak the brightness, control, shadow, highlights, and other elements.
Once you're happy with the edits, tap on Done from the top-right corner.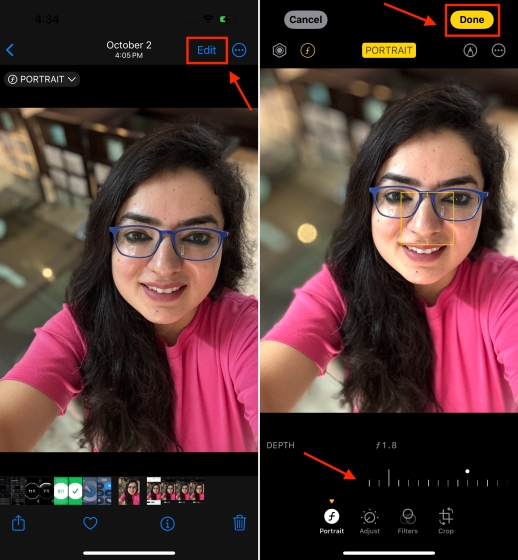 If you wish to undo all portrait effects and revert to the original photo, simply open that photo again. Then, tap on Edit and hit the Revert button.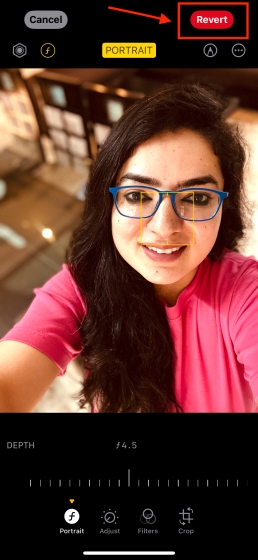 How to Disable Auto Portrait Capture on iPhone 15
An iPhone 15 model automatically captures the depth information of a photo where a person, dog, or cat is prominent in the frame. While it's a handy feature that lets you convert a regular photo into a portrait one after shooting, it takes up extra storage space to store the depth information. If you don't want your iPhone to capture the depth information of a photo, you can choose to disable it in Camera settings. Here are the steps to do it:
Open the Settings app on your iPhone.
Scroll down and tap on Camera.
Here, turn off the toggle for Portraits in Photo Mode.
You can always choose to take the photo in a Portrait mode. For this, open the Camera app and tap on Portrait.
Going forward, if you didn't switch to Portrait mode, remember you can always turn a normal photo into a Portrait mode photo on an iPhone 15 model. Bear in mind that the next-gen Portrait mode is only available on iPhone 15 models. No other iPhones, even the ones running iOS 17 can utilize this feature.
Did you try next-gen Portraits on your iPhone 15? Do share your experiences with us in the comments below.
---
Load More