Packed with high-end specs, "Galaxy Note 10 Plus" is out to raise the bar. Whether it's the stunning 6.8-inch Dynamic AMOLED display or pro-grade camera (four sensors), the phablet looks right on the money for those who want an absolute beast. Well, if you have set your sight on this all-new phablet and are getting ready to put your hands on it, you may already be on the lookout for the best Samsung Galaxy Note 10 Plus cases, which can safeguard your flagship smartphone while also keeping the style factor intact. To make it a tad easier for you to choose a suitable case, I have compiled an extensive lineup with a variety of different cases that are available in the market right now. So, let's jump right in to find an elegant suit for your Galaxy Note 10 Plus!
Best Cases and Covers for Samsung Galaxy Note 10+
Not everyone buys a case for the same purpose, do they? While some put more emphasis on protection, others desire to amp up the style quotient with an eye-catching cover. Oh yes, there are also quite a few people (just like me) who want the case to have the best of both worlds – style and protection. No matter what appeals to your taste and needs, chances are high that one of these top cases and covers for Galaxy Note 10+ is designed for you. So, let's take a peek at 'em all!
1. Caseology Vault for Galaxy Note 10+
What makes "Caseology Vault" stand out is the ability to provide desired protection to Note 10+ from bumps and scratches without making the phablet look or feel bulky. The case sports TPU layer to absorb shock and also offers enhanced gripping. Due mainly to the sturdy design, Caseology Vault provides certified military-grade protection to the smartphone.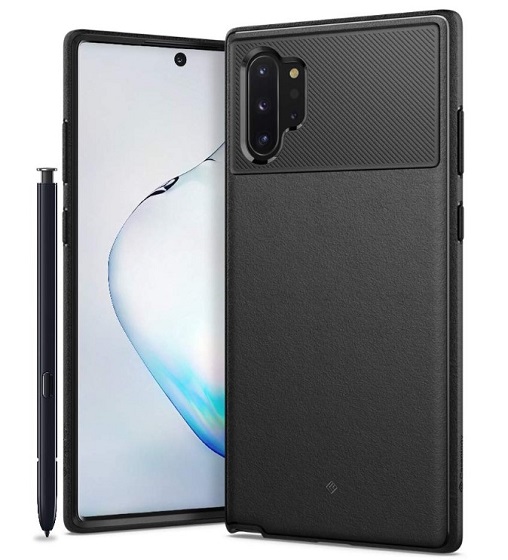 Another notable feature of this case is that it works with most wireless charging pads so that you don't need to remove the cover before putting the Note 10 Plus on the charge. From a convenience point of view, this is very handy. As for cutouts, they all seem to be on point. Besides, the buttons are tactile which makes it a bit easier to press. At $9, Caseology Vault seems to be a fairly good deal and therefore deserves to be called one of the best cases for the all-new Samsung Galaxy Note 10 Plus.
Buy from Amazon ($8.99)
2. Spigen Liquid Crystal Case for Galaxy Note 10 Plus
Should you wish to give a bit more liberty to your Galaxy Note 10+ to flaunt its gorgeous design, "Spigen Liquid Crystal" would the perfect way to go. The clear case is made of TPU material and provides the desired freedom to the Note 10+ to showcase the look. But is this case just about crystal clear design? Nope!
For all being sleek, Liquid Crystal can also pack a solid punch when it comes to offering the much-needed protection against falls and drops. It has fortified corners to absorb shock and with the raised edges, the case makes sure the Note 10 Plus' camera and the large screen remain protected against scratches. Moreover, being extremely flexible, Liquid Crystal is also very easy to install and remove. If you are looking for a clear case for your Note 10+, this is the one you should check out.
Buy from Amazon ($10.99)
3. Samsung Galaxy Note 10+ Wallet Case by FYY
If you are on the hunt for a premium leather wallet case for your Galaxy Note 10 Plus, keep this offering from FYY in mind. The wallet cover is beautifully crafted with the top-of-the-line cowhide leather and sports aesthetic design which go nicely with your professional look. With as many as three card slots and a big pocket for stashing dollar bills, this leather wallet cover ensures you don't need to carry a traditional wallet.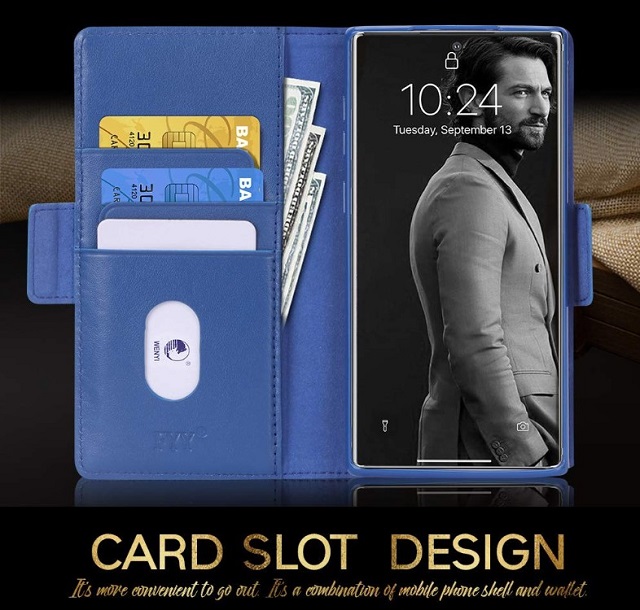 Thanks to the RFID shielding technology, the information of your cards have the much-needed protection. It also supports the kickstand function so that you can enjoy watching media hands-free. On the protection front, FYY comes with TPU interior to resist impact and also fight out scratches. Finally, it comes in various colors including blue, black, red, purple, and more giving you a lot of options to choose from.
Buy from Amazon ($28.99)
4. Caseology Legion Case for Samsung Galaxy Note 10+
There are very few cases in the market that can meet the best of both worlds – style and protection – as effortlessly as "Caseology Legion". The cover is powered by a dual-layered casing that can thwart impact with ease. The combo of a rigid outer layer and shock-absorbing interior plays a vital role in making it a military-grade protection cover.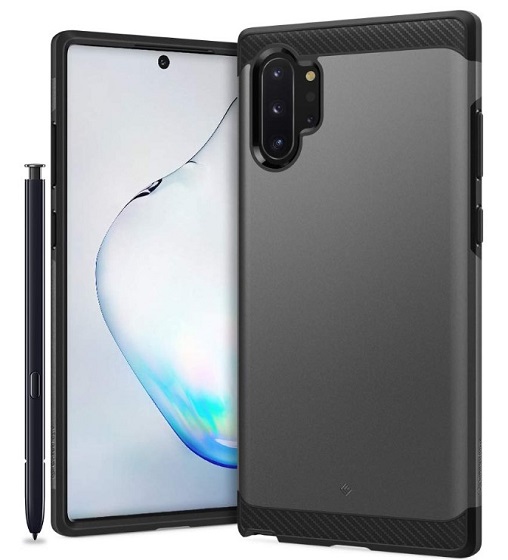 Despite putting more emphasis on protection, Caseology Legion has succeeded in keeping the profile bulk-free. So, your Note 10 Plus is able to put threats from the random falls at bay without endangering the elegance factor which is a big plus. Even better, this highly protective case is also designed to work with wireless chargers. As for colors, you get to choose from three options: matte black, ocean blue, and lavender purple.
Buy from Amazon ($14.99)
5. Official Samsung Galaxy Note 10+ Cases
As always, Samsung has introduced some of the most impressive cases for its latest flagship. And if you have set your sight on presenting your Note 10+ with a premium cover, you shouldn't miss out on them. They are made of top-notch material and make a stunning match with the smartphone.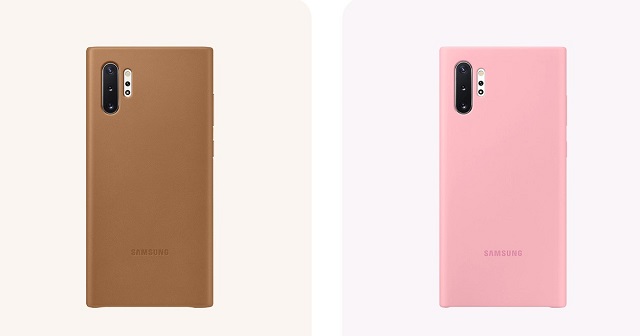 If you are willing to give a luxurious look to your device, the leather cover would be a great pick for you. But if you wish to go for a sleek profile, the silicone case would be an excellent option. Just in case, you want to provide an uncompromised defense to your phablet from regular falls and scratches, the protective cover would be the right way to go. What's more, the protective case also features a built-in kickstand to liven up your media watching. On top of all, these cases are available in a range of colors so that you can choose the cover that looks best on your Note 10 Plus.
Buy from Samsung's Website (prices vary depending on the case)
6. Spigen Liquid Air Armor Case for Galaxy Note 10+
A case as impressive as "Spigen Liquid Air Armor" deserves to be included in this lineup of the best Galaxy Note 10 Plus cases. What sets it apart is the slim yet exceptionally durable form-factor. That means your phablet continues to look adorable without adding any unnecessary bulk. With the air cushion technology to boot, Liquid Air Armor also delivers trusted military-grade protection to keep the smartphone safeguarded against accidental falls.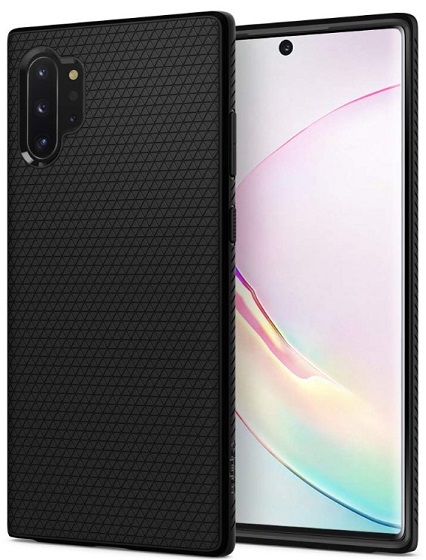 If you have butterfingers, you are going to appreciate the anti-slip matte surface which offers much-improved gripping. Thus, you will feel comfortable holding the Note 10+ in your hands. The buttons are easier to press due mainly to the tactile feedback. Lastly, the Liquid Air Armor also plays nicely with most wireless charging pads in the market.
Buy from Amazon ($10.99)
7. Vapesoon 360-Degree Protection Case for Note 10+
An expensive smartphone like Galaxy Note 10 Plus deserves 360-degree protection, doesn't it? Well, if you want to provide a maximum defense to your all-new phablet without putting the style factor on the backburner, Vapesoon's rugged clear case would be a top-notch option. The case comes with a solid frame that can survive even nasty falls, while also keeping scuffs at a fair distance.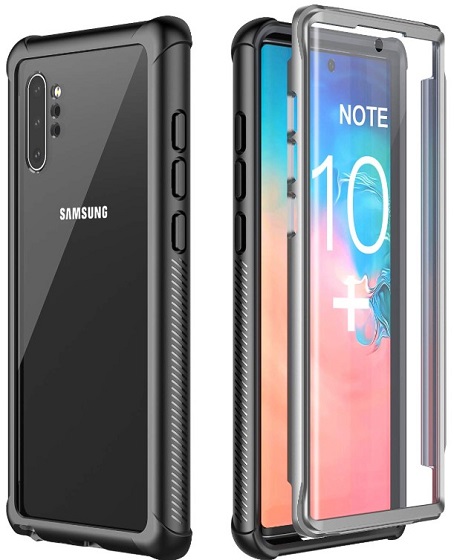 The presence of built-in PET screen protector ensures the display has an additional safeguard. With the high-clarity, the screen guard offers a better viewing experience. Talking about buttons, they are quite tactile and easy to press.
Buy from Amazon ($16.99)
8. Spigen Thin Fit Case for Samsung Galaxy Note 10 Plus
When it comes to producing some of the best cases for smartphones, "Spigen" is always ahead of the pack. So, you shouldn't be surprised to find the third cover from this well-known accessory maker in this roundup. "Spigen Thin Fit" should be a great pick for your Galaxy Note 10+, if you don't want to tinker with the slim profile of your device. This case is a good way to provide a little protection to your precious Samsung Galaxy Note 10 Plus without adding any extra bulk.
With the QNMP compatible slot, the case supports magnetic car mounts. As a result, you can use your compatible car mounts to use your phablet Note 10+ hands-free on the drive. Due mainly to the compact form-factor, it also feels more convenient to hold. Besides, the case features scratch-resistant PC back so that it can continue to look pleasing to the eyes for long.
Buy from Amazon ($9.99)
9. MoKo Clear Case for Samsung Galaxy Note 10 Plus
Are you looking for one of the cheapest clear cases for your Galaxy Note 10+? If yes, this crystal clear case from "MoKo" could be a smart deal. It features impact-resistant TPU bumper and rugged PC back to provide the required safeguard to your smartphone. To further boost security factor, it has raised lip on the front and camera bump on the rear side.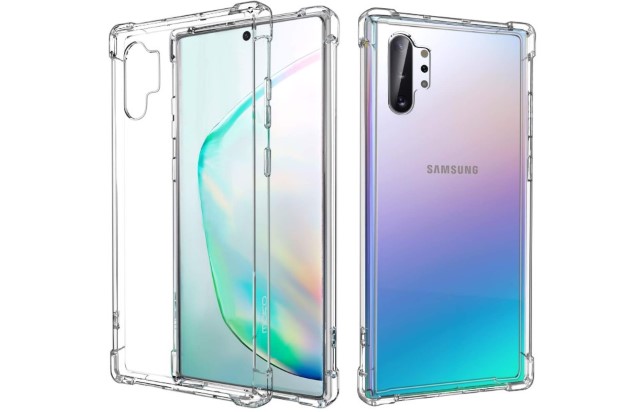 Unlike many clear cases in the market, it doesn't lose the transparency over time. Due mainly to the rubberized frame, the case also provides impressive gripping so that the Note 10 Plus doesn't slip out of your palm. The TPU buttons are very responsive and much easier to handle.
Buy from Amazon ($5.99)
10. Arae Wallet Case for Samsung Galaxy Note 10+
Sporting professional design, Arae wallet case is worthy of attention. It features soft PU material on the outside and comes with TPU interior for added protection. With the presence of smooth-texture, the exterior feels pretty warm to the touch, allowing you to hold your Note 10 Plus comfortably. Beyond the comfort factor, Arae has four card slots and a big compartment for carrying cash. So, if you are someone who often has to carry multiple cards, this case should be a fine pick for you.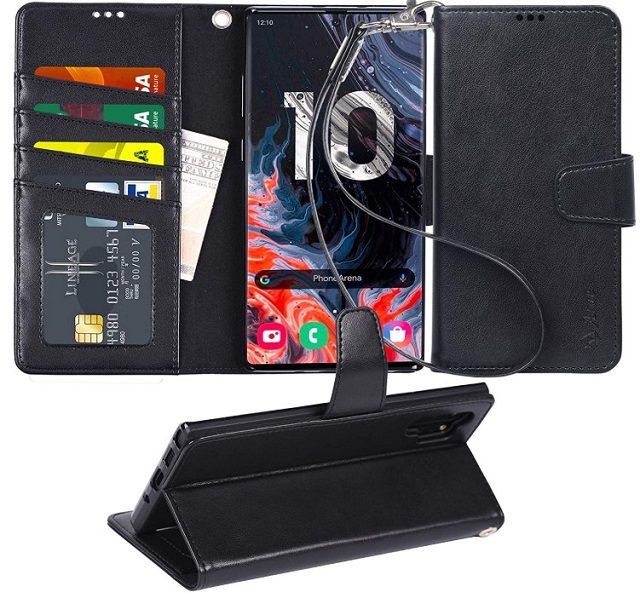 Taking advantage of the kickstand feature, you can prop up your phablet to watch media hands-free. Besides, it also comes with a wrist strap to let you conveniently carry the device. Thanks to the adorable design and build quality, it's definitely one of the best cases for Samsung Galaxy Note 10 Plus right now.
Buy from Amazon ($12.99)
Bonus: Dahkoiz Case for Galaxy Note 10 Plus
If your budget is running a bit tight and you want to have a highly affordable yet pretty good case, I would recommend you to give a chance to this slim yet durable cover from Dahkoiz. Made of TPU material, the case is very flexible and snuggly wraps around the Note 10+. And with the grippy exterior, the cover also fits in the palm comfortably.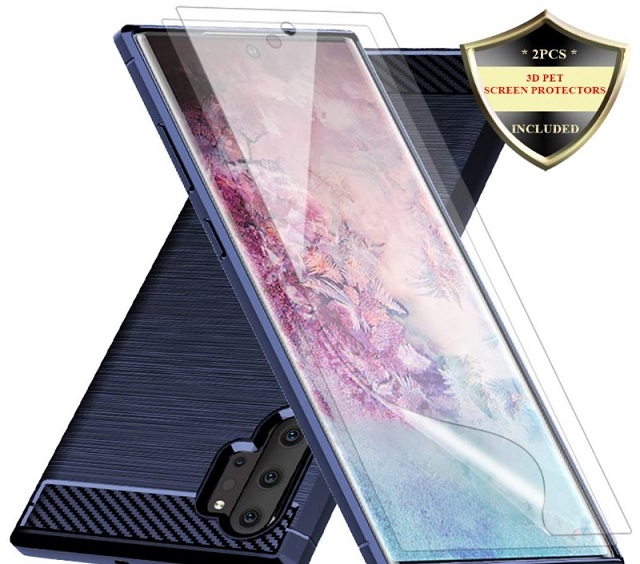 Though the cover has a slim profile, it can endure shock with ease thanks largely to the shock-absorbing bumper design. The raised edges make sure the Note 10 Plus' camera and screen have the additional safeguard. What's more, Dahkoiz also offers a handy screen protector with this case so that the 6.8-inch Dynamic AMOLED display has the desired protection against impact and scratches.
Buy from Amazon ($7.99)
SEE ALSO: 10 Best Galaxy Note 10 Cases and Covers You Can Buy
Protect Your Phablet with the Best Galaxy Note 10 Plus Cases and Covers
With so many good-looking options vying for attention, I guess your Galaxy Note 10 Plus has got the desired companion. So, have you opted for an elegant looking case to let the phablet showcase its design or gone for the cover that ideally meets the best of both protection and style? I would indeed be glad to have your spot-on feedback in the comments below.