After months of endless rumors and catchy leaks, Samsung Galaxy Note 10 Plus (along with the 6.3″ Note 10) has finally been released. And looking at what the phablet has to offer, I can safely say that Samsung has set a pretty high standard. Just in case you have gifted yourself this all-new phablet and are hunting for the top-notch accessories to not only protect the device from accidental bumps and scratches but also get the most out of it, this comprehensive assortment of the best Samsung Galaxy Note 10 Plus accessories can play a pivotal role in helping you choose the accessories that can ideally meet your various demands. So, let's jump right in to the list to explore notable options!
Best Samsung Galaxy Note 10 Plus Accessories You Shouldn't Miss
While some accessories are a must-have to keep the smartphone safeguarded, others purely depend on needs. Then, there are the ones that can add style quotient to your Note 10 Plus. If spending a few extra bucks in favor of top quality isn't a big deal, the premium accessories would be an obvious choice. But if there is a desire to kill two birds with one stone, there are quite a few items that offer great value for money. From cases to screen protectors to chargers to Bluetooth headphones, you can find all the best Galaxy Note Plus accessories to deck out your phone. So, let's check them out, shall we?
Best Samsung Galaxy Note 10 Plus Cases, Screen Protectors, and Camera Lens Protectors
1. Official Samsung Galaxy Note 10 Plus Case
What better way to protect your all-new Note 10+ while also keeping the style factor intact than presenting it a nice-looking case. If you wish to go for a premium cover that can make an impressive match with your smartphone and also safeguard it from bumps and scuffs, the official cases would be right on the money.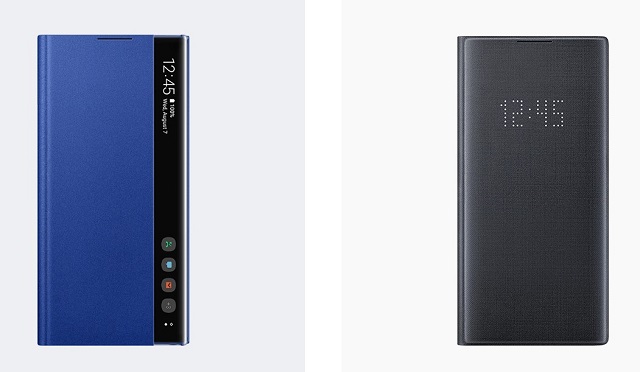 As of now, Samsung offers a high-quality genuine leather case, a sleek silicone cover, an LED cover that illuminates the back of the smartphone, a clear view cover, an LED view cover, and a highly protective kickstand case. What's more, these official Galaxy Note 10 Plus cases come in a variety of adorable colors, allowing you to pick the desired suit that can go perfectly in line both with your phablet and needs.
Buy From Samsung: (price varies depending on the case you choose)
2. FYY Wallet Case
For the folks who adore classy looking design, FYY genuine leather wallet case seems to be a top-notch pick. Carved out of high-grade cowhide leather, this Galaxy Note 10 Plus sports an aesthetic appearance that can make a great match with your professional profile. And with three card slots along with a big cash pocket to boot, it's got the quality to be your best travel companion.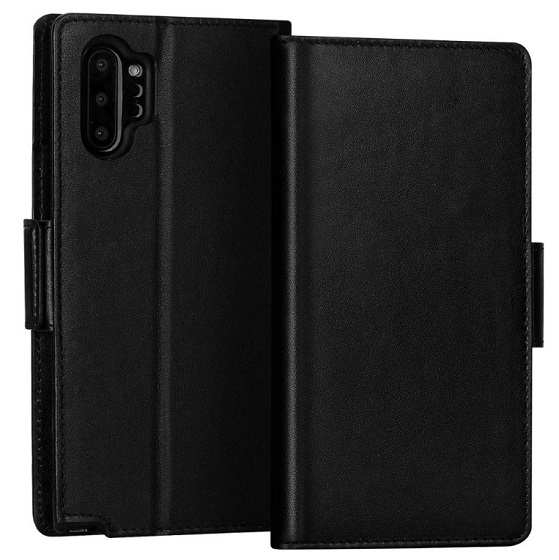 But what has impressed me the most in this cover is the RFID shielding technology that makes sure the information of your cards remains safeguarded. Times when you may want to light up your media viewing, you can use the hidden kickstand functionality to watch videos hands-free. Even better, FYY Galaxy Note 10 Plus case also works with wireless chargers so that you can comfortably power up your phablet.
Buy From Amazon: $26.66
3. Spigen Ultra Hybrid Clear Case for Note 10 Plus
Showcasing a crystal clear profile, Spigen Ultra Hybrid case gives full license to Note 10 Plus to flaunt its elegant design. With the integration of durable PC and shock-absorbing TPU, the cover has the strength to offer the required protection to the phablet. Moreover, the rubberized bumper also plays a vital role in providing much-improved gripping.
To provide an additional shield to the Note 10 Plus' screen and camera against scratches, Spigen Ultra Hybrid features raised bezels. Besides, the pronounced buttons are much easier to press. As for colors, this clear case comes in only two options: crystal clear and matte black.
By from Amazon: $11.99
Note: Wish to explore more Galaxy Note 10 Plus cases and covers? If you are willing to take a peek at more top-quality options, I would recommend you to head over to our extensive roundup of the Samsung Galaxy Note 10 Plus cases.
4. Dome Glass Samsung Galaxy Note 10 Plus Screen Protector
Screen protectors are the most important line of defense for smartphones and tablets. So, you shouldn't fail to offer a solid safeguard to Note 10 Plus' Dynamic AMOLED display against accidental falls and ugly scratches. Speaking of screen guards, there is no dearth of options, however, the one that has caught my attention is from Dome Glass.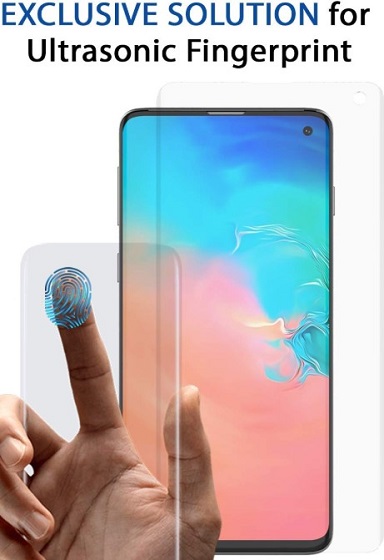 Made of top-grade tempered glass, this screen guard excels in providing trusted defense against bumps thanks to maximum hardness. And with the presence of rounded edges, this screen defender not only ideally fits on the screen but also offers full coverage. Moreover, it boasts high clarity and is extremely responsive to the touch. It might be a bit pricey but it is totally worth it.
Buy From Amazon: $49.99
5. PULEN Liquid Skin Screen Protector for Galaxy Note 10+
Just in case your priority lies with maximum clarity and high sensitivity to get the most out of your S Pen, this screen guard from PULEN would be an ideal option. The screen protector is made of TPU film and provides 99.99% HD clarity – excellent by any standard. With the high clarity, you will be able to get the most out of the Dynamic AMOLED display.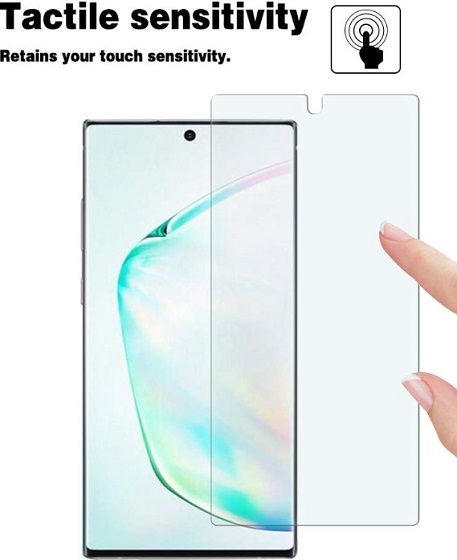 Besides, the liquid skin is also very sensitive and feels pretty smooth to the touch, giving full liberty to both your finger and digital pen to glide on the surface. As the PULEN screen guard is completely bubble-free, you can expect your installation to be pretty easy.
Buy From Amazon: $9.99 (pack of 3)
Note: Would you like to take a peek at more screen guards for your Note 10+? Jump over to this comprehensive lineup.
6. QHOHQ Galaxy Note 10 Plus Camera Lens Protector
One of the biggest highlights of Galaxy Note 10 Plus is the pro-grade camera set up at the back. Should you think that such a powerful camera deserves a bit more shielding against scratches, you can't go wrong with QHOHQ camera lens protector.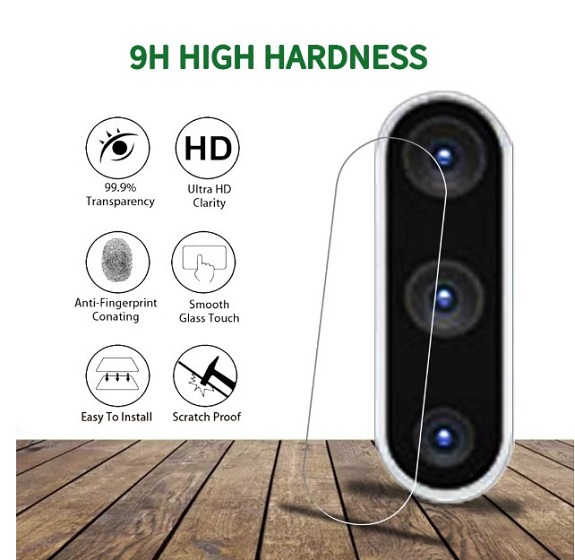 Made of TPU material, the camera lens defender brings a bubble-free installation experience. And with the HD clarity, it ensures the lens works spotlessly without any interference. As for protection, it's more than good enough to keep minor bumps and scratches at bay. Not to mention, QHOHQ offers this camera lens defender in four-packs without any extra cost.
Buy From Amazon: $9.99 (pack of 4)
Best Wireless Earphones / Headphones for Galaxy Note 10+
1. Mpow Flame Sports Earphones for Galaxy Note 10+
Let's put it across straight away! Mpow Flame is undoubtedly the best sports earphones designed for the mainstream users. With 11 mm dynamic drivers, the earphones offer more than decent sound. Up to 9 hours of playtime means it can comfortably last at least a couple of days on normal usage.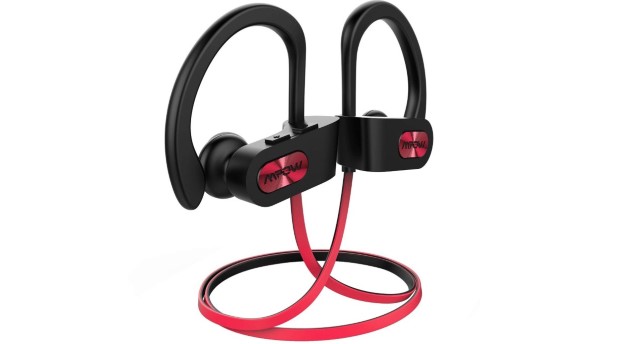 Another feature that makes Mpow Flame a great deal is the IPX7 waterproof protection which makes it spot-on for your beach adventure. Not to mention, there is also a nano-coating to prevent sweat during rigorous workouts. Moreover, it also comes with the built-in CVC 6.0 noise-canceling technology to let you enjoy hands-free calling without any interruption. If you are looking for a cheap pair of wireless earbuds for your Samsung Galaxy Note 10+, this is the one to get.
Buy From Amazon: $19.99 
2. COWIN E7 PRO Noise Cancelling Headphones for Note 10+
When you want to relish music to the fullest without being interrupted by background clamor, noise-canceling headphones become the need of the hour. Due mainly to the appreciable build quality and fairly impressive sound, I think "COWIN E7 PRO" is worth giving serious consideration. Not to underestimate, the headphones have got four and a half stars out of more than 4K customer ratings on Amazon.
Beyond praise, COWIN E7 PRO comes with 45 mm large-aperture drivers that deliver crisp sound. And with the soft ear cushions, you will feel comfortable while wearing the headphones. What's more, the robust 800 mAh battery can last up 30 hours – more than good enough to quench your music listening thirst.
Buy From Amazon: $89.99 
3. TBI Pro Wireless Earbuds for Galaxy Note 10+
Frankly speaking, I'm hugely impressed with what TBI Pro has to offer. Sporting a trendy design, the wireless earbuds are able to catch attention with ease. With the ergonomic design, the earbuds feel very comfy in the ear. As for sound quality, they have got the goods to live up to the billing – courtesy the sound chip from Qualcomm CSR 64110.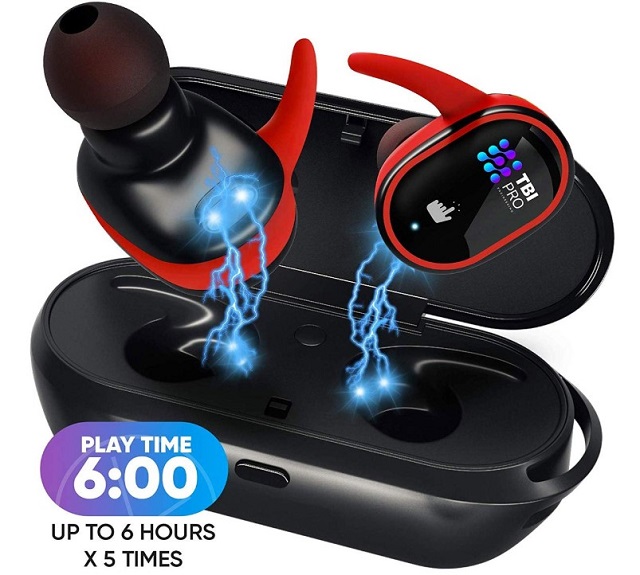 The earbuds also feature noise isolation technology so that you can enjoy hands-free calling without any disturbance from background noise. The charging case comes loaded with a 500 mAh battery to deliver up to 24 hours of music playtime. Once fully powered up, the earphones can last up to 6 hours, which is not a bad number at all. if you are looking for truly wireless earbuds for Galaxy Note 10+ at a budget, these are the ones to get.
Buy From Amazon: $39.95 
4. Galaxy Buds for Note 10+
Apple's AirPods are undoubtedly the best wireless earphones (under $200) as far as ease of use is concerned. However, if there is any contender that can give Apple's earphones a run for their money, it has to be Galaxy Buds. The earbuds are pretty lightweight and incredibly comfy to wear. When it comes to sound quality, the Buds are up to the mark.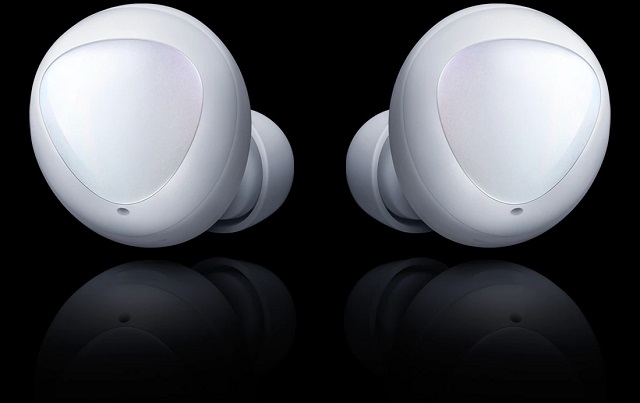 With the adaptive dual microphone technology, they can automatically recognize surroundings and switch between inner and outer mics to keep the background noise at bay. After being fully charged, the earbuds can last up to 6 hours. Moreover, you can pick them in three nice-looking colors: black, white, and yellow.
Buy from Amazon: $124.69
Best Samsung Galaxy Note 10 Plus Charging Accessories
1. Anker Wireless Charging Stand for Galaxy Note 10+
When it comes to top-of-the-line charging accessories, Anker is the leading brand. So, if you want to take advantage of the wireless charging functionality of your brand new Samsung Galaxy Note 10, you should look no further than Anker's powerful wireless charging stand.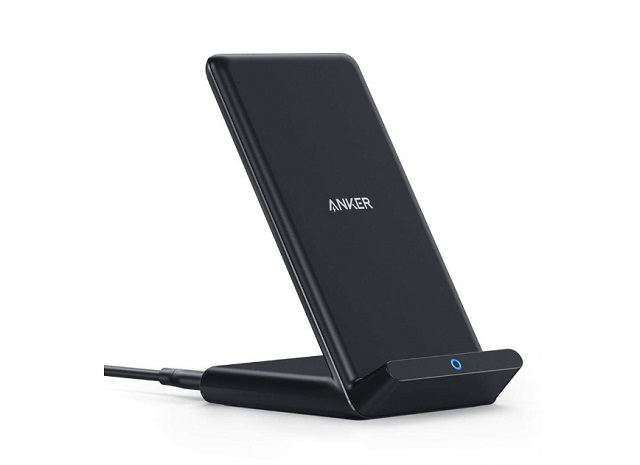 The stand is well-built and allows you to charge your smartphone both vertically and horizontally. As it's designed to be case-friendly (Rubber/plastic/TPU), you don't need to remove the case from your Note 10 Plus. Thanks to the highly efficient wireless charging coil, it can deliver 10W high-speed power to your smartphone. Aside from appreciable efficiency, Anker wireless charger also excels in providing the needed protection from threats like over-voltage, short circuit, etc. It does all that without putting a hole in your wallet.
Buy From Amazon: $19.99
2. Yootech Wireless Charging Stand for Galaxy Note 10+
What about getting a compact wireless charging pad for your Note 10+? Well, if you are looking for a simple yet very efficient Qi-enabled wireless charging pad for your phablet, keep this offering from Yootech in mind. It can let you charge your Note 10 Plus with up 10W high-speed. And with the advanced temperature control technology, it also safeguards the device against common hazards like overheating and short-circuit.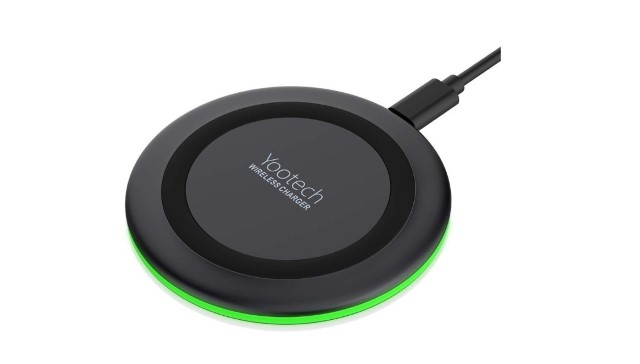 Another thing that makes this Note 10 Plus charging pad very handy is the compatibility with most cases. So, you won't have to take the pain of removing the cover from your device every time you want to charge it up. Even better, the charger is also sleep-friendly ensuring your sleep doesn't get disturbed due to unnecessary light or sound.
Buy From Amazon: $13.99
3. Meagoes Car Charger for Galaxy Note 10 Plus
Imagine a situation when you are on a long drive and streaming music using your Note 10 Plus. Suddenly, your eyes fall on the battery status which shows your smartphone is running out of gas and just about to die. Wouldn't appreciate it if there was a turbocharger to let you power up your smartphone rapidly? Most probably, yes! That's why I think Meagoes car charger deserves to be in this collection of the best Galaxy Note 10 Plus accessories.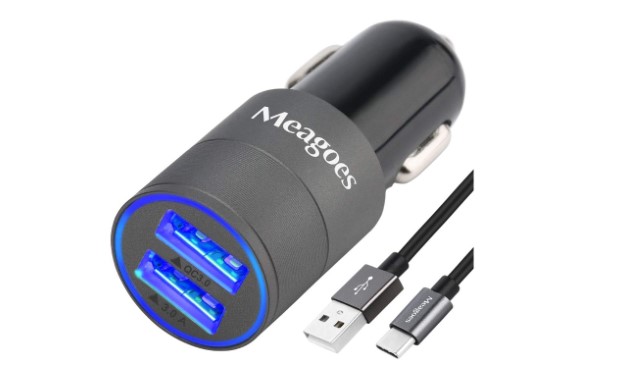 With the support for Quick Charge 3.0, it can juice up your phablet up to 4x faster than other ordinary chargers. That means even if the device is completely down, it wouldn't take much time for you to fully charge it. Sporting a pretty compact form-factor, Meagoes can easily slip into even a tiny pocket. As a result, you will be able to comfortably carry this car charger.
Buy From Amazon: $12.99
4. Mpow Gen-2 Car Mount for Galaxy Note 10 Plus
Mpow has long been my favorite car mount maker. Having tried my hands on its car mounts, I can vouch for the high quality. Talking about Mpow Gen-2 car phone holder, it has an extremely sturdy design and comes with a secure locking mechanism. Therefore, your Note 10+ will stay firmly intact even on a bumpy road.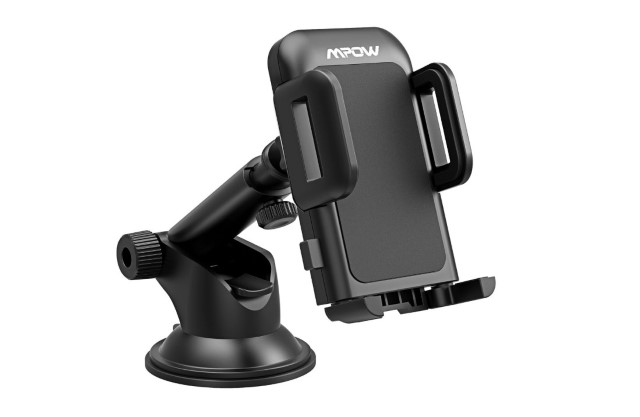 And with the top-quality suction pad, the phone holder can perfectly stick on most surfaces including the dashboard, windshield, etc. Due mainly to the 360° rotation, the car mount can let you position your Note 10 Plus both in a vertical and horizontal orientation, which can play a vital role in providing you an enhanced viewing angle.
Buy From Amazon: $10.99
5. BONAI Power Bank for Galaxy Note 10+
Times when you are on a long journey, it's better to have a massive power bank to juice up the device conveniently without needing to look for wall chargers again and again. Speaking of a huge power bank, BONAI's 30000 mAh external battery pack has you fully covered. With 4 USB ports, it can let you charge up to four devices including your Note 10 Plus simultaneously.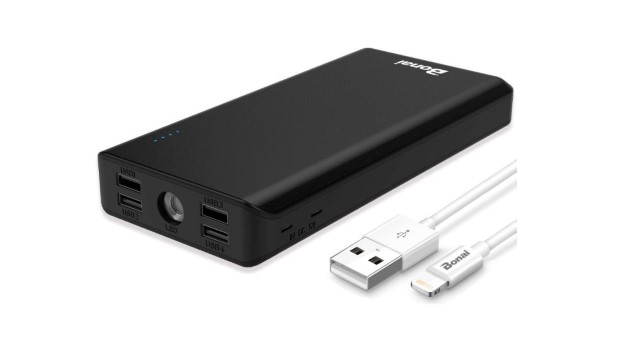 Beyond the high power efficiency, BONAI also makes sure your devices have the required safety while being charged by fighting out dangers like overcurrent and overheating. As for design, the power bank looks a bit sturdy to resist impact. Due mainly to the small form-footing, it's also easier to carry even in a tiny pocket.
Buy From Amazon: $40.99
Best Watch for Galaxy Note 10 Plus
1. Galaxy Watch Active 2
A smartwatch is an elegant extension of a smartphone. And if you are toying with the idea of getting one for your brand new Note 10 Plus, you should consider "Galaxy Watch Active 2". In a nutshell, what Apple Watch is for an iPhone, Galaxy Watch Active is for Galaxy devices.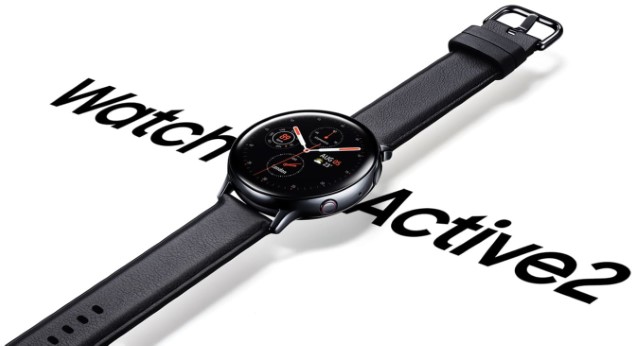 The smartwatch flaunts an elegant design and comes with a customizable screen. It also doubles seamlessly as a health-centric device to keep a track of your movements and offer much better insight into how well you are performing. Furthermore, it features a stress tracker to let you find out your stress levels. And with the guided breathing exercises, it can go a long way in not only reducing stress but also offering the much-needed peace of mind.
Buy From Samsung: (starting price of $279)
2. Fitbit Versa
Looking for a more affordable smartwatch for your Galaxy Note 10 Plus? If your answer is yes, I would recommend you to try out "Fitbit Versa". The smartwatch works efficiently in tracking all-day activities including heart rate and sleep stages. It comes with as many as 15 exercise modes to let you keep track of your workouts proficiently.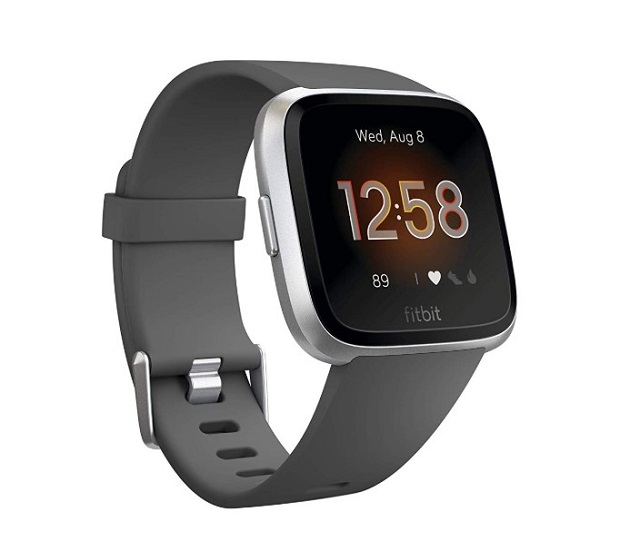 Thanks to the water-resistance up to 50 meters, you can swim your heart out. Beyond health and fitness, Fitbit Versa also lets you access your favorite apps. And with the real-time alerts, it keeps you notified as well. But what makes it an excellent bet is the solid four-day battery life. On top of all, you can choose this super handy watch in a variety of colors like mulberry, charcoal/silver, peach/rose and more.
Buy From Amazon: $129.95
SEE ALSO: 15 Best Galaxy Note 10 Accessories You Should Buy
Choose the Best Accessories for Your Galaxy Note 10+
With our list of best Galaxy Note+ accessories, I hope that choosing the best Galaxy Note 10 Plus accessing has become an easy task for you. Do check out the list and let us know your favorite Note 10 Plus accessories by writing in the comments section below. Also, if you want to share your favorite accessories, the comments section will work for that too.