When it comes to top-notch phablets, Samsung Galaxy Note series has always reigned supreme. And with the arrival of Galaxy Note 10 Plus, the game looks heavily in favor of Samsung's latest flagship smartphone. Sporting elegant design coupled with high-end specs, the smartphone is designed for power users. What has caught my attention the most in the phablet is the 6.8-inch Dynamic AMOLED display. Boasting a screen resolution of 1,440 x 3,040 pixels, the display has a pixel density of 495 PPI which makes for a crisp and enhanced viewing experience. Knowing how precious Dynamic AMOLED display is, you should safeguard it. To help you easily pick out a reliable screen protector, I have rounded up the best Samsung Galaxy Note 10 Plus screen protectors to buy in 2020.
Samsung Galaxy Note 10+ Screen Protectors (2020)
Keep a couple of simple tips in mind before putting your bucks on a screen guard:
Which Screen Defender Would Be Better for Your Need?
For maximum safeguard, tempered glass screen protectors are the go-to options. Powered by industry-standard hardness, they can effortlessly provide impact protection while also keep scratches at a fair distance. They also offer pretty good clarity and remain responsive to the touch. However, if you want a bit more touch sensitivity and transparency, liquid screen guards would be a touch better. Not to mention, liquid skins are also considered to be a tad more friendly with digital pens. So, if you wish to make the most of your S Pen, liquid screen defenders should be your favorite pick. Now that the pep talk is done, let's discover what the top screen guards for Galaxy Note 10+ have to offer!
1. PULEN Liquid Skin Screen Protector for Note 10+
Should you want to get the most out of your all-new S Pen, look no further than PULEN. This liquid-skin screen guard is designed to deliver 99.99% HD clarity so that you have an excellent viewing experience. Being very smooth and responsiveness, it allows the digital pen to glide smoothly. Hence, you can feel comfortable while sketching or making a quick note on the go.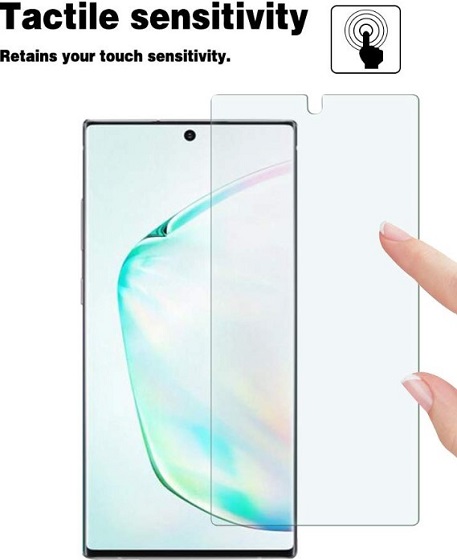 Unlike many other screen guards in the market, PULEN doesn't turn yellow either. Plus, it is also pretty good at preventing oil, dust, and smudge from building up on the screen. As a result, you will have the desired transparency and smoothness for long. Lastly, the company offers three packs without any additional price, which makes it a good deal.
Buy From Amazon: $4.99 (pack of 3)
5. Galaxy Note 10 Plus Screen Protector by WRJ
Both in terms of providing the needed protection to the screen and smoothness to the touch, WRJ screen guard can stand up to the demand. Made of TPU film, the screen protector can let you get the most out of the ultra-large display thanks to the high-clarity that go up to 99.99%. Being liquid, the screen is extremely sensitive to the touch, ensuring both your tap and digital pen can seamlessly glide on the screen.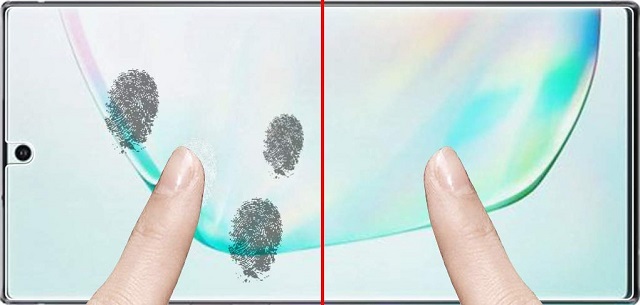 The screen guard also does a more than decent job in resisting dust and sweat to keep the responsiveness intact for long. Beyond smoothness, the company provides the screen guard in three-packs at one price. So, if you are looking for an affordable option, WRJ screen guard would be a fine option.
Buy From Amazon: $3.99 (pack of 3)

3. AYCFIYING
Going by the sheer number (4.5 stars out of almost 14 hundred ratings), AYCFIYING is one of the highly-rated tempered glass screen protectors for Samsung Galaxy Note 10 Plus. The tempered glass construction is further fortified by the 9H hardness to keep the impact of drops away. Plus, the screen guard features a nano-coating to prevent dust and fingerprints from piling up. As a result, it keeps the HD clarity intact and also allows the ultrasonic fingerprint sensor to work smoothly. Moreover, AYCFIYING features laser-cut dimensions to fit perfectly on the screen, ensuring there is no interference with the selfie camera.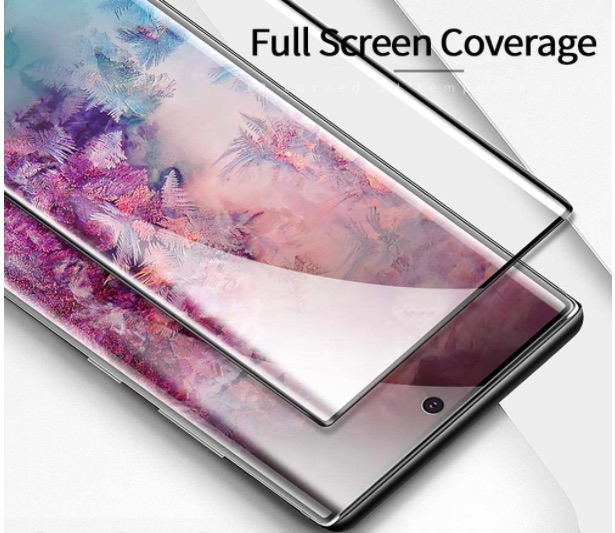 Buy From Amazon: $13.99 (pack of 2)
4. DeltaShield
As a screen protector, DeltaShield has got you fully curved. Made of high-quality film, the screen guard has high-definition clarity to get the most out of the mammoth 6.8-inch display. Moreover, it has also got an additional coating to guard the touchscreen against fingerprints and sweat. Featuring precise cutouts, the screen defender fits neatly on the screen so that there is no inference with the selfie camera. Due mainly to the precision cutouts, DeltaShield also works seamlessly with cases. Being UV resistant, the screen guard also improves your viewing experience.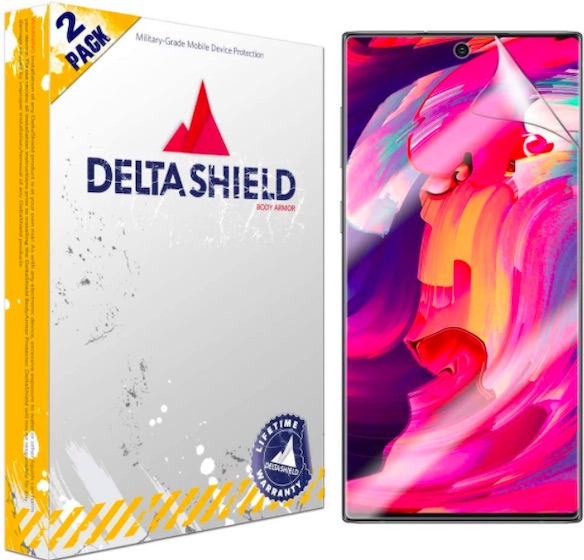 Buy From Amazon: $8.95 (pack of 2)
5. XClear
Equipped with scratch-resistant construction, XClear works as a form-fitting scratch-guard for the ultra-large display of your Galaxy Note 10 Plus. So, the display can stay shielded against scuffs and impact. Another feature worth taking note of is the extra coatings in the form of hydrophobic and oleophobic. Thus, the screen protector can stop dust and sweat from piling up and also retain the pristine clarity for long. Being case-friendly, XClear also gets along nicely with a variety of cases.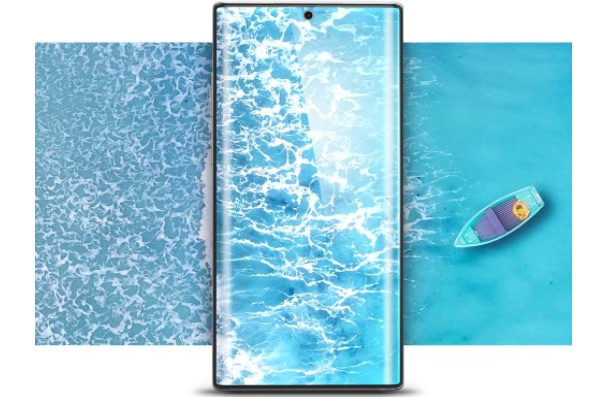 Buy From Amazon: $15.99 (pack of 3)
6. ArmorSuit MilitaryShield
Thanks to the military-grade construction, ArmorSuit MilitaryShield is one of the most protective screen guards for Galaxy Note 10 Plus in the market. And looking at the relatively high ratings (4.3 stars out of 5 from almost 3K ratings), it's also quite reliable. Aside from being scratchproof, the screen protector is also yellow-resistant. Therefore, MilitaryShield can not only protect the 6.8″ screen of your smartphone but also get the original clarity. That's not all, the self-healing technology coupled with the fingerprint-resistance makes it a super handy accessory for your Note 10+.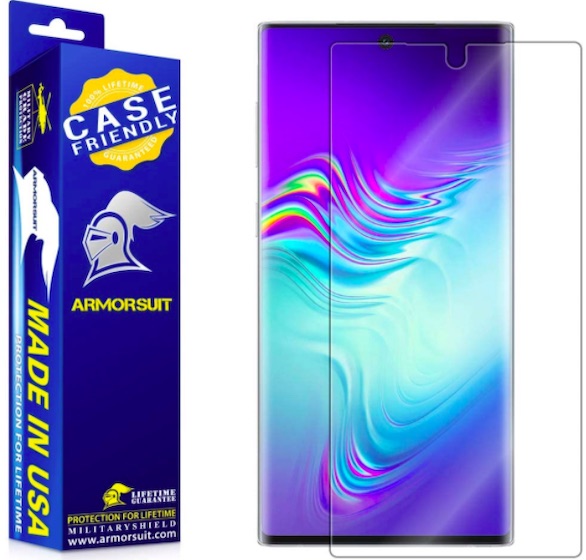 Buy From Amazon: $10.95 
7. Ferilinso Galaxy Note 10 Plus Film Screen Protector
"Ferilinso" has come with up a reasonably good screen protector for Samsung's latest phablet. And having given a close look at what has it in store, I am pretty satisfied with its quality. Made of top-notch TPU film, Ferilinso screen guard should be able to endure minor shock.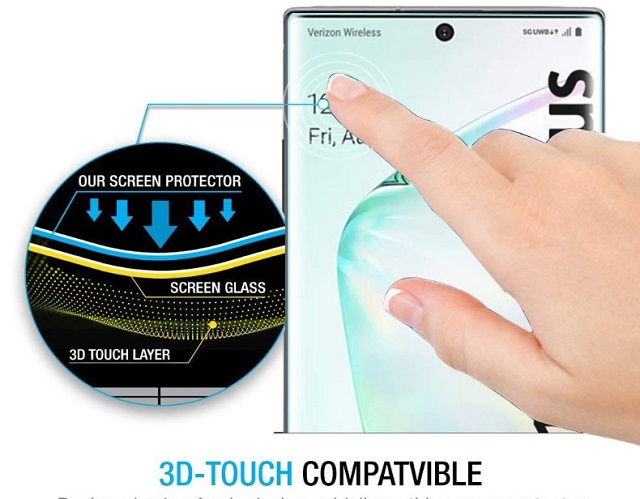 As for protection from scratches, this screen guard can ward off normal scratches without any problem. So from a protection perspective, it should live up to the billing. As it's bubble-free, the installation process should be an easy affair. Both in terms of clarity and sensitivity, Ferilinso is as good as any high-quality TPU film screen protectors available in the market.
Buy From Amazon: $4.99 (pack of 3)

8. Galaxy Note 10 Plus Screen Protector by IVSO
I rate IVSO screen protectors very highly for a couple of main reasons. First and foremost, the screen guard is made of high-quality TPU material which provides top-of-the-line clarity. Thanks to the high transparency, you have a ch better viewing experience. And the second, the screen guard doesn't turn yellow over time.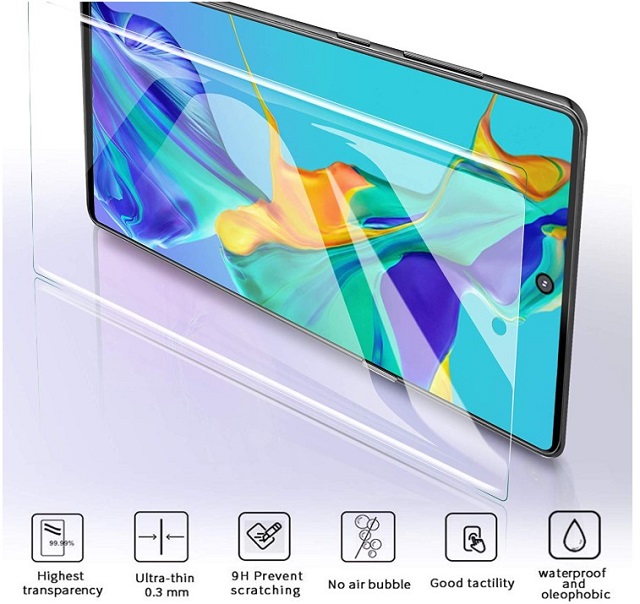 With the rounded edge, it fits ideally on the entire screen. Moreover, the screen defender also has the desired smoothness to let you use your digital pen elegantly. Despite being extremely thin, it can even fight out low volume impact. Besides, you can trust the liquid screen to keep sweat and dust at an arm's length.
Buy From Amazon: $8.99 (pack of 3)

9. QHOHQ Screen Protector for Galaxy Note 10 Plus
Though QHOHQ is not a big name, its screen protectors have got the quality to be an adorable shield for Note 10's display. The environmental-friendly TPU material gives it enough strength to endure shock. It's also anti-scratch to prevent scuffs from destroying the display. And with the smooth edge, it makes sure the screen gets the full cover to stay protected.
The company says that the screen guard offers maximum HD clarity. Thus, you will continue to get crisp and clear. Furthermore, the ability to resist sweat and dust also stand it in good stead. Hence, the responsiveness stays intact for long. Overall, it's an appreciable screen protector as it has covered all the basics.
Buy From Amazon: $6.99 (pack of 3)

10. Dahkoiz
Last but not least, Dahkoiz has come up with a smart deal, which many of you would like to cash-in-on! Well, if you don't want your spending on Galaxy Note 10+ case and screen protector to go beyond $10, this could be worth giving a look at as the package includes an impressive TPU case and a screen protector.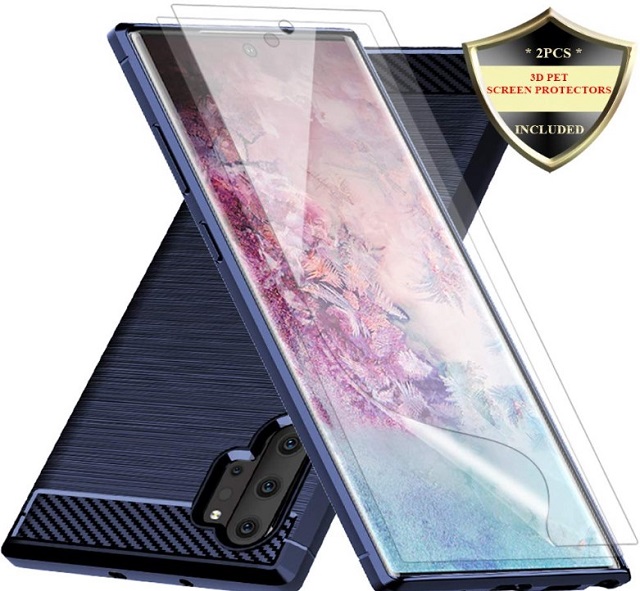 The case sports a slim look and wraps around the Note 10+ spotlessly. Not to mention, it can also endure minor bumps and keep scratches at bay. With the raised edges, the cover offers additional defense to both screen and camera. Talking about the screen guard, it's fully bubble-free and provides the desired clarity to enhance viewing.
Buy From Amazon: $7.99
Keep the Beautiful Display Protected with the Best Galaxy Note 10 Plus Screen Protectors
Now that you have got the top screen protectors for Galaxy Note 10+ lined up, pick out the one that is in sync with your needs. A beautiful display deserves uncompromising protection. So, it's always better to stay on the safer side of the fence right from the onset. By the way, let me know your favorite screen guard and the things that make it stand out. Also, share with us your favorite Samsung Galaxy Note 10+ screen protectors by writing in the comments section below.