It has been quite a few years since I could recommend a default Mac to anyone who was looking to buy a new laptop. The Butterfly keyboard was an abomination and the refreshed MacBook Air was priced higher than any previous MacBook Air models. But, it's 2020 now, and things are looking brighter. The new 2020 MacBook Air has a brand new keyboard, good processor upgrades, higher base storage, and it starts at the sweet price of $999. If you are a student, you can get it for just $899. Finally, the MacBook Air has become perfect again. If you are thinking of buying the new MacBook Air, you should also invest in sleeves or cases that will protect your laptop against accidental drops and falls. In this article, we are listing the 12 best MacBook Air 2020 sleeves and cases that you can buy.
Best MacBook Air 2020 Sleeves and Cases in 2020
Before exploring the roundup, let's first check out the things you should consider before buying cases and sleeves for MacBook Air!
Considerations When Choosing MacBook Air 2020 Cases/Sleeves
There are three notable things you should consider before choosing a case or sleeve: Material Quality, Design, and Durability. If a case has been made of high-quality material, it will look good on the notebook and also last longer.
As for design, it's a personal choice. However, ensure that the case fits the notebook and also offer it the needed protection from scratches and bumps. Additionally, if you prefer to carry accessories like chargers and earphones, you should make sure that the sleeve offers extra pockets.
Lastly, it's always recommended to keep the price in mind. If your budget is tight, go for the case that meets all the essential boxes while still keeping the price point low. And if you can stretch your budget, choose the cases that look top-notch in each aspect. To help you make an informed decision, we have offered pros and cons for each case/sleeve.
1. Mujjo Sleeve for MacBook Air
If you want your MacBook Air's sleeve to be as premium as the laptop itself, then go for the Mujjo sleeve. I have been using the Mujjo sleeve for my MacBook Pro for almost two years now and I still love its feel and looks. The sleeve uses a combination of wool felt and leather and has a slim profile.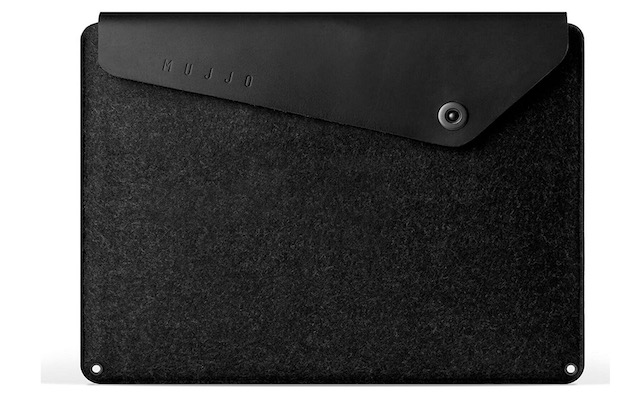 It can easily fit in any bag that can accommodate a 13-inch laptop. It's also great for carrying your laptop without any bag. Not only it looks premium but it also provides ample protection. The sleeve also has built-in compartments that you can use to carry accessories such as chargers, cables, dongles, and more. Overall, I find it to be one of the best sleeves on the market.
Pros: 
Made of wool felt and leather
High-quality material
Slim and ergonomic design
Built-in compartments
Cons: 
Comparatively expensive
The stitching between the felt and leather flap is a bit loose
Buy from Amazon: $79.48
2. tomtoc 360 Protective Laptop Sleeve
If you are looking for a robust and cheap sleeve then you should buy the tomtoc 360 protective laptop sleeve. What I love about this sleeve is that it brings overall protection to the MacBook Air and can handle even the harshest of falls. Thanks to its CornerArmor patent design at the bottom, it protects your laptop from drops and bumps.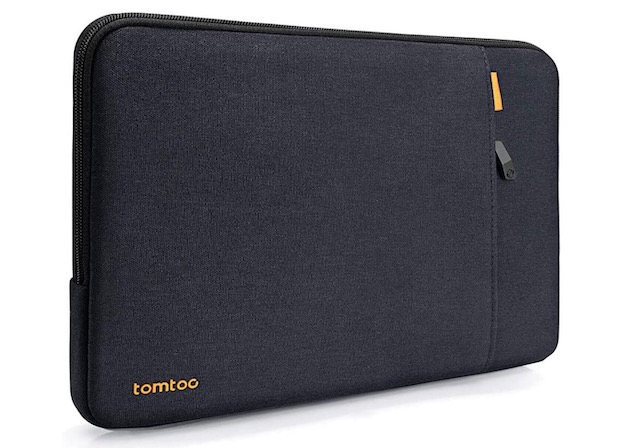 There's also a thick lining on the inside which will keep your MacBook Air tightly secure. It has accessory pockets allowing you to easily carry chargers, dongles, and other accessories. Overall, it's a good protective sleeve for your brand new MacBook Air.
Pros: 
360° protective design
Lightweight and slim profile
Cushioned interior
Accessory pockets
Cons: 
The design is old-fashioned
The outside pocket is less spacious
Buy from Amazon: $18.99
3. CCPK MacBook Air Laptop Sleeve
If you are looking for a dirt-cheap sleeve for your MacBook Air, you don't need to look further than the CCPK MacBook Air Laptop Sleeve. It's a simple sleeve that is precision-cut to fit any 13-inch laptop including the brand new MacBook Air 2020. The outer layer is made of a special stretch shell neoprene material that can resist both water and stains.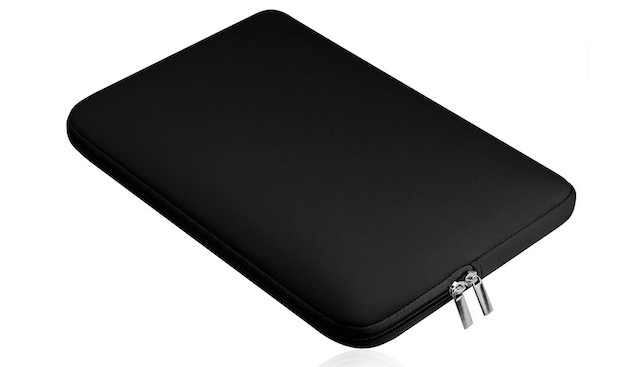 The inside is lined with padded sponge material that provides cushion and prevents any scratching of the aluminum body. The zipper on this sleeve is strong and will not break even after prolonged usage. However, note that there are no extra pockets for carrying accessories. Apart from that, it's a solid sleeve for your brand new MacBook Air.
Pros: 
High-quality neoprene material
Padded sponge interior
Strong zipper
Cons: 
Lacks extra pockets for accessories
Relatively less durable
Buy from Amazon: $8.99
4. MOSISO Laptop Sleeve
One of my favorite sleeves for laptops is the MOSISO Laptop Sleeve as it offers the best of both worlds: impressive specs and a comparatively low price point. The best thing about this sleeve is that it comes in dozens of colors so you can get the look you want. The sleeve is made of water-repellent polyester material and can easily handle some splashes of water and light rain.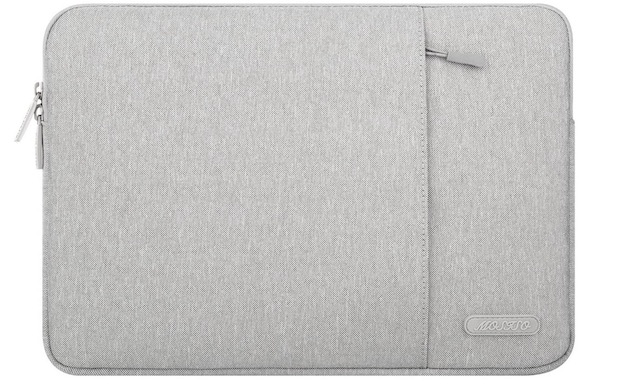 The foam padding layer and fluffy fleece fabric lining are there for bump and shock absorption, and protection of your device against dust, dirt, bump, shock and accidental scratches.
There's a top opening zipper that glides smoothly and allows convenient access to your device. The pockets in the front are good for carrying small accessories. I have used this sleeve in the past and I had no problems even after prolonged usage.
Pros: 
Water-repellent polyester material
foam padding layer
Available in a variety of color variants
Fluffy fleece fabric lining
Cons: 
The stitching could be better
A little too tight
Buy from Amazon: $13.99
5. Kinmac 360° Protective Sleeve for MacBook Air
If you don't like the plain look of the sleeves above and want something designer and expressive, check out the Kinmac 360° protective sleeve.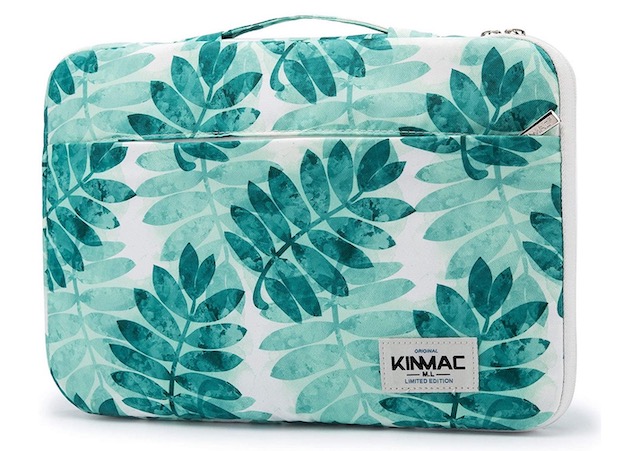 The sleeve is available in several good looking designs. I love that the sleeve comes with a handle as it makes it easier to carry the laptop without any carry bag. It also brings complete protection thanks to the high rebound EVA bubble inside that will offer 360° protection to your laptop.
It comes with extra pocket with zipper that can hold mouse, cables, power, chargers, mobile phone, and more. It's also water-resistant thanks to the use of waterproof canvas layering on the outside. While it won't protect from heavy liquid contact, it will easily repel mild rains and splashes. The only thing that I hate about this sleeve is the giant company tag at the front.
Pros: 
Protective design
Water-resistant material
Features an extra pocket for storing accessories
Comes in a range of nice-looking colors
Cons: 
Buy from Amazon: $18.99
6. Apple Leather Sleeve
If you are someone who only prefers Apple Products and doesn't have any qualms with pricing, Apple Leather Sleeve would be a nice choice. Costing over $150, this sleeve is not for everyone. However, if you want the precision design of Apple, then this the price you have to pay. The sleeve is crafted from high-quality European leather with a soft microfiber lining.
And although I have not bought one, I have tried one at Apple Store and can tell you that it looks and feels premium. If you want the same experience at cheaper prices, check out the Woolnut sleeve for MacBook Air ($65.99). It is crafted from a durable and protective exterior in genuine Black full-grain vegetable-tanned leather. Both these leather sleeves are great and you should buy the one that strikes your fancy.
Pros: 
Full-grain vegetable-tanned leather
Top-of-the-line craftsmanship
Protective casing
Cons: 
Buy from Amazon: $174.99
7. FYY Laptop Sleeve Case
The final sleeve on this list is the FYY Laptop Sleeve Case, which is designed for people who want a business style sleeve for their MacBook Air. The sleeve uses premium PU leather material for the exterior and has a thick soft fluffy interior. This combination both provides impact protection and keeps scratches at bay.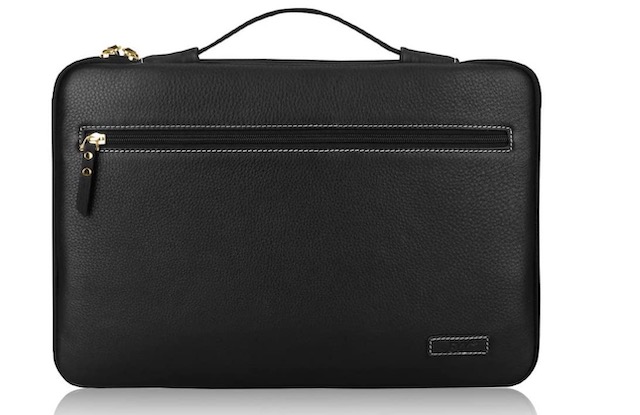 The handle at the top is great for carrying the laptop and the back-strap is a boon for frequent travelers. There's also a front zipper pocket that comes in handy for carrying accessories. If you travel a lot and want a minimal business casual carrying sleeve for your MacBook Air, this is the one to get.
Pros: 
Pro-looking design
Soft PU leather material
The thick soft fluffy interior for protection from drops and scratches
Cons: 
The zipper should be stronger
Price is a touch expensive for a PU leather case
Buy from Amazon: $29.99
8. Kuzy – MacBook Air 13-inch Case
While sleeves are great for protection while carrying, they leave your MacBook Air naked when you are using it. And we all know that most accidents happen at a work desk. That's why I suggest that you invest in a good case for your brand new MacBook Air and the Kuzy case is one of the best in the market.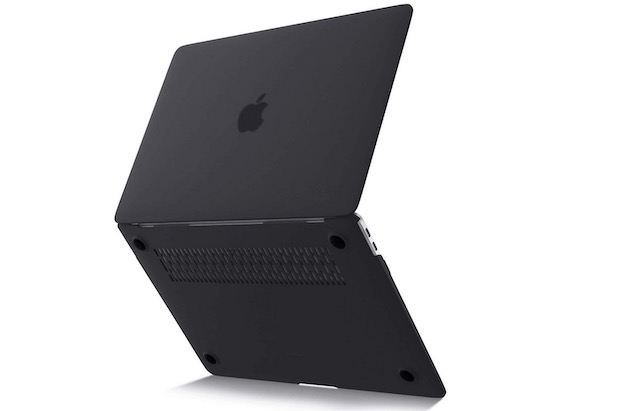 The case is easy to install and remove and uses a combination of soft-touch and hard plastic casing. It's translucent thus allowing you to showcase your MacBook Air, in all its glory. It is fully vented for safe heat disbursement which is great. And while I prefer the black color, the case is available in multiple colors so you have options.
In short, Kuzy case is designed to keep the elegance of your MacBook intact without sacrificing protection.
Pros: 
Slim form-factor
Fits snuggly around the notebook
A combination of soft-touch and hard plastic casing
Safe heat disbursement
Cons: 
Slim casing can't endure nasty bumps
The cutouts could be a little more precise
Buy from Amazon: $24.99
9. MOSISO MacBook Air Case
Apart from making sleeves, MOSISO also makes good cases for MacBook Air 2020. It features a transparent no cut out design and provides full protection to the laptop. You get easy access to all the ports and the case is fully vented. Note that the transparency of the case differs depending on the color of the case, so look at the picture before buying.
The best thing about this case is that it comes with a screen protector and matching keyboard cover in the box. So with one purchase, you are getting full protection. Despite bringing so many things, it is reasonably priced so everyone can afford it.
MOSISO's sleek case goes along nicely with MacBook Air, both in terms of style and protection.
Pros: 
Pretty slim profile
Fully vented
Comes with a screen protector and matching keyboard cover
Available in a ton of different colors
Cons: 
Slim casing lacks strong cushion
The included screen protector is of low quality
Buy from Amazon: $22.99
10. SUPCASE Case for New MacBook Air
The final case on this list is from SUPCASE and is for people who don't mind a little extra bulk for getting extreme protection. The case brings a carefully engineered, shock-absorbent wraparound bumper that provides ultimate protection during drops and falls.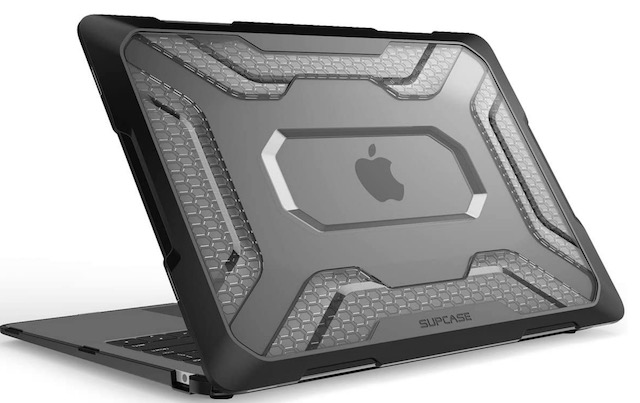 It also brings a fully vented base with rubber stands resulting in safe heat disbursement thereby preventing overheating of the laptop. Despite its bulkiness, it's quite easy to carry and can fit in most 13-inch laptop bags. If you value protection over everything else, this is the case to get.
Everything considered; SUPCASE is a high-quality heavy-duty case for your MacBook Air.
Pros: 
Shock-absorbing design
The vented design prevents overheating
Cushioned corners
Cons: 
Looks a tad bulky
Installing and removing the case is a little inconvenient
Buy from Amazon: $29.99
11. ProCase
Sporting a sleek form-factor, ProCase gives a professional look to the MacBook Air 13″ 2020.
The case features a hard shell for additional safeguard against impact. And with the soft rubberized coating, the exterior feels pretty smooth to the touch. Therefore, your hands will comfortable while holding the MacBook Air.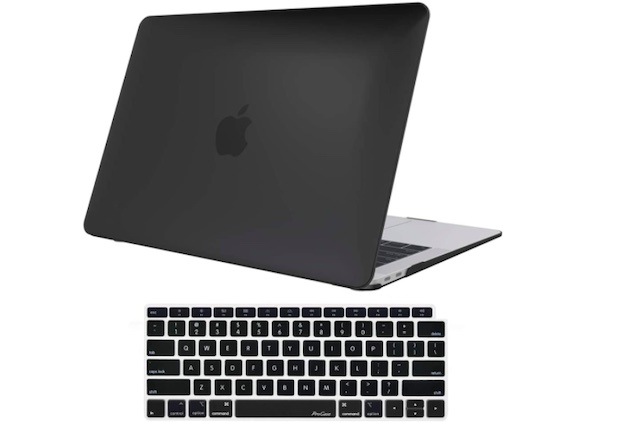 Courtesy the snap-on design, ProCase is quite easy to install and remove. Plus, the fully vented design enhances heat disbursement. As a result, your notebook will remain cool. Additionally, the case comes with a keyboard cover to protect the keyboard from damage. Priced at $23, it's also quite reasonable.
Pros: 
Pro look and feel
Sleek design
Soft rubberized coating
Improved heat disbursement
Cons: 
Doesn't offer much protection from drops
The casing is less durable
Buy from Amazon: $22.99
12. IBENZER Hexpact
If complete protection from drops is what on top of your mind, IBENZER Hexpact could be an ideal pick for your MacBook Air 2020.
The heavy-duty case features a rugged casing with fortified corners to safeguard your notebook against shock and scratches. Despite having a durable construction, the case doesn't look ugly on the notebook. And that's what makes it stand out among heavy-duty cases designed for 2020 MacBook Air.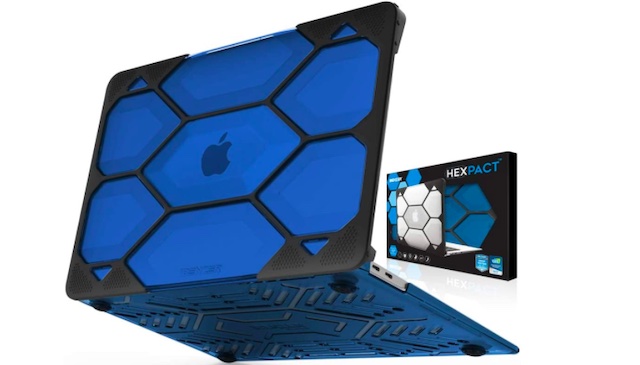 The honeycomb design ensures the MacBook continues to showcase its profile, while also offering the needed grip. The heavy-duty cover features precise cutouts so that you can comfortably access all the ports. Besides, it also features cut-out vents for enhanced heat disbursement. Priced at $30, IBENZER is available in three colors such as black, blue, and clear.
Pros: 
Honeycomb design
Rugged construction for additional protection
Cut-out vents for enhanced heat disbursement
Precise cutouts
Cons:
A bit inconvenient to install and remove
Looks a little bulky
Buy from Amazon: $29.99
Frequently Asked Questions
Which case is the Best for MacBook Air?
With a ton of top-quality cases available in the market, choosing the one that stands out on all fronts is not easy. However, I would go with ProCase for its sleek profile and the snap-design that makes a nice match with the notebook.
Should you Get a Case for your MacBook Air?
Yeah, you should. With a case, your MacBook can stay protected from impact and also keep scratches at bay.
Will a 2019 Case Fit a 2020 MacBook Air?
Well, the answer to this case is – Yes. Even though the 2020 MacBook Air is a bit thicker than 2019 and 2018 MacBook Airs, the old cases can comfortably fit the new MacBook Air.
Are all MacBook Airs the Same Size?
No. While the latest MacBook Airs sport 13.3″ diagonal Retina display, the old MacBook Air features 11″ screen size.
Buy the Best Sleeves and Cases for MacBook Air 2020
That ends our list of the best MacBook Air 2020 cases and sleeves that you can buy to protect your brand new device. I have mentioned both slim and protective options so you can choose the one you want. I have also covered most price ranges so you can find a sleeve or case irrespective of your budget. So, click on the link and find the best case or sleeve for your MacBook Air.