Antivirus applications are considered as one of the "must-have" programs for any computer. They help in securing your PC (and the data on it) against all kinds of viruses, spyware, and other malicious software. Now, if you have a capable antivirus program installed on your computer, then there's nothing to worry about. But what if you are work on another PC (e.g. a computer in a public library), that doesn't have antivirus software installed? Well, that's where the portable antivirus software comes into the picture.
Like most portable apps, these antivirus programs don't need to be installed on your PC. You can carry them anywhere in, say, USB drives, and make sure that your systems are safe. Today, we will be taking a look at the 10 best portable antivirus software that you can rely on.
Best Portable Antivirus Software (Updated August 2020)
Take a quick look at the best portable antivirus from the list below. You can click on the link below and move to the corresponding program. After that, you can go through some important pointers to find the best software.
Let's discuss a couple of key points that you should keep in mind before depending on the portable antivirus software.
A majority of programs mentioned in our list comes with updated malware definitions database. But for others, you'll have to update the database manually.
Portable antivirus software is not a replacement for your licensed anti-malware product. For all-around, real-time protection, you'll still have to rely on full-fledged antivirus products.
Since portable antivirus software doesn't have "real-time" scanning, you'll have to scan files and folders manually every time.
Now, that we've learned about the portable antivirus software, let's take a look at the best portable antivirus software you can use in 2020.
Best Portable Antivirus Software for Windows
1. Microsoft Safety Scanner
Microsoft security scanner is a scanning tool that's designed to provide on-demand scanning to help remove spyware, viruses, and other bad stuff. Unlike a traditional program that's installed on your computer, the Microsoft Safety Scanner is just an executable file that you can load in your USB drive. 
Microsoft Safety Scanner works with your existing antivirus software, and it comes with an update malware definition database. It is, however, worth pointing out that this particular scanner expires 10 days after being downloaded. Hence, it is advised that you download a new one and run the scan again to ensure your safety.
Pros
On-demand scan
Can Run from USB Drive
Up to date Malware Definition
Detects and remove malware
Can undo the changes
Cons
Download Microsoft Safety Scanner (Free)
2. Emsisoft Emergency Kit
It's not the lightest thing out there, but Emsisoft Emergency Kit packs in some serious punch for removing all kind of viruses, key-loggers etc. from any computer. Unlike other scanners in the list, this one requires a quick installation, as it extracts from program files. Once done, you can quickly jump into the scanning process.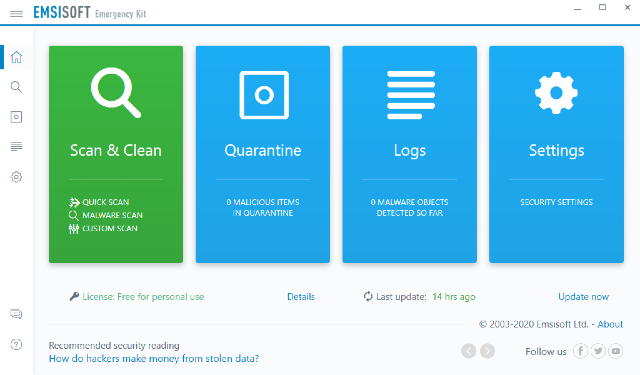 Emsisoft Emergency Kit has an easy to use interface, where all the options are neatly listed out in the overview screen. It also includes a command-line scanner (with support for all standard features like Direct Disk Access), which is perfect for running batch scan jobs.
Pros
Lightweight and portable
No installation required
Both GUI and command-line interface
Detects malware and keyloggers
Quarantine support
Disk Access
Batch Scan 
Cons
Download Emsisoft Emergency Kit (Free)
3. Zemana AntiMalware
Zemana AntiMalware is a popular antivirus that is portable and lightweight. You can install it on your PC within seconds and get started with virus removal. Unlike other portable antiviruses, this one does not skip on any kind of malicious programs. It looks for both malware as well as spyware on your system, and has powerful abilities to remove them. On top of that, it also detects rogue browser add-ons, adware, unwanted apps, and more.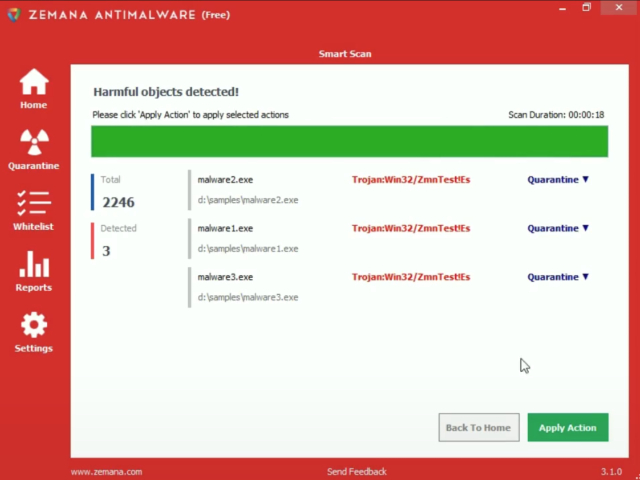 Not to mention, the scanning process is pretty fast as it uses its well-sourced cloud definition to check file integrity. By using the cloud as a checkpoint, Zemana saves a lot of resource overhead on the local PC. That said, Zemana now costs $25 a year if you use it for more than 30 days. All in all, I would say, if you are looking for a portable antivirus then Zemana checks almost all the boxes.
Pros
Very lightweight
Quick scanning
Detects malware, spyware, adware
Supports removal
Cloud definition check
Cons
Download Zemana AntiMalware (Free trial for 30 days, Premium plan starts at $25/year)
4. Hiren's BootCD PE
Generally, people use portable antivirus to scan an infected computer by isolating it and connecting the system through another recovery environment. If you are also one of those users then you can try out Hiren's BootCD PE (HBCD). It's one of the most popular recovery environments that offer you all sorts of tools to rescue your computer.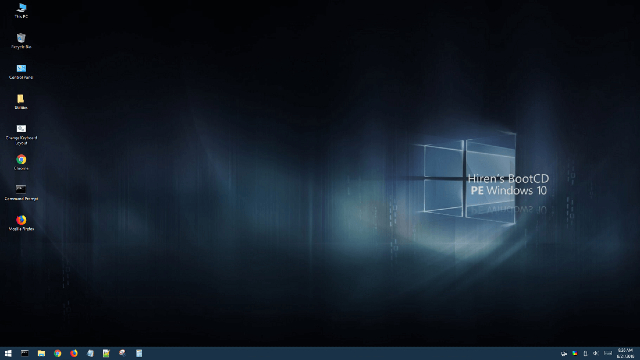 It comes with two antivirus programs: ESET Online Scanner and Malwarebytes Anti-Malware, and you can use them to remove malicious programs without even booting your PC. Also, the best part is that you can flash HBCD on a USB drive and boot into a secure environment to perform all sorts of rescue operations without the fear of data loss. I know it's by no means a lightweight program to recover your system, but it gets the job done.
Pros
Can boot from USB
Features two antivirus programs
Detect and remove malware
Packed with other recovery tools
Isolates the infected system
Free to use
Cons
Download Hiren's BootCD PE (Free)
5. McAfee GetSusp
McAfee GetSusp is a new toolkit developed for enterprises, but general consumers can also take advantage of this portable antivirus. It allows you to quickly look for malicious programs that are otherwise not detectable through traditional antiviruses. It uses a combination of clever heuristics and queries McAfee's online database of suspicious files to detect harmful programs.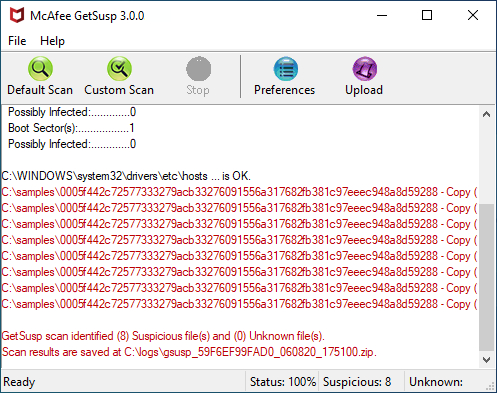 By using this method, McAfee GetSusp is able to find undetected malware on the system. The best part about this tool is that it's extremely lightweight, weighing in at just 3.4MB. So you can carry it on your pen drive and quickly run the program to disinfect a computer from malware and adware. So go ahead and get McAfee GetSusp for the best portable antivirus experience.
Pros
Extremely low footprint
Click and use
Uses cloud definitions
Can find undetected malware
Cons
Download McAfee GetSusp (Free)
6. Avast Rescue Disk
Similar to Hiren's BootCD PE, you can create a Rescue Disk using Avast. You will be able to completely isolate the infected system and remove malware using the Avast Rescue Disk. You just need to install Avast Antivirus on any other computer and from there you can create a Rescue Disk on a USB drive.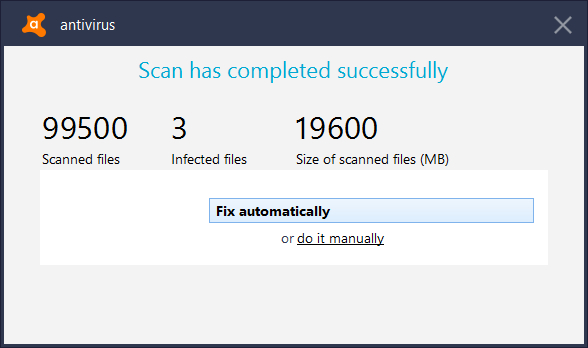 Now, plug it on the infected computer and a lightweight Avast program will start scanning your PC to remove the suspicious files. This way, you will not have fear of further infection. Sure, the process is not straightforward as you would expect, but if your PC is highly infected with malware then bootable Rescue Disk is the only option.
Pros
Bootable through USB
Best for system recovery
Free to use
Scans and removes malware
Isolate the infected machine
Offers detailed log
Cons
Create Avast Rescue Disk (Free)
7. Norton Power Eraser
Norton, as you all know, is a popular name when it comes to antivirus software, and the Norton Power Eraser is no exception. It's a lightweight, standalone utility that can quickly detect and remove even the most aggressive of the viruses. In addition, it can get rid of unwanted applications of root-kits.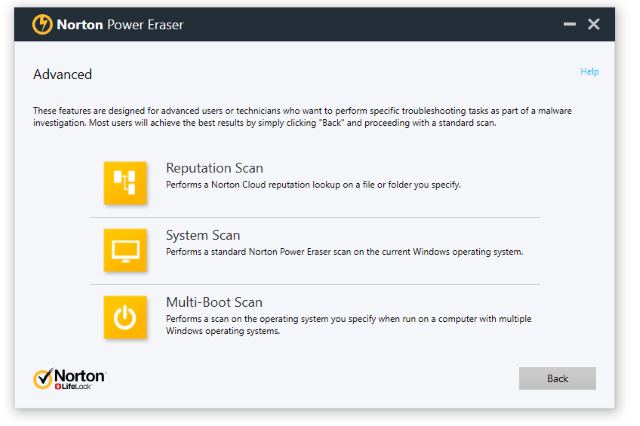 But perhaps the most unique feature of Norton Power Eraser is Reputation Scan, which can be used to send a specified file/folder to a Symantec server so it can be scanned by signature-based detection engines. You can even configure it to scan a particular OS if your PC has more than one Operating System installed.
Pros
Powerful virus removal
Uses Norton cloud definition
Signature-based detection engine
Can be booted from USB drive
Cons
Can remove even safe programs
Download Norton Power Eraser (Free)
8. McAfee Stinger
McAfee Stinger is a simple yet powerful tool that can scan (and remove) root-kits, registry modules, boot sectors and a lot more. The standalone program can be configured to execute different actions (remove, repair etc.), as required.
McAfee Stinger also integrates Global Threat Intelligence, a cloud-based service that enables threat prediction based on activity from numerous sensors worldwide, and an extensive research team.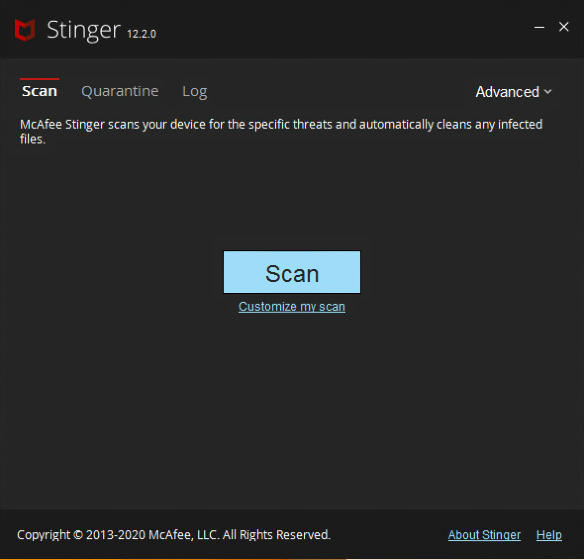 It can even be used to detect a specified list of malware. Oh, and here's a really interesting fact – It comes from Intel Security, the world's largest dedicated security technology company.
Pros
Best for fixing system errors
Uses cloud-based definition
Quick and effective
Detailed logs
Cons
Download McAfee Stinger (Free)
9. Dr. Web CureIt!
The lightweight and portable version of Dr. Web CureIt antivirus software weighs around 175MB, and it is yet another tool that's worth checking out. Despite its size, you don't have to go through any installation process with Dr. Web CureIt, unlike Emsisoft Emergency Kit. You can click the downloaded file and get started with the scan.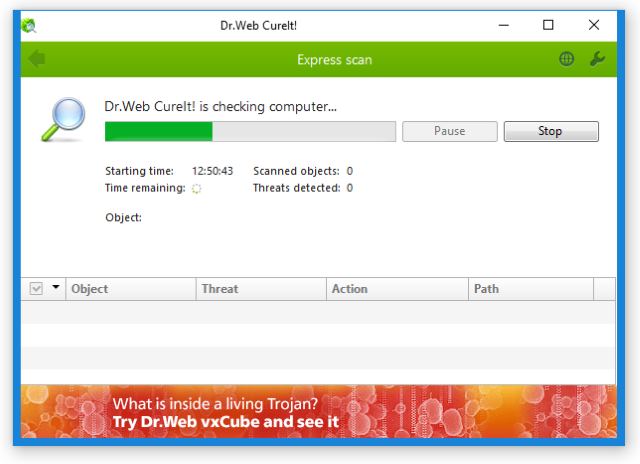 Dr. Web CureIt! runs an express scan to find different kinds of viruses, adware, and more. Once the scanning is done, Dr. Web CureIt! also gives you an option to "Neutralize" the threats, which is really handy as it eliminates the need to delete the files manually.
Pros
Very quick
Click and run
Detects malware and adware
Quarantine support
Cons
Download Dr. Web CureIt! (Free)
10. Comodo Cleaning Essentials
Looking for a powerhouse anti-malware application for using on the go? Comodo Cleaning Essentials is all you need. It can scan (and remove) everything from viruses to bad registry keys to root-kits, and integrates with Comodo's cloud scanners to provide real-time safety reports about unknown processes.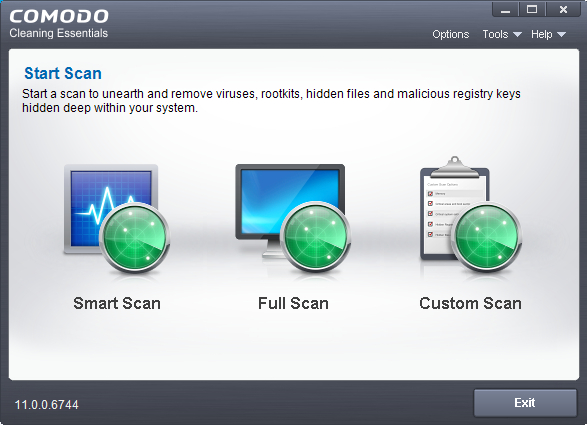 It also has a KillSwitch sub-module, which lets you analyze running programs and network connections for malware, and force terminate them if they are affected. Then there's the Autorun Analyzer, which can be used to handle services & programs that are loaded at system startup.
Pros
Lightweight
Cloud scanner
Removes root-kits
KillSwitch support
Real-time safety reports
Cons
Decent cloud definition databse
Download Comodo Cleaning Essentials (Free, Paid plan starts at $17.99 per year)
Frequently Asked Questions
Q. What's the Need for Portable Antivirus?
Portable antivirus is generally used by users who want to quickly scan a system before using it (like libraries and internet cafes). It's also used to find malware and suspicious programs on a heavily infected computer. Since you can't install a traditional antivirus on an infected system, these portable antivirus programs help you find the root issue and allow you to remove them without even turning on the system.
Q. How to Increase Your Security?
If you want to improve your PC's security then I would recommend you to regularly update the virus definition of the antivirus you are using. And turn on real-time protection. For most users, the native Windows Defender is quite good, but if you are not satisfied with it then you can find the best antivirus for Windows 10 from our detailed list.
Q. How to Use the Best Portable Antivirus Tool?
The process to use a portable antivirus program is different for every tool, but generally, you just need to scan the system and remove the threats if the tool supports it.
Use Portable Antivirus Software to Secure Data
Given how valuable digital data is, it's imperative that it's protected against viruses, spyware, etc. at all times. And the portable antivirus software discussed above ensure just that, even when you have to work on PCs that don't have any anti-malware programs installed. Give these a shot, and let us know your favorite(s) in the comments below.