Beware! If your personal computer lacks the much-needed safeguard to ward off hackers and spammers, you could well be their target sooner than later. They rightly say, "An ounce of prevention is better than a pound of cure." So, tighten up your defense to secure both your Windows PC and sensitive information before it really gets too late. Agreed, Microsoft Windows has come a long way. Even the biggest detractors would admit that the software has vastly improved on all fronts. However, it's still not perfect or for that matter invincible to tackle all sorts of security threats flawlessly. And, that's why the need to have the best antivirus for Windows 10 becomes indispensable to shield the entire system by putting the hazards at bay.
To keep ever-looming threats like ransomware, malware, and adware virus away, take advantage of the most reliable antivirus. To help you easily pick out the tool that can ideally fit into needs, we've rounded up the top Windows 10 Antivirus which are ahead of the curve in 2019. So, without any further ado, let's find out which one looks more promising for your requirement and start using a robust antivirus software right from today to protect your Windows PC!
Best Antivirus for Windows 10 in 2019
1. Bitdefender
In terms of reliable performance and the ability to deliver the best result consistently, "Bitdefender" stands out. No wonder it's consistently got a high rating in AV-Test–an independent organization that evaluates antivirus as well as security software for Windows and Android.
One of my favorite features of Bitdefender is the more intuitive user-interface that ensures you can seamlessly handle all the tricks that the software comes with. Talking about the most notable features of Bitdefender Antivirus Plus 2019, it provides top-notch file encryption to keep your data secure. With reliable ransomware protection, it offers a strong shield to your important files to prevent unauthorized access.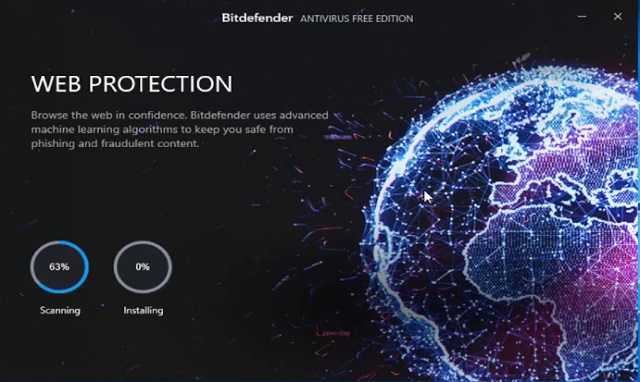 Thanks to the pretty impressive malware defense, your computer is able to put malicious software at bay. You can make the most of the trusted VPN services to browse the web securely while shielding your online identity and personal info. Check out the appreciable parental control that can help you ideally control your computer to prevent your kids from misusing it.
Another super handy feature of this Windows antivirus software is Autopilot that makes the task of securing your system super simple. With the smart tips and guides, it keeps you one step ahead. Whenever it finds any weak link in your armory, it immediately alerts and also suggests you the ways to get rid of the flaw.
As compared to some of the notable rivals, Bitdefender takes slightly more time for the initial disk scan. Besides, it's not the best when it comes to fighting out the specialized attacks. However, when you take everything into account, it does seem to have a slight edge over many of its counterparts.
Why Should You Consider Bitdefender?
Well, there are multiple reasons why Bitdefender can be worth serious consideration. First and foremost, it works immaculately in keeping malicious stuff at bay. Second, it's not taxing on the resources so your PC will keep running smooth even when it's running in the background.
Price:  Free trial, $89.99/yearly (for 10 devices)
Visit: Website
2. BullGuard
"BullGuard" is a powerhouse in more ways than one. What makes it so impressive is the ability to get the most out of your PC. So, once you've given this defender the full license to take control of your system, it will run pretty smoothly. Whether you are a 9-to-5 professional or a hardcore gamer who wants his/her PC to run in the top gear, this antivirus can live up to the demand.
BullGuard comes with a highly-rated malware protection technology to stop the malicious virus from sneaking into your computer. The advanced vulnerability scanner ensures all the access points, which hackers are always on the lookout to exploit, are blocked. It keeps you notified about the security updates and the connections to the insecure Wi-Fi networks.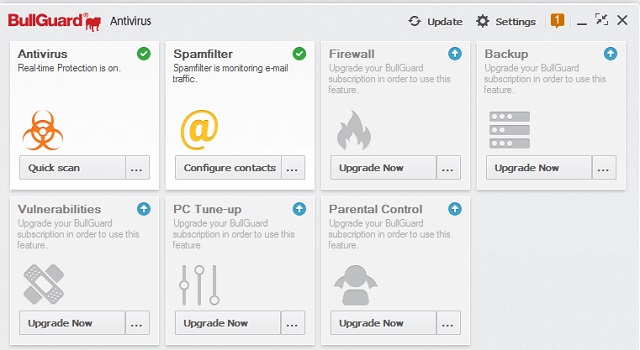 It also makes sure the apps, which may contain malware, aren't downloaded automatically on your computer. Besides, it double checks all the apps and drivers feature valid digital signatures. From a security point of view, it's a highly appreciable implementation.
I found BullGuard's UI pretty neat as it makes navigation hassle-free. Moreover, you can quickly spot the essential stuff like missing Windows security updates and faulty auto-run settings. Moreover, it doesn't take much time to scan your device and functions admirably in tackling nefarious attacks as well.
Why Should You Consider BullGuard?
As an antivirus software, BullGuard has a lot to offer. If you are looking for a defender that can fight out malware with ease and also allow secure backup of files as well as make parental control pretty simple, it can turn out to be a solid bet. Not to mention the Game Booster that can keep your high-octane games in the top flight.
Price: Free trial, $29.95 for one year
Visit: Website 
3. F-Secure
When it comes to fighting out virus immaculately and keeping the PC fully secure, "F-Secure" is second to none. The reason why I say it because it's long been one of the top performers. Bringing all the required equipment, it's fully capable of tackling the dangers that may compromise your data or hack your account. Thanks to the automatic updates feature, it ensures your system always remains up-to-date. So, there is no chance of forgetting to install any pivotal security updates.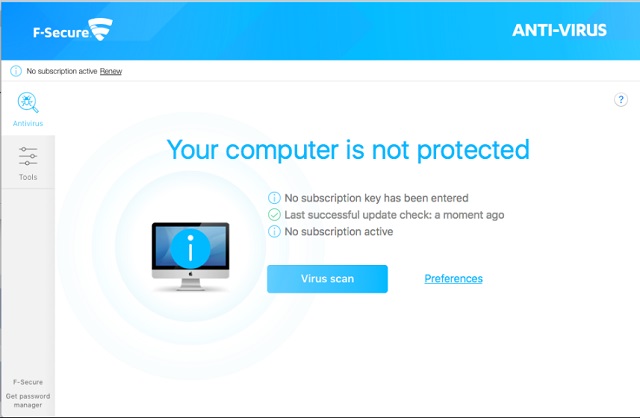 You can take control of all of your apps and files and keep them in the perfect sync. Therefore, your apps will continue to run smoothly and the files will stay away from the virus. Besides, it also checks out your downloads and let you know whether they are under the threats or safe. Due mainly to the clean interface, you can quickly find out whether or not virus protection is active and how many files as well as apps have been checked.
Another thing that's worth mentioning is that it shields your data without slowing down your computer, unlike many ordinary antivirus software. Not to mention the password manager that can help you deal with passwords more conveniently. It is one of the best antivirus for Windows 10 that you can use right now.
Why Should You Consider F-Secure?
If reliable performance is the main parameter to judge an antivirus software for PC, F-Secure has to be a top bet. It's definitely at par with the best in the business. The light interface and the capability to ward off any malicious attack make it a go-to choice.
Price: Free trial, $68.23/year (for three devices)
Visit: Website 
4. McAfee
If I were to call one antivirus for Windows 10 versatile, it has to be "McAfee." From putting unwanted programs away to defending your computer against spyware and malware, it's got you fully covered. With the built-in password manager, it ensures you are able to take control of all of your secret codes effortlessly. It creates a strong password for all of your online accounts and remembers them all. As a result, you will be able to securely and comfortably log in to your accounts.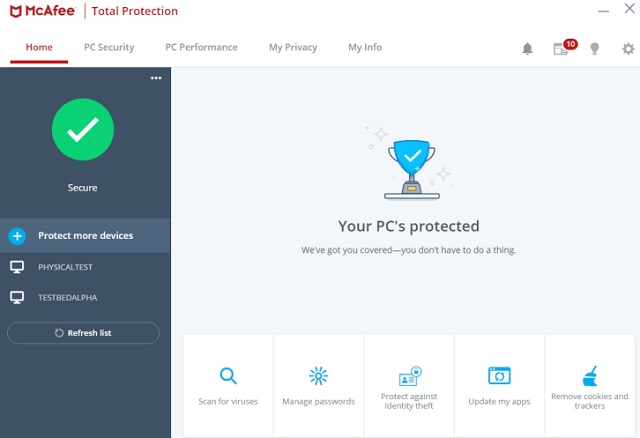 It features a handy web-based console to let you safeguard and manage all of your devices from one place. Whether you are running a business or simply want to take control of many of your devices, this tool can make your task pretty easy.
The much-needed home network protection shields the Wi-Fi networks, allowing you to browse the web safely. Besides, it keeps your identity as well as your family members (or who-so-ever uses the device) concealed. If you are after more privacy, this is the one feature you should keep your eye on. What's more, with a robust combination of password protection and encryption, it keeps all of your files fully secure on your computer.
Why Should You Consider McAfee?
McAfee is a complete package. What has called for my attention in this antivirus software for Windows 10 is the efficient password manager and the web-based console feature which makes managing several devices a hassle-free experience. Well, if you want a versatile tool that ticks off most boxes with ease, you can't go wrong with it.
Price: Free trial, $44.99
Visit: Website 
5. Trend Micro
Do you often find your PC stuttering or just unable to deliver the desired performance? If yes, consider having a go at "Trend Micro." What this software basically does is allows you to ideally optimize your PC so that it can run with the needed flair. Thus, your workflow will continue to be in the top gear.
Another department where Trend Micro excels is protecting your online transactions. With the pay guard, it makes sure your transaction remains secure and away from the prying eyes of hackers. That's not all, it provides a solid folder shield to all of your files that exist not only on your computer but also in the cloud services like Dropbox, Microsoft OneDrive and Google Drive. As a result, your files will remain from the sight of ransomware.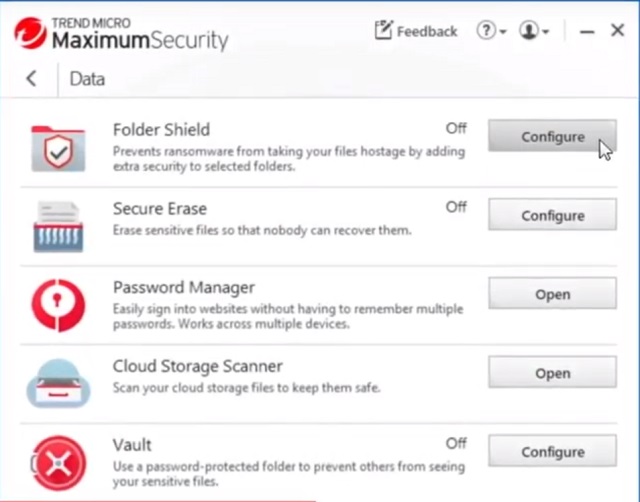 To further safeguard your online privacy, it blocks the dubious sites that steal the data of users. Therefore, you will be able to browse the web with the required security, knowing your sensitive data is fully protected.
Don't want to let your kids have free run while using the PC or Windows laptop? Well, try out the well-thought-out parental control to not only limit how long they should use the device but also what sort of content they must avoid. As a parent, you would really appreciate this feature as it provides you enough control over your kid's device to keep the inappropriate content at bay.
Why Should You Consider Trend Micro?
Well, there are three features that make "Trend Micro" a fine option. First and foremost, it can let you optimize the performance of your computer. The second, it puts all the nefarious sites away to let you browse the web safely and protect your data. And third, it has a top-notch parental control feature, which ensures your kids stay away from obscene content.
Price:  Free trial, $26.5 (starting) 
Visit: Website 
6. ESET
"ESET" is one of the most reputable antivirus software for Windows 10 in the market with years of expertise. With it in the offing, you can expect your PC to be fully geared up to battle out various threats and remain safe. It provides complete protection to your data, thereby putting ransomware away.
Beyond protecting your data, ESET also plays a vital role in enhancing the performance of your computer. By keeping the corrupt files and dangerous malware at a long distance, it enables the PC to work with the needed speed.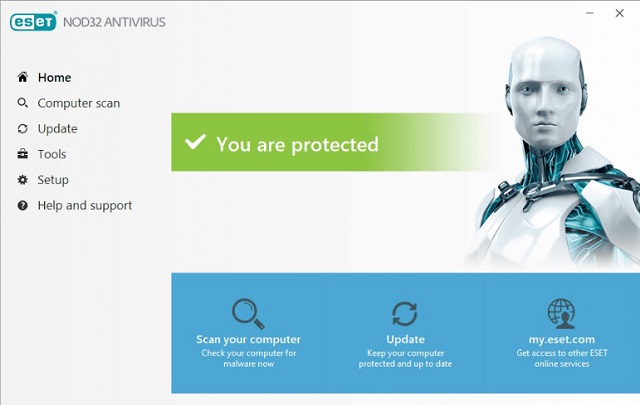 It offers more dependable banking protection so that your online payments remain safeguarded. Using a powerful and secure browser, you can use the web with more privacy and also prevent your data from being tracked by spammers.
Moreover, ESET lets you keep your entire passwords at one place and easily accessible. So, you can ideally manage and keep them away from anyone's reach. Besides, it encrypts your entire folders in order that they can't be manipulated by hackers.
Why Should You Consider ESET?
With more than 30 years of expertise, ESET is undoubtedly a noted name. Taking the commendable functionality and intelligent features like banking protection as well as folder encryption into account, it's got the quality to be a long-term prospect for your computer.
Price: Free trial, $39.99 (starting) 
Visit: Website 
7. AVG
Simply put, AVG is a good option. Both in terms of offering uncompromising protection and easy-to-use functionality, it lives up to its brand perception. With the built-in webcam protection, it prevents anyone from using your device' camera. And the ransomware shield in the offing, your files stay within a strong shield to stop unauthorized access.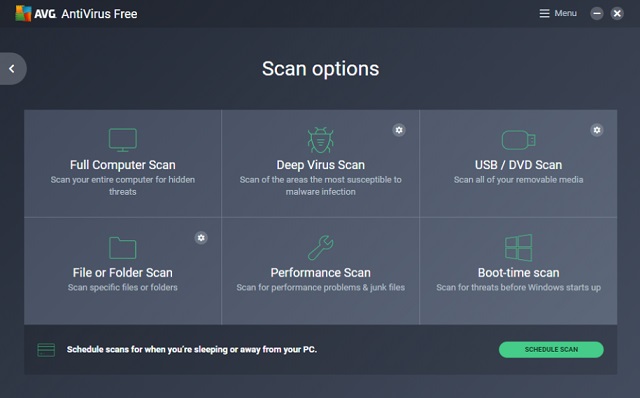 There is also a clever software uninstaller to let you easily track down the bloatware and adware and eliminate them. As a result, your computer won't be cluttered and be able to run with impressive speed.
Boasting the top-of-the-line 256-bit AES encryption, it provides a highly secure VPN. As a result, you will be able to use public Wi-Fi with the much-required security and prevent spammers from accessing your online data or finding your identity. What's more, it also delivers file server security, spyware defense, and data transaction security to ensure your small or medium business functions in a safe environment.
Why Should You Consider AVG?
AVG has got plenty of tricks up its sleeve to be a solid antivirus for Windows 10 or other compatible devices. The ability to track down junk files and let you wipe them out with ease makes it a great asset for your computer. Plus, features like app lock, email protection along with disk as well as browser cleaner ensure it takes care of most of your needs with little complaint.
Price: Free, premium version is available for $79.99/yearly  
Visit: Website 
8. Avast
Avast is the one of the few antivirus for Windows 10 that has always been among the most loved ones. Whether it's a wide range of features or trusted performance, it ticks off most of the boxes effortlessly.
Using this software, you can track and block fake websites and browse the web with the needed safety. With internet security in place, your data will be encrypted so that hackers won't be able to access it when you are online or navigating the web. Furthermore, it quickly spots the phishing emails and ensures you stay away from them.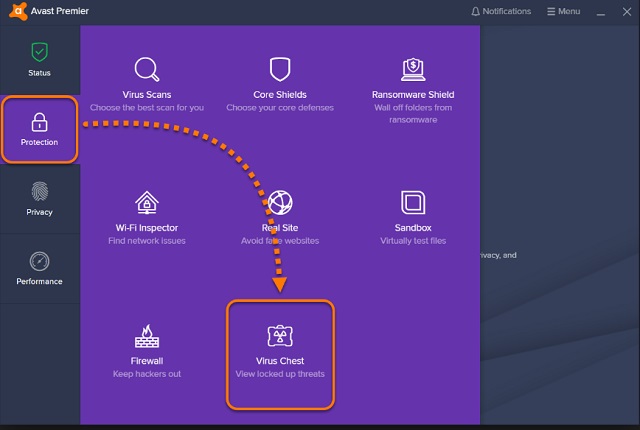 It also works well with VPNs. By using a secure VPN, you will be able to keep your online privacy intact. No matter where you are using the internet from the airport, coffee shop to a public library, it will make sure you are able to access your data with the required security and your identity remains anonymous.
It also has a web inspector that plays a vital role in making your web browsing safe. Its automatic software update ensures  that your device runs the latest software as soon as it's rolled out. Plus, the robust firewall and game mode further enhance your experience. Not to mention the webcam defense that shields your device camera from hidden spies.
Why Should You Consider Avast?
One of the things that make "Avast" a fine bet is the range of top-of-the-line features. From a handy Wi-Fi inspector, useful game mode, a powerful firewall to automatic software updater, it's designed to cater to your needs. On top of all, it's free version has got a bit more teeth than others.
Price: Free, pro version comes at $39.99
Visit: Website 
9. Malwarebytes
What about getting the software that excels in fighting out malware? As the name itself makes it crystal clear, "Malwarebytes" is fully designed to defend your Windows 10 computer against malware. During my test, Malwarebytes scanned my computer pretty fast. And whenever it detected anything threats, it not only notified me immediately but also remove them. Furthermore, it also offers a strong layer of defense to all the vulnerable software so that they can fight out malware attacks.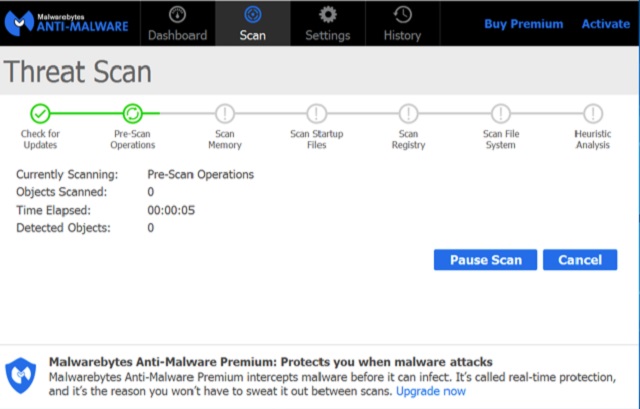 And when you browse the web, it doesn't allow malicious sites to track you or access your data. This way, you won't have to worry about the security of your data while browsing the web. In a world where malware, spyware, and ransomware have become a big problem, Malwarebytes has become an essential defense system.
Why Should You Consider Malwarebytes?
As I've said above, Malwarebytes is all about shielding your computer against malware attacks. So, if you want a tool that can do this job better than many other antivirus applications available in the market, it's your thing. On top of that, it also does a great job of safeguarding your device against ransomware and offering dependable internet security.
Price: Free, pro version is available for $47.30/yearly 
Visit: Website 
10. Panda
Last but not least, Panda deserves a special mention in this roundup. This software has drastically improved to become a full-fledged protector for your computer. It's got a very good record of detecting the virus and fighting out all the nefarious threats that always loom large.
To make your task easier, Panda allows you to schedule a periodic scan so that you don't need to go through the drill manually. From a user-experience point of view, this is a handy implementation and makes the task of keeping the computer secure more convenient. It also automatically scans all the USB drives as soon as they are inserted. This way, it ensures there is no chance of any automatic execution of viruses from external storage devices.
What's more, Panda also has a multimedia/game mode that plays a vital role in letting you want media or play games without any hiccups. This feature doesn't allow viruses to play spoilsport or come in the way of enjoying media.
Why Should You Consider Panda Antivirus Software?
Panda isn't feature-packed like many of its counterparts. However, if you want the software that can do most of the basic things right with the needed reliability, it would be worth a close look.
Price: Free trial, $30.99/year
Visit: Website 
Bonus: Microsoft Defender
To empower your Windows 10 PC or laptop to thwart the threats of ransomware, malware, spyware, and other viruses, Microsoft offers "Defender." The software has received high praise for being pretty good in keeping your computer safe. Moreover, it's free and enabled by default. So, you should let it continue to do its job.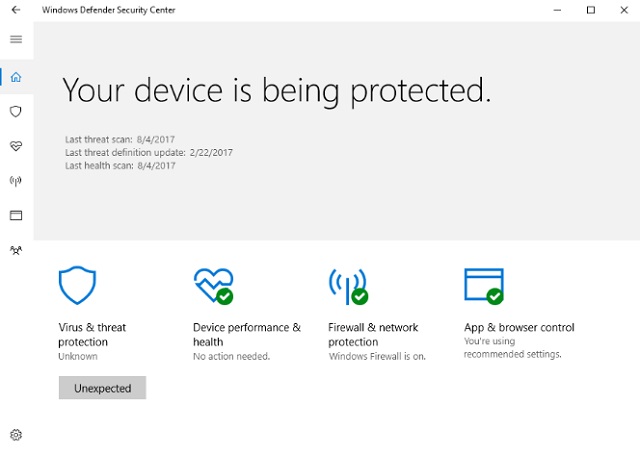 Though Microsoft Defender works efficiently, it's not as versatile as some third-party Windows 10 antiviruses that we discussed above. If you want to have a relatively good tool to shield your computer without having to spend any bucks, this is clearly the way to go. However, if you are looking to have more features baked in and also want to have versatility, the above-mentioned apps like BullGuard and Bitdefender would be better options.
SEE ALSO: 10 Best Email Clients for Windows 10 You Should Use in 2019
So Which Windows 10 Antivirus Is for You?
I hope that this list can help you find your ideal defender to offer a solid shield to your computer and also keep it running in the top-gear. As I have mentioned above, Microsoft Defender does a great job in safeguarding your Windows 10 device. However, it can't go head-to-head against some of the best in the business. So, if your demand wants to have a bit more functional tool, go for third-party options.
If we have missed out any good antivirus for Windows 10 let us know in the comments section below. We will also love to hear which Windows 10 antivirus you are using right now.
---
Load More