It doesn't matter how informative they are, whether they come with lightning deals or whether they do have worthy stuff to offer — pop-ups are annoying. Wouldn't that be irritating to see the pop-up windows when you click on links during your web reading sessions? The level of irritation extends when it comes to the Smartphone scenario, since apps and sites can, in worst cases, fill your device screen with all the nasty stuff you would ever expect!
It's a matter of surety that you'll all be seeking a solution if you prefer a neat web-browsing experience. If you are so, you'll love the post we hope. In this post, we've compiled top pop-up blockers for web browsers and smartphones, creating a list of 6 best pop-up blockers for you. At the end, we have also added some methods, using which you can turn off pop-ups — wipe it off from entire screen.
Well, if you need to get out of pop-ups, scroll down; or, if you need an option that gives priority to customizability, check the list.
1. Poper Blocker
Poper Blocker is a simple yet effective Google Chrome extension when you want to make your Chrome browser with no nasty pop-ups and pop-unders — if you don't know, pop-unders open a new window without letting you know & you know about it when you close the browser window! You can see a notification whenever a pop-up is blocked by means of Poper Blocker and you will have three options to choose — allow it once, always or check advanced option section. In the advanced settings panel, you can add certain websites to white list; choose whether you want to show a badge along with toolbar button etc. Altogether, Poper Blocker is indeed an awesome option to customize the way you block pop-up advertisements and related stuff. Yes, it's available for Google Chrome only.
2. Adblock Pro
Adblock Pro is not a dedicated pop-up blocker app; it is rather a fully-fledged option to have a neat and effective web browsing experience in Google Chrome — with no ads, banners and pop-ups. Compared to the aforementioned blocker, it's offering more customization-oriented features. Those features include adding filters to the blocking process, adding your own filters and white listing domain names so that you won't miss ads or pop-ups from those sites. Thus, if you prefer a fully-fledged, multi-purpose pop-up blocker and advertisement blocker for Chrome, you'd love to have Adblock Pro in your browser, we suppose. And, yes, Chrome only.
Install
3. Popup Blocker Pro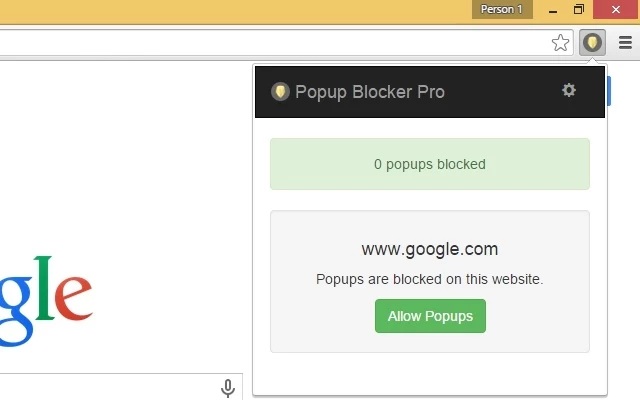 Popup Blocker Pro is almost a replica of Poper Blocker, which we had placed in the first position! Popup Blocker Pro is offering all the features you would need, as a basic user who needs cleaner web-browsing experience. This is free as well as lightweight solution for your Google Chrome browser, given the lesser file size and the easiness of process of installing it in Chrome. Altogether, if you need same functionalities but a change from Poper Blocker, you will love having a look at Popup Blocker Pro.
4. Adblock Plus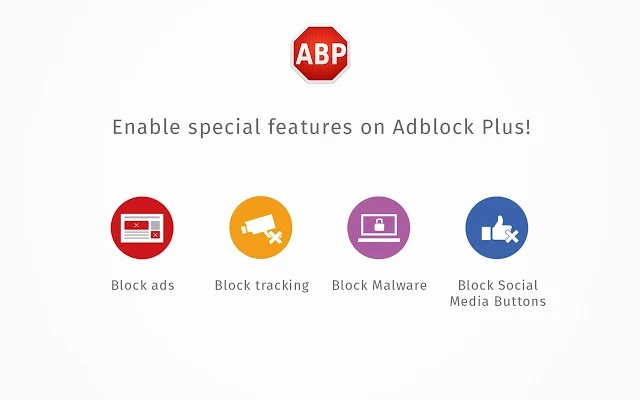 As its product page says, Adblock Plus is a very efficient software to surf web without annoying ads — which includes pop-up-based advertisements too. It does not matter whether you are using Facebook, YouTube or any other site, its service will be everywhere to get rid of obtrusive ads. Nevertheless, this free pop-up blocker offers some noticeable features as well. For instance, other than wiping out every advertisement from the scene, it's a technology to choose whether an ad is obtrusive; if it is, the ad will be removed; otherwise, it will stay there.
In addition, if you are afraid that social networks are tracking your browsing sessions and all, there are options to enable no-tracking, such as the removal of social media buttons. Most important thing about these features is that you can customize everything — as simple as that. As of now, Adblock Plus is available for following platforms:
Google Chrome
Mozilla Firefox
Opera
Android
Internet Explorer
Safari
Yandex
Maxthon
There is also an Android version of Adblock Plus available — named Adblock Browser. It's still in beta stage but you'll be able to download it by joining Google+ community of Adblock Plus Beta. In short, regardless your platform or the browser you use, Adblock Plus makes sense as a pop-up blocker and ad-blocker.
5. uBlock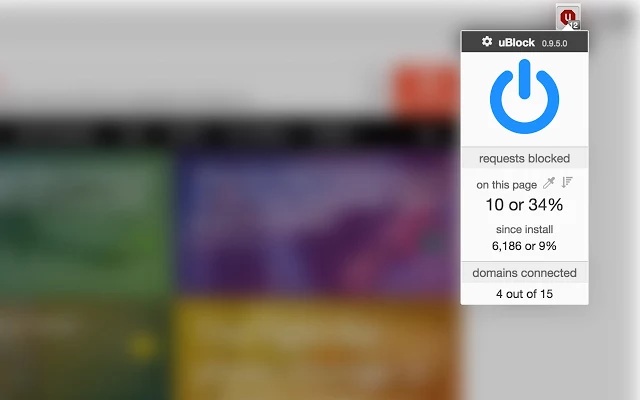 uBlock is an extension that fights off annoying ads and pop-ups from your web-browser screen and it is available for Google Chrome, Safari and Mozilla Firefox. Despite being a lightweight ad-blocking software, uBlock offers awesome features such as the extended support for more filters. Also, by clicking on the uBlock badge in the toolbar, you'll be able to know more about the blocking statistics and its efficiency. Plus, uBlock is completely free & open-source and you may customize it if you know how to. Altogether, uBlock is a sense-making choice when you prefer simplicity as well as efficiency.
6. NoScript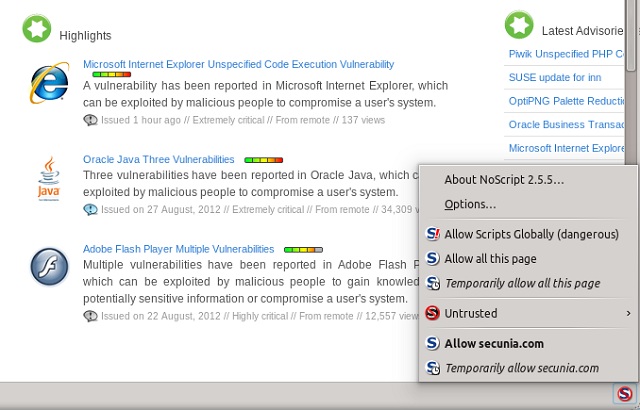 NoScript is not actually a pop-up blocker you can get! It is, on the other hand, an extension to block scripts from loading during your web sessions. It can be used to block JavaScript, Java, Flash and other plugins from executing unless you have allowed them to white list. For it includes in the above-mentioned list, NoScript can block pop-up ads as well. In addition to the dashboard, there will be a status bar too. So, NoScript is a superb pop-up blocker & script blocker for Mozilla Firefox browser.
The Manual Method
We mentioned earlier that it is not necessary to depend on extensions when you want to wipe off pop-ups from your web browsers. Almost every popular web browser comes with an in-built option that allows user to disallow pop-ups from loading. Now, we will have a look on how you can block pop-ups manually on each browser.
Block Pop ups in Google Chrome 
In Desktop
Click on Chrome Menu (on the top right corner)
Choose Settings
Click on 'Show Advanced Settings'
Click 'Content Settings' under Privacy section
Now, from Pop-ups section, choose 'Do not allow any site to show pop-ups'
In Mobile
Open Chrome Menu (on the top right corner)
Tap on Settings
Tap on Site Settings
Choose Pop-ups
Turn them Off
Block Pop ups in Mozilla Firefox
Click on Menu button (top right corner)
Choose Options
Click on Content
Tick the option 'Block Pop-up windows'
Block Pop ups in Safari
Choose Safari
Go to Preferences
Go to Security Tab
Select 'Block pop-up windows'; if you want to disallow plugins, you can select them too.
Block Pop ups in Internet Explorer
Open Internet Explorer
From Tools menu, choose Internet Options
From Privacy tab, select 'Block pop-ups' mode on
Tada! You've made it — it is to be noted that all these options wipe out pop-ups from complete scenario. If you need advantage of customization, scroll up!
SEE ALSO: How To Block Ads In Android (Guide)
Well, what do you think about the pop-up blocker extensions/apps and manual methods described here? We are eager to know more about your opinion as well as the favorite choice among these.