After a long wait, Google finally released the Pixel 8 series, and the Pixel 8 is the smallest Pixel in the roster since the last two Pixel releases. This not only makes it a compact offering but the new feature set and the improvements done to Android 14 ensure it's easy for one-handed usage. When you buy a new device, one of the first things you look for online is protective cases to protect your new Pixel. It can be hard to settle for a protective case because as soon as a new device hits the shelves, there's an overwhelming flow of different types of covers in the market. To make it easier for you to decide which case to pick, here are the best Pixel 8 cases and covers you can buy.
1. Spigen Thin Fit Case for Pixel 8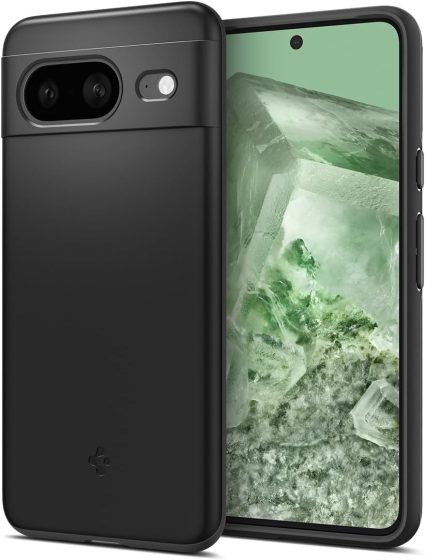 If you have purchased a high-quality case before, you may have heard of Spigen. The brand is really popular and is known for its premium-looking cases. After being on a hiatus and not making covers for the Pixel 7 series, they are back with a few new cases for the Pixel 8 series. The Thin Fit cases, as the name suggests, are for those who find the usual cases bulky. The case, while adding less bulk than regular cases, has raised lips to protect your phone's display; And given it's Spigen, the quality for your bucks should also be high.
Buy Spigen Thin Fit Case on Amazon ($16.99)
2. Cyrill UltraColor Pixel 8 Case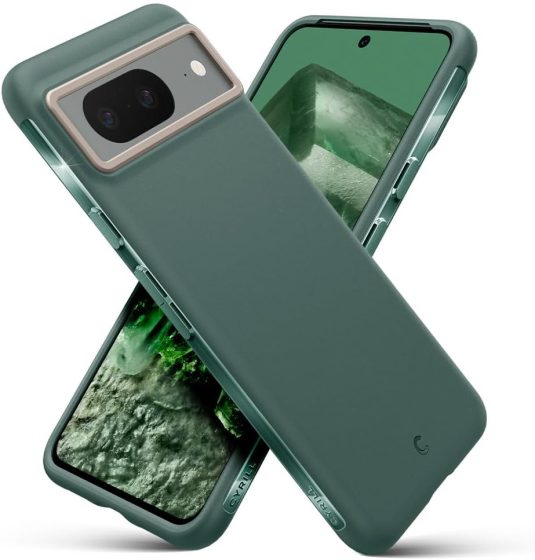 Cyrill is another popular brand when it comes to smartphone cases. They market their cases as minimalistic and made from high-quality materials. The UltraColor case for Pixel 8 is a thin case with raised lips to protect the display and comes in two colors — Kale and Dusk. It's made of TPU material and is highly elastic and dust-free. Overall, it's definitely one of the best cases you can buy for your Pixel 8.
Buy Cyrill UltraColor Case on Amazon ($25.99)
3. Caseology Capella Clear Case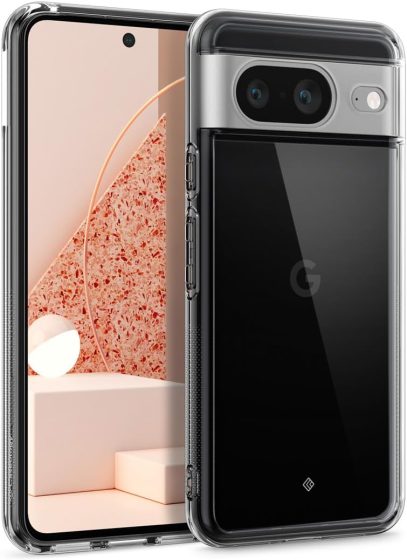 Caseology is a Spigen subsidiary that also makes some great smartphone cases. We mentioned their Parallax case in our Pixel 8 Pro cases guide because it's one of the best cases you can buy for the Pro variant, and Capella is no different for the Pixel 8.
For starters, it's a clear, transparent case, which is great for showing off the bright colors of Pixels this year. Besides, the case is military-grade drop-tested and is a bit on the expensive side.
Buy Caseology Capella on Amazon ($20.99)
4. COFFKER Liquid Silicone Pixel 8 Case
Coffker is another reputed brand when it comes to cases and they have got quite the Pixel 8 cases collection. For starters, Coffker's Liquid Silicone case for Pixel 8 comes in nine colors and our favorite has to be the Pine Green. It has a soft microfiber lining inside and is quite slim. For an asking price of under $15 on Amazon, it's a good-looking pastel case.
Buy Coffker Liquid Silicone ($13.89)
5. Spigen Ultra Hybrid Case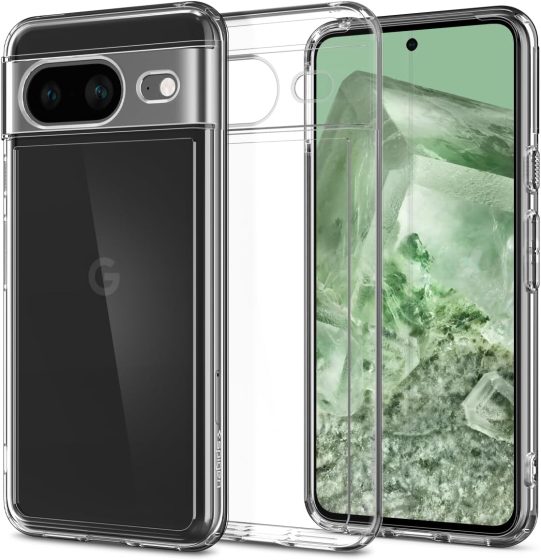 If you are not a fan of Spigen's opaque and rugged cases, you might want to look at their Ultra Hybrid series. As you may have guessed, it's completely transparent, and while its torso is completely plastic, the sides and upper region are made of silicone for better protection. Like any Spigen case, it has raised lips to protect the display, and for around $15, you certainly cannot go wrong with this one.
Buy Spigen Ultra Hybrid on Amazon ($15.99)
6. Ringke Onyx Grip Case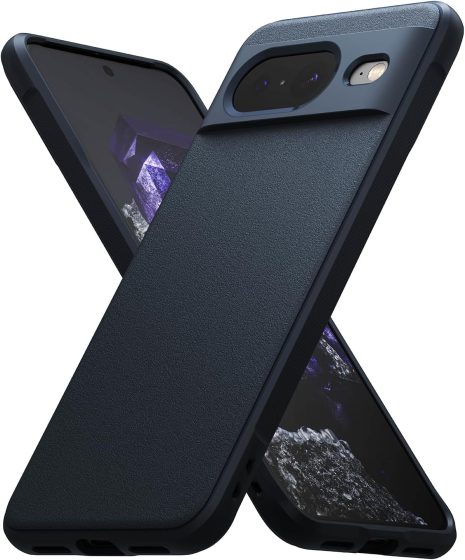 Ringke makes great cases too. The brand has been in the business for as long as we can remember and is now selling cases for the Pixel 8 series. As of writing this, Ringke has two types of cases for the Pixel 8 – a fully transparent one and a grip case. Both cost $15, are military-grade drop-tested, and also have, what the brand calls, anti-fingerprint technology to resist oil smudges and fingerprints.
Buy Ringke Onyx Case on Amazon ($14.99)
7. Otterbox Defender Case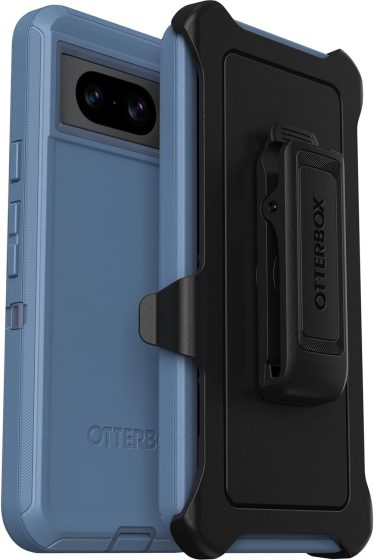 For those who like to adventure, go camping, and climb hills, the aforementioned cases are not meant to handle immense pressure, and for those, OtterBox has introduced a Pixel 8 case in their Defender lineup. The case costs $65, which is a lot of money, and you may not be able to argue its worth, but you could be 100% sure that it'll save your new Pixel from any kind of terrain.
Buy OtterBox Case on Amazon ($64.95)
8. Foluu Silicone Case for Pixel 8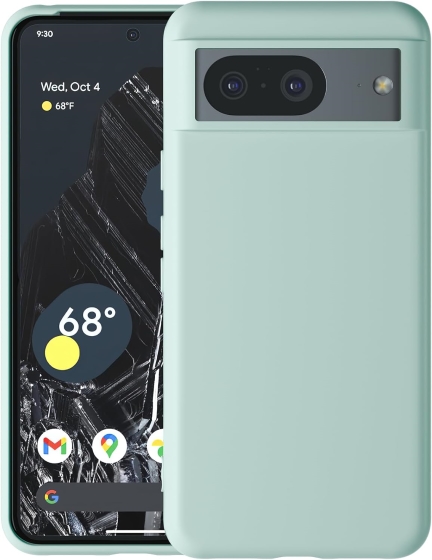 The Foluu silicone case is currently the highest-rated case for Pixel 8 on Amazon and for good reasons. While it's not as rugged as the Spigen Hybrid cases or the OtterBox case, it offers decent protection for under $10. It comes with raised lips around the screen edges and camera visor. What's better is it's available in a variety of colors. The case also has a microfiber lining inside.
Buy Foluu Silicone Case on Amazon ($8.99)
---
Load More