The Moto Z has been this year's one of the most talked about flagship phones. This premium smartphone from Lenovo-owned Motorola brought the concept of modular smartphone to the masses in a beautiful design. The Moto Z family comes in three editions, with the Moto Z and the Verizon-exclusive Moto Z Droid (which is identical in design to the Moto Z) being the flagship ones along with the Moto Z Force Droid. They pack-in beastly specifications inside their gorgeous metal bodies that might actually be prone to scratches and bumps.
So, if you happen to own a Moto Z or have ordered one just now, you might be thinking of investing in protection cases or personalized back covers for these amazing phones. Well, we bring you 10 best Moto Z cases you can buy:
Note: Keep in mind that these suggestions are for the Moto Z and Moto Z Droid models only. If you are looking for Moto Z Play cases, you should check out our article on the best Moto Z Play cases. 
1. Moto Style Shells
Offered as the most basic Moto Mod, the Moto Style Shells give you an experience of the most elegant personalization possible on the Moto Z phones as of now. These polycarbonate covers attach to the back of the phones easily, courtesy the magnetic attachment system for all Moto Mods. Available in different colors and patterns, these Style Shells provide for easy swapping for a new look. And, they are not very expensive either, with prices starting $19.99. They don't do much to protect your phone in case of a drop but will surely keep turning heads whenever you pull your Moto Z out of your pocket.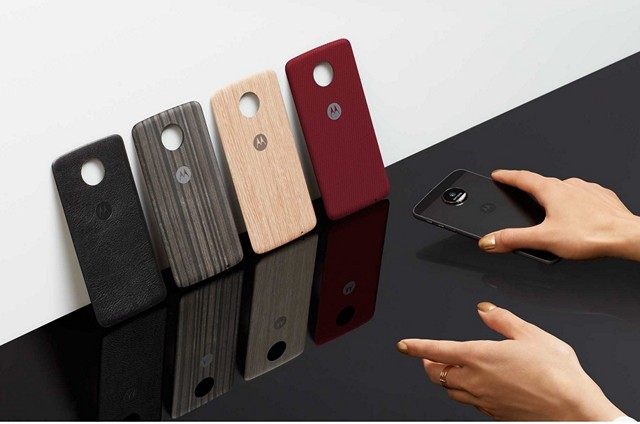 Buy from Motorola (starts at $19.99)
Buy from Amazon.com (starts at $19)
2. Supcase Full-body Rugged Holster Case
If you want to keep your Moto Z or Moto Z Droid handset protected from accidental drops and knocks, then you should consider buying the Supcase Full-body Rugged Holster Case. This shock resistant dual layer case covers both the back as well as the front of the phone, with an built-in screen protector for keeping the screen scratch and dust free. It also includes a belt clip holster, which can be convenient if your pockets are full.
The case offers an improved grip to this sleek phone along with a rugged look and 360-degree protection. The case is available in Black and Blue, where you need to add $2 to its price tag for the Blue variant.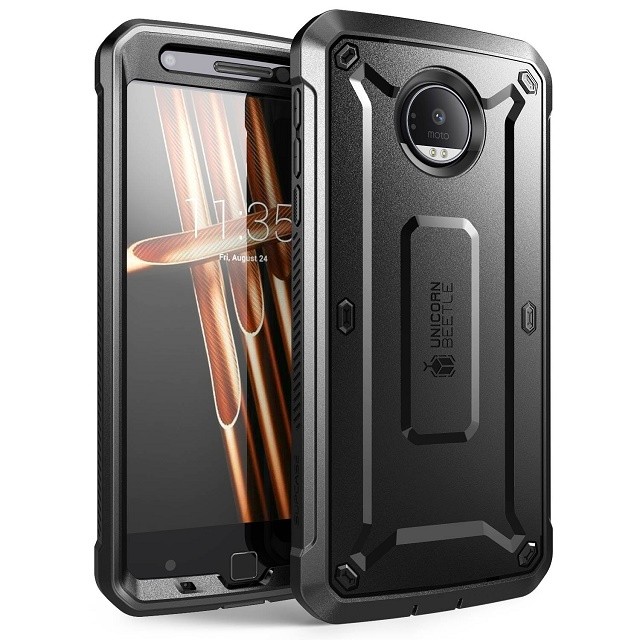 Buy from Amazon.com (starts at $17.99)
 3. Spigen Rugged Armor Case
The Spigen Rugged Armor Case is for people who want their Moto Z or Moto Z Droid to be rugged and draw eyeballs at the same time. It is draped in a combination of stylish matte textures and carbon fiber trims, fused into an amazing case. It is a flexible TPU case with raised lips along the sides of the screen to prevent any contact of the screen with the surface. It features something known as Air Cushion Technology that aids in superior shock absorption, thus preventing any harm to that gorgeous body under it. You get only a single color and a single design, which doesn't matter considering its premium looks.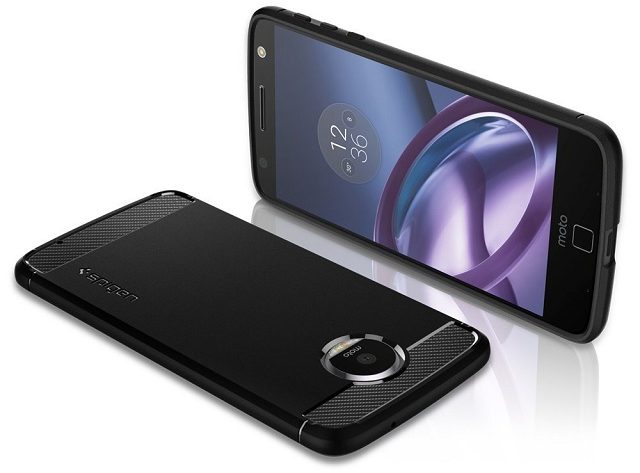 Buy from Amazon.com ($12.99)
4. POETIC Affinity Series Premium Clear Bumper Case
This case from POETIC is a completely different take on transparent/clear phone cases for Moto Z/Moto Z Droid. Made out of clear polycarbonate, this case has X-shaped soft shockproof TPU which acquires minimum space on the back of your case. The case has an anti-slip side grip for preventing the phone from slipping through your hand. The edges provide adequate bumper space for protecting your screen in the event of a drop. It is available in two styles: Black shockproof layer with clear back and clear shockproof layer with clear back.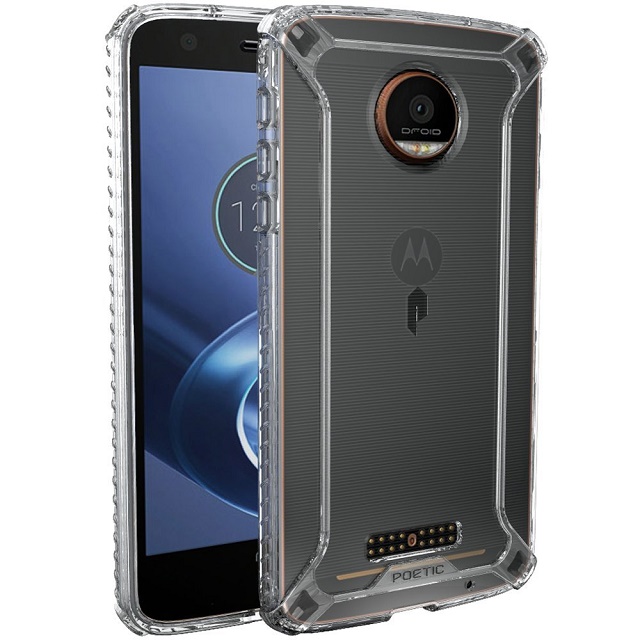 Buy from Amazon.com ($9.95)
5. Incipio Battery Case
If you are a person who prefers function over form, then the Incipio Battery Case for Moto Z and Moto Z Droid is for you. This case adds a bit of bulk to the back of your phone, which extends your grip over it. It also houses a concealed 2220 mAh battery that can provide an additional battery backup of 22 hours. However, this has been intelligently designed to keep charging your phone only after it drops below 80%. There is also a wireless charging compatible variant that costs a bit more. It comes in Black and White versions only, which is a letdown considering its ambitious price tag. Consider this only if you require power over anything else.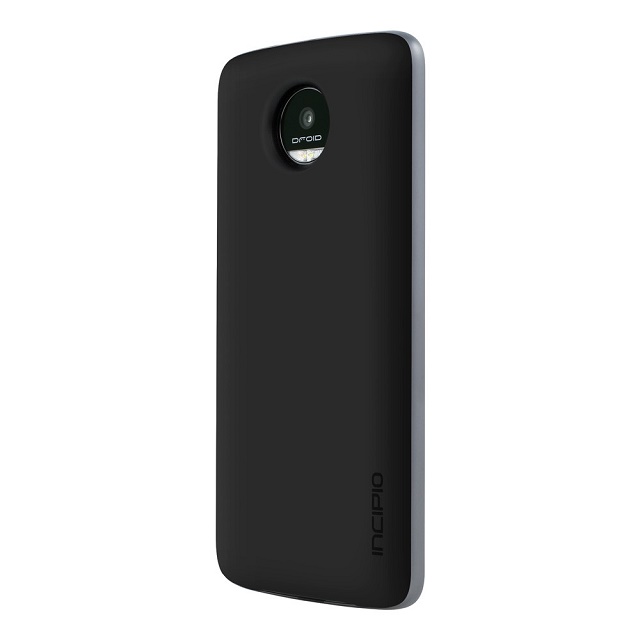 Buy from Amazon.com ($96.90)
Buy from Motorola ($59.99) (Wireless charging enabled $69.99)
6. Shalwinn Premium Crystal TPU Case
This is a clear back case for Moto Z and Moto Z Droid with a plain and simple design. It is shock absorbent, not shockproof, which brings down its price quite a lot. However, for that surprisingly low price, you get a smooth and premium finished case that is also tough. The round edges make for a comfortable grip over the phone while not making it bulky. And, it is easy to clean, thus letting you get a clear view of your Moto Z's gorgeous back. There are many color tones available too, with an option to purchase a completely opaque black variant. Also, for a very low price, you get two cases: a clear one + a colored translucent one. That surely makes it a sweet deal.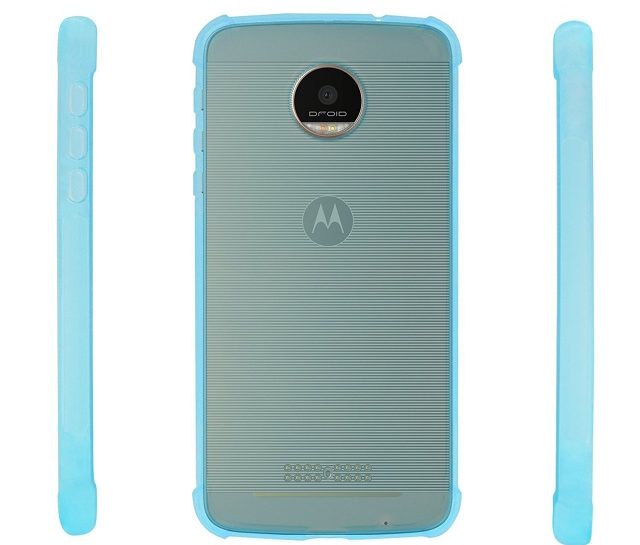 Buy from Amazon.com ($7.99)
7. Incipio Octane Co-Molded Bumper Case
Another bumper case from Incipio with a twist. If you are a person who fancies the naked feel and beauty of your gorgeous Moto Z or Moto Z Droid but wants protection from accidental drops as well as the Moto Mods capability in the same package, then this is for you. The Incipio Octane Co-Molded Bumper Case features a shockproof frame around the edges of your phone. It doesn't have any layer on the back, which allows for all the Moto Mods to work effortlessly without removing the case.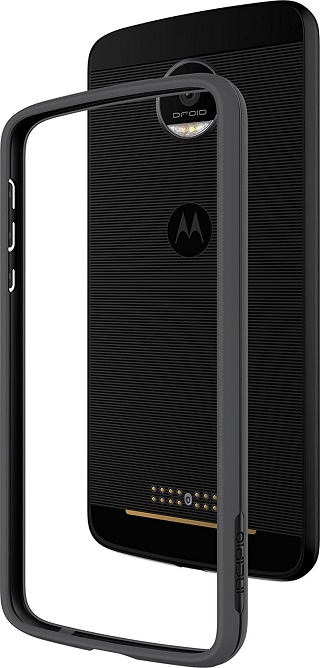 Unlike other bumper cases, the protection is not equivalent to being shatterproof or scratch resistant, but it protects the important frame from drops and scratches. It is available only in Black.
Buy from Amazon.com ($29.99)
8. Nillkin Frosted Shield Matte Fit Case
A matte case on a phone always makes up for a premium and nice feel. Nillkin's Frosted Matte Case brings exactly that, thanks to its brilliant texture and superb finish. It is very sleek and body-hugging. The case also makes your Moto Z dust and shock proof. It is fingerprint resistant too, which is great for people who keep wiping their phones every now and then. There are four color variants available- Black, White, Red and Frosted Gold. All of them give the Moto Z a very classy and elegant look.
Buy from Amazon.com ($9.99)
9. NageBee Premium Flip Fold Wallet Case
If you are confused by the name, then this is simply a leather wallet case for your Moto Z and Moto Z Droid. Being completely different from anything else mentioned on this list, it focuses more on practicality and convenience. It doesn't have any of that high-density scratch-resistant TPU stuff, but only leather for keeping your phone safe in the event of a drop or accidental bumps.
Since it is a flip cover, your screen is protected from scratches and dust as well. The case also houses provisions for keeping ID cards and notes. Plus, you can also use it as a makeshift stand for watching movies or videos on your Moto Z. This case is available in six different colors and patterns.
Buy from Amazon.com ($9.98)
10. Hybrid Dual Layer Armor Case Cover
This is a lightweight case for your Moto Z/Moto Z Droid that's beautifully designed, thanks to the various floral designs. The case has an inner silicone lining that absorbs shocks in the event of an accidental drop or bump. The fitting is good too, with easy access to all the ports and buttons. It features raised edges on the front, which should offer decent protection to the screen.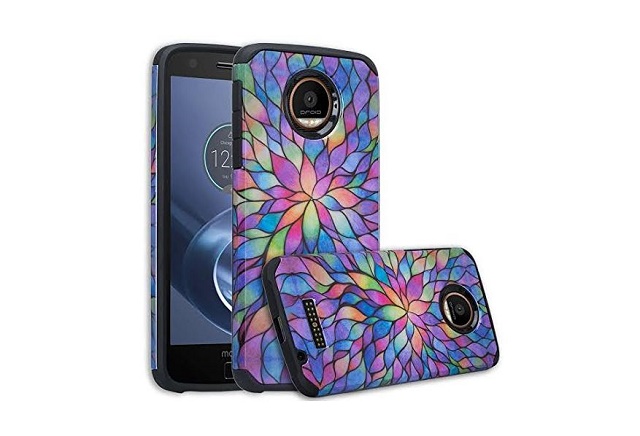 Buy from Amazon.com (starts from $5.99)
Bonus:
dbrand Skins for Moto Z and Moto Z Droid
If you don't want any additional bulky case to cling to your phone but still want a dash of customization, then you should probably put skins on your phone. And dbrand is one of the best custom skin manufacturers on the web right now. They let you choose from a list of available skin modifications for the Moto Z and many other popular flagship phones.
You can customize your back with a separate skin and choose another skin for the front panel of the phone. You can see the added customizations live on a dummy image of your Moto Z before purchasing the skin. The skins are made of 3M vinyl that make your phone less slippery and fingerprint free. Oh, they also allow you to use the Moto Mods after the skin has been applied.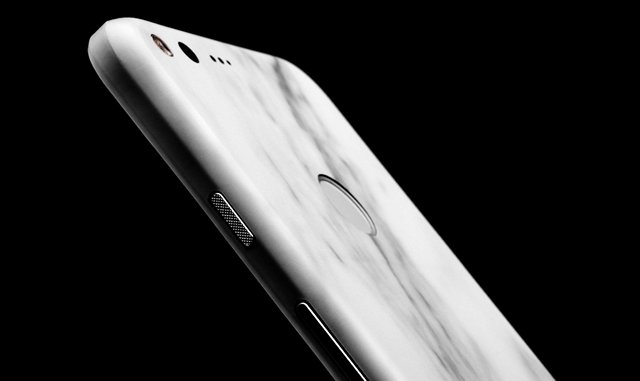 Buy from dbrand.com (starts from $9.95)
SEE ALSO: 6 Best Moto Z Mods To Enhance Your Moto Z Smartphone
Protect and Flaunt your Moto Z/Moto Z Droid with these cool cases
The Moto Z and the Moto Z Droid are amongst the best of what Android has to offer. With flagship specifications and killer looks, you would surely want your high priced investment in your hands for a long time. These cases and covers provide you with excellent protection and an exclusivity of making your Moto Z reflect your personality. If you like any one of the suggestions or want something else to add to this list, let us know for sure in the comments section below.