Many companies have tried their hands at modular smartphones. Google tried it with its now shut down Project Ara, LG tried it with the LG G5 but if there's one company that has seemingly done modular smartphones right, it has to be Lenovo-owned Motorola. The company's Moto Z lineup, which includes the Moto Z, Moto Z Droid, Moto Z Force Droid, Moto Z Play and the Moto Z Play Droid, have been gaining a lot of traction, all thanks to the cool Moto Mods feature. The Moto Z phones feature strong magnets, making sure any mods fit perfectly and can be attached in a snap. Thankfully, there are some cool Moto Mods available for the Moto Z devices.
So, if you have bought a Moto Z smartphone, here are the 6 best Moto Mods you can buy to enhance your brand new Moto Z smartphone:
1. JBL Soundboost Moto Mod
Most smartphones these days come with decent speakers but they are still no match to standalone speakers. Well, that changes with the JBL Soundboost Moto Mod. The mod is compatible with all the Moto Z devices and it offers great stereo sound, thanks to the dual 3W speakers offering loudness of up to 80 dB. Moreover, it packs in a built-in kickstand for a great video watching experience. That's not all, along with the speaker, the mod includes a built-in 1,000 mAh battery, which should extend your Moto Z's battery life by 10%.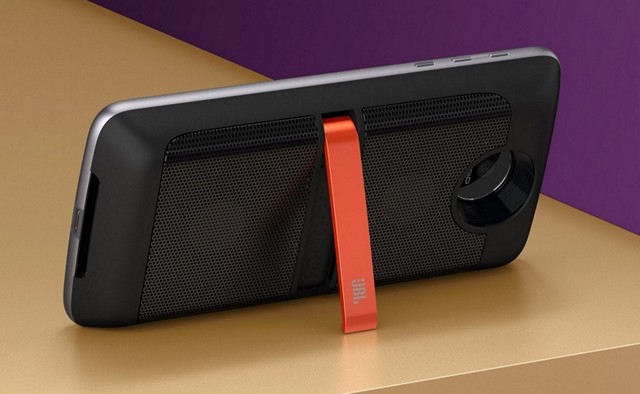 The JBL Moto Mod is available in Black, as well as White and it's undoubtedly a great mod for the Moto Z family of devices.
Buy from Amazon ($99.99)
2. Hasselblad True Zoom Camera Mod
The Moto Z devices feature decent rear cameras but with the Hasselblad Moto Mod, you can make it a lot better. Compatible with all the Moto Z devices, the Moto Mod features a 12 MP sensor with OIS and f3.5-6.5 aperture. It lets you capture shots and shoot videos in 10x optical lossless zoom. The mod also packs in Xenon flash, which means you'll get sharp, blur-free and well-lit shots. Along with the those features, the mod lets you capture in the RAW format and brings enhanced controls for an enhanced shooting experience.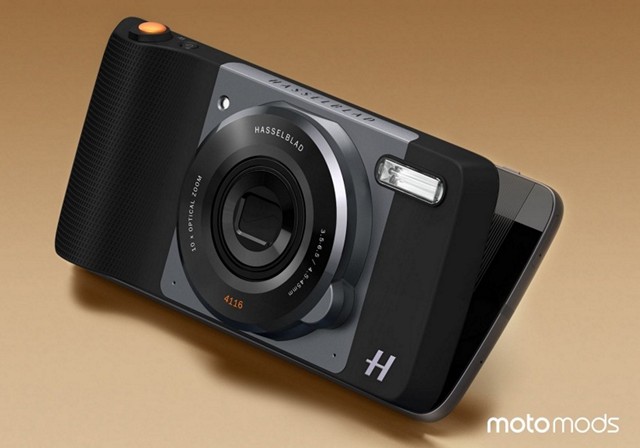 With the Hasselblad True Zoom Camera Moto Mod, you also get up to 2 TB of Google Drive storage for the pictures. Overall, it's the perfect mod for your Moto Z device if you are serious about taking great photos from your smartphone.
Buy from Amazon ($249.99)
3. Incipio Vehicle Dock
Motorola recently announced a couple of new brand new mods, one of them being the cool Incipio Vehicle Dock. The Incipio Moto Mod brings a number of great features but the most important thing about it is that it packs a 3.5 mm jack, which the Moto Z devices lack. The dock supports Android Auto (automatically launches the app) and can be attached to the air vent of cars. It also offers 15W TurboPower fast charging for your phone, so you can easily charge your device during a short ride.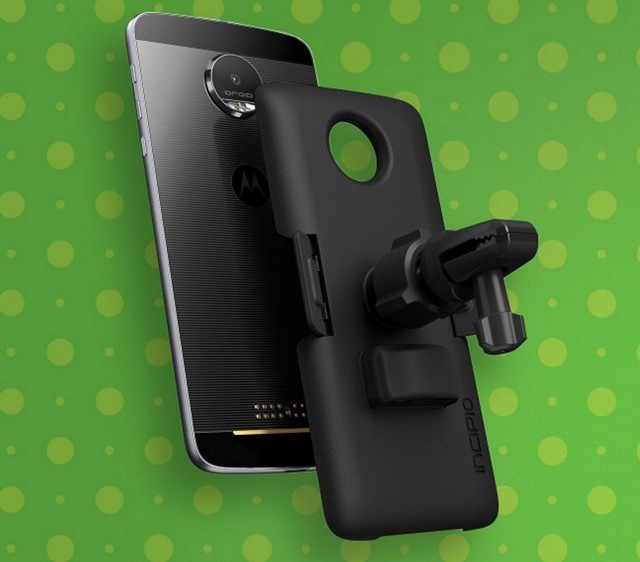 Buy from Verizon ($64.99)
4. Moto Insta Share Projector
One of the most interesting Moto Mods for the Moto Z devices is the Insta Share Projector. The mod can be simply snapped on one of the Moto Z devices and you can then instantly turn any flat surface into a 70-inch big screen. The projection for the Moto Mod is in WVGA resolution (480p), which is decent enough and the brightness offered is 50 lumens.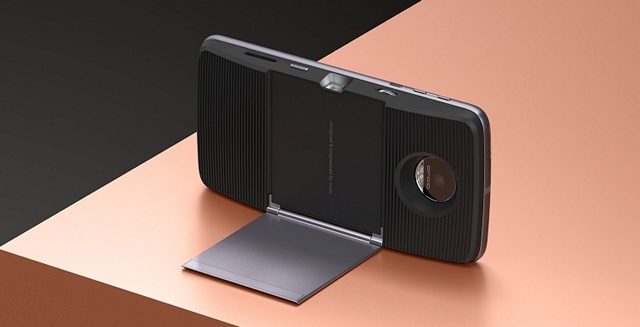 The mod packs in a 1,100 mAh battery built-in, which offers an additional hour of projection and it supports USB Type-C quick charging, which is pretty great. Other than that, the Moto Mod packs in physical buttons for power and manual focus.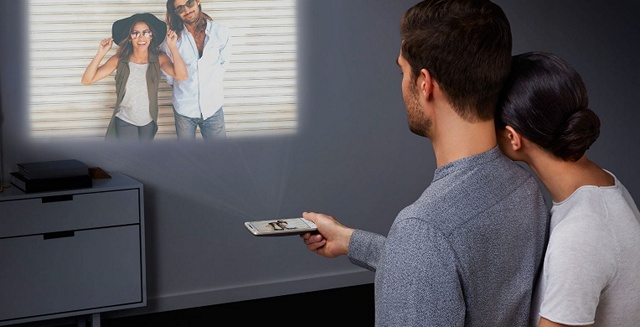 Buy from Amazon ($273.90)
5. Mophie Juice Pack
The Mophie Juice Pack is a great battery case Moto Mod for the Moto Z devices. It packs in a 3150 mAh battery, which should extend the battery life by up to 60%. It should especially be handy for the Moto Z, because it features a rather modest 2,600 mAh battery. The battery mod supports USB Type-C fast charging, so it should be up and running quickly.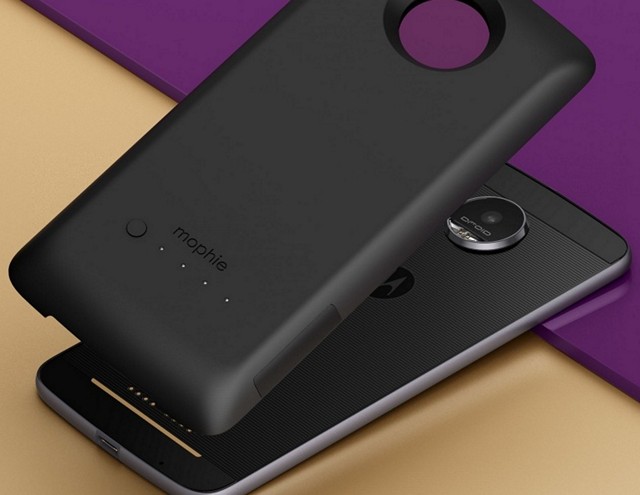 Buy from Verizon ($79.99)
6. Incipio OffGrid Power Pack
As the name suggests, Incipio's OffGrid Power Pack is another battery case for the Moto Z devices. It offers a 2200 mAh battery, which is less than what you get with the Mophie offering but what's unique about Incipio's power pack is that it has a version that supports wireless charging. Plus, it comes in cool designer editions by kate spade new york and TUMI. So, it not only adds power but also adds style to your Moto Z smartphone.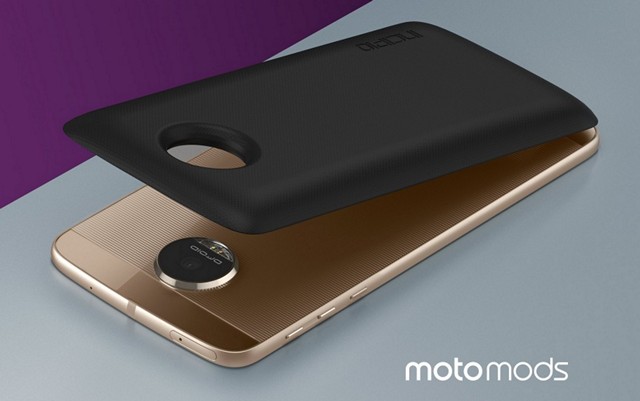 Buy from Motorola ($59 to $89)
SEE ALSO: 10 Best Moto G4 and G4 Plus Protective Cases and Covers
Add Functionality to your Moto Z smartphone with these Moto Mods
The Moto Mods are certainly a great innovation by Motorola and it's bound to get better with more cool Moto Mods arriving in 2017. A Moto Mod that brings Google Tango's AR features to the Moto Z devices is also in the works. So, if you own a Moto Z device (Moto Z, Moto Z Force Droid, Moto Z Droid or Moto Z Play), you surely have a lot to look forward to.
So, check out these Moto Mods and let us know how you like them. Also, we'll be updating these page with more mods, as they arrive, so stay tuned.
---
Load More