If you don't know already, Pixelmon servers are Minecraft's answer to the best GBA Pokemon games dominating the fanbase. Some of them have worlds like the cities in Pokemon. Meanwhile, others have full-fledged games where you can fight, capture and train the Pokemon in Minecraft. Though, as you might expect, these servers do all of it within the boundaries of Minecraft biomes. So, the Pokemons might look like their anime counterparts, but the cities are still blocky. This unique combination of animated and blocky Minecraft worlds comes with a pinch of nostalgia. Each Pixelmon server offers us special features alongside some of the best Minecraft mods. With that said, let's try to catch 'em all on the best Minecraft Pixelmon servers!
Best Minecraft Pixelmon Servers (April 2022)
Please note that all the Pixelmon servers are modded, and most of them might ask you to download Minecraft modpacks. Some might even require you to install Forge in Minecraft to run them. So, make sure to check such requirements for each server before joining.
1. MC Complex
Starting our list with a big one, we have the MC Complex. On our list, it's one of the very few Pixelmon servers that use the Minecraft 1.18 update and later. Thanks to that and a vast number of Pokemons, this is one of the most popular Pixelmon servers. It has gyms, trainers, and wild Pokemons replicating the authentic experience of the anime.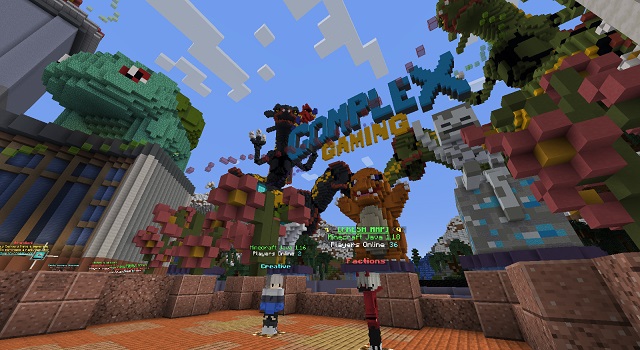 But even if you choose not to enter its Pixelmon realm, it has other game modes. Most of them have structures inspired by Pixelmons. And if you ever want a break, this server comes with some other Minecraft adventure maps as well. These cover different pop cultures, including superheroes and cartoons.
2. PokeSaga
PokeSaga takes the regular open world of Pixelmon and adds interesting quests to it. We get access to various custom skillsets, guilds, and most interestingly, world bosses to defeat. As for the gameplay, the server has Pokemon gyms, brawls, custom maps, and many active trainers. There are plenty of Pokemon realms for you to dive into to experience unique worlds and separate game modes.
Thanks to the server being in the older game version, it runs smoothly on most modern machines. Moreover, this server also has one of the most beautiful main lobbies. It comes with giant legendary Pokemon statues next to a mystical terrain.
3. Pixelmon Realms
Don't be fooled by the name, as this server has nothing to do with Minecraft Realms. However, the content it provides might be even better than most official Realms. It has around 800 Pokemons covering the eight generations of the series. There are even some Pokemon bosses that you can fight later in your adventure.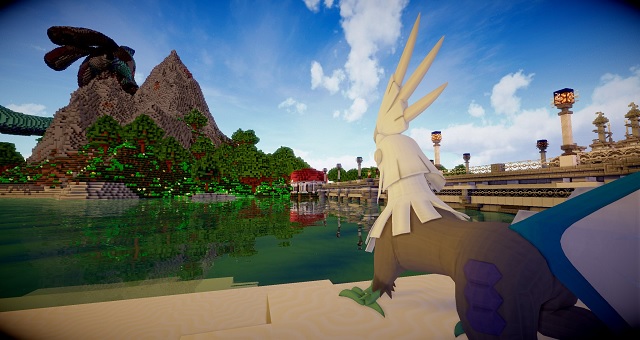 Building upon that, there are several quests on this Pixelmon server. Some of them include roles of NPC inspired by original Pokemon games. It is further divided into several smaller Realms to keep the system less crowded. But if all of this isn't enough to impress you, the server also has plenty of new in-game recipes.
4. AnubisMC
This Minecraft Pixelmon server calls itself the best server out there, and it has plenty of features to back its claim. Similar to many servers, it has over 800 Pokemons and various locations dedicated to the anime. There is a Pokemon city and an Oasis alongside different unique places.
Anubis allows players to participate in regular giveaways and server events. There is even a survival area of the server that even the Bedrock players can join. Though, they won't be able to bag any of the Pokemon adventures due to modding restrictions.
5. Pokeland
Our next Pixelmon server uses the same basic formula as others, but aims for a brand new experience. Instead of providing us with various individual locations, its key focus is on giving players a Pokemon Earth. Here, players can interact, explore, and try finding Pokemon. But if you can't find the pocket monster you like, you can even purchase them online.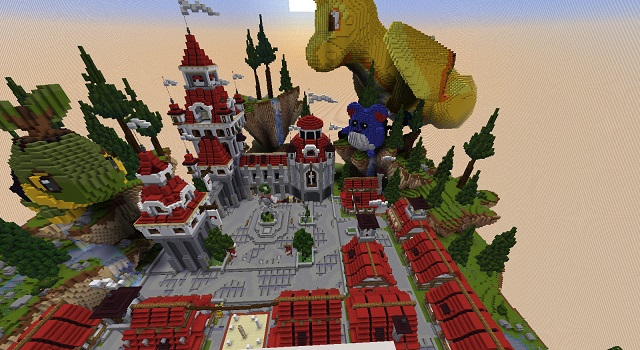 The server's creators offer several purchasable upgrades that require real-world money. Though, the server also returns the same by holding monthly tournaments. Here, players get a bunch of exciting prizes, including real-world money. We won't suggest spending money unless you like the server as it has a limited number of active players.
6. Poke Paradise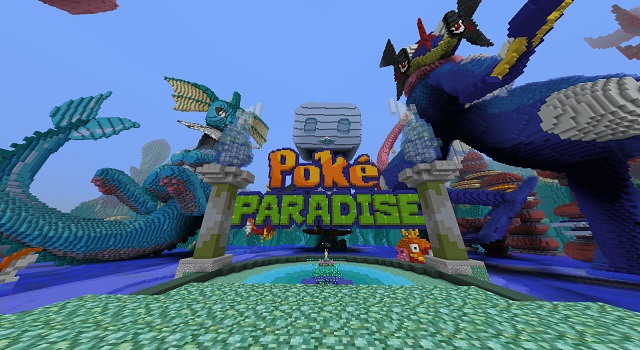 Among all the best Pixelmon Minecraft servers, Poke Paradise seems to have the most number of the latest Pokemon. Beyond the regular generations, it also adds the Pokemon's Gigantamax and Eternamax forms. Moreover, it also has some of the newer regions and textures from the anime series.
7. Pixelmon To Go
Pixelmon or not, most Minecraft servers are not directly ready to play. But not anymore, as you only need to install its Pixelmon mod with this next server. Then as soon as you load the server, it spawns you into an open world filled with Pokemon.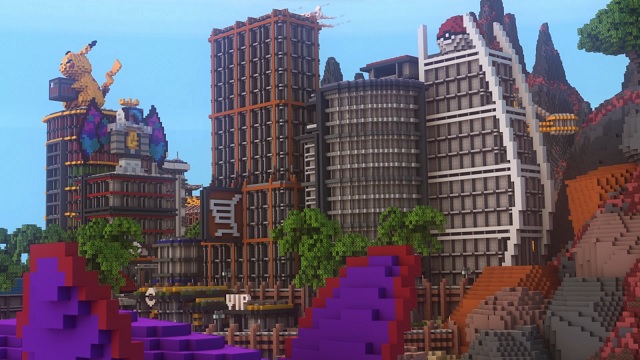 The server has its custom UI and even a unique launcher. Both of these are inspired by the original Pokemon game series. So, in a way, you get a different Pokemon game alongside Minecraft that one can easily enjoy on the go.
8. Fruit Network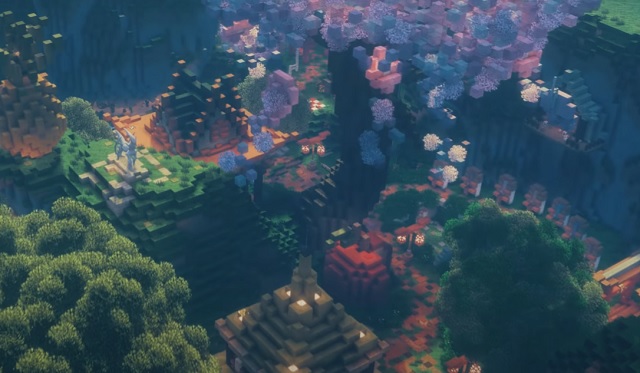 Last but not least, we have the Fruit Network. It is a collection of game modes, including Skyblock, survival, prison, and Pixelmon. This server's Pixelmon mixes the traditional model and survival gameplay. You can enjoy your time in custom gyms, custom MMO, weekly tournaments, and even special Pokedex rewards.
Bonus: How to Change Game Version on Java
With all the best Minecraft Pixelmon servers covered, it's time to understand how to run them properly. Since most of these servers run on Minecraft Java version 1.12.2, you must put your game to that edition. Here's how to do that.
1. First, launch the Minecraft game launcher and move to the "Installations" tab from the top navigation bar in the Java section.
2. Then, click on the "New installation" button. It is located at the top of the version list.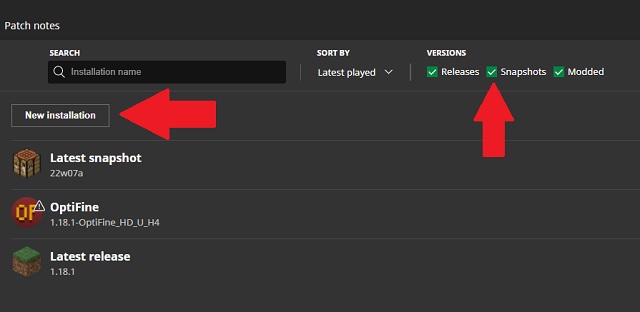 3. Then, enter any server name you want in the name column. After that, choose "release 1.12.2" from the server drop-down menu. Then, click on the "Create" button in the bottom right corner.
4. Once the new version is ready, it will show up in the list of installations. You need to click on the "Play" button next to it to open the Pixelmon compatible version of the game.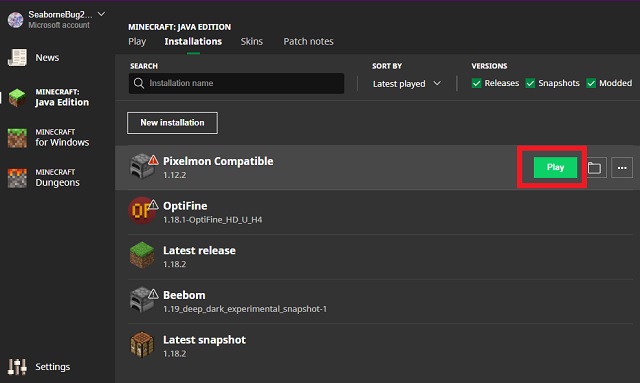 Try these Top Minecraft Pixelmon Servers
With that, you are now ready to take a nostalgic trip to the world of Pokemon with the best Pixelmon Minecraft servers. Moreover, with the correct Pixelmon modpacks and game version, you can start playing as a trainer in no time. But if you don't wish to go online, the servers' modpacks also work offline. Moreover, you can find similar best Minecraft modpacks around other popular series. Each one of them holds the potential to send you on a brand new adventure across beautiful worlds.
And you can push them a step further by installing Optifine in Minecraft. It allows you to improve the graphics and performance of your Minecraft worlds. Optifine's features are especially useful on the Pixelmon servers as most of them support best Minecraft shaders. With these features, your Pixelmons can look like modern-day video game characters. Having said that, we won't keep you here any longer. It's time for you to check out the best Pixelmon servers and start catching Pokemon. Which Pokemon are you most excited to catch? Tell us in the comments!