We have witnessed a lot of technological innovations since the inception of tech, and one of the recent improvements that's nothing short of a marvel is gaming on Linux. If you were to ask about the status of Linux gaming, people would have laughed you off saying it's not possible to play AAA games on Linux. But today, thanks to Valve's Proton and Steam Deck, Linux gaming has reached unprecedented heights, and it continues to reach new milestones. Hence, if you want to start your gaming journey on Linux, here are the best Linux distros for gaming.
1. Fedora
The first contender on our list may feel like an unusual guest but wait until you actually start using it. Gaming on Fedora is the only way you will understand how far this popular Linux distro has truly come both in terms of ease of use and gaming. Like with many gaming-focused distros, installing Nvidia drivers on Fedora (both open and closed source) is a piece of cake and requires only a few clicks.
Besides, it comes with a store that allows you to install Steam via Flathub or from the source using DNF. While Wayland in Fedora isn't ideal for gaming in terms of stability, the overall performance compared to X11 should remain similar. Fedora is also one of the cleaners operating systems out there; hence, it's not only a great choice for gamers but also for folks who need a good-looking daily driver distro.
Fedora comes with Flathub preinstalled, so you can also download stores such as Heroic, and apps such as Bottles to play your Epic or any library on Linux. For those searching for a distro specifically for gaming, Nobara Linux (visit) is a great Fedora spinoff that's optimized by the makers of Proton Glorious Eggroll for great gaming performance out of the box and is definitely worth trying.
| Pros | Cons |
| --- | --- |
| A stable distro for its release cycle | Doesn't come preinstalled with game launchers |
| Great for GNOME lovers | |
| Installing NVIDIA drivers is pretty easy | |
Download Fedora Linux
2. Garuda Linux
Garuda Linux has earned quite a reputation in the Linux gaming world and rightfully so, thanks to the OS featuring built-in packages that help you get started with gaming on Linux out of the box. Much like Arch, Garuda is a rolling release, and besides the gaming goodies, most people like the way it looks. The distro comes with an app called "Garuda Gamer" that helps users install all the necessary apps like Steam, Heroic, DXVK, Wine, etc in one click.
Besides, Garuda uses the Zen Kernel instead of the regular Linux kernel to improve gaming performance and comes with ZRAM enabled by default. Overall, if you're looking for a gaming distro that's highly customizable and easy to use, you cannot go wrong with Garuda Linux.
| Pros | Cons |
| --- | --- |
| Rolling release for latest features | UI could be a bit too overwhelming |
| Highly customizable and "game"ry aesthetics out of the box |  |
| Kernel tweaks for great performance | |
| Installing NVIDIA drivers is pretty easy |  |
| The installer gives you the option to install launchers | |
Download Garuda Linux
3. Pop!_OS
Pop!_OS is a contender in our best Linux distros list, and the same goes here when it comes to gaming. Lots of people have Pop!_OS as their go-to distro, and that already speaks something about the OS. For starters, it's one of the distros that has a separate ISO for folks running Nvidia GPUs, which saves them a lot of time instead of trying to install drivers manually.
Moreover, Pop!_OS is based on Ubuntu and uses the COSMIC desktop environment, which in turn is a GNOME-based DE. Thanks to its Ubuntu base and Flatpak embracement, there's a broad library of gaming-related applications that you can download like Steam, Heroic, Lutris, etc.
As of writing this, Pop!_OS is sort of in between limbo and undergoing a transition as the developers of the OS rewrite COSMIC in Rust programming language. The new and improved Pop!_OS will release later this year, but if you opt for the 22.04 LTS release, the OS will serve you well for at least 3 years from now, which is solid. Overall, it is one of the nicest distros you can choose to game on.
| Pros | Cons |
| --- | --- |
| Very stable thanks to the Ubuntu base | Doesn't come with preinstalled launchers |
| Comes with a separate NVIDIA ISO | |
| Always uses the latest Kernel |  |
Download Pop!_OS
4. Ubuntu
Having Ubuntu in the fourth place on the list may give us a backlash due to the direction the distro is headed (corporate illness), but hear us out. If you want a no-frills operating system for gaming, and nothing more than for carrying day-to-day tasks, Ubuntu is a good choice. For starters, the NVIDIA drivers don't come preinstalled but they're just one command away. Besides, you can install Steam, Heroic, and other game launchers such as Snaps to get started quickly. If you don't like Snaps, Flathub is always there for you.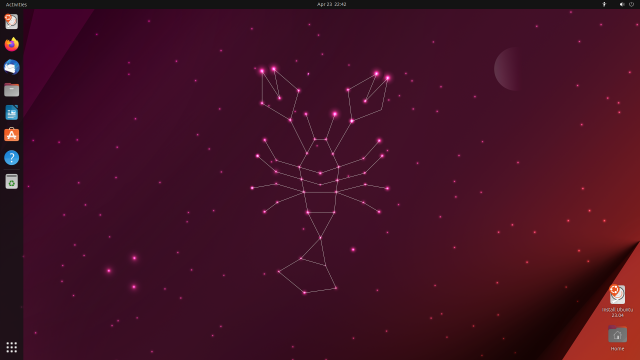 According to a Steam hardware and software survey, Ubuntu is the second most popular Linux distribution after SteamOS, and that's largely because the OS is a great starting point for beginners. Although we think the same is false, it still remains one of the most popular distro choices for first-time users.
| Pros | Cons |
| --- | --- |
| Stable distro | Snaps are too slow |
| NVIDIA drivers are one command away | Doesn't come with Flathub |
| Great distro for daily use | New features from GNOME take time to appear |
Download Ubuntu
5. Drauger OS
Drauger is yet another Ubuntu-based distribution targeted toward gamers. The distro claims to have specific changes in it to help with gaming and the overall performance of the Linux distro. Drauger utilizes Xfce, a desktop environment tailored for older hardware, thereby allowing you to run Drauger on an old PC and game on it. The latest version of the OS is called Draguer 7.6 STRIGOI.
The OS comes preinstalled with Steam, Heroic, and PlayOnLinux apps, and also comes with a Game Hub where you can play games from GOG and other platforms. And since Drauger is Ubuntu-based, it will get updates for five years and is relatively stable compared to most distros. Besides, Drauger also comes with DXVK and Wine preinstalled. Overall, it's an excellent distro for gaming or even day-to-day usage.
| Pros | Cons |
| --- | --- |
| Stable Ubuntu base. | None |
| Flagship version comes with Xfce; lightweight and good for old computers |  |
| Kernel tweaks for great performance |  |
| Comes with launchers preinstalled |  |
Download Drauger OS
6. Regata OS
Based on openSUSE, Regata OS is yet another Linux distribution for gamers. One of its selling points is the Regata OS game access app, which separates your games and puts them all into one app so that it's easy to manage them. Besides, you can also manage games from other gaming launchers such as Epic Games, Ubisoft Connect, Origin, GOG Galaxy, etc.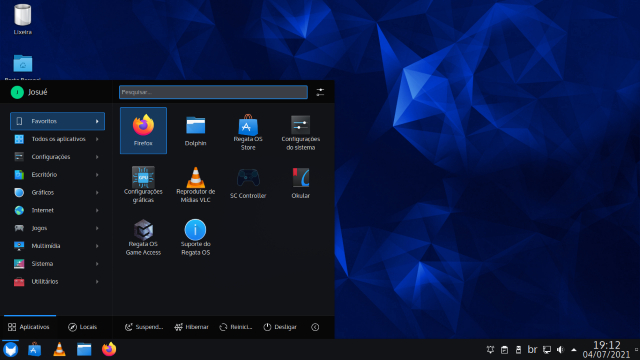 Besides, the OS also has its own store, and for laptops with hybrid graphics, the Max-Q app allows you to select apps that you want to run on dedicated graphics, thereby saving you a lot of time. Since the OS is based on openSUSE, its cutting-edge update cycle means you will always be the first to get access to new additions in the Linux kernel and the openSUSE base. Overall, Regata OS is one of the best gaming distros out there.
| Pros | Cons |
| --- | --- |
| Rolling release for latest features | openSUSE-based; has a learning curve |
| Highly customizable and gamery aesthetics |  |
| Game Access app |  |
| Installing NVIDIA drivers is pretty easy |  |
Download Regata OS
7. SteamOS (Holo ISO)
Before you pounce on us, yes, we know the SteamOS ISO for PCs is no longer in development. What we do know, however, is that Valve will release a standalone SteamOS 3.0 ISO for PCs soon. However, "soon" in Valve years is around 5-6 years give or take, considering how long they take to release software. Luckily, you don't have to wait for the official SteamOS 3.0 ISO (or maybe you do) because the OS from Steam Deck has been ported to PCs and the project is called Holo ISO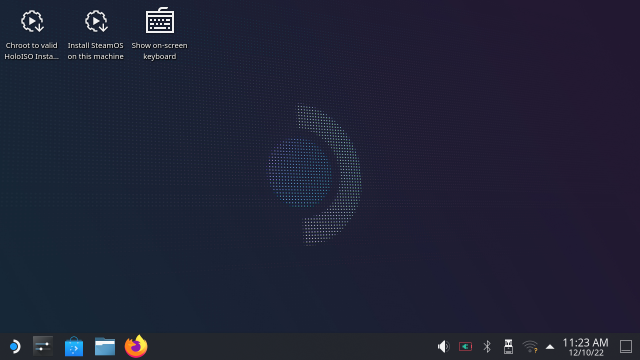 However, all the Nvidia users should jump to the next listing as the OS doesn't support NVIDIA cards. For AMD GPUs, they must support RADV drivers to work on Holo ISO. While the use case might seem too specific, if you do have an AMD GPU with RADV drivers, Holo ISO is a compelling Linux Distro for gaming. However, you could try out other distros from this list and wait for Valve to release the SteamOS 3 officially on PCs.
| Pros | Cons |
| --- | --- |
| Clone of SteamOS on Steam Deck | No NVIDIA support |
| Works fine out of the box for a ported Linux distro | Bugs and glitches still |
Download SteamOS (Holo ISO)
8. Manjaro
This is the point where we get into the general, "any distro can game" category starting off with Manjaro. Now, Manjaro is despised by lots of people, and rightfully so because it breaks too often. Manjaro is a decent OS for gaming, and you should have no problem playing games regardless of your card's make. Getting Nvidia drivers running on the OS is easy, and so is installing Steam and other gaming launchers.
For those unaware, Manjaro is an Arch-based distro that doesn't quite follow the same cutting-edge update cycle from Arch. It has its own repository, and packages coming from Arch are first tested for stability and are pushed later. It's not a distro you'd want to install if you value rapid updates more than anything else, but for the rest, it's a decent distro.
| Pros | Cons |
| --- | --- |
| Rolling release for latest features | Unstable and known to break too often |
| Highly customizable (KDE) |  |
| Installing NVIDIA drivers is pretty easy |  |
Download Manjaro
9. Linux Mint
Linux Mint is tagged across the community as one of the most user-friendly and stable Linux systems, but is it cut for gaming? Well, the short answer is yes, as with any popular distro. But the question is, how good is Linux Mint for gaming? We would say decent as it offers the ability to install Nvidia drivers right from the driver manager. The driver manager allows you to choose between the open-source Nouveau driver and the proprietary Nvidia drivers, and installing them should be no issue.
Besides, Linux Mint is rock solid, thanks to its Ubuntu base, and will receive updates for at least five years. The devs don't embrace Ubuntu's ethics and shove Snaps on your face. Rather, Linux Mint has banned Snaps and embraced Flatpak, which is a much faster and cleaner package manager implementation than the former.
The Cinnamon desktop has evolved rapidly over the years and is now one of the cleanest desktop solutions for both gaming and day-to-day usage, making Linux Mint one of the best distros for gaming on this list.
| Pros | Cons |
| --- | --- |
| Rock-solid Ubuntu base | None |
| Cinnamon offers a great UI experience |  |
| Flatpak allows easy installation of game launchers |  |
| Installing NVIDIA drivers is pretty easy |  |
Download Linux Mint
10. Lakka Linux
Gaming is not all about playing the latest AAA titles, but sometimes it's about enjoying the older Retro titles to get that nostalgia back and no OS does a better job at letting you play older games than Lakka Linux. Lakka is based on LibreELEC and RetroArch, one of the best front-ends for emulators for old and new PCs alike. The OS essentially allows you to transform your PC into a fully-blown console.
Lakka allows you to play games from the original PlayStation, PlayStation 2, and older Nintendo consoles such as the Wii, 2D, 3D/s, NES, GBA, and lots more. Installing Lakka shouldn't be very hard, and the OS itself is highly scalable and customizable. As for the game ROMs; While downloading ROMs might be illegal, if you're willing to take the risk, there are tons of resources on the internet that might help you download ROMs for Lakka.
| Pros | Cons |
| --- | --- |
| Based on RetroArch front-end | None |
| Gives a fully-fledged console experience |  |
| Great for playing retro games |  |
Download Lakka
If you were to tell people a decade ago that gaming on Linux was going to be as good as Windows, they would have laughed you off saying "Good lucid dreaming kiddo!" But a lot has changed in the past decade. All thanks to Valve's Proton compatibility layer and the effort of countless folks in the open-source community, things have changed drastically and it will only get better from here.