Although the world has embraced the large screen smartphones with both hands, there are still some people who prefer the small form factor. You might be gaining a lot of screen real-estate when you are buying a large screen smartphone, but you are also giving up on one-handed usability, and many people are not yet ready to give up on that. That's why the 4.7 inch iPhone has been so successful. It is for people who are looking to get the latest technology packed inside in a compact body, and the iPhone 8 does just that. However, iPhone 8 doesn't come cheap. Hence, once you buy one, you need to protect it, lest it breaks due to mishandling or drops. We all know that the display is the weakest part of a device, so even if you don't like using cases, you must use a screen protector to protect your iPhone 8 displays against damages. To make finding the perfect screen protector for your brand new iPhone 8 easier, we have created a list of 10 best iPhone 8 screen protectors that you can buy:
Best iPhone 8 Screen Protectors
1. OtterBox Alpha Glass Series For iPhone 8
OtterBox is known for making some really heavy duty cases for the iPhones. All its cases are of premium quality and work well in protecting your iPhone against damages resulting from drops and falls. So, it should not come as a surprise that OtterBox's screen protectors are really good too. The screen protector is made from a thin yet strong and fortified tempered glass with anti-shatter technology. The glass is strong enough to protect your iPhone 8's display against scratches, splinters, and shatters. It does all that while maintaining a high transparency and touch-sensitivity to give you the best user experience possible.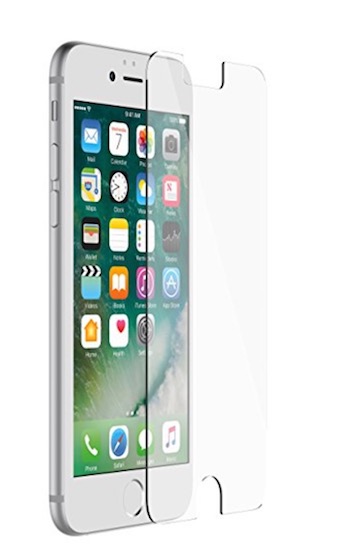 Buy From Amazon: ($13.16)
2. Maxboost iPhone 8 Screen Protector
Over the past few months, I have really started liking the screen protectors made by Maxboost. That's because they are shipping screen protectors which uses one of the thinnest tempered glass in the market. While most of the manufacturers use 0.3 mm thick tempered glass, Maxboosts's tempered glass is only 0.2 mm thick. This means, it should provide better touch-response and viewing quality. Also, since it's a tempered glass, it should easily guard your iPhone's display against scratches, scuffs, and cracks resulting from minor drops. The glass is also coated with hydrophobic as well as oleophobic layers resulting in fingerprint free touch experience.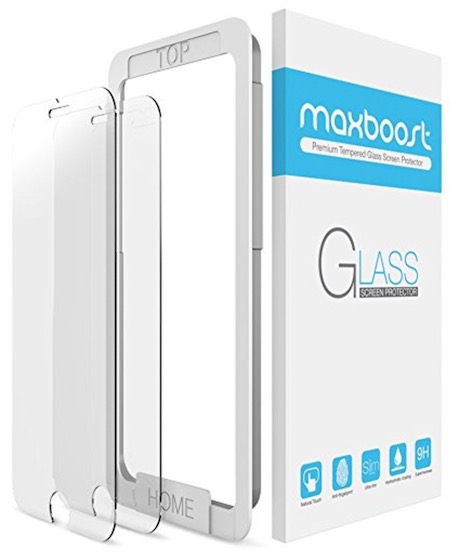 Buy From Amazon: ($7.89)
3. amFilm iPhone 8 Tempered Glass Screen Protector
amFilm has been known to make some really good tempered glass screen protectors for iPhones. The tempered glass provides ultra-clear high definition viewing with 99.9% transparency to allow an optimal and natural viewing experience. The glass is also pretty thin coming at only 0.3 mm. It is also highly durable and scratch resistant so it should be easily able to protect your iPhone 8's display against scratches and cracks resulting due to accidental drops.
Buy From Amazon: ($6.79, for a pack of 2)
4. ZAGG InvisibleShield Glass For iPhone 8
ZAGG makes premium screen protectors for iPhones and promises to provide extra protection for your iPhone's display. The glass used in the tempered glass is created with a proprietary process that strengthens the material on a molecular level to make it extra durable. The glass also sports an oil-resistant design allows it to repel fingerprints and smudges. The edges are curved to match the curve of the display glass and hence provides full coverage for maximum protection. When you look at the pricing of normal screen protectors, it might seem that ZAGG is charging you more, which it is, however, you are also getting a premium product which will provide extra protection to your device.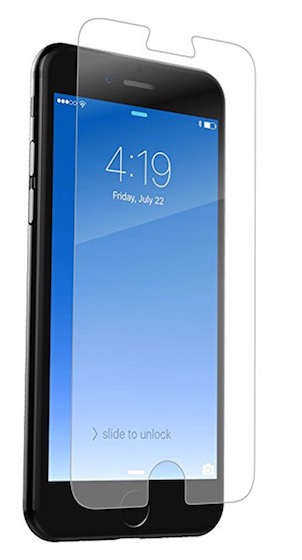 Buy From Amazon: ($20)
5. JETech Tempered Glass Screen Protector For iPhone 8
This is a screen protector which is made with high quality 0.33 mm thick premium tempered glass with rounded edges to provide a smoother experience. The glass has an oleophobic coating which prevents it from gathering dust or fingerprints. This is also pretty cheap and comes in a pack of two. If you are looking for a cheap screen protector, this might be the one for you. Just remember that it only covers the flat portion of the display and doesn't provide full coverage.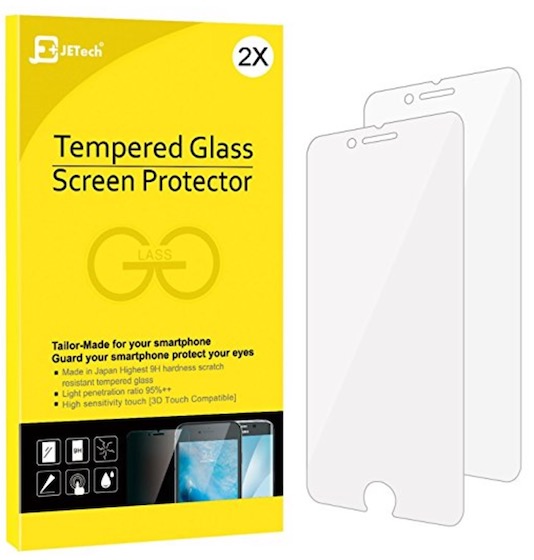 Buy From Amazon: ($6.99, for a pack of 2)
6. Tech Armor iPhone 8 Ballistic Glass Screen Protector
Tech Armor makes some really tough tempered glass screen protectors and this one is no different. Just like others, the glass is thin and has only a 0.3 mm of thickness. This also boasts of providing 99.9% transparency and doesn't downgrade your viewing experience. The glass is also tough and will protect your device against scratches, scuffs, and cracks in case of mishandling and minor drops.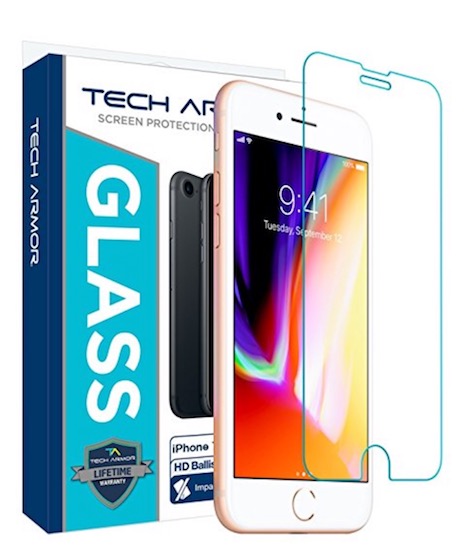 Buy From Amazon: ($6.95)
7. GANJOY iPhone 8 Screen Protector Glass
This is one of the cheapest screen protectors in this list, however, that doesn't mean that it is bad. In actuality, the tempered glass is pretty good and provides 99.9% clarity. Durability wise it might not be as durable as some of the better screen protector on this list, but still, it can easily protect your display against scratches and scuffs. What's surprising is that in spite of being cheap, this one also comes with an oleophobic coating which will keep away the fingerprints and smudges.
Buy From Amazon: ($7.79, for a pack of 3)
8. MAXFEND iPhone 8 Tempered Glass
This one is yet another cheap tempered glass that you can get for your brand new iPhone 8 Plus. The screen protector is constructed with scratch resistant and shatterproof glass, keeping your screen protected from scratches and cracks. A special oleophobic coating keeps fingerprints and oily smudges away, and allows the glass to be easily wiped clean with a cloth. The tempered glass is also pretty easy to install with no bubbles.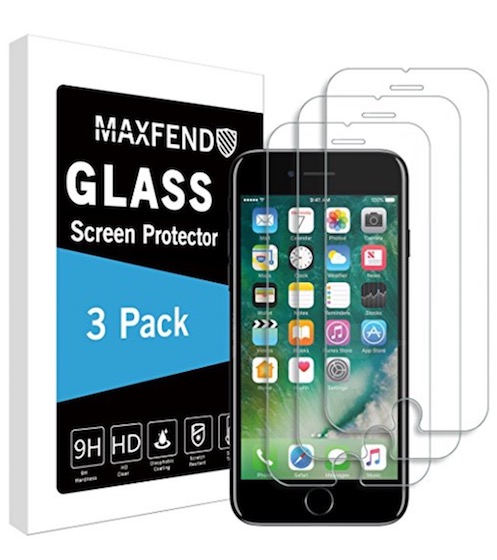 Buy From Amazon: ($7.99, for a pack of 3)
9. Spigen iPhone 8 Screen Protector Tempered Glass
Everybody knows Spigen as the company which makes premium cases for iPhones and other devices, however, the company also makes some really good screen protectors. Like others, the tempered glass is pretty strong and will easily protect your device against scratches, scuffs, and cracks resulting for small drops and mishandling. The best part of using Spigen's screen protectors is that they behave really well with their own cases allowing you to use both a case and a screen-protector at the same time without any problem.
Buy From Amazon: ($7.99, for a pack of 2)
10. amFilm iPhone 8 Screen Protector HD Clear
Unlike others, this one is a film based screen protector which utilises plastic instead of glass. The benefit of using a film based protector is that it doesn't add any thickness to your device. However, they also cannot protect your device against drops. But this offering from amFilm provides extra protection by incorporating a 3-layer film design which provides extra cushion in case of drops. However, one thing to note here is that since this is a film-based screen protector, the protection against drops won't be comparable to that of a tempered glass screen protector. However, if you don't like using tempered glass due to the thickness that it adds, this film-based protector will provide the best protection to your iPhone's display.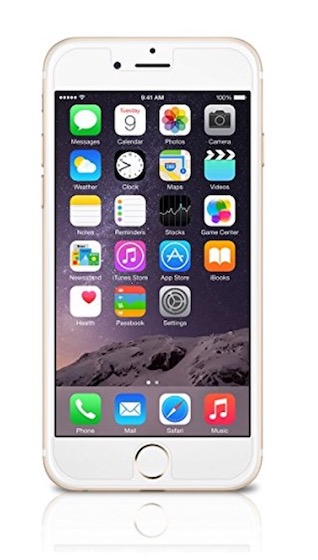 Buy From Amazon: ($5.99, for a pack of 3)
SEE ALSO: 18 Best iPhone 8 and iPhone 8 Plus Accessories You Can Buy
Best iPhone 8 Screen Protectors To Buy
I hope this list will help you select the best screen protector for your brand new iPhone 8. Although the looks of iPhone 8 might follow an iterative design, the horsepower that this packs are off the charts. iPhone 8 is the king of all small form-factor phones, and I don't see any other smartphone taking its crown in the near future, that is until the next generation of iPhones are launched. So, which one are you going to buy? Let us know your picks in the comments section below.