With the much-anticipated iPhone launch now behind us, deciding between the three different iPhone models is becoming quite an ordeal for Apple fans worldwide. If you've already made up your mind about which one to go for, good for you. But in case you haven't, maybe you want to read up on our detailed article about some of the pros and cons of the iPhone 8, 8 Plus and iPhone X (pronounced iPhone 'ten', not iPhone 'ex') before deciding to spend your hard-earned money one way or another. Either way, now that the next-gen iPhones are here, so are a plethora of accessories that will no doubt, make your experience with your shiny new toy from Cupertino that much sweeter. We've already covered the best accessories you can buy for the iPhone X, so now let's shift our attention to the other two iPhones announced by the Cupertino giant last week, and take a look at the best iPhone 8 and iPhone 8 Plus accessories you can buy right now:
Best iPhone 8 and iPhone 8 Plus accessories
Apple Watch Series 3
The Apple Watch lineup may not be everybody's idea of a perfect smartwatch, but it has its own fans. The new Series 3, while carrying on with the look and feel of its predecessor for the most part, comes with quite a few under-the-hood improvements that make it much more lucrative for anyone who is deeply entwined within the Apple eco-system. One of those aforementioned new features is an embedded LTE antenna that allows you to make calls directly by tapping a button on the top-left corner of the watch face. In terms of hardware, the Apple Watch 3 also comes with GPS, Altimeter, accelerometer, gyroscope, heart rate sensor, and activity tracker. It is water resistant up to 50 meters, runs on watchOS 4, and comes with Bluetooth and Wi-Fi connectivity.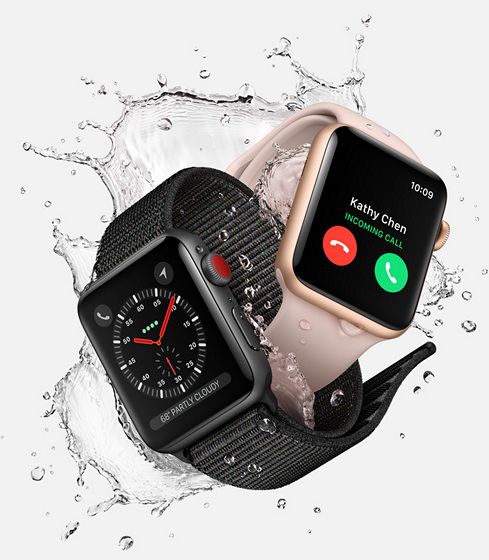 Buy From Apple: (Starts at $329)
iPhone 8 / 8 Plus Cases, Skins and Screen Protectors
1. Spigen Liquid Crystal Case
Spigen is one of the best-known names in the world of mobile accessories, and not without reason. It makes some great cases and covers for smartphones, be it lightweight clear cases, heavy-duty rugged ones, or anything in between. This particular 'Premium Clarity' case for the iPhone 8 is made of a flexible TPU material for shock-absorbency and easy installation. It also comes with precise cutouts and tactile buttons for quick access and feedback. The interior is also lined with a dot pattern to keep it free from watermarks. Alongside the 'Crystal Clear' option, Spigen is also offering cases in a variety of other designs for the iPhone 8, including Blossom, Blossom Nature, Glitter Crystal Quartz, Glitter Rose Quartz, and Matte Black. For iPhone 8 Plus, however, only the Crystal Clear and Matte Black options are available right now.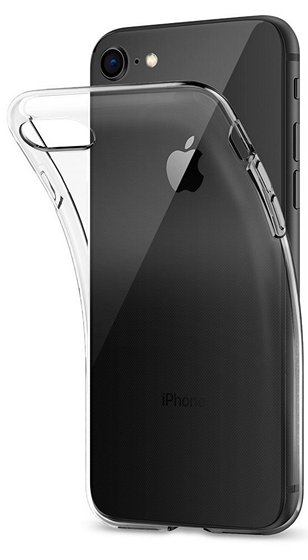 Buy For iPhone 8: ($10.99)
Buy For iPhone 8 Plus: ($11.99)
2. i-Blason Armorbox Heavy Duty Case with Built-in Screen Protector
iPhones don't normally come at throwaway prices, and the latest ones are no exceptions. It is no wonder then that many of you would want to protect them by getting yourself a tough and rugged case that can withstand the occasional drops and falls here and there. The i-Blason Armorbox Case, as its name suggests, is a rugged case for your iPhone 8 and 8 Plus. It comes with a hard, polycarbonate exterior, and a flexible, shock-absorbing TPU core. It also has a built-in screen protector that keeps its touch sensitivity intact while defending against scratches and scrapes . It also has a detachable belt clip holster that allows for convenient on-the-go use. The case is available for both the iPhone 8 and the iPhone 8 Plus, and is available in black, blue, green, pink and white.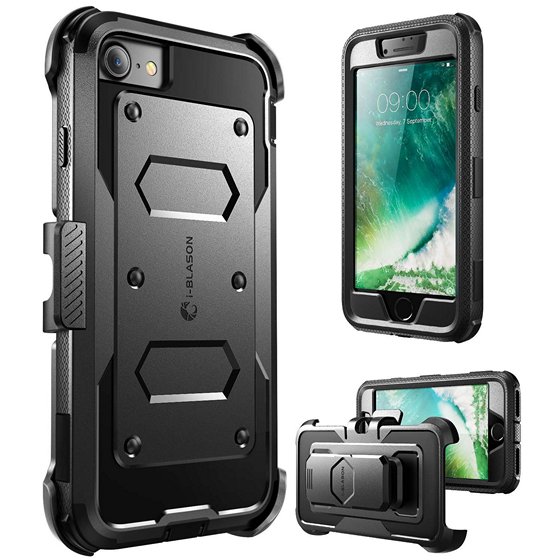 Buy For iPhone 8: ($16.19)
Buy For iPhone 8 Plus: ($17.99)
3. Mophie 3D Glass Screen Protector
The Mophie 3D screen protector doesn't come cheap, but its fortified tempered glass offers protection against scratches and cracks, while its 3D, edge-to-edge form factor looks good and matches the screen's curves seamlessly. Its 'Triple Defense Technology' absorbs and redistributes impact for enhanced drop protection, making it ideal for somebody with an active lifestyle. The screen protector also has great clarity, while its precision touch sensitivity makes it fully compatible with 3D Touch. The device also comes with a limited lifetime warranty from Mophie.
Buy For iPhone 8: ($49.95)
Buy For iPhone 8 Plus: ($49.95)
4. dbrand iPhone 8 and 8Plus Skin
If you want to customize the look of your brand new iPhone, dbrand is probably a very good place to start. It is currently accepting pre-orders for iPhone 8, 8 Plus and X skins that are made out of authentic 3M vinyl material. There are a plethora of choices available. So, you can choose from a wide range of colors and textures that are available for back panel as well as for the front bezels. Its up to you to mix and match various looks to see which one you like best. The online tool on the company's official website lets you check the effects before you order. The options include carbon fiber, marble, concrete, metal, wood, bamboo, and leather in terms of texture, while color options include black, white, gold, yellow, orange, and more.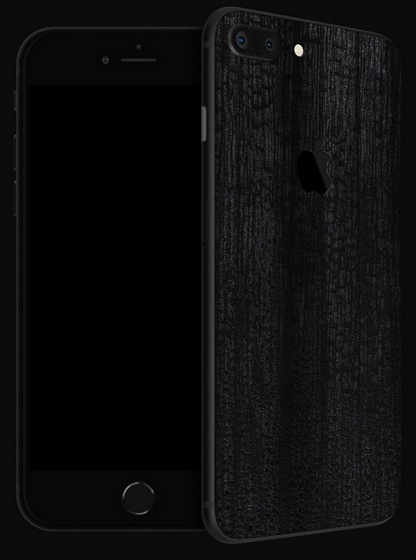 Buy From dbrand: (Starts at $11.95)
Docks and Charging Pads
1. iPhone Lightning Dock
If you're a fan of original Apple accessories, the Lightning Dock is something that you should definitely take a look at. Unlike earlier Lightning Docks that were a bit of hit or miss, the latest one is compatible with any iPhone that has a Lightning connector, including the iPhone 8, iPhone 8 Plus and iPhone X. You can connect the device to the wall-socket with the Apple USB Power Adapter to charge your iPhone, or you can use it to sync between your phone and your computer via a standard USB cable. What's really cool, though, is that you can actually connect powered speakers or any standard headphones to the dock with a 3.5 mm audio jack to listen to music while the phone is syncing and/or charging. The Lightning Dock is available in five different colors, including black, silver, space gray, gold and rose gold.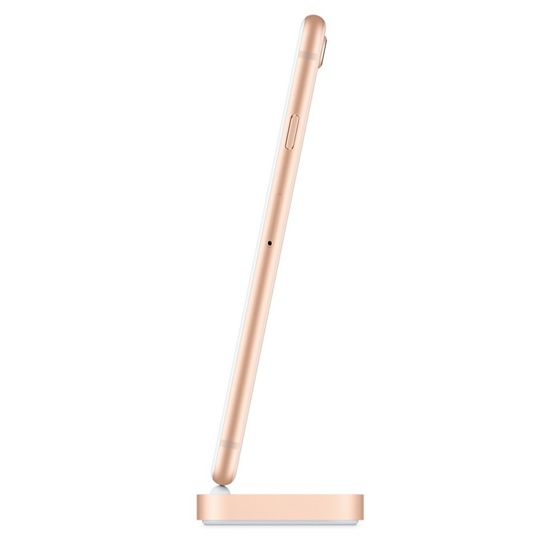 Buy From Amazon: ($49.99)
2. AirPower
Apple may have been late to join the wireless charging revolution, but now that the feature is available in its latest smartphones, the company has actually announced its own AirPower wireless charging pad that will adhere to the Qi wireless charging standard, which means you can use the Apple AirPower to charge your iPhone 8, iPhone 8 Plus and iPhone X. You can also use the device to charge the Apple Watch Series 3 and the Apple AirPods with a wireless charging case. However, for all its versatility, the AirPower charging pad may not become your preferred charging solution any time soon. That's because it will be available sometime next year, and only then we'll get more details about the device, including its price.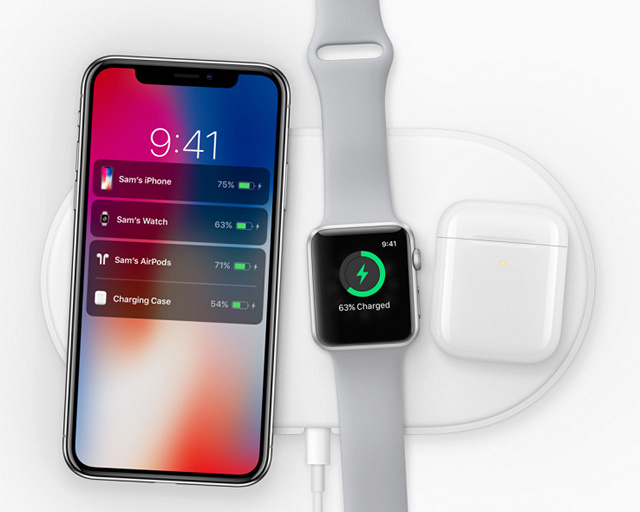 Availability: Early 2018
3. Mophie Wireless Charging Base
The AirPower charging mat will very likely become an immensely popular accessory for iPhones next year, but if you cannot wait to try out the new wireless charging feature on your brand new handsets, you can always opt for third-party devices that have been officially approved by Apple. One of these is the Mophie Charging Base that comes with Qi wireless charging for compatibility with a wide variety of smartphones and smartwatches. The device ships with a non-slip housing that ensures a stable placement and has a 360-degree non-slip TPU coating to ensure scratch-free charging. It also has a low-profile circular design that looks subtle and classy.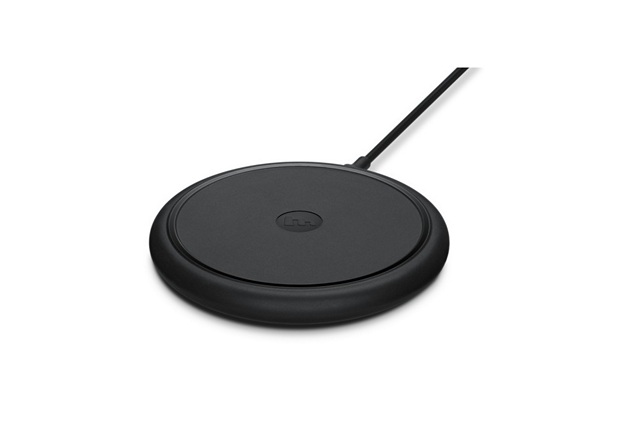 Buy From Apple: ($59.95)
4. Belkin BoostUp Qi Wireless Charging Pad
Belkin is yet another reputable accessories brand that has tied-up with Apple to bring its own wireless charging solution to iPhone users. The Belkin BoostUp Wireless Charging Pad is Qi-certified induction charger that can charge any Qi and PMA-enabled device, which includes the three latest iPhones. It delivers 15 watts of power to the target device, and comes with a cushioned pad to keep your phone from slipping. It comes with a $40 price-tag, which makes it more affordable than the aforementioned Mophie device.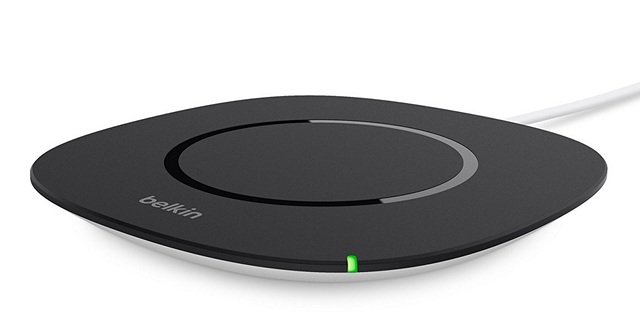 Buy From Amazon: ($39.95)
5. Anker Power Core 20,100mAh Power Bank
Power Banks have become an absolute necessity these days for anybody who uses their smartphones for anything more than a few calls, a bit of music, and some emails. Trying to get the perfect selfie and then having to post it on Facebook, Instagram, and Twitter is a laborious process, and one that takes a toll on your phone's battery life. So does playing heavy games or streaming videos on your smartphone. That being the case, the Anker Power Core is one of the best and the most cost-effective solution out there. The device has a massive 20,100 mAh capacity and supports fast charging with a 4.8 amp output. Alternatively, you can also buy the 10,000mAh version if you don't need that much juice.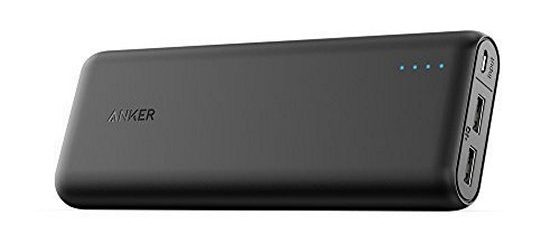 Buy From Amazon: ($39.99)
Earphones and Headphones
1. AirPods
Whatever accessory you're looking to buy for your iPhone, chances are, Apple will offer an official version of it more often than not. Earphones are no exception either, which is why you can buy the official Apple AirPods to listen to music on your iPhones and iPads. The device is powered by Apple's custom W1 chip and can connect automatically to your iPhone, Apple Watch and MacBook. The AirPods use optical sensors and a motion accelerometer to detect when they're in your ears, which allows them to start or stop playing songs whenever you put them in or take them out of your ears. It also comes with Siri-integration, so you can use Apple's voice-based digital assistant to turn the volume up or down, change the track, or make a call.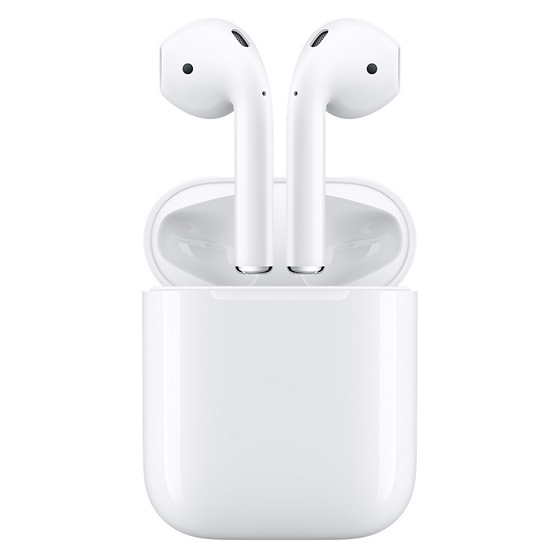 Buy From Apple: ($159)
2. Anker Soundbuds Digital IE10 Lightning Earphones
Original Apple accessories may be cool, but they certainly don't come cheap. If you're like me, you'll probably think twice before dropping $159 on a set of AirPods that, given their design, may very well end up getting misplaced at some stage. If that thought is preventing you from getting the Apple AirPods, the Anker Digital IE10 Soundbuds are something that you'll very likely appreciate. The earphones come with a Lightning connector (MFi-certified), and has a premium DAC processor with 10mm drivers. It has an integrated microphone for hands-free calling and, has an in-line controller that allows you to choose from 3 pre-set Equalizer modes (Balance, Clear Voice, Super Bass) at the press of a button.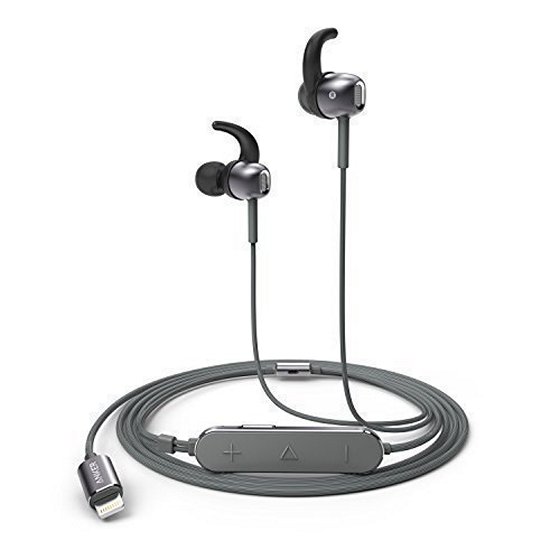 Buy From Amazon: ($29.99)
3. Beats Solo3 Wireless Headphones
If full-fledged headphones are more your style, you'll probably be interested in the Beats Solo3 Wireless Headphones, which is yet another offering from the Apple stable, now that 'Beats by Dr. Dre' is officially owned by the Cupertino-based tech giant. The device connects to your iPhone via Bluetooth, and looks very much the premium headphone that it is. What's even better is that unlike some of its competitors in this price-range, it has the audio output to justify its price-tag. It also has a great battery life, making it an ideal companion for your iPhone 8 or 8 Plus.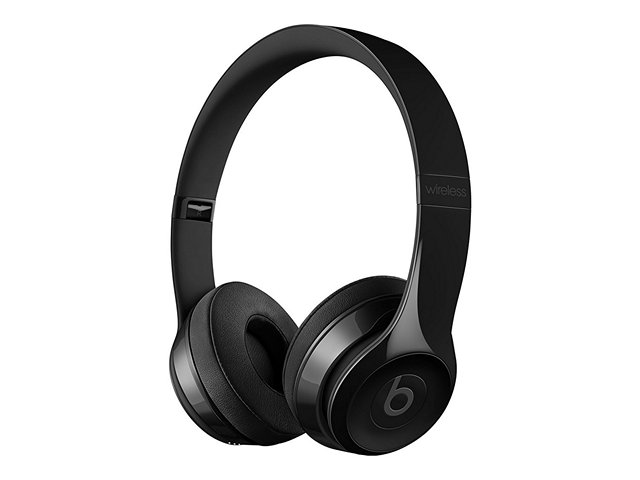 Buy From Amazon: ($219.99)
4. Audeze Sine
If you're not the type to lay too much emphasis on price-tags, the Audeze Sine could just be the perfect companion for your iPhone 8, 8 Plus or X. It comes in both wired and wireless versions, so you can either buy the Bluetooth version or the Lightning version depending on your choice. The device uses the "planar magnetic technology" that produces a deeper bass and better transients than many of its competitors in the same price range. The headphones are engineered in California and is designed by BMW's i8 team. While all of that sounds impressive, the Audeze Sine actually sports a $500 price-tag, so in case you're looking for a slightly more affordable alternative, you can opt for the Philips Fidelio M2L/27 Lightning headphones that come with a $199 price-tag.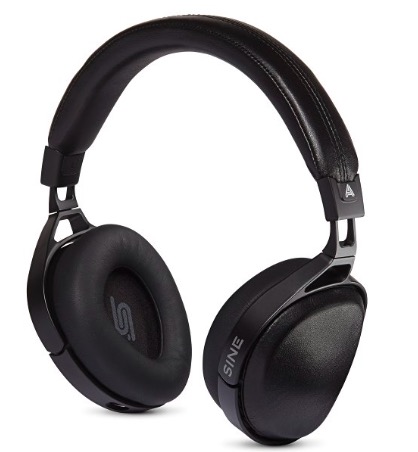 Buy From Amazon: ($499)
Other Accessories
1. SanDisk iXpand
If the lack of microSD card slots in iPhones is a problem for you, the SanDisk iXpand is one accessory that you will probably be very interested in. It is an external storage device that can be used to increase the storage capacity of your i-devices. Sure, you can always pay a premium to get a higher-end model with additional built-in storage, but Apple typically prices its higher-end models at a hefty premium, so using the SanDisk iXpand will save you significant money while actually offering more storage space. These are plug-and-play devices that are compliant with the USB 3.0 standard and, come with file protection software that allows users to set passwords on their private files, preventing unauthorized access. You can not only transfer all your music, movies and photographs from your iPhone to your computer with the help of this device, but can also listen to music or watch videos directly from the drive without having to transfer them to your phone. Alongside the 64GB version featured here, the device is also available in 32GB, 128GB and 256GB avatars.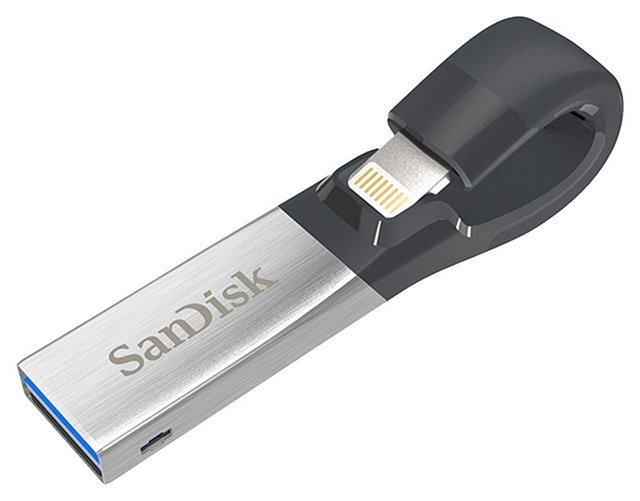 Buy From Amazon: ($53.91)
2. Portholic Running Armband for iPhone 8 Plus
The Portholic Running Armband is a one-size-fits-all sports arm-band for jogging, hiking, biking or power walking. It can accommodate devices up to about 6.8-inches in screen size, and all that extra space means that relatively smaller devices, like the iPhone 8 and 8 Plus, can also fit in even when encased within bulky, shockproof cases. The device is made out of breathable materials, such as Lycra and Neoprene, making it lightweight and odour-free. The latest version is even compatible with the fingerprint unlock function. The arm-band comes with an adjustable velcro strap to fit arm sizes between 9 to 18.5 inches, and there's even a reflective strip to keep you visible in the dark. It also has pockets that allow you to store keys, cards and cash. Best of all, Portholic provides lifetime warranty on all its arm bands, including this one.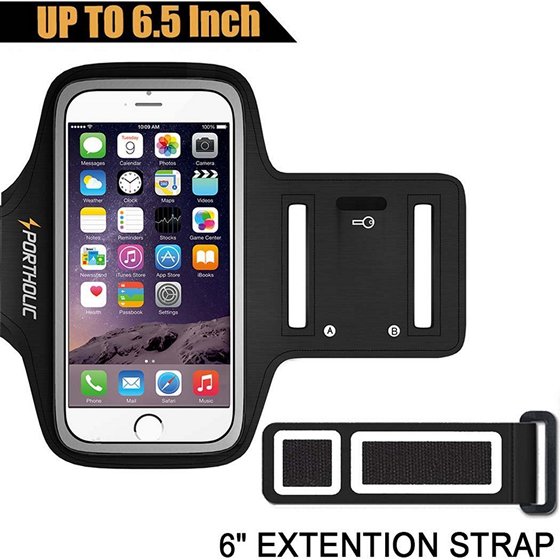 Buy From Amazon: ($9.98)
3. Mpow iSnap Extendable Monopod Bluetooth Selfie Stick

Selfies have been elevated to an art-form over the past few years, and whatever be your feelings on the subject, the fact still remains that the trend isn't about to subside any time soon. That being the case, the popularity of selfie sticks are on the rise as well, so in case you're looking for one, the Mpow iSnap Extendable Monopod Selfie Stick could be the perfect accessory for your iPhone 8 or 8 Plus. It comes with a built-in remote Bluetooth shutter for your iPhone camera and boasts of a great battery life. It is 270-degrees adjustable and has a maximum length of 31.5-inches when extended fully. However, it's extremely portable, measuring only 7.1-inches in length, while weighing in at just 5 ounces. There's also an extra wrist-strap that provides safety for your iPhone. All of that, for under 10 bucks! What's not to like?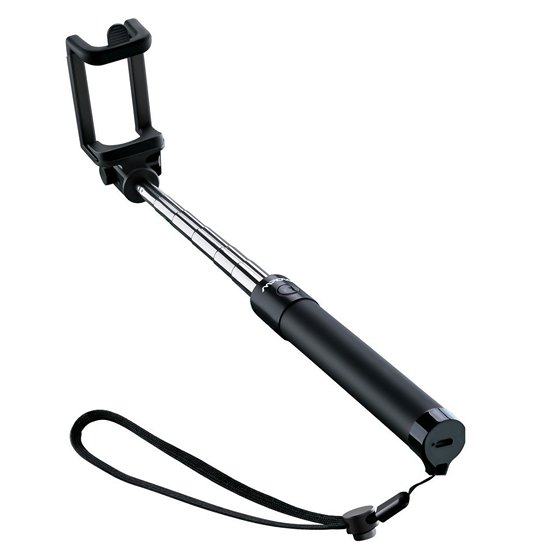 Buy From Amazon: ($9.99)
4.
iOttie Easy One Touch 2 Car Mount Holder
With navigation shifting from offline to online, car-mounts have become an important part of life for most people. While there are literally hundreds of different models available in the market, one of the most popular happens to be the iOttie Easy One Touch 2 Car Mount Holder. It's one-touch mounting system locks and releases the device with just a push of a finger, while the super-sticky gel pad sticks securely to most surfaces, which means you can either stick it to the dashboard or on the windshield. It also comes with a redesigned telescopic arm for more maneuverability. It's compatible with the iPhone 8, iPhone 8 Plus and the iPhone X, along with a whole host of other, non-Apple smartphones.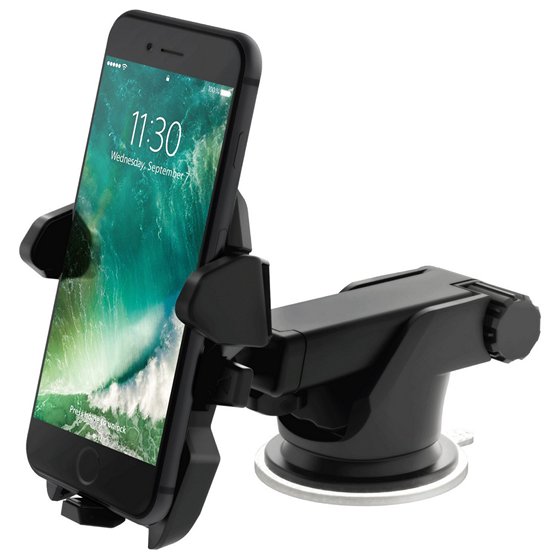 Buy From Amazon: ($19.95)
SEE ALSO: 10 Best iPhone 8 Plus Cases And Covers You Can Buy
The Best iPhone 8 and 8 Plus Accessories You Can Buy
If you already have the latest iPhone that Apple has to offer or are planning to get one in the near future, you can also accessorize it to your heart's content by getting the very best accessories for it. So which are the ones that you're planing to go for right away? Cases? Headphones? Maybe additional storage? Whichever it is, do let us know by leaving your thoughts in the comments section below, because we love hearing from you.
---
Load More