Whenever classy design and professional look take center stage, a genuine leather case becomes an automatic choice for me. Though I pick sleek leather covers for everyday use, the ones with a luxurious profile featuring multiple card slots and a separate pocket for stashing some dollar bills are my go-to choice especially when I'm on the go. What I have always loved in high-quality leather cases is the rich leather texture that feels pretty comfy in the hands. If you have the same penchant for vintage design and ageless patina, you would really appreciate this coveted collection of the best iPhone 11 Pro Max leather cases and covers.
Best iPhone 11 Pro Max Leather Cases You Can Buy
In the following lineup, I have chosen a variety of leather cases for iPhone 11 Pro Max. While some covers sport a slim profile, others showcase a luxurious design. And if you don't mind spending some extra bucks, the premium covers would be the right way to go. But just in case, you have decided to keep your budget in check, there are some highly affordable (if not cheap) leather cases for the smartphone. That all being said, let's check out the top leather cases for iPhone 11 Pro Max!
1. Official Leather Case from Apple
Should you prefer a sleek leather case for your iPhone 11 Pro Max, the Apple leather case would be a pretty good pick. The case is carved out of tanned European leather and sports a sophisticated design. With the slim and form-fitting profile, the leather case snaps around the phablet snugly.
Thanks to the high-quality leather and the rich patina that is developed over time, it continues to look impressive for long. The leather texture also offers an enhanced gripping, while the machined aluminum buttons provide the needed clicky feedback. On top of all, the official leather case for iPhone 11 Pro Max comes in six vibrant colors including the eye-catching product red. As for price, the cover comes at $49.99 that is definitely a touch expensive but considering the premium leather and elegant design, it's worth having a look.
Buy from Apple: $49.99 
2. Pad & Quill Leather Cases
Pad & Quill has mastered the art of producing exceptionally good leather cases. And if your budget is permitting you to go for a high-quality leather cover for the iPhone 11 Pro Max, look no further than this onet. The company has introduced three leather cases for Apple's latest 6.5-inch phablet: Bella fino ($79.95), Aria Luxury ($79.95), and the Luxury Book ($109.95).
To me, the best part about these leather cases is the impressive craftsmanship that is clearly a cut above the rest in the seemingly crowded market. Moreover, they come with multiple card slots and a big cash pocket to become your all-in-one wallet. On the protection front, the Pad & Quill leather covers can ideally safeguard your device from shock and scratches.
Buy from Pad & Quill: $79.95-$109.95
3. Mujjo Leather Case
When it comes to producing top-of-the-line leather cases, Mujjo is second to none. So, if you are on the lookout for an elegantly designed leather case, give serious consideration to the iPhone 11 Pro Max leather cases from Mujjo. The covers sport a minimal design to ensure the Pro Max continues to look sleek.
As for protection, you can trust Mujjo leather covers to absorb minor shock. Talking about Mujjo's leather wallet cases, they come with a tiny pocket on the back which can comfortably house a credit card. The cutouts for the Lightning port, triple-lens camera setup, and mute switch look precise, while the pronounced buttons are responsive. Given the quality of the leather case, the $45-50 price tag doesn't seem expensive at all.
Buy from Mujjo: $45.24- $49.97 
4. Case-Mate
I have always rated Case-Mate leather cases very highly. So, I'm really glad to know that the company has introduced a classy leather case for iPhone 11 Pro Max. Carved out of genuine leather, it's designed to be a complete cover for travelers and professionals alike.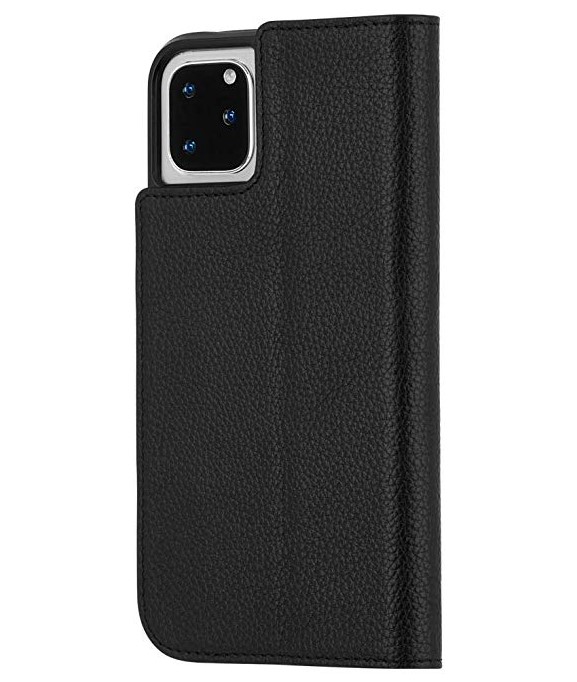 With four pockets for cards and a separate compartment for keeping cash, the Case-Mate leather case can take care of all of your basic needs. Plus, the vintage cover also doubles as a landscape stand so that your video calling or media streaming has more comfort. Talking about protection, it's probably the most protective leather case for iPhone 11 Pro Max thanks to the certified 10 feet drop protection. In terms of pricing, Case-Mate cover comes at $59.99 which I find reasonable considering the qualities it boasts.
Buy from Amazon: $59.99
5. Nomad Rugged Leather Case
How long can you keep a popular accessory maker like Nomad out of sight, especially when there is a discussion for a top-notch leather case? The brand has introduced a wide range of rugged leather cases for iPhone 11 Pro Max. And should you wish to go for a top-quality leather case with luxurious design, it would certainly be a great choice.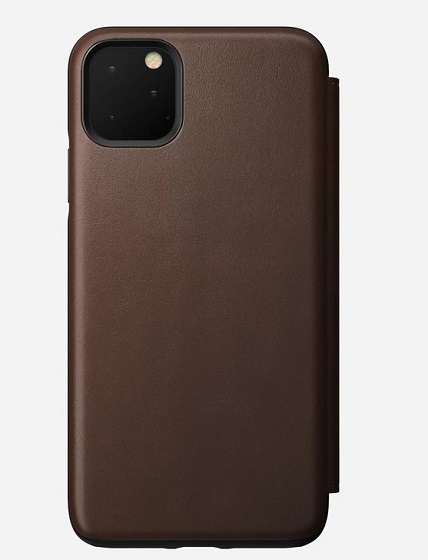 Crafted out of vegetable tanned leather, the cases have got a pro look. They are equally durable to provide uncompromising safeguards to the smartphone. With the ageless patina, Nomad leather covers don't look ugly even after a long use. Speaking of price, it starts at $50 and goes up to $80 which is, without any doubt, expensive. But if your budget is not constrained, it would be a fairly good deal.
Buy from Nomad: $49.95 – $79.95
6. totallee
If your all-new iPhone is willing to embrace an ultra-thin leather case, keep this offering from totallee in mind. The leather case features minimal craftsmanship which gives it a neat look. Besides, it doesn't sport any logo on the back – unlike many other iPhone 11 Pro Max cases and covers in the market – in favor of a simple appearance.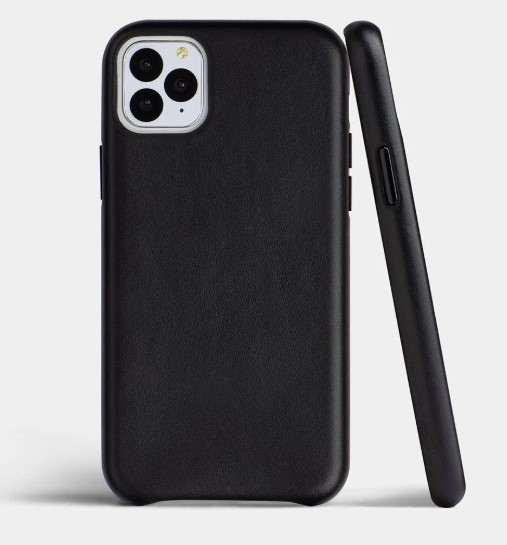 Despite putting more emphasis on slim design, totallee leather case can resist low-volume impact. Thanks to the sophisticated exterior, the cover provides much better hold. Moreover, you can choose this one of the thinnest cases for Pro Max in five colors including red, black and more. Lastly, at $39, it's a bit cheaper than some of its noted counterparts.
Buy from totallee: $39
7. SHIELDON
For the folks who don't want to spend plenty of bucks on a luxurious leather case but are hunting for the one that can offer the best of both worlds: premium quality and affordable price, SHIELDON leather case promises to be a great option. For starters, the case is made of top-quality cowhide leather and sports visible stitching for a refined appearance.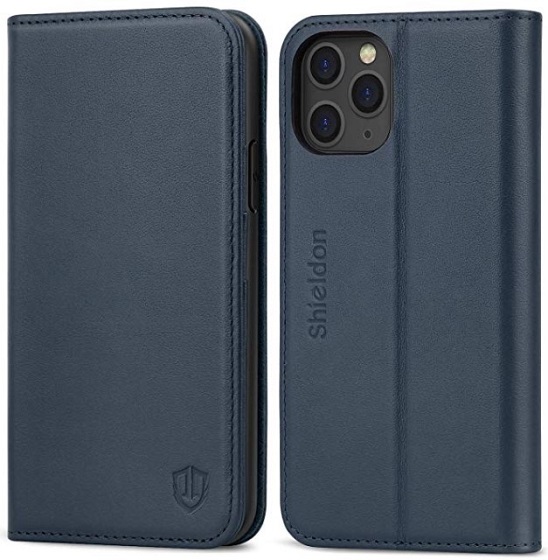 Another notable feature of this highly affordable genuine leather case for iPhone 11 Pro Max ($29.99) is the impact-resistant TUP interior. So, when this vintage cover is installed on your iPhone, you shouldn't need to worry about accidental drops. The three card slots and a big compartment for cash along with the RFID blocking technology make it a complete wallet cover. Love vibrant colors? Well, you can choose SHIELDON leather in seven colors: dark blue, coffee brown, black and more.
Buy from Amazon: $29.99
8. Monsoon Alpha
Frankly speaking, I have specifically chosen Monsoon Alpha belt clip case for the folks who want to securely carry their iPhone 11 Pro Max during travel or day-to-day hectic life. The holster pouch is made of genuine leather which gives it a refined look. The non-rotating belt clip is made of zinc alloy that can withstand the test of time. Besides, it can comfortably house your Pro Max with a dual-layer case. Speaking of protection, it's good enough to fight out impact and also safeguard the device against scuffs. At $29.99, the Monsoon belt clip case doesn't seem expensive either.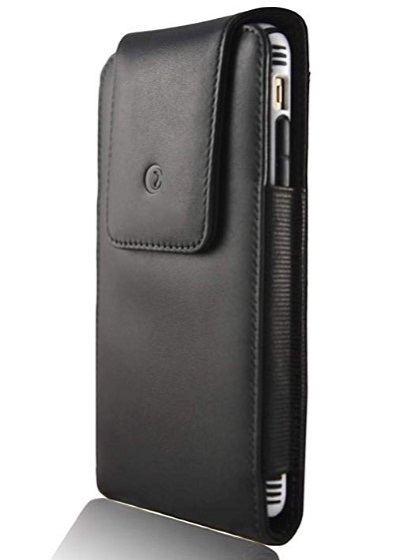 Buy from Amazon: $29.99
9. ESR
Though ESR may not be as well-known as some of the noted rivals (mentioned in this lineup), you should always check out its offerings especially when you want to have pretty good budget-friendly cases. As expected, the company has come up with a nice-looking leather case for iPhone 11 Pro Max at a comparatively low price ($25.99). It's made of real leather and features a slim design.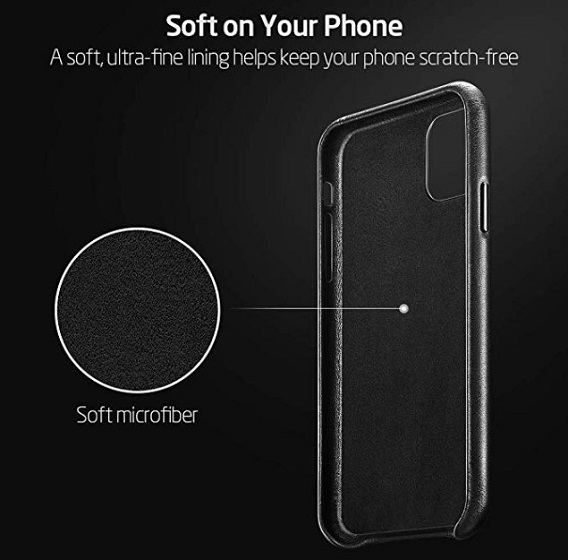 With the microfiber interior, the ESR leather cover can also resist scratches and bumps. Thanks to the beveled edged, it provides the additional protection to 6.5-inch Super Retina XDR display and the triple-lens camera setup.
Buy from Amazon: $25.99
10. FulSoulComM
Do you find the above-mentioned leather cases a bit too pricey for your budget? If yes, I would recommend you to have a go at FulSoulComM leather wallet case. The cover is made of soft PU leather and sports a handmade design. For an enhanced shock resistance, it comes with a TPU interior that strengthens not only the casing but also enables the cover to withstand impact.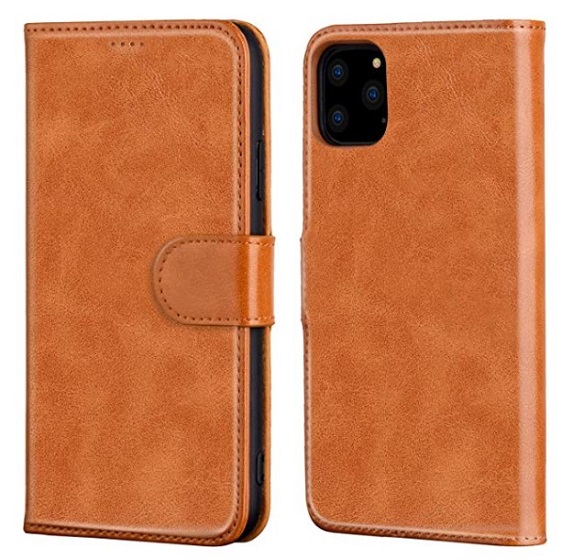 The case has only a couple of card slots and a cash pocket which are just fine for normal usage. Moreover, the company offers a free iPhone 11 Pro Max screen protector which is more than decent to safeguard the large display. Despite having impressive specs, FulSoulComM leather wallet case comes at just $14.99 that makes it one of the cheapest leather cases for iPhone 11 Pro Max.
Buy from Amazon: $14.99
SEE ALSO: 10 Best iPhone 11 Pro Screen Protectors You Can Buy
Choose the Best Leather Cases for iPhone 11 Pro Max
Indeed, no other cases can match the vintage charm of leather covers. That's the reason why they are always in high demand among those who prefer premium quality and classy look. By the way, let me know your favorite iPhone 11 Pro Max leather case and the things that you like most in it. Have I forgotten to include any major accessory makers in the above roundup? Let me know its name as well in the comments down below.