Ever since Apple announced the CSAM photo scanning feature that will be enabled by default for all iCloud Photos users in iOS 15 and iPadOS 15, controversy seems to have engulfed the cloud photo storage service. Such has been the widespread fear about the privacy-intrusive photo scanning that Apple has been forced to come up with a detailed clarification. The company asserts that photo scanning involves an on-device matching process powered by cryptographic technology. It determines if there is a match without revealing the results. If you still feel apprehensive about your privacy and are looking for a new service to store, sync, and organize your photos in the cloud, check out these 7 best iCloud Photos alternatives for iPhone and iPad.
iCloud Photos Alternatives for iPhone and iPad (2021)
Before exploring the roundup, it would be apt to jot down the features you are looking for in your favorite iCloud Photos substitute for your iPhone or iPad.
What Sort of iCloud Photos Replacement Are You Looking for? 
It's worth keeping in mind that all major cloud services have the same scanning feature. The only difference is that they do the entire scanning completely in the cloud, while iCloud Photos opts for a custom on-device and cloud scanning. But bother not, if you are looking for a life beyond this kind of scanning, then NAS (stands for network-attached storage) or an end-to-end encrypted backup service would be better suited for your needs.
For folks who want a cloud photo storage solution that offers the best of both worlds, which is plenty of photo storage and reliable security, there are a few options available in the market. Moreover, most of the iCloud Photos alternatives are available across platforms, so you can take control of your private images from any of your devices. Now that you have got the gist, it's time to check out the best iCloud Photos alternatives.
Top iCloud Photos Alternatives You Can Use
1. Google Photos
If you need a reliable cloud photo storage solution with plenty of free storage, Google Photos is your best bet. Widely considered to be the best photo storage service across platforms, Google's Photos app is feature-rich and offers a ton of handy tools to help keep your memories organized. The automatic albums make it easy to keep images organized. Moreover, the Google Photos app also automatically saves photos and videos to the cloud and syncs them across all your devices. That means you will have access to all your content across devices.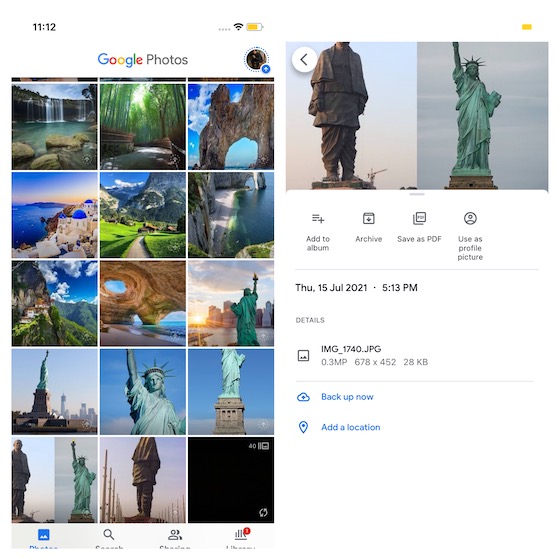 Google Photos automatically creates movies, collages, and fun-loving GIFs to make viewing your memories a pleasing experience. If you don't find the ready-made movies in line with your taste, you can use the native photo and video editing tools to create stunning clips yourself.
Another feature worth taking note of is the Shared Libraries that allows you to grant a person access to your photos in a secure way. Thanks to the deep integration with Google Lens, Google Photos also lets you identify text and objects in your photos. And times when you wish to view your images on a large screen, the native Chromecast and AirPlay support come into play.
Unlike iCloud Photos, it's available across platforms so that you can view and manage your photos without any restrictions. Notably, you can also directly transfer your iCloud Photos to Google Photos, courtesy of a new feature that Apple introduced recently. Do note that Google Photos offers 15GB of free storage that is shared across other Google services like Gmail and Google Drive. If you want to remove the storage limitation, you will need to opt for a premium plan, which starts at $1.99/month for 100GB cloud storage.
Pros
Automatically creates movies, collages, and GIFs
Pretty smart visual search
Supports AirPlay and Chromecast
Comes with handy photo and video editing tools
Integrated with Google Lens
Up to 15GB free storage
Cons
Google doesn't have a great privacy record
Install Google Photos (Free, up to 15GB free storage and paid plans start at $1.99/month)
2. Dropbox
While Dropbox may not be a like for like iCloud Photos alternative, it has got most bases covered to be an all-in-one cloud storage service. It supports more than 170 file types, making Dropbox the perfect pick for folks who want a versatile cloud storage solution. So whether you have a ton of private photos or wish to keep a massive collection of documents, notes, and presentations organized in a secure cloud, Dropbox can live up to your task.
Dropbox lets you automatically upload photos and videos from your camera roll to the cloud. So, you don't have to worry about syncing images manually. And if you want to share an image, you can generate a shareable link with ease. The best part? You can send large files using a link to anyone, even if they don't have a Dropbox account.
Moreover, Dropbox comes with a built-in document scanner so you can scan your documents, IDs, receipts, and images and convert them into PDFs with ease. What's more, it also lets you sync folders on your Mac/PC and recover accidentally deleted images using the file recovery feature. The only major downside of Dropbox is the meager 2GB of free cloud storage. If you want more storage, you need to pay $11.99/ month for the 2TB storage plan. Everything considered Dropbox is a proficient alternative for iCloud Photos. 
Pros
Lets you automatically upload photos to cloud photo storage 
Supports more than 175 different file types 
Handy document scanner 
The ability to sync folders on Mac/PC
Share large files using a link
Cons
Offers only 2GB free storage 
Install Dropbox (Free, 2GB free storage and 2TB plan starts at $11.99/month)
3. NextCloud
If you wish to have better control over your images, NextCloud can be a viable option. As it's a self-hosted platform, you have the freedom to set up your own NAS. For those unfamiliar, NAS stands for network-attached storage and is remote storage accessible over the Internet as if it was local. And the storage is offered by third-party service providers who charge a fee depending on capacity and bandwidth.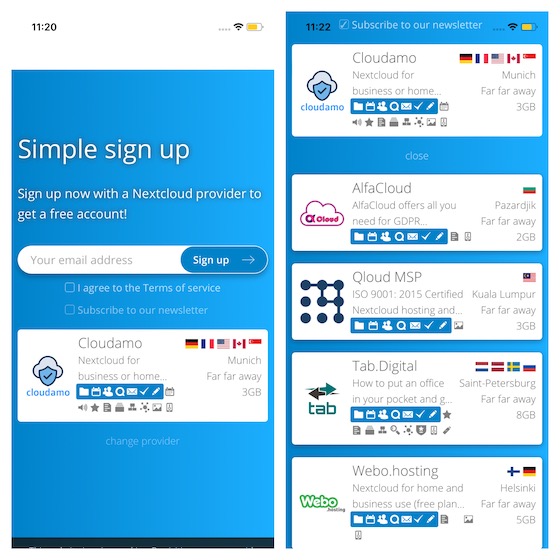 Talking about the user interface, NextCloud offers a clean look with a focus on a hassle-free file managing experience. You can rename, copy, move, delete, and even create different folders to keep your photos and documents organized as per your preference. With the automatic loading functionality, it lets you store your private images in the cloud with ease. Since it's integrated with the stock file manager app for iPhone and iPad, you can easily manage your documents and photos. 
What's more, NextCloud comes with a memory optimization feature that plays a vital role in managing space. For an extra layer of safeguard, it also lets you use a passcode to prevent unauthorized access. While the app is available for free, you will need to buy storage plans from supported cloud storage providers. 
Pros
Integrated with Files app
Memory optimization feature 
An additional layer of protection using passcode
Multi-account support
Works offline  
Cons
Lacks a powerful automatic photo organizing feature 
Install NextCloud (Free)
4. Amazon Photos 
Amazon Photos is a fully-featured iCloud Photos alternative for iPhone and iPad users. If you are an Amazon Prime member, you will get unlimited, full-resolution photo storage and an additional 5GB for video storage. Non-Prime members get only 5GB of photo and video storage. 
The base Amazon Photo storage tier starts at $1.99/ month for 100GB, which is competitive if not the cheapest. It allows you to store your images in the same size and format as the originals. Moreover, the photo storage app also creates slideshows of your memories decked up with befitting music, so you will love to watch them again and again. And with the private Amazon Photos Group, you can securely share your images with your family and friends.
As for the user interface, the app looks neat with more emphasis on simplicity. Depending on your needs, you can organize your images in albums and use a variety of eye-catching filters to make your shots ready for social media. Since it supports Alexa, you can take, view, and share your images with ease.
Pros
Lets you store full-resolution images
Offers eye-catching files
Creates slideshows of your memories
Private Amazon Photos Group
Photo prints (the U.S only)
Supports Alexa
Cons
Photos sorting could be better
Install Amazon Photos (Free, 5GB free storage and $1.99/month for 100GB)
5. Box
Box is a top-notch cloud storage service for your iPhone. For starters, it provides an impressive 10GB of free storage to let you store docs, notes, photos, and videos. Thanks to the support for more than 100 file types, it has you fully covered in terms of compatibility when switching from iCloud Photos. 
However, what stands Box apart from many other cloud storage services is the smooth integration with hundreds of apps that open the gate of collaboration. So, you can make high-quality PowerPoint presentations, share huge files with a shareable link, take notes on the go, and even work on projects in real-time. 
Even in terms of protection, Box is up to the mark. With the file-level encryption and the needed security controls, it ensures you remain worry-free about your personal data. Long story short, Box has you fully covered both in terms of flexibility and the convenience to let you store and manage your images with the needed security.
Pros
High-quality PowerPoint presentations
Option to share large files
Support for more than 100 file types
File-level encryption
Impressive 10GB of free storage
Cons
Warrants some learning curve initially
Install Box (Free, 10GB free storage and $79.99/ year for 100GB)
6. Cryptomator 
For the folks who are hunting for a cloud storage platform that offers end-to-end encryption, Cryptomator looks like a solid alternative to iCloud Photos. Unlike Apple's photo storage service, it provides end-to-end encryption, which could be a huge deal if privacy is your top priority. As the name itself suggests, it's based on the open-source library OBJ-C Cryptor.
Notably, Cryptomator lets you create secure vaults and then store that vault in a cloud service or offline on a hard drive. As it supports both Touch ID and Face ID, you can easily unlock your vaults using biometric authentication.
Thanks to the compatibility with all major cloud storage platforms, including iCloud Drive, Google Drive, Dropbox, OneDrive, and Web-DAV-based cloud storage services, it lets you manage your files with ease. In a nutshell, Cryptomator is what you should use to have the convenience of cloud storage minus the intrusive photo scanning. 
Pros
Offers end-to-end encryption
Lets you create multiple secure vaults
Supports all the major cloud-storage platforms
Compatible with both Face ID and Touch ID
Cons
User-interface doesn't look intuitive
Install Cryptomator (Paid, $9.99)
7. Cryptee
Last but not least, Cryptee is more than a simple photo storage service. You can not only use it to store images but also your documents and notes. Based in Estonia, it uses AES-256 encryption to keep your images safeguarded against hacking. Moreover, Cryptee does not store any unencrypted data, nor does it allow any entity to check your data. So, you can rest assured that your personal images will be safe, away from prying eyes. 
Beyond privacy, Cryptee has a decent set of features, including the ability to hide your private photos with ghost albums and slideshows to let you view your memories beautifully. Thanks to the drag and drop gesture and tagging features, you can organize all your images with ease. Notably, it retains the original quality of photos so that they always look stunning when you download them in the future.
Cryptee offers just 100MB of free storage, and you need to remember that it also doesn't offer an iOS app. This photo storage service exists as a progressive web app (PWA), and you can add it to your iPhone home screen with ease. The premium version starts at $3.55/month for 10GB. Taking everything into account, it's a safe bet if you are on the lookout for a privacy-centric iCloud Photos alternative.
Pros
Uses AES-256 encryption
Hide your private photos with ghost albums
Ability to create slideshows
Neat photo management
Allows you to store original quality of photos
Cons
The web app offers minimal customization
Check out Cryptee (Free, 100MB free storage and premium plan starts at $3.55/ month for 10GB)
Top Alternatives to iCloud Photos You Should Try Right Now!
That's pretty much it! These are the top-ranked iCloud Photos that you can use to store and sync your photos and videos. Again, there is no cloud storage platform that can match the seamless photo syncing and sharing experience offered by iCloud Photos on iPhone, iPad, and Mac devices. However, the cloud image storage providers listed above have got all the bases covered to be notable alternatives. That said, which is your favorite iCloud Photos substitute? I guess it's the one that offers a ton of free storage for free and provides a solid safeguard against intruders. Let us know in the comments section below.
---
Load More