Are you using Chrome extensions for Gmail? If not, then you have no idea what you are missing out on. Gmail is a great email client but Chrome extensions are what bring powerful features to the fold. Some extensions add new features to Gmail, some bring visual changes while some make it more secure and personal.
The problem arises when you have to choose among tons of Chrome extensions for Gmail. Well, we went through most of the Chrome extensions for Gmail and found out the best ones for you. Here it goes:
Best Chrome Extensions For Gmail
Gmail Offline – Using Gmail Without Internet Access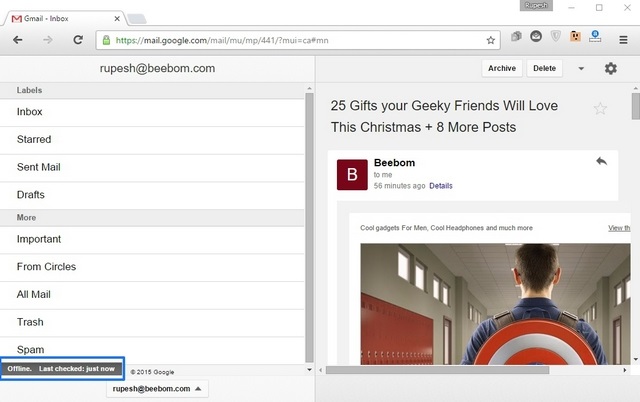 The Gmail Offline Chrome extension does what its name suggests. It lets you access your mail, respond to them, search and archive offline. The extension runs at startup to sync all your mails for offline usage. You will have a mail icon in Chrome's New Tab page to access Gmail offline. Queued tasks like outgoing mails are sent when active internet connection is available. You can also use it if you have a liking to Google's tablet Gmail interface.
Gmelius – The All in One Chrome extension for Gmail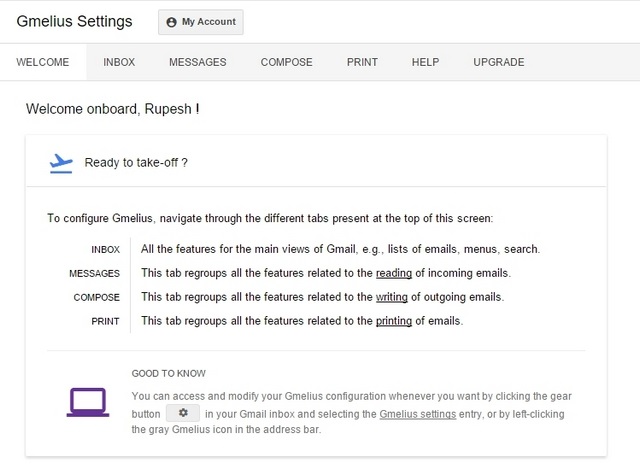 Gmelius is one of the most feature rich Chrome extensions for Gmail. It covers the features of a number of extensions. It brings the ability to detect and block tracking attempts, schedule email, turn emails to tasks, email templates, unsubscribe easily and more. Gmelius for Gmail is easy to set up and its settings can be accessed through the Settings button in your Gmail inbox. If you want an extension especially to block tracking, you can give PixelBlock a try.
Sidekick – Track your emails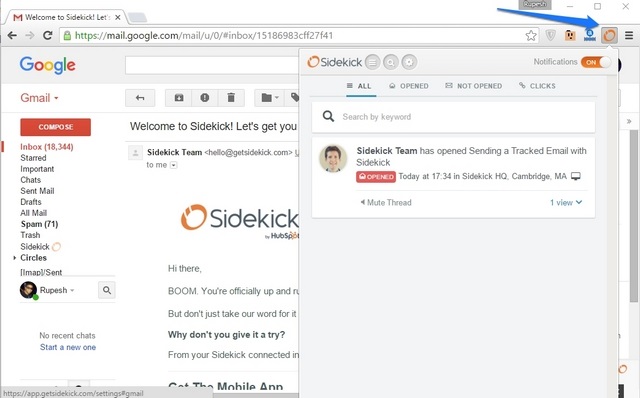 There are a number of great mail tracking extensions but Sidekick is our favourite. It not only supports Gmail but also Outlook, Apple Mail and other email clients. It lets you track your emails and schedule emails for the future. It also shows you profiles of your contacts with their social profiles, tweets, recent conversations with you and more. You will have to register your Gmail account with Sidekick to start using it. If you are not satisfied with Sidekick features, you can also check out other extensions like Mail2Cloud, which brings additional features like self destruct mails or Boomerang, which lets you manage emails and more. If you want a quick and simple way to track emails, you can also give MailTrack a try.
Checker Plus – Get desktop notifications and listen to your emails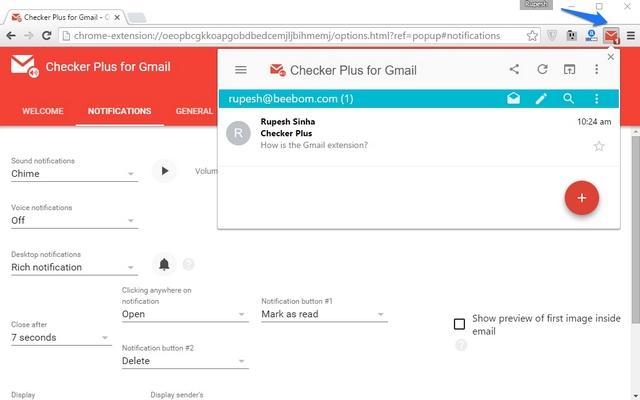 Checker Plus is another feature rich Chrome extension that will surely enhance your Gmail experience. Checker Plus brings you desktop notifications for your emails and you can configure those notifications with ease. You can also get voice notifications, which will read out your emails loud. You can also manage multiple accounts, use all of Gmail's functionality right from the extension's button, which comes in pretty handy.
Streak – Manage tons of emails with ease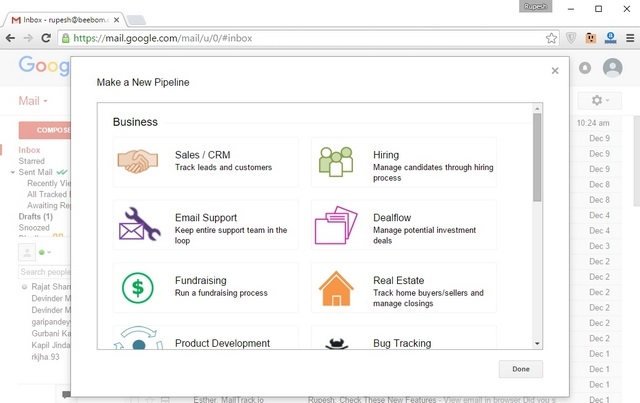 If you get tons of emails everyday, Streak is a must have extension for you. It will help you manage your emails in case you are into sales, hiring, support, real estate, fund raising, journalism or even if you are getting lots of emails due to personal commitments like events, trips or wedding planning. The extension consists of various features aimed at different needs. It lets you add certain types of emails to a box, so that you can handle all of them better. Overall, if you need to manage a lot of emails, you will love Streak. So, check it out!
Secure Mail – Send encrypted emails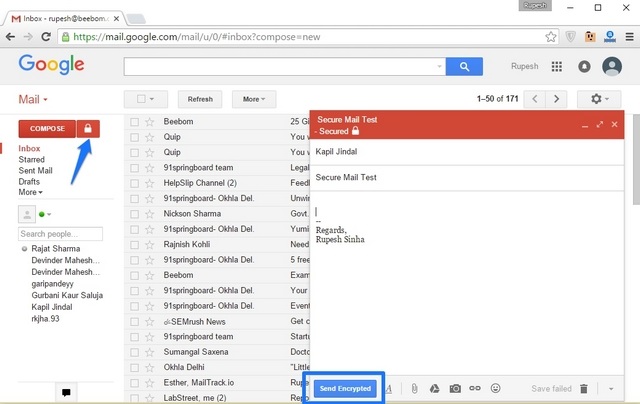 Secure Mail is a handy Gmail extension, which lets you encrypt and decrypt emails. Once you select to send a secure mail, you can add a password to the email, which will be asked to the recipient when he/she tries to open the email. The extension uses symmetric encryption and it's pretty easy to use. There are also other encrypted email extension options like Mailvelope.
Send from Gmail – Share links easily through Gmail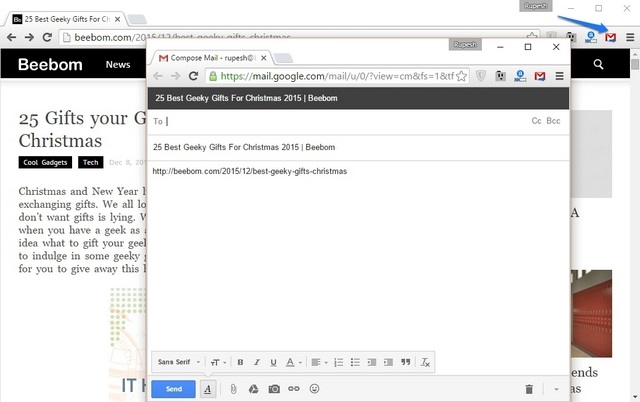 Send from Gmail is a pretty simple extension, as it allows you to share links easily through Gmail. To share a link, just click the extension's button on the top right of Chrome and it will take you to the compose window of Gmail, where you can enter the email of people you want to share the link with.
Todoist for Gmail – Add a Task Manager & To-do list to Gmail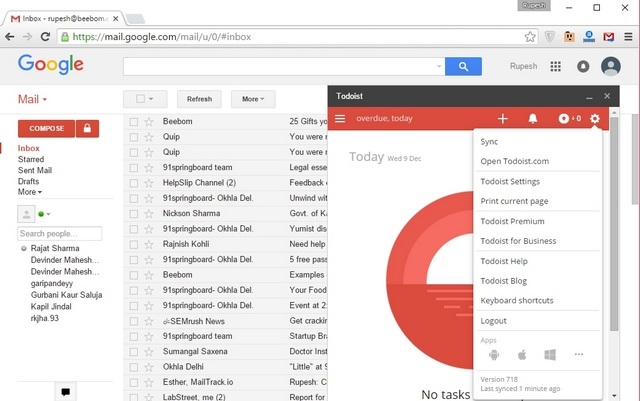 Todoist lets you add a to-do list to your Gmail account and manage your tasks with ease. The Gmail plugin lets you convert emails into tasks, set task priorities, sync tasks and more. It shows up your tasks in your Gmail inbox through a cool plugin, so that you don't miss any of your tasks. You can also try RightTasks, which might not be as feature rich but lets you see all your tasks in a simple sidebar.
Cloudy for Gmail – Share files from different Cloud Storage accounts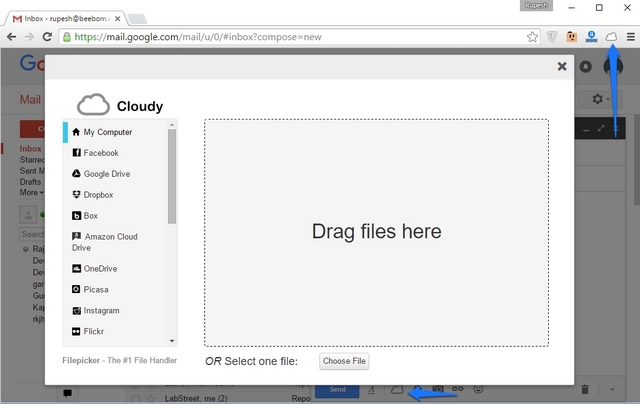 Gmail lets you attach files only from Google Drive or your PC (limited to 25 MB) and it can be a problem at times. Thanks to the Cloudy for Gmail extension, you can now attach files from Dropbox, OneDrive, Box, Picasa, Github, Imgur, Instagram and tons of other sources.
WiseStamp – Create a cool signature for your Gmail account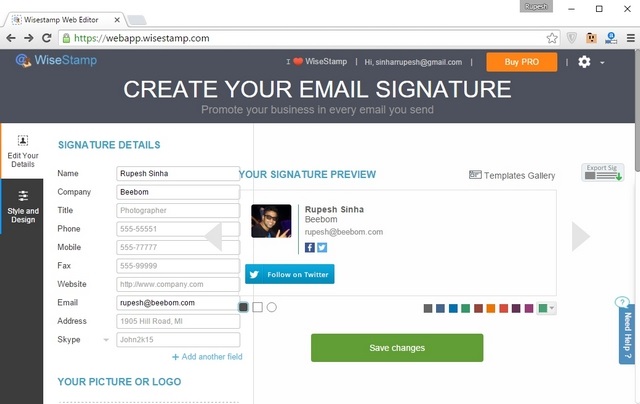 Ever feel your Gmail signature is too simple? Well, it should be great once you've used WiseStamp. Once you add the WiseStamp extension, it will ask you to create a custom signature with your details and links to social media profiles. There are some cool templates available but only for Pro users.
Rapportive – Know everything about your contacts on Gmail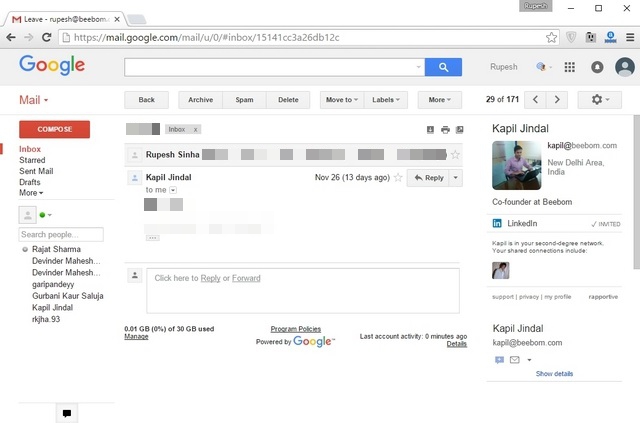 Rapportive brings you details about your Gmail contacts in a sidebar when you open up a conversation. It shows you their picture, LinkedIn profile and other details like job & company, mutual connections and social media profiles. If people have various social media accounts through the same email id, you will be able to connect with their different accounts from the Rapportive sidebar itself.
Attachment Icons – Shows File Type of Attachments
Attachment Icons can be quite useful if you get a lot of mails in the day filled with attachments. This extension shows you the file type of attachments outside the mail and in the inbox itself, so you already have an idea of what it might be.
Pasting or inserting Excel tables in the Gmail compose box can be a hassle but CloudCodes Insertable makes sure it can be done with ease. Once you add the extension, just copy an Excel table and click on Insertable's icon below the Compose box to add it and it's done.
Unroll.me – Unsubscribe to various subscriptions instantly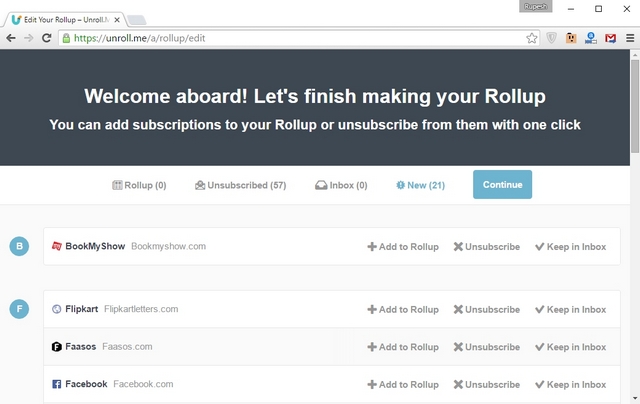 We want to unsubscribe various subscriptions but we don't do it out of laziness. Well, Unroll.me lets you unsubcribe with ease. Once you authorise Unroll.me to your Gmail account, it scans all your mails to find all the subscriptions. After that, you will see the list of subscriptions and you can unsubscribe with a single click. You can also create a separate list in "Rollup" for the subscriptions you want to keep. It's surely the best way to clean up your Gmail account.
Giphy – Add GIFs to your mails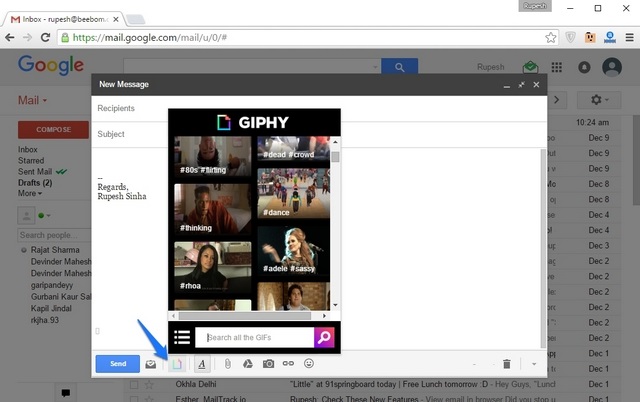 If you love sharing GIFs through emails, Giphy should be a good bet for you. The extension adds a button in the Gmail compose box, which lets you search and discover cool GIFs that are trending across the globe. You can choose GIFs from the Giphy box according to your mood and send it to your friends and family.
News.me – Get all the popular Social Media stories in a single email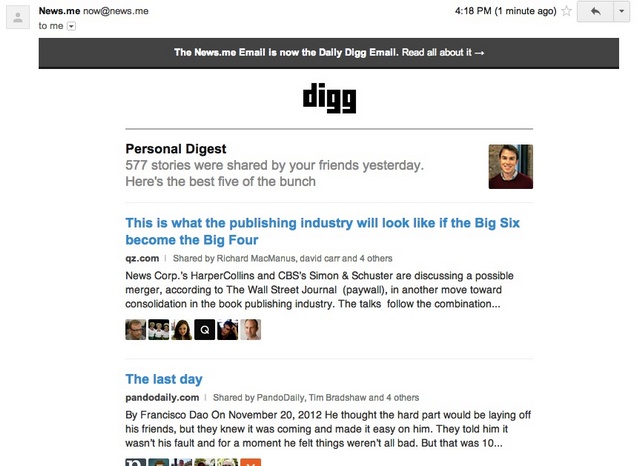 Going through all the social media emails can be a tough and taxing job and this is where News.me comes into play. Once you enter your email on News.me and connect your Facebook & Twitter accounts, it will bring you the best stories from your feeds to your Gmail account in a single email.
KeyRocket – Learn Gmail Shortcuts on the go
Keyboard shortcuts increase your productivity by several notches, so it's important to learn those shortcuts gradually. That's what KeyRocket helps you do. Whenever you do a task in Gmail, be it as simple as clicking on the Compose button, it lets you know about the shortcut key you could have used instead. It's a simple yet effective way to learn the shortcut keys. Moreover, the cool extension is also available as a software to learn shortcut keys in Office apps.
Strikethrough – Adds the missing "strikethrough" feature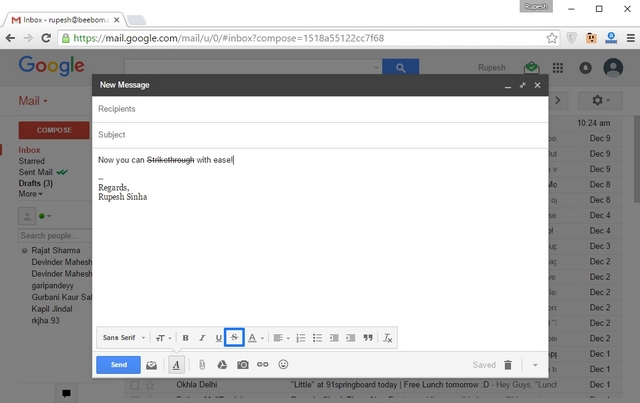 The Gmail compose box might be very feature rich but it misses a much used formatting tool. Well, you might have already guessed it, it does not have an option to strike through between text. The Strikethrough extension adds the ability to cross any text or strike it through.
SEE ALSO: 19 Cool Gmail Tricks Everyone Should Know
There are a ton of other Gmail Chrome extensions on the Web Store but these are the best we found out for you. Try them out and let us know how you like them. Sound off in the comments section below.