Both Samsung Galaxy Note 10 and Note 10+ look stunning and have a similar premium glass build on the back and front. However, as we all know, glass is quite fragile and can easily break, even in a minor fall. So the first thing you should do after getting your device is to protect it with a solid case. In this article, we have compiled a list of 12 best Galaxy Note 10 cases you can buy right now. We have included cases for all purposes. Whether you want a case with great design or something that is built like a tank, you can find all the best cases and covers for Samsung Galaxy Note 12 on this list.
Best Galaxy Note 10 Cases You Can Buy
It's always better to sort out confusion upfront, especially when you are on a shopping spree. So, let's get the most fundamental question out of the way first up!
What is the Best Galaxy Note 10 Case?
To me, there are three most essential components that form the crux of a case:
Design 
High-quality material
Durability 
So, it doesn't matter whether you want to opt for a sleek Galaxy Note 10 case or wish to go for a rugged case, make sure to check out these components. And the case that seems to excel in all these three departments can be termed as the best of the lot.
As for the price, it's subjective. So, we are not going to delve into it. However, be sure to compare prices to choose the Galaxy Note 10 cases that fit into your budget and also check off all the essential boxes.
1. Spigen Tough Armor
We all know Spigen makes one of the best cases and accessories for Samsung devices, and this time too, Spigen has created several unique cases for Samsung Galaxy Note 10. Of all the new cases, I love Spigen Tough Armor because of its solid grip and protection from all sides. It's a classic-looking Spigen case and you don't have to worry about drops and scratches at all.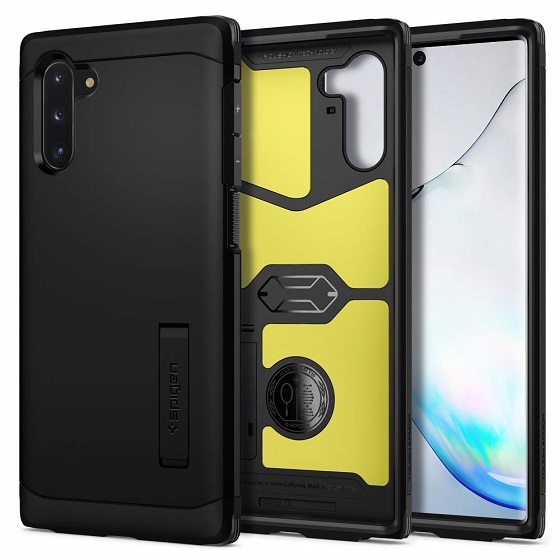 The Tough Armor case is not just a TPU case, but also uses Polycarbonate material to enhance the protection. Apart from that, buttons are tactile and the cut-outs are precise. You can also charge your device wirelessly with the case on so you don't have to worry about taking the case off every time you set it on a wireless charger. All in all, Spigen Tough Armor is one of the best cases for Note 10 and you don't have to look anywhere else.
Keys features: 
Protective design in a compact form-factor
Extra protection for camera and display 
Handy kickstand 
Tactile buttons 
Buy from Amazon: $15.99
2. Otterbox Defender Series
Otterbox is another popular case maker that offers quality cases and all-round protection. Particularly, the Defender Series case is best for anyone who wants to shield the device from all sides. It uses Polycarbonate and synthetic rubber materials so that Note 10 can easily survive hard drops, bumps, and scratches.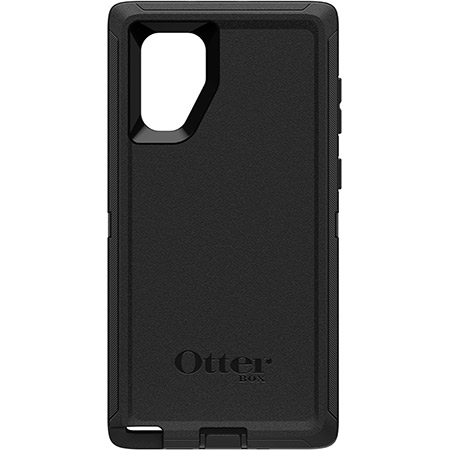 Further, the case is compatible with wireless charging so you don't have to worry about that. If you like Otterbox cases and their protective design, the Defender series cases are great value for money as they deliver trusted safeguards. For all being so protective, they don't look bulky at all.
Long story short, Otterbox Defender Series cases can easily stake the claim of being the best protective case for Note 10.
Key features: 
Exceptionally durable construction 
Additional safeguard for camera and display
Anti-slip exterior 
Neat cutouts
Buy from Website: $54.95
3. Caseology Legion
Caseology is known for making protective cases in a great looking design. And this time too Caseology has brought a series of Galaxy Note 10 cases, of which I absolutely love the Legion case. The case has an outer rigid shell with a screen bump on the front. It is designed in a way that it can easily withstand sudden fall with shock absorption.
The Legion case uses flexible TPU and harder Polycarbonate materials to guard the device. It's also compatible with wireless charging so that's great. As I said earlier, if you are looking for the best-designed Note 10 case with solid protection, Caseology Legion is for you.
Key features:  
Shock-absorbing design 
Offers trusted shield to both the display and rear cameras 
Compatible with wireless charging 
Responsive buttons 
Buy from Amazon: $12.99
4. Spigen Liquid Crystal Case
Liquid Crystal is another good case from Spigen for Galaxy Note 10. It's a slim, clear TPU case which is great for showing off Note 10's psychedelic colors. The case is pretty lightweight as you would expect from a TPU case, but, unlike other clear cases, it's not slippery.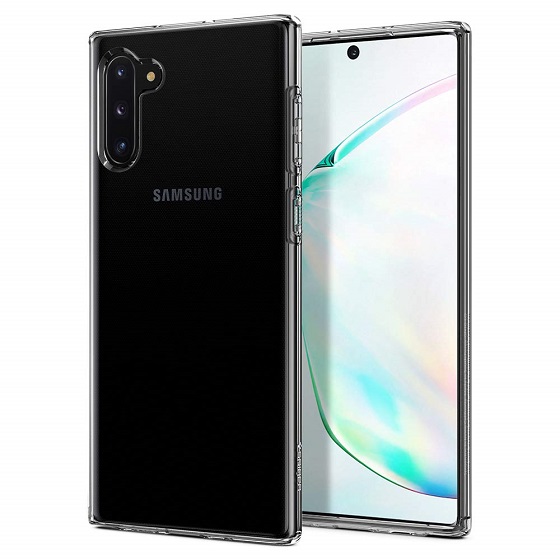 Liquid Crystal comes with an anti-slip finish on the back which provides a firm grip to the hands. However, keep in mind, this case doesn't provide you extreme drop protection. It can handle some minor falls, but that's about it.
Protection aside, Spigen Liquid Crystal is one of the thinnest Samsung Galaxy Note 10 cases in the market right now.
Key features: 
Crystal clear design
Pretty compact 
Anti-slip finish
Anti-yellowing 
Buy from Amazon: $10.99
5. Official Cases and Covers
Every year, with the launch of the Note series, Samsung brings a lot of first-hand cases and covers. These cases are unique and blend with the overall design of the phone. First off, you have an LED case that illuminates on the back when you receive a notification.
Next, there are two clear view covers which let you take a peek at your smartphone without waking the display. You can glance at notifications, missed calls, time, and battery percentage without even touching the phone.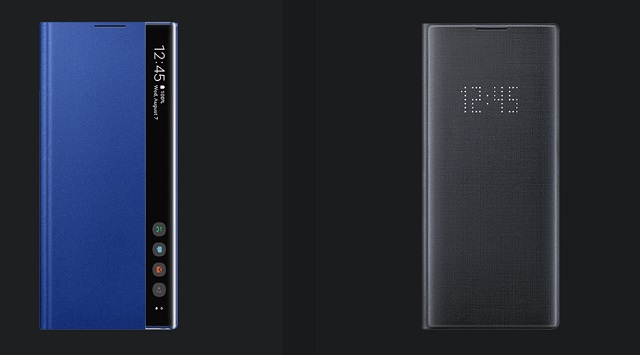 Further, you have two leather and silicone covers that provide a comfortable grip. The covers are available in many funky colors. Finally, Samsung has brought a protecting standing cover that uses hard polycarbonate and rubber material to protect the device from all sides.
Moreover, the case also has a quick stand on the back to let you prop up your Note 10 for convenient viewing while streaming videos or video conferencing. Overall, these are the best Samsung Galaxy Note 10 cases.
Key features: 
Premium look and feel 
Comes in a variety of designs
Secure grip 
Easy to install and remove 
Buy from Samsung's Website (prices vary depending on the case)
6. Caseology Skyfall
Caseology has another great Skyfall case for Note 10 which looks bulky but provides excellent grip and protection. The great part about the Skyfall case is that it has a matte black finish on the back. There are also side bumpers on the front to protect the display from accidental drops.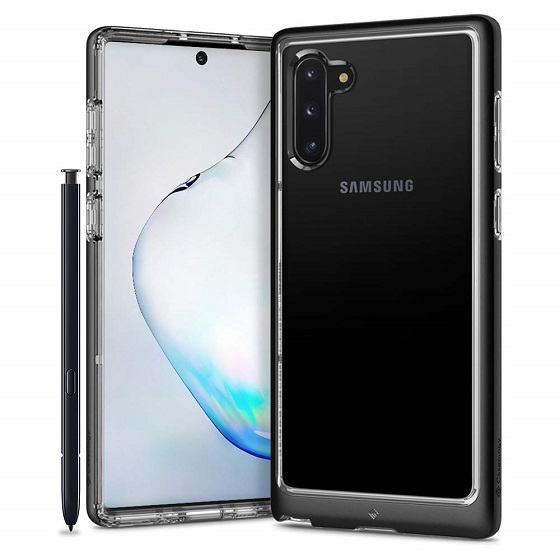 Besides that, the case has precise cutouts and tactile buttons so you don't have to worry about that. The Skyfall case is available in three colors: black, ocean blue, and lavender. So go ahead and choose the Skyfall case based on your Note 10's color, you are absolutely going to love the matte finish.
Taking all the features into account, Caseology Skyfall deserves to be considered one of the best covers for Note 10 – both in terms of design and protection.
Key features: 
Matte black finish 
Durable casing in a compact design
Impact-resistant bumper 
Works with most wireless chargers 
Buy from Amazon: $12.99/$14.99
7. Olixar Carbon Fiber Case
Olixar Carbon Fiber case is among my favorite Galaxy Note 10 cases on this list solely because of how great it looks. Despite having rugged protection from all sides, it feels pretty slim and lightweight. It doesn't use Polycarbonate materials, instead relies on flexible TPU.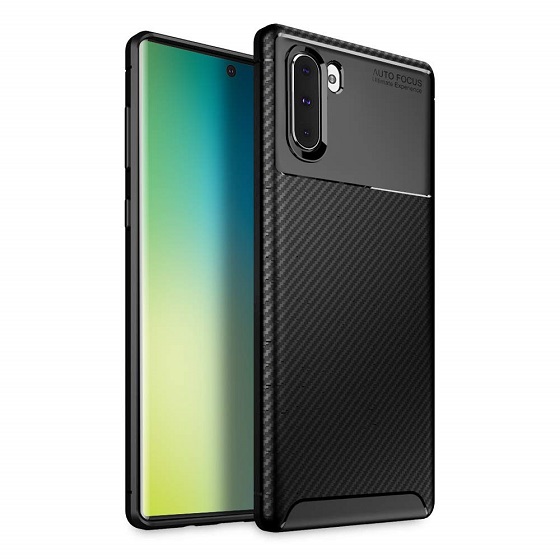 However, the carbon fiber design on the back makes the devices a joy to hold. It's pretty comfortable and also enhances the grip significantly. As it goes without saying, the Olixar Carbon Fiber case works perfectly with wireless charging. If you are looking for a great looking case, but not in a bulky body, the Olixar Carbon Fiber case is the one to get.
Key features: 
Carbon fiber design
Shockproof 
Enhanced gripping 
Fits around the edges 
Buy from Amazon: $14.99
8. Temdan Protective Case
Temdan offers an awesome case for Galaxy Note 10. It's a full-body case with enhanced protection for all corners. It uses hard polycarbonate material to safeguard both front and back from drops, dust, and scratches.
Apart from that, Temdan brings further waterproofing which is great for a long underwater shoot. Despite having so many shields, surprisingly the case is not heavy at all. It is quite slim with responsive buttons, precise cutouts, and support for wireless charging.
Overall, if you want a full-body case with multiple protection, Temdan Galaxy Note 10 Case can be a great alternative.
Key features: 
Rugged construction 
IP68 waterproof rating 
Supports wireless charging 
Responsive screen 
Buy from Amazon: $13.99
9. Anccer Slim Case
Anccer is a great looking case for Note 10 with its minimal design and sand black finish. But that is not all about it. The Anncer case does provide you some degree of protection on the back. Due to the sand finish, it provides you a firm grip on the hand.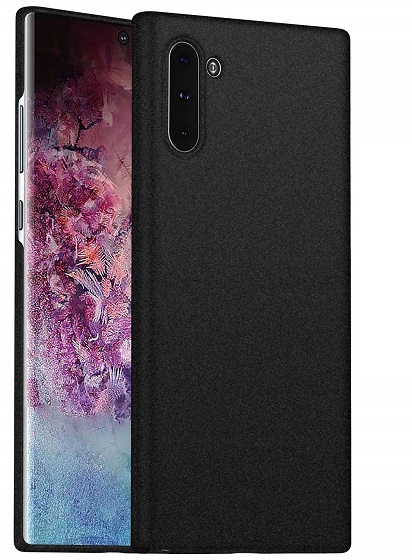 There is also a protruding bump around the camera to protect it from hard fall or scratches. But, do note that you don't have much protection on the front because of its open design. Nevertheless, if you have been a fan of sand finish cases, then Anccer case is the best one to get.
Key features: 
 Minimalist design 
Impressive sand finish 
Much-improved grip 
Reliable camera protection 
Buy from Amazon: $11.99
10. Dahkoiz Case with Screen Protector
Just in case you are in quest of a relatively cheap yet good Galaxy Note 10 case, this offering from Dahkoiz can be a fine pick. The case has a lightweight yet durable construction that offers full protection to your Note 10. With the presence of a shock-absorbing bumper, it has got the essential shield to withstand impact.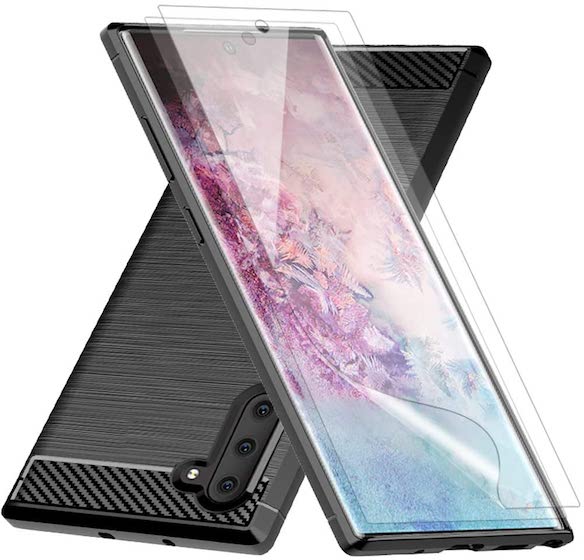 Notably, Dahkoiz case also has beveled edges that work as the essential shield for the rear cameras and the display. Made of soft TPU material, it sports a rubberized exterior that provides a secure grip. Besides, it's also quite easy to install and remove.
What's more, the company also offers a durable screen protector to offer complete defense to the 6.3″ display against scuffs. Priced at $7.99, it's one of the cheapest Galaxy Note 10 cases in the market right now.
Key features: 
Lightweight yet durable design
The needed protection to both cameras and display  
Shock-absorbing bumper 
Comes with a durable screen protector 
Buy from Amazon: $7.99
11. PITAKA MagEZ
PITAKA is well-known for producing ultra-slim cases for smartphones. And the company has lived up to its name by introducing an incredibly sleek case (0.03-inch). Made of high-grade aerospace-grade aramid fiber, the case features a 3D grip thanks to the textured carbon fiber pattern.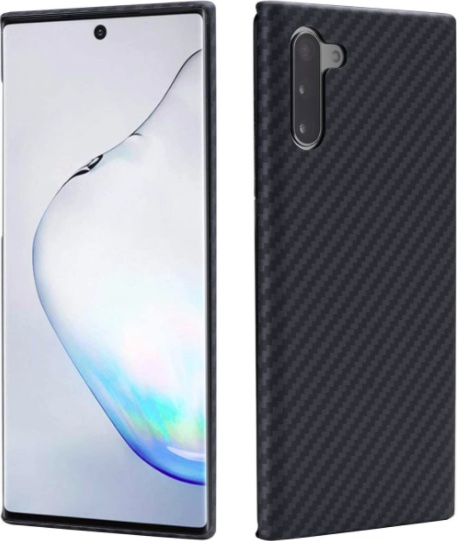 For all having a slim casing, the case is more than capable to withstand impact and also keep scratches at a fair distance. Notably, it comes with built-in magnets that help it work with supported car mounts.
MagEZ also supports wireless charging. As a result, you don't need to remove the case from your Note 10 before charging your smartphone. Everything considered; it's one of the best Galaxy Note 10 cases.
Key features: 
High-grade aerospace-grade aramid fiber
3D grip
Buil-in magnets 
Form-fitting design 
Buy from Amazon: $49.99
12. Vofolen
If you don't prefer to have a traditional wallet case, Vofolen wallet case could be a top-notch choice. The case features rugged construction that wraps around the smartphone snuggly. Thanks to the protective casing, it's fully equipped to safeguard Note 10 against accidental drops and scuffs.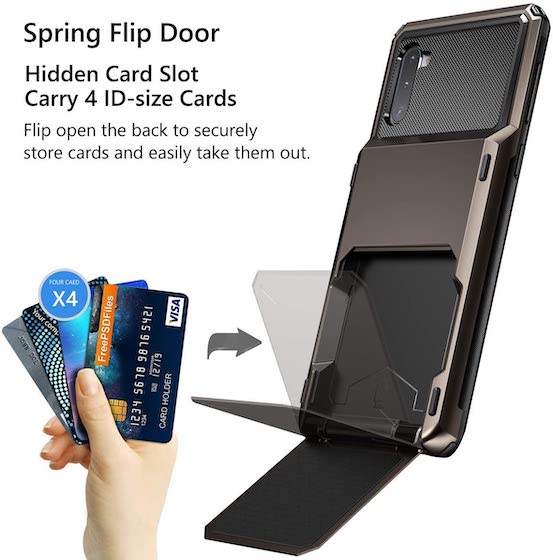 Moreover, Vofolen case has a hidden slot on the back wherein you can securely store up to 4 cards. And with the raised lips, both the display and the rear cameras have the required protection from scratches. Considering these notable features, Vofolen wallet case seems to be nothing less than a steal at $11.
Key features: 
Rugged construction
Hidden slot for 4 cards 
Extra defense for rear cameras and display
Responsive buttons  
Buy from Amazon: $10.99
Pick the Best Galaxy Note 10 Cases and Covers
So that was our list of best Galaxy Note 10 cases available right now. We have included all the big case makers like Spigen, Caseology, and Otter Box. Other than that, you can also go for the official cases and covers since those are really unique and interesting.
Be assured, almost all the cases we have mentioned provide excellent grip and full-body protection. So go ahead and choose one for your shiny new Galaxy Note 10. So that will be all from us. If you liked our list of Note 10 cases, do comment down below and let us know which one did you pick.