When we talk about Android's customization features, we talk about launchers, widgets, icon packs etc, but there's one more thing on Android that many people love. We are talking about Android's live wallpapers. Live wallpapers have been known to be gimmicks and battery hogs in the past but things have changed for the better now. The new crop of live wallpapers are easy on the battery and along with good looks, they bring tons of customization options, so that your homescreen looks the way you want it to.
There's also an assumption that only paid live wallpapers are good. Well, that's untrue but choosing the best free live wallpapers can be tricky because the Play Store is filled with mediocre apps. That's why we took matters into our hands and chose the best free live wallpapers for you.
Here are the 15 best free live wallpapers for Android:
1. Forest Live Wallpaper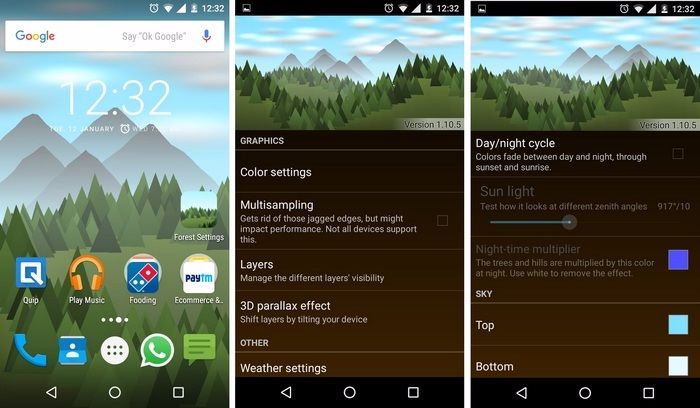 Forest, as the name suggests is a minimalistic live wallpaper taking you straight to nature. It looks beautiful and it changes its look based on the weather & time of the day. There are also various themes to choose from along with ability to customize the sunlight in the scenery and change colors of sky, mountain, trees & hills. The relaxing wallpaper is surely a treat to the eyes and its contextual changes make it worth it.
Install: (Free with in-app purchases)
Compatibility: Android 2.2 and up.
2. Muzei Live Wallpaper
Muzei is a popular live wallpaper offering, which is a single place for all your wallpaper sources. At first, the app lets you choose between artwork pictures or your own images as wallpapers but you can add more sources through plugins. There are plugins for Bing images, Google doodles, NASA's daily space pictures, Tumblr, Flickr, Instagram etc. The app also adds fade & blur effects to make your homescreen feel lively. Overall, Muzei is a fresh new live wallpaper app, which is fast and brings cool effects along with various image sources plugins.
Install: (Free)
Compatibility: Android 4.2 and up.
3. Minima Live Wallpaper
If you like simple shapes and clean colors, you will find Minima interesting. The minimal looking live wallpaper app brings a number of themes, which include artwork images as your wallpapers. It blurs & dims your background and includes touch & tilt effects to make things lively. You can also go ahead and change colors, brightness and saturation of an image. The live wallpaper app also comes in a Pro version, which lets you edit themes, randomize and more.
Compatibility: Android 3.1 and up.
4. Material Islands
You must have already guessed that Material Islands has something to do with Material Design. You must have noticed Google Now featuring an image laced with Material Design. Well, that's the inspiration for Material Islands. The app features various islands comprised of simple shapes and forms. Each island animates itself based on the time of the day. The best thing about it is it goes seamlessly with Android 5.0 Lollipop and above.
Install: (Free with in-app purchases)
Compatibility: Android 4.0.3 and up.
5. KLWP Live Wallpaper Maker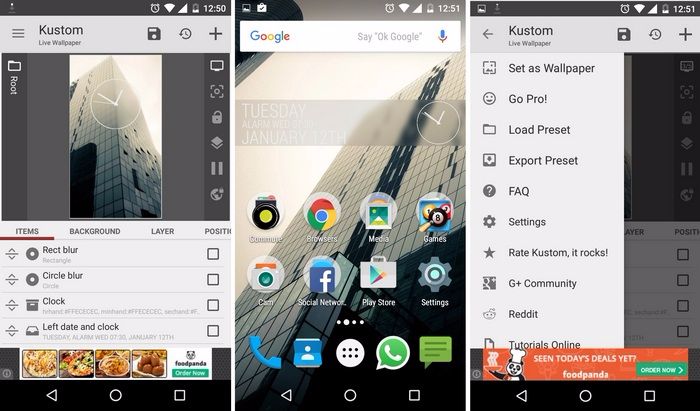 If you've wanted to create your very own custom live wallpaper, KLWP should be your choice. It lets you choose among wallpaper presets or choose your own image and then add blur, data (date & clock), weather, animations, layer, position and more. There are a ton of other customizations like tilting, gradients, custom fonts etc to fiddle with. It's most certainly one powerful app to create a custom live wallpaper.
Install: (Free with in-app purchases)
Compatibility: Android 4.4 and up.
6. Shake Them All 2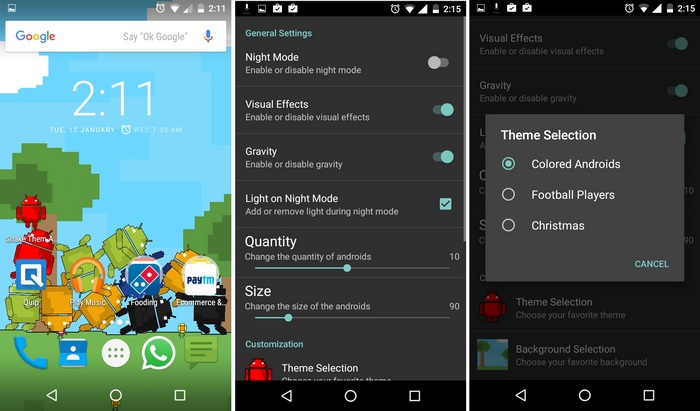 Shake Them All 2 might not very popular among live wallpaper enthusiasts but it's certainly worthy of a look. It's the most fun live wallpaper we have come across. The wallpaper app brings a bunch of android bots on the homescreen, which move when you touch or tilt the display. You can make it even more fun by increasing the number & size of bots, enabling/disabling gravity and more. This definitely deserves a try, if you are in mood for some fun right at your homescreen.
Install: (Free)
Compatibility: Android 2.3 and up.
7. Hipster Wallpaper – HPSTR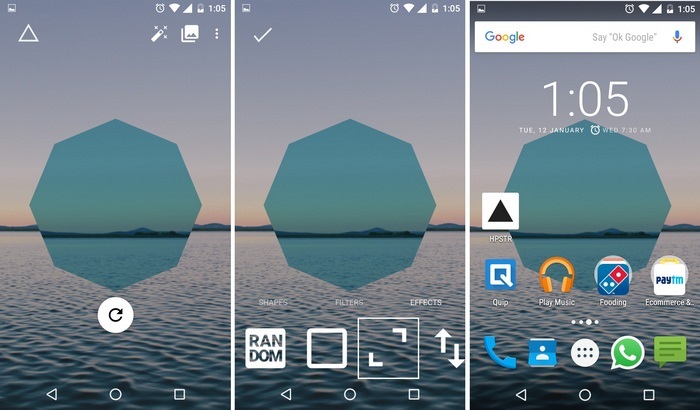 Don't you worry if you are not a hipster, as HPSTR is aimed at people who love geometry or want fully customizable live wallpapers. The app accumulates images from the likes of 500px, Reddit etc. and lets you add effects, shapes and filter. It also randomizes your homescreen with background, effects and shapes changing around. The basic features we just mentioned are available in the free version but Pro brings more image sources and more customizations.
Install: (Free with in-app purchase of $ for Pro)
Compatibility: Android 4.0.3 and up.
8. Panoramic screen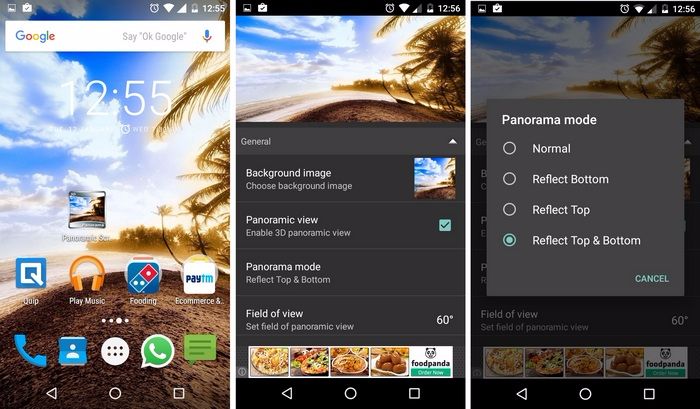 Panoramic images look lovely, so what if you could use one as a wallpaper. That's what Panoramic screen exactly does. The app lets you add preset as well as your own panoramic images as background. Moreover, it also changes normal images to a panorama. There's also the ability to change panoramic modes, set field of view and more. So, if you want cool Panorama images as your wallpaper, give Panoramic screen a try.
Install: (Free with in-app purchases)
Compatibility: Android 2.3 and up.
9. 500 Firepower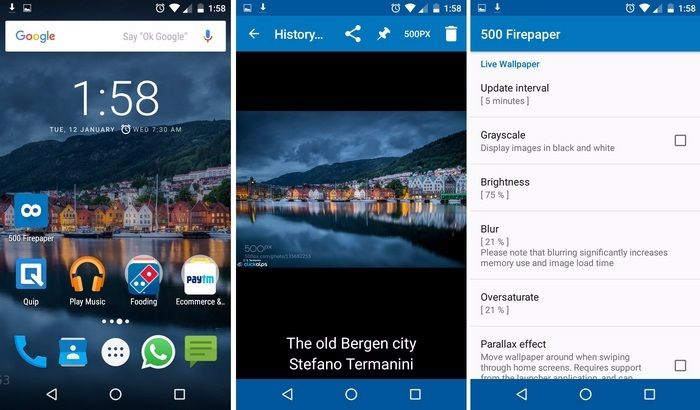 500 Firepower uses high quality 500px images as its source, so you can be sure of beautiful wallpapers. It changes those images to live wallpapers and lets you customize brightness, blur, saturation, parallax effect of the image. You also have the ability to add controls or gestures to a live wallpaper. The app uses high resolution images, so if you have a moderately powered smartphone, you might feel some stutters.
Install: (Free with in-app purchases)
Compatibility: Android 4.0 and up.
10. Mountains Now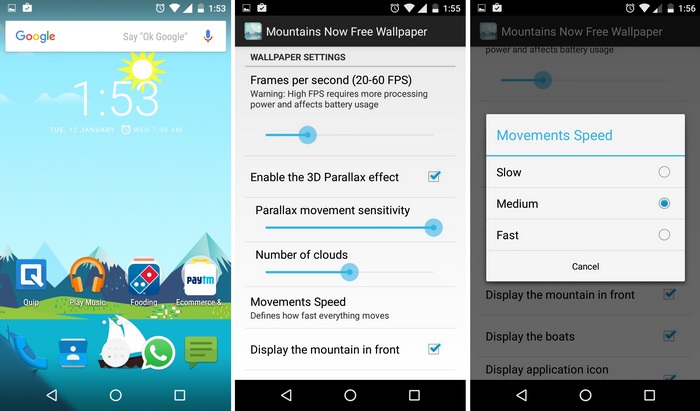 Google Now's mountains theme is the inspiration for Mountains Now live wallpaper and it surely looks beautiful. The wallpaper goes brilliantly with current Google design languages and features a view of scenic mountains with cool little boats moving around. The app lets you set the wallpaper's fps and change the number of boats & clouds. It also incorporates parallax effect, if your device features a gyroscope.
Install: (Free)
Compatibility: Android 2.2 and up.
11. Paperland Live Wallpaper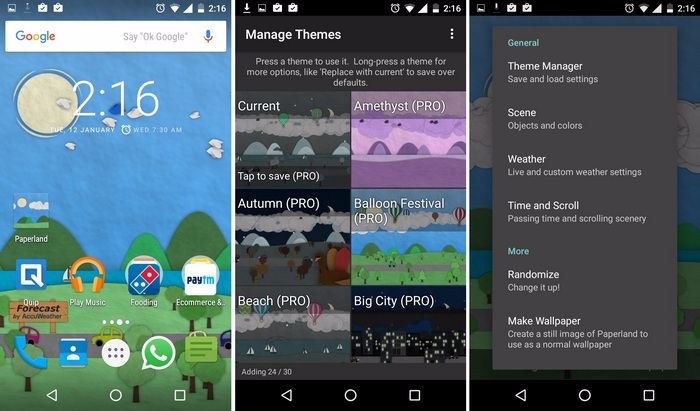 Paperland includes some cool wallpapers that will remind you of paper cut-out scrolls. It includes minimalistic paper pictures along with various themes for various occasions like Christmas, Thanksgiving, Easter and other seasonal themes like rainy day, autumn, winter drive and more. It also includes a theme manager and the ability to change scene & objects and weather. You can also choose to set times in a day for different themes. To sum it up, if you are a fan of clean and classy wallpapers, Paperland should not disappoint you.
Install: (Free)
Compatibility: Android 2.3 and up.
12. Ocean Live Wallpaper
Beaches are beautiful and we love them but we can't visit them more often, so why not put a beautiful animated view of the ocean right on your homescreen. Yes, Ocean live wallpaper brings a beautiful view of the sea with waves and sound to match each time of day. You can also add effects, change brightness, contrast & saturation of the view.
Install: (Free)
Compatibility: Varies with device.
13. Rain Live Wallpaper
Romantic people, take note! Rain live wallpaper is for you. As the name suggests, it brings live wallpapers with rain effects and more. It also includes effects like misted window, fog, and more. Moreover, you can go ahead and customize various rain settings like intensity, size of drops, speed and more. While the app's interface might be hideos, the rain effects make up for it.
Install: (Free)
Compatibility: Android 2.3.3 and up.
14. Earth HD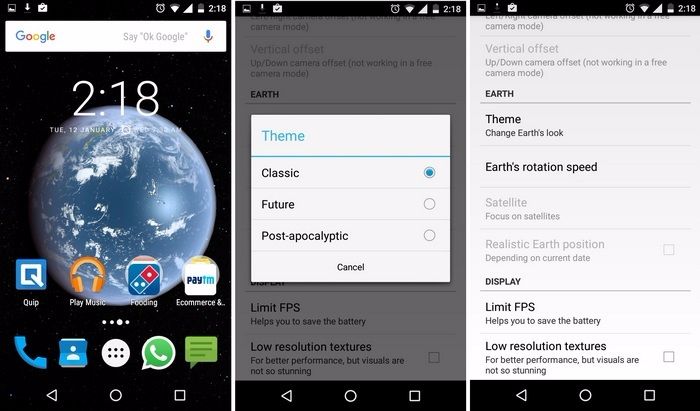 Want to see the world from outer space? Earth HD will let you do that everyday. The app brings different looks for our beloved planet like Classic, Future and even Post-Apocalyptic. You can alter earth's rotation speeds, fps and more, which basically means it brings you Godly powers. Moreover, the app also changes it sun position based on date and time.
Install: (Free)
Compatibility: Android 2.3.3 and up.
15. Vortex Galaxy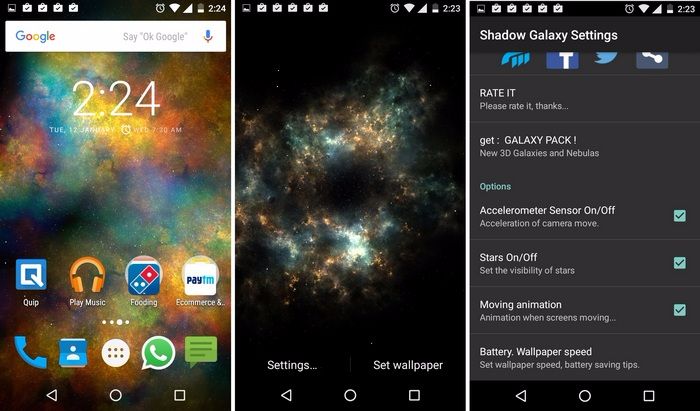 The Vortex Galaxy live wallpaper fulfills our dreams of being lost in the galaxy and it's indeed beautiful. The app does not pack in many features but the sight of the galaxy slowly taking you in is a sight to behold. You can also install other galaxies like Shadow Galaxy, Ice Galaxy or you can get the whole Galaxy Pack itself.
Install: (Free)
Compatibility: Android 2.1 and up.
SEE ALSO: 20 Free Icon Packs to Customize Your Android
Ready to give your homescreen a life?
Your homescreen might get dull with the same old wallpapers everyday but thankfully, these cool live wallpapers let you spice up your Android homescreen. Want to totally customize the way your wallpaper looks? Muzeri, Minima, HPSTR or 500 Firepower will let you do that with ease. Want a wallpaper that matches Android's UI? Give Forest, Material Islands or Mountains Now a shot. Looking for wallpapers to blow your mind? Vortex Galaxy, Earth HD or Panoramic screen will make sure of that. You can also go ahead and create your very own live wallpaper with KLWP or have some fun with Shake Them All 2.
Well, try these free live wallpapers and let us know your favorite one out of the lot. We love to hear from you!
---
Load More