First-person shooters have a way of really getting your adrenaline pumping with their fast-paced gameplay, close-quarter combat, and sweet snipes. But I'm sure you know that already if you've played any FPS game before. If you haven't, however, and you're on the lookout for some great FPS games to play on your Xbox One, we've got you a list of the 23 best FPS games for the Xbox One that you should be playing. So, without much further ado, let's take a look at the list:
Top FPS Games for Xbox One (Updated August 2020)
Here, we have categorized the best FPS games for Xbox One so that you can easily find the game of your choice. Just click on the link below and you will get through the list.
Overall Best FPS Games on Xbox One
1. Tom Clancy's Rainbow Six Siege
Tom Clancy's Rainbow Six Siege is among the best FPS games on Xbox One. It offers rich moment-to-moment gameplay combined with sharp tactics. The game heavily emphasizes on its environment and the destruction that players can use to their tactical advantage against the opposing team.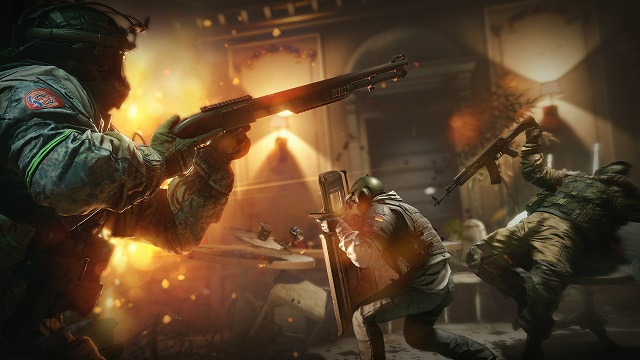 The game not only features expected shooting rampage that you would normally expect in a generic shooter game but also constitutes planning strategies and executing them perfectly throughout the map to defeat your enemies.
Instead of just taking on your enemies head-on, you are better off planning strategies along with your teammates to stay ahead. It's a thought-provoking game that forces you to think hard and fast.
Availability: Amazon ($26.50)
2. Halo: The Master Chief Collection
Halo: The Master Chief Collection features the remastered versions of Halo: Combat Evolved Anniversary, Halo 2, Halo 3, and Halo 4, which were originally released exclusively on last generation Xbox platforms. The collection also features a Multiplayer mode that includes all maps and multiplayer modes from each title.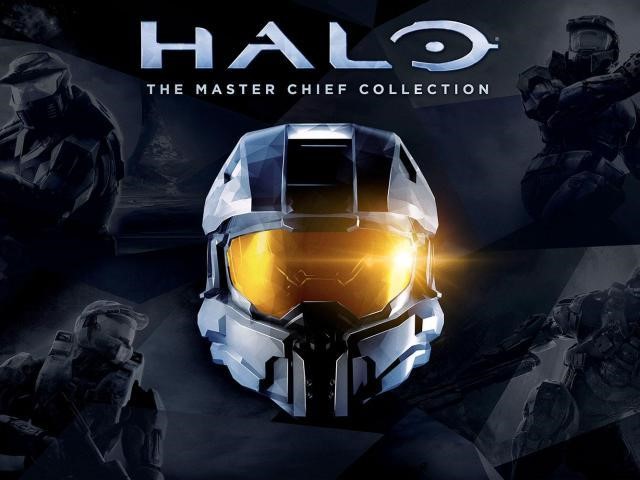 All 4 titles have been remastered with new cut-scenes and a buttery smooth 60 fps gameplay. The in-game visuals and audio have also been bumped up to high-definition.
Considering the fact that you get 4 classic titles for the price of one, this collection is a must-have for every FPS games fan who is either planning to replay the Halo series or is completely new to the series and wants to familiarize themselves with the Halo franchise before getting Halo 5: Guardians.
Availability: Amazon ($19.47)
3. DOOM
aA reboot of the popular Doom franchise, the latest game offers players a science fiction narrative in which you play as an unnamed marine who has to battle forces from hell that have been unleashed by the Union Aerospace Corporation on a colonized Mars.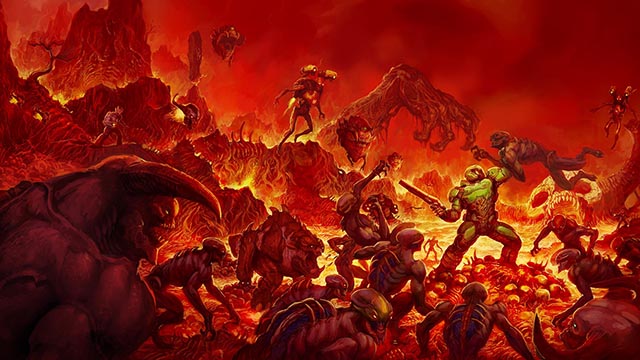 If fighting and slaying demons is something that piques your interest, then you should definitely try out Doom. The game offers a pretty great single player campaign, however, the multiplayer campaign seems a bit lackluster for a first-person shooter.
Additionally, the over-the-top weapons and explosives are something that really set the game apart from other titles in the genre.
Availability: Amazon ($13.99)
4. Call of Duty: Black Ops 4
The latest addition to the popular Call of Duty franchise, Call of Duty: Black Ops 4, is another great FPS game that you should consider purchasing for your Xbox One. While its lack of a single player campaign might be a disappointment for some of you, the game's focus on new multiplayer modes this time around has the potential to make up for it.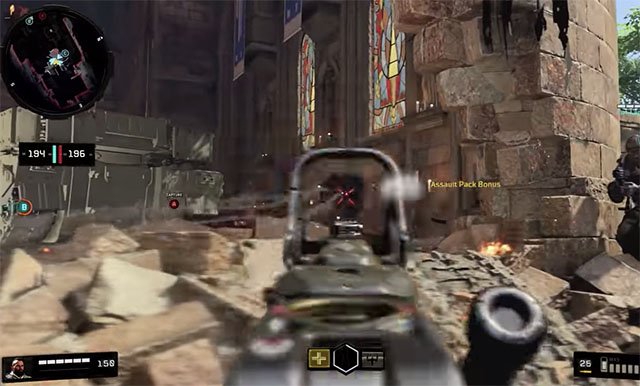 Call of Duty: Black Ops 4 packs three stunning new maps, a new battle royale mode, and a fleshed out zombie mode that you can enjoy with friends or random people online.
If you're a fan of games like PUBG and Fortnite, you should definitely check out Call of Duty: Black Ops 4 and I'm sure its fast paced gameplay will get you hooked in no time.
Availability: Amazon ($32.22)
5. Overwatch
It may have taken Blizzard Entertainment 17 long years to create a new IP, but it sure delivers. Overwatch is a 6v6 arena shooter game. In times like these, when almost every shooter features a dark setting and a serious bad-ass main character, Overwatch freshens things up with its light-hearted style that focuses on the 'fun' aspect of FPS shooters.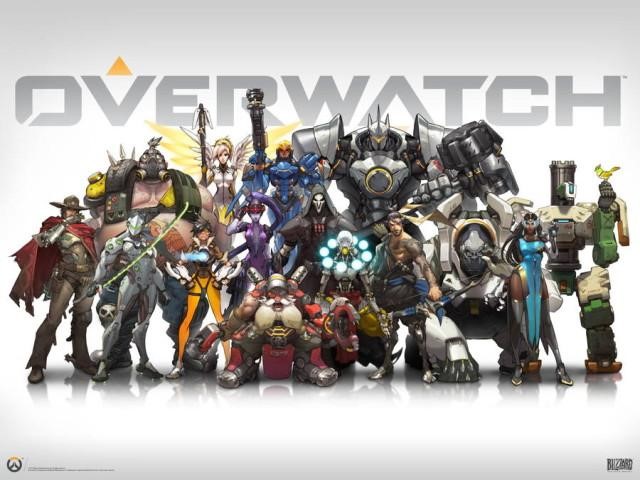 The game features a total of 12 different maps and 21 heroes to choose from and offers 4 different modes to play in; Escort, Assault, Hybrid, and Control. Each mode has been assigned separate maps to them, as they have been specifically designed for the game modes they have been tied to. While there have been many Overwatch alternatives, it still remains at the top.
The colorful characters and extremely polished fast paced action gameplay of Overwatch makes it a fresh FPS experience.
Availability: Amazon ($30.58)
6. Grand Theft Auto V
If there is any video game in this list that doesn't need any description, it's Grand Theft Auto V. The reason why this game made it to the list is because of a patch for the Xbox One and PS4 versions of the game that features an FPS mode that can be activated with a tap of a button.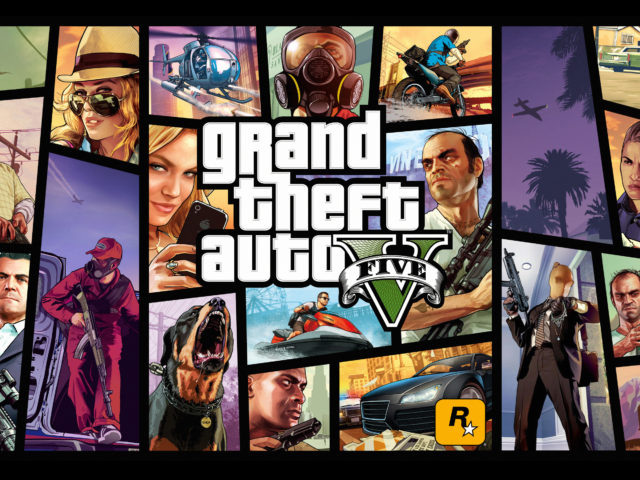 Even though the majority of the gamers were skeptical of Rockstar's decision of adding a first person view to the game, considering this is the first time Rockstar has ever added a first person view to any of its games, not only does it fit into the game, but it actually plays out really smoothly.
Whether it's Michael De Santa loading a rifle and seeing the empty shells dropping down, Franklin Clinton driving a car while keeping an eye on the speed-o-meter or getting Trevor Philips into a fist fight with an old pedestrian, first person view adds an entirely new dimension to this masterpiece that warrants a replay.
Availability: Amazon ($17.00)
Best Single-player Games on Xbox One
7. Wolfenstein II: The New Colossus
The latest game in the Wolfenstein franchise, Wolfenstein II: The New Colossus, continues the story from the previous game and is set in an alternate version of history where the Nazi party won the Second World War. In the game, you play as BJ Blazkowicz, who has made allies with a group of militant resistance fighters in America in an attempt to take down the Nazi regime.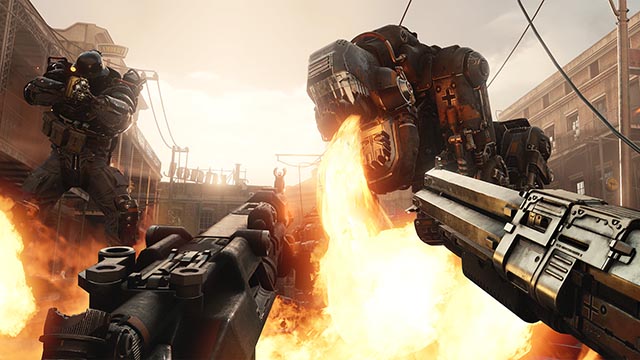 The game offers players a great storyline that will reel you in and keep you interested in the game for a long time. On top of that, the badass selection of weapons and abilities will surely add onto the experience when you're using them to blow up Nazi soldiers.
Availability: Amazon ($27.48)
8. Deus Ex: Mankind Divided
Deus Ex: Mankind Divided is the third entry in the Deus Ex universe. It features a single player story in the first-person perspective and a third-person cover system. This game combines elements of a first-person shooter, with a role-playing upgrade system and dialogue options.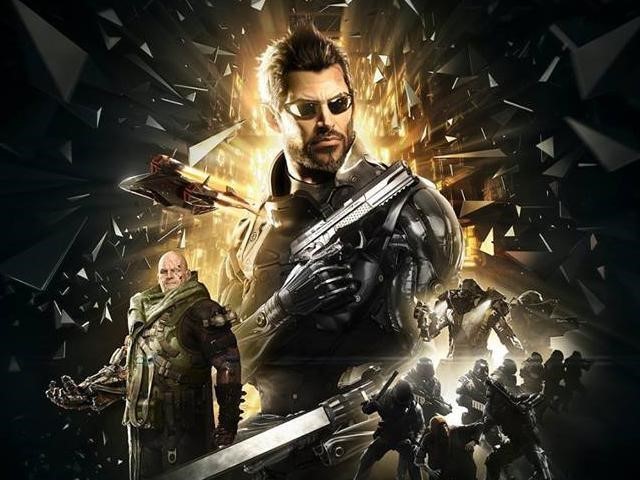 Mankind Divided is set in the year 2029, two years after the events of Human Revolution and the "Aug Incident"—an event in which mechanically augmented humans became uncontrollable and lethally violent.
The game offers the players a choice to either go Lethal or Non-Lethal. Early on, one of the characters asks the player how would they like to tackle the mission and the player will be provided with the weapons/gadgets based on that choice. However, if you wish, you can always change your play style on the go.
Availability: Amazon ($7.99)
9. Titanfall 2
In case traditional first-person shooters just don't cut it for you anymore and you're on the lookout for a game that offers something more, then you should definitely check out Titanfall 2. Touted as one of the best PC games of 2016, Titanfall 2 offers players the chance to control gargantuan mechs as they battle it out on a variety of different maps.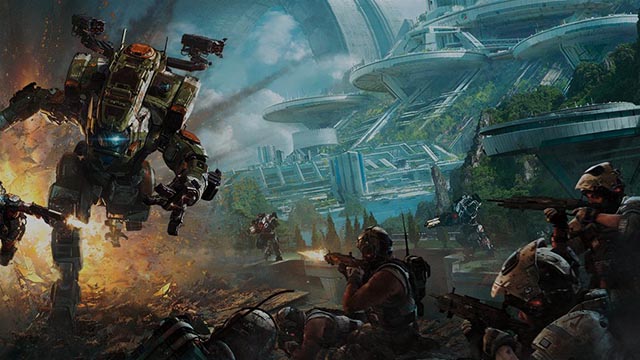 The game features a number of different game modes, including a comprehensive single player campaign, a four player co-op wave mode, and an excellent competitive multiplayer more.
Get Titanfall 2 if you're looking for an FPS experience of epic proportions.
Availability: Amazon ($5.59)
10. Battlefield 1
Much like Battlefield V explores different aspects of the Second World War its predecessor, Battlefield 1, focuses on the First World War. The game's campaign is also divided into five episodes, each of which focus on the life of an individual bang in the middle of the First World War.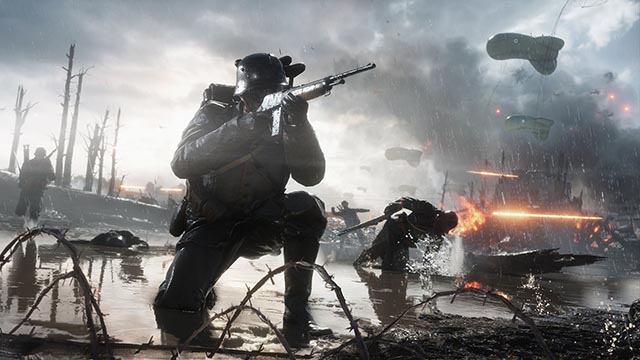 The stories stay true to the source and haven't been exaggerated in any way, with the coolest part being the classic guns that you can use to take down your opponents.
Granted, Battlefield 1 is a bit old now, but it's definitely worth getting if you want an authentic experience of warfare back in early 20th century.
Availability: Amazon ($12.91)
11. Bioshock: The Collection
BioShock: The collection features the remastered versions of the original Bioshock series: BioShock 1, BioShock 2 and BioShock Infinite along with its expansion pack called "Burial at Sea".
All BioShock games feature only single player story campaigns. The first two iterations of the game welcome the player to an underwater city called "Rapture" and the third installment features a new city created in the sky called "Columbus".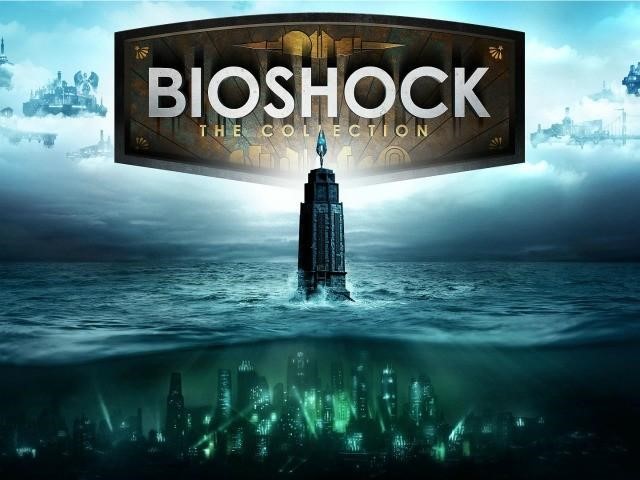 All three games thrive on its unique storytelling, amazing characters and immerse the player into this universe almost as deep as the bottom of an ocean.
All three of these titles have been a critical success and were well received at the time of release. 2K Studios has done a great job of polishing the games to run at 1080p and 60 FPS with a better visual quality for the new consoles.
Availability: Amazon ($29.99)
Best Multi-player Games on Xbox One
12. PlayerUnknown's Battlegrounds (PUBG)
PlayerUnknown's Battlegrounds aka PUBG is the undisputed multi-player game that you must play on Xbox One. The game focuses on a large scale survival gameplay where everyone is on their own.
You can form alliances with your friends or other people and gather loot together, but there is no telling when someone will shoot you in the back and take everything you have.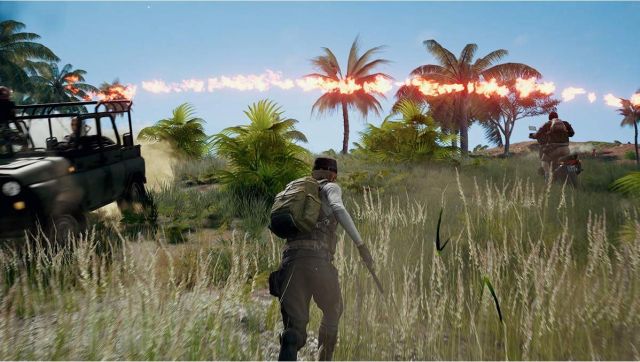 This game is all about staying safe, collecting weapons, finding shelter, and killing everyone who approaches you. The ability to play against hundreds of players make it one of the most interesting games out there. If you are looking for a great multi-player game on Xbox One then PUBG definitely is the top choice right now.
Availability: Amazon ($13.07)
13. Call of Duty: Modern Warfare
If you're a fan of the Call of Duty franchise, but don't want to play Call of Duty: Black Ops 4 because it doesn't have a multi-player campaign, then you should definitely check out Call of Duty: Modern Warfare.
Unlike Black Ops 4, COD: Modern Warfare offers both single-player and multiplayer campaigns. You can play as Captain Nick Reyes, a Tier 1 Special Operations pilot who engages in aerial combat using his transforming fighter.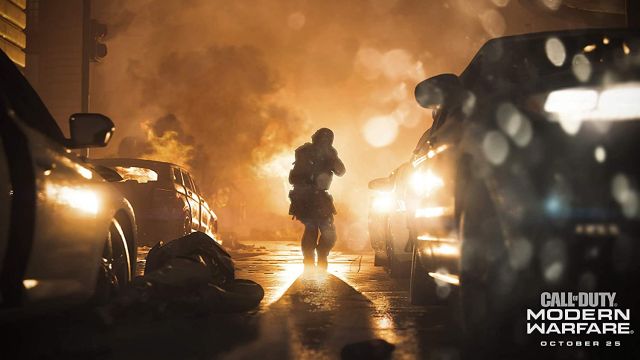 The game has a futuristic setting and players are in outer space, which introduces new gameplay mechanics like zero-gravity and items like a boost pack and grappling hook for quick maneuvering in the zero-gravity environment.
Additionally, Modern Warfare also features a great multiplayer mode and a co-op zombie mode which you can enjoy with friends on your Xbox One.
Availability: Amazon ($79.97)
14. Battlefield V
The latest installment in the Battlefield franchise, Battlefield V is another great first-person shooter you can get on your Xbox One. This time around, the game's single-player campaign has been divided into episodes that follow the stories of individuals engulfed in different aspects of the Second World War.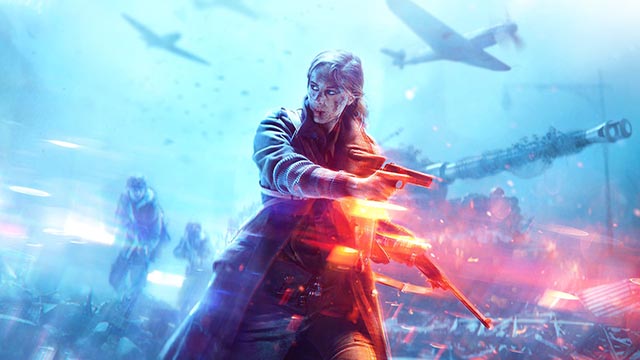 Much like COD: Black OPS 4, the latest iteration of Battlefield also lays emphasis on offering players more multiplayer game modes that I'm sure you'll enjoy.
Additionally, since Battlefield V is one of the few games out there with ray-tracing support, you can enjoy some stunning visuals if you own an Nvidia 20-series graphics card.
Availability: Amazon ($37.99)
Best Free-to-Play Games on Xbox One
15. Destiny 2
Destiny 2, an online only first-person shooter, is a huge step up from its predecessor and an absolute must-have if you enjoy playing multiplayer FPS games on your Xbox One. For those of you not familiar with the franchise, Destiny 2 is a futuristic first person shooter with some RPG elements in which you play as a Guardian – the protector of Earth's last safe city – who wield a power called Light to protect the city from a variety of alien races.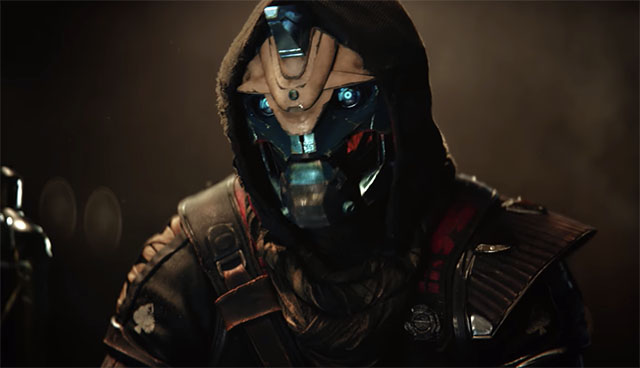 The game offers players access to expansive PvE and PvP environments, in which they have the option to play out the main narrative, go on raids or take advantage of the free roam patrol mode that offers public events that you can complete with other players.
Even if you played the first game in the franchise and were thoroughly disappointed by it, I'd urge you to give Destiny 2 a shot. I can guarantee that it's worth your time.
Download: Free to play
16. Call of Duty: Warzone
If you want the best free-to-play game on Xbox One then there is nothing better than Call of Duty: Warzone. It's essentially a battle royale game that is comparable to Fortnite and PUBG. What puts this game ahead of the curve is the ability to let 150 players from around the world indulge in a nerve-wracking battle.
And the one that succeeds in destroying all other players in a deathmatch turns out to be the last man standing. Another notable feature of CoD is the huge map which ensures you always have a lot to explore.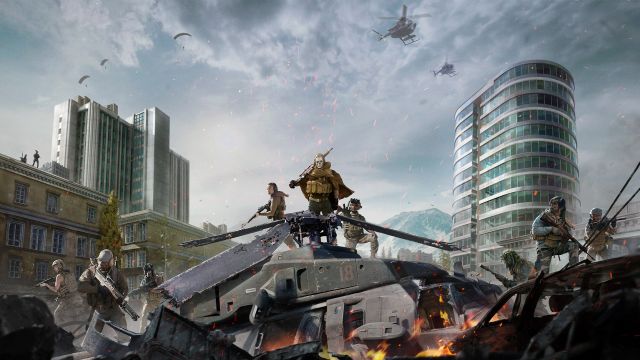 In terms of graphics, Call of Duty: Warzone is at par with the best in the business – if not the absolute best. The latest iteration of the battle royale game has come up with some exciting modes like quads in warzone and lets you unlock weapon blueprints, XP token, operator skins, and more.
Do note that you will need to get the battle pass to have access to hundreds of exclusive goodies. Everything considered; Call of Duty: Warzone is one of the best free-to-play games on Xbox One that you can play right now.
Download: Free to play
17. Hitman
It is safe to say that IO Interactive studios have learned from the mistakes they made with the direction of Hitman Absolution. Hitman 2 is not just a step in the right direction, but it is actually in contention with Blood Money to be the best Hitman game.
The game features different levels in different locations all around the world, where Agent 47 has to carry out the assassinations contracted to him by his employers; the ICA. The fans were a bit uncomfortable with the all-new episodic release of each level.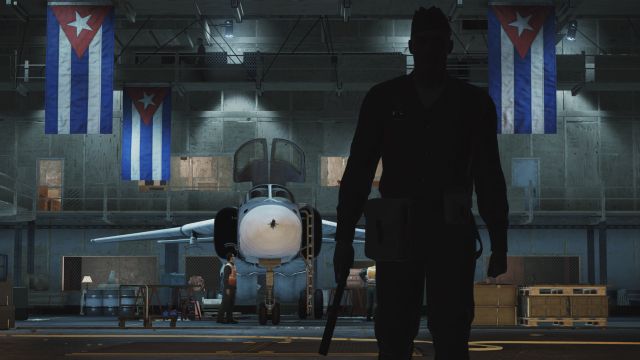 However, the episodic model has actually turned out to be a really good decision for this game, as it thrives on its replay-ability and gives the players time to master each level before they can get their hands on the next mission. Apart from single-player story missions, IOI has also added modes such as Escalation Mode; which challenges players to assassinate a target in different and harder circumstances.
Elusive Targets; which is a live mode where a target is available for a limited time as the player looks to eliminate him within the given guidelines and a returning mode called Contracts Mode, where the players can create and share different assassinations contracts.
Download: Free to play
Best Battle Royale Games on Xbox One
18. Fortnite
Fortnite is perhaps the best battle royale game that has revamped the genre through its amazing gameplay. This game is quite colorful and vibrant and gives off an Overwatch like feel. You get to go up against around 100 players in an all-out deathmatch where only the strong may survive.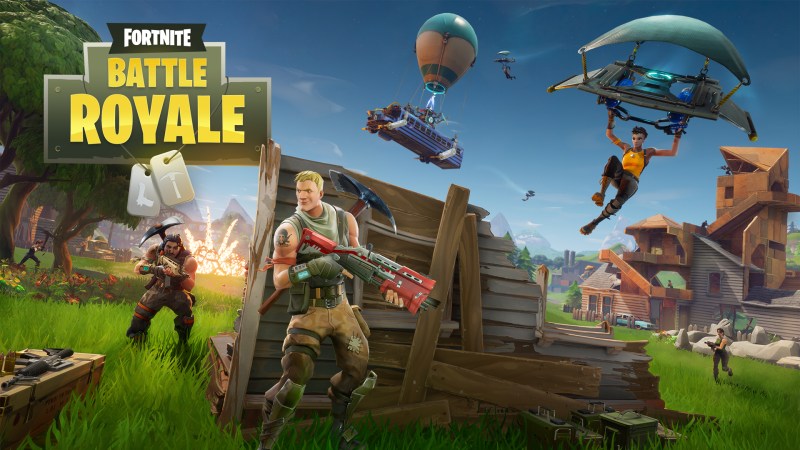 The developers are pushing out constant updates and adding new game modes at a fast pace. If you want a fast-paced, vibrant, and epic battle royale gameplay then Fortnite is the perfect game for you. Just give it a try and you will find it way better than many of its rivals.
Download: Free to Play
19. Apex Legends
Apex Legends is the sort of battle royale game that you will love to go after time and time again – tirelessly. In this free to play battle royale game, you can team up with your friends or other players from around the world to fight against rivals.
One of the highlights of this game is a special library of legendary characters each with a unique personality and charismatic power. You can use those unique characters smartly to decimate rivals and be the last man standing in the thrilling 60-player matches.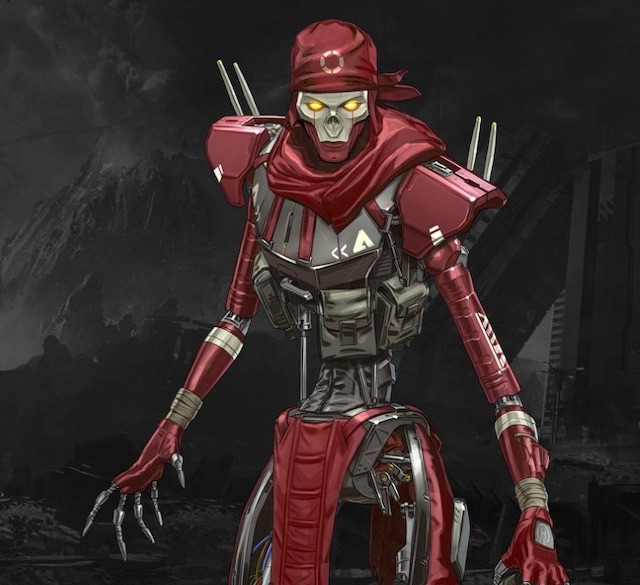 Keep in mind, Apex Legends requires you to hatch a killer strategy to take control of the intense gunplay, which is probably the best in any battle royale game. As for graphics and customization, Apex Legends has looked up to the task to me. Simply put, it deserves a chance to impress your deathmatch fantasy!
Download: Free to play
20. CS: GO – Danger Zone
A fast-paced battle royale game like CS: Go – Danger Zone deserves a shot in this lineup. And rightly so as it's got probably the best tactical gameplay where you will have to use your brain as effectively as your weapons. Though the game lets you fight with just up to 18 players in a match, the battle is as intense as it can ever get.
And the only rule that can enable you to be the last one standing is to kill your rivals by hook or by crook. So, drop into the black site smartly by choosing a safe entry point and then unravel all of its secrets so that you can attack your enemies without being caught in their trap.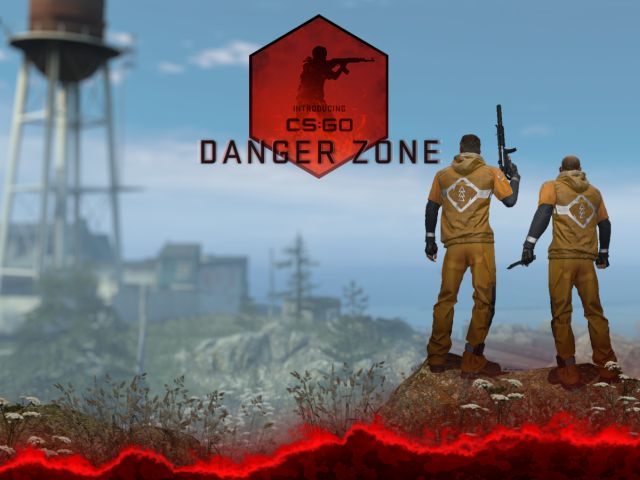 Along the way, discover all the essential pieces of equipment to strengthen your arsenal and also keep an eye on the skies for special deliveries. Not just that, CS: Go – Danger Zone also keeps you busy with many special missions that can help you earn a ton of goodies.
One of my favorite features of this exciting battle royale game is that it offers a set of pistols, SMGs, rifles, and robust weapons with every match. As someone who always loves to have a range of weapons in the armory, I find this feature quite appreciable.
Download: Free to play
Best Shooter RPG Games on Xbox One
21. Tom Clancy's The Division 2
The latest title in Tom Clancy's franchise, The Division 2 is a thrilling game set in an open world environment. Set in a futuristic world, the single-player FPS game offers a great military-shooting experience. In this highly competitive FPS game, you play as a member of the Delta Company, First Battalion, 5th Special Forces Group.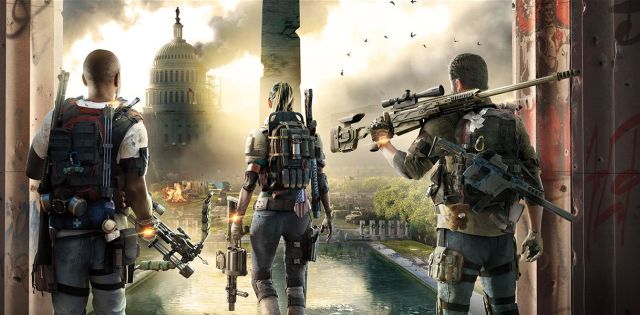 With a modern-day setting, you get access to plenty of weapons and different gears. Besides, you also have plenty of options to customize your gears so that you can attack your enemies vigorously. Not to mention, The Division 2 also offers partial controller support. So, just in case you like to use a controller for better control, you would find it appreciable.
Availability: Amazon ($27)
22. Far Cry 5
Far Cry 5, the latest addition to the popular Far Cry franchise is another great title that you can play on your Xbox One. This time around, the game takes players to a fictional town of Hope County, Montana in the United States which is facing a serious threat from a religious cult that calls themselves Eden's Gate.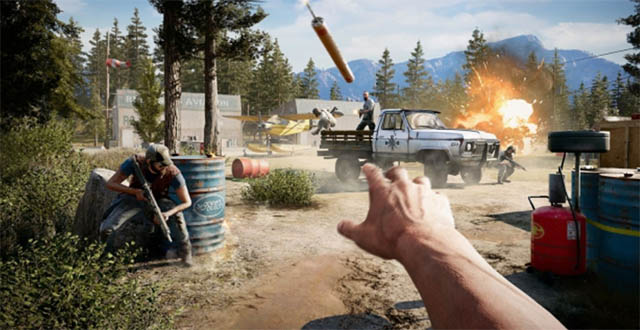 The game lays a lot of emphasis on the storyline, developing the player's character, along with the enemy, as the game progresses. Far Cry 5 also has one of the best open-worlds in any Far Cry game, offering players the freedom to roam around freely and enjoy the scenery while taking down the bad guys.
While Far Cry 5 is a great game in itself, it doesn't add much when it comes to the gameplay aspect and anyone who's played an older Far Cry game since Far Cry 3, might get bored if they're not into the storyline.
Availability: Amazon ($38.50)
23. Prey
Prey is a sci-fi first-person shooter that you can play on your Xbox One in case you're looking for a very unique experience as far as FPS games are concerned. The game's blend of RPG elements with the usual first-person shooter mechanics will definitely keep you hooked as far as the single-player mode is concerned; with the multiplayer expansion adding even more value to the overall package.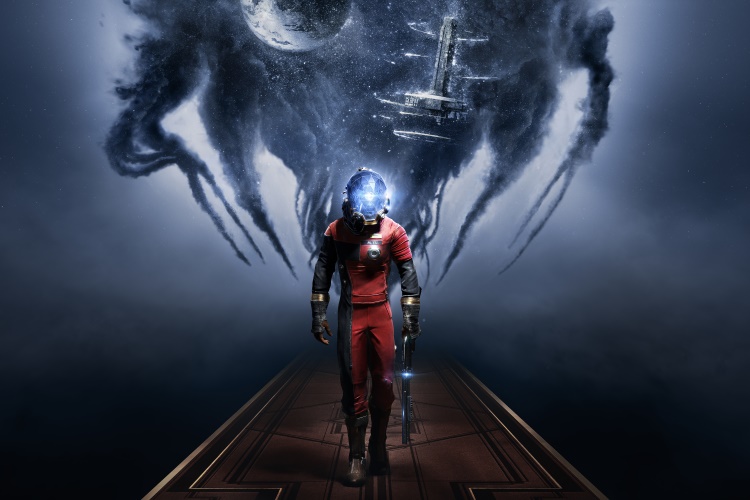 Thanks to the RPG elements, the game also has a ton of side-quests that you can explore while you're taking a break from the main story line which, in itself, is quite riveting.
Prey should be your go to option if you're looking for a shooter that has some juicy RPG elements that help you take a step back from the inane gameplay of most shooter games and focus on the beautiful storytelling.
Availability: Amazon ($19.96)
Frequently Asked Questions
Q. What is the Best FPS Game on Xbox One?
While everyone's gaming preference is different, but I had to pick the best FPS game for Xbox One then I would choose DOOM.
Q. How Many FPS Does an Xbox One Get?
Generally, games on Xbox One render graphics from 30 to 60 frames per second (FPS). However, we are hearing that shortly Xbox One will get support for 120FPS as well.
Q. What is the Best FPS for Gaming?
In gaming, the higher the FPS, the better will be the gameplay. As a rule of thumb, 60FPS is pretty great if your console is consistent with the frame rate.
Q. What are the Top 10 Games on Xbox One?
We have mentioned 23 best FPS games for Xbox One in different categories so go through our article and you will definitely find some great shooter games. However, if you want top-notch games from various genres then you can head over to our article on the best Xbox One games.
The Best First-person Shooting Games for Xbox One
There are a few other first-person shooting games for Xbox One that could have made it to this list. However, I believe that all the games mentioned above deserve to be in the list that features the "Best Xbox One FPS games" due to all the different elements these titles bring to this new generation of console gaming. Well, that's what we think but we'd love to know your thoughts. Tell us your favorite FPS games for the Xbox One. Sound off in the comments section below.
---
Load More