Facebook is the largest social media platform in the world. Despite being in the news for all the wrong things for some time now, and even with several people switching to Facebook alternatives, the social media giant still boasts of over 2.93 billion monthly active users as of Q1 2022. One of the biggest reasons behind its popularity among the masses is the huge catalog of games that the platform supports. The top games on Facebook see millions of active online players every day, making it one of the biggest gaming platforms in the world. If you are also someone who enjoys playing quick and fun browser games, this is just the article for you as we list the top 30 best (and most popular) Facebook games of 2022.
Best Facebook Games to Play in 2022
Facebook offers a lot of games. These are all simple browser games that anyone with internet access can play, that too without downloading a thing. There are a lot of different categories available on Facebook Gaming. So, we have divided this article into sections according to the genre of games. You can use the table of contents below to navigate between Facebook Games' genres in this list.
Note: If you're looking for Facebook Gameroom games, we have removed them from this list. That's because Facebook Gameroom was retired a long time ago, so you will no longer be able to play those games. There are plenty of fun games on Facebook Gaming that we have mentioned on this list, so check them out.
Best Puzzle Games on Facebook
1. Car Escape Puzzle
Car Escape Puzzle is the kind of puzzle game that you'll find ridiculously easy when you start off, and really difficult as you progress through the first few levels. The concept is simple, rotate tiles of roads to connect them to exits. There are multiple cars with their own exits. So naturally, you need to connect roads in a way that it forms a complete loop for each car at the same time, and they can all drive to their destination. This is one of the few Facebook puzzle games that I often find myself playing, and I think you'll enjoy it as well.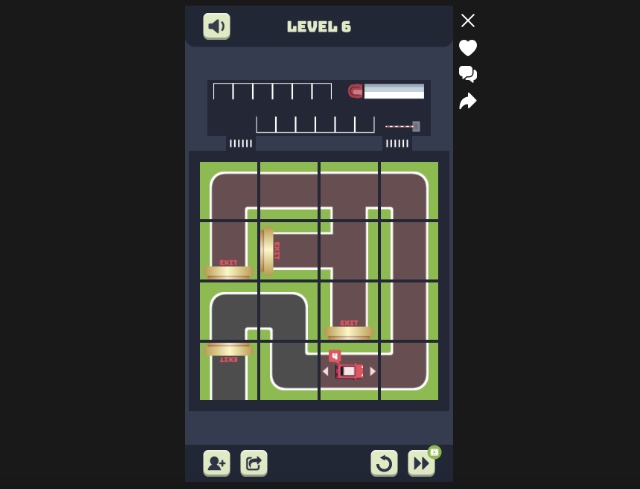 2. Criminal Case
Criminal Case is an amalgamation of a HOG (Hidden Objects Game) and a crime game. Basically, you will be solving brutal crimes such as murders and violent robberies by looking for and discovering clues. Find hidden clues to solve a crime and then move onto the next level to repeat the same process. The levels become harder and harder as you progress. I thoroughly enjoy playing this game and recommend it to you wholeheartedly.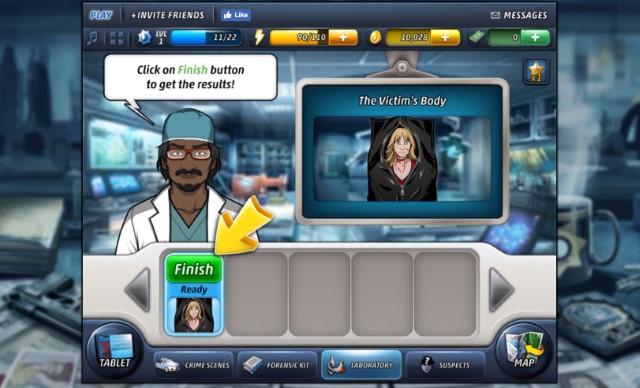 3. Bejeweled Blitz
Next on our list is Bejeweled Blitz which is an extremely popular puzzle game and very fun to play. While the gameplay is similar to Candy Crush Saga, it is a lot harder than the former as the time limit here is more aggressive and the levels harder. The game is fun to play in short bursts and acts as a great time killer.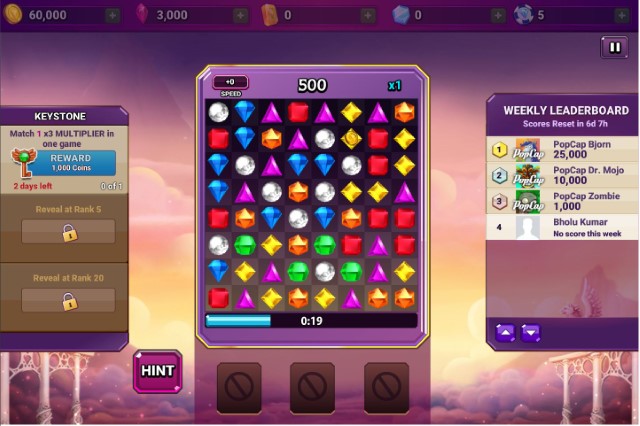 4. Bubble Shooter Pro
As the name suggests, Bubble Shooter Pro is a game that involves shooting bubbles. However, the game is slightly more nuanced than that. In this game, you are supposed to shoot bubbles belonging to groups of the same color. Attempting to shoot a different colored bubble will add up as the bubble moves towards you, and your objective is to stay alive as long as you can.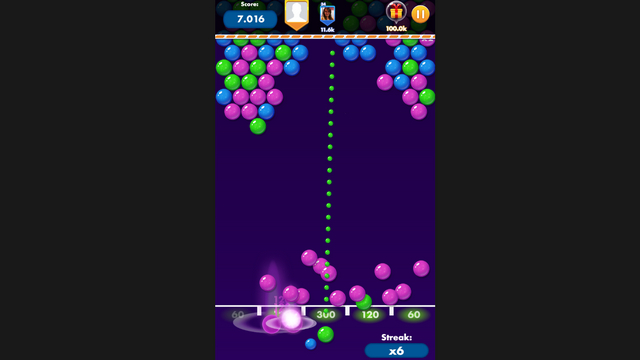 5. Pearl's Peril
Pearl's Peril is an awesome puzzle game that brings mystery and storytelling together with the hidden objects style gameplay. The game takes you back to the romantic and sordid 1930s where you play as the trailblazing heroine, Pearl Wallace who is an ace pilot and world explorer. You will go on a journey which is full of adventure, romance, thrills, and more. As I said, this is a great game and you should definitely play it.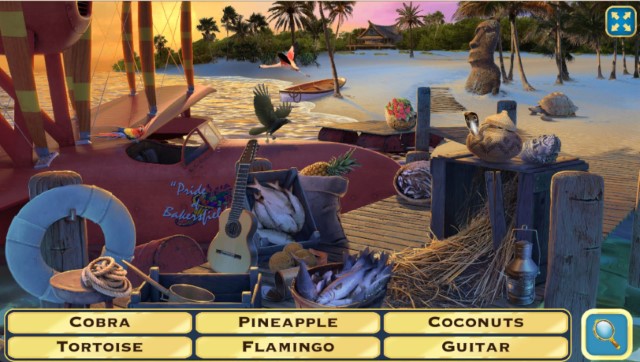 6. The Puzzle
The Puzzle is a classic puzzle game where your objective is to collect a certain number of the specified object before you run out of moves. Since the game relies on your moves, be sure to think and make calculated moves instead of randomly moving things around in the grid. You progress to new levels and face harder stages as you level up in the game.
7. Liquid Sort Puzzle
Liquid Sort Puzzle is where you channel your inner chemical scientist. You are given multiple test tubes and you should match the liquid in the test tube with ones of the same color. You will level up once you have placed liquids of the same color in separate test tubes. While the premise of the game is fairly straightforward, playing it is a lot more fun than it sounds!
8. Magic Swap Puzzle
Are you someone who enjoys putting puzzle pieces together? If yes, look no further than Magic Swap Puzzle. In this game, you are shown the unscrambled image at the beginning and you should assemble it back again. Do note that you are on a timer and have limited moves to complete the game. If you find the game too difficult, you can always take a hint for the next move.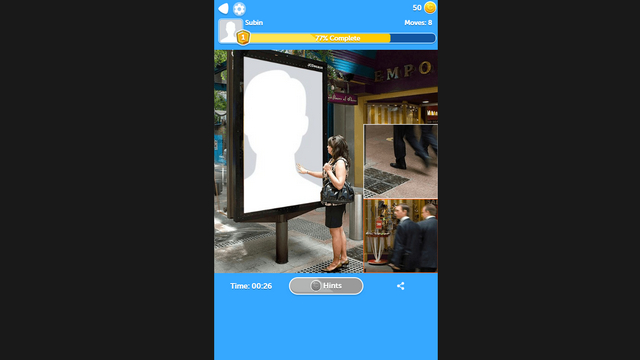 9. Angry Birds
Angry Birds is an official port of the iconic Angry games game on Facebook. As you might already be aware, Angry Birds revolves around saving the bird's eggs from green pigs. You should use the slingshot provided at the start of the game to attack pigs and knock all of them out to complete the round. If you are a fan of the Angry Birds franchise, you should certainly give the web version a shot.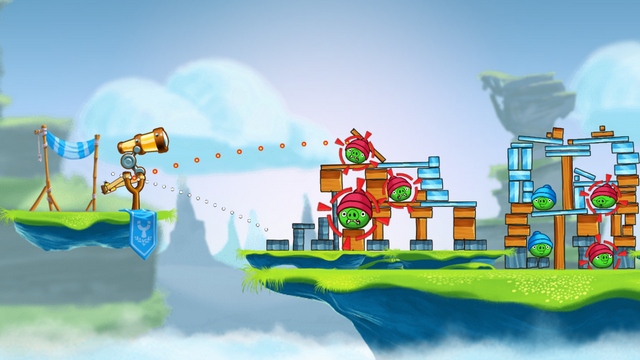 10. Daily Sudoku
Sudoku is a game that needs no introduction and with Daily Sudoku, you get the game right from Facebook. For the uninitiated, the game consists of multiple blocks and you should fill each block, row, and column with the numbers ranging from 1 to 9. What you should keep in mind while filling the numbers is that the same number can occur only once per block, column, and row. As someone who has always felt intimidated hearing about the game, I finally got to know how it works, thanks to this list.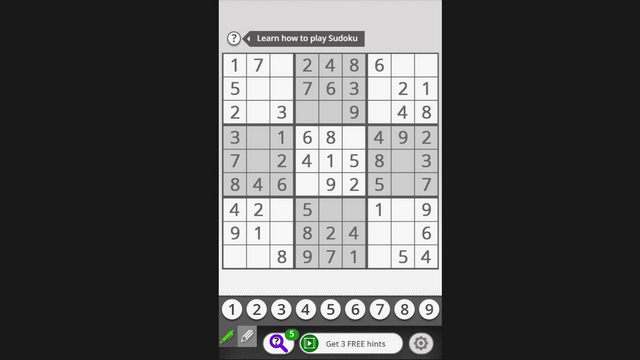 Best Strategy Games on Facebook
11. Battleship
Hasbro's insanely popular game Battleship can be played digitally as well, so you can enjoy playing Battleship with your friends even when you can't physically hang out together. The game is the same as the board game. You have to place ships on a grid, and your opponent will place theirs. Then, you each get three shots every turn to shoot at a random grid and see if it hits their ship or misses. The first player to sink all of their opponent's ships wins. It's a fun game to play with friends on Facebook.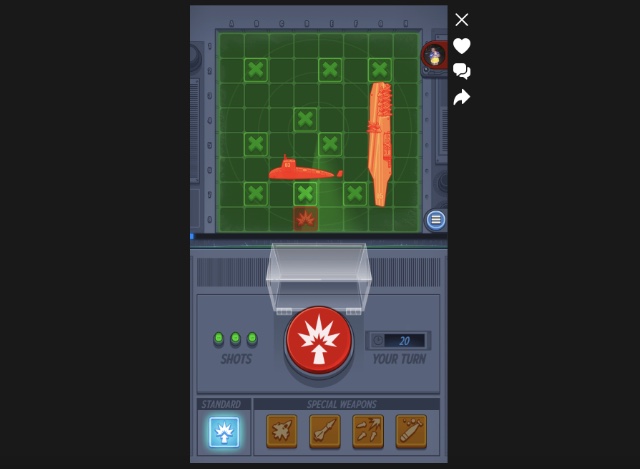 12. Merge Towers – TD
If you like tower defense games, you should check out Merge Towers – TD on Facebook Games. This is a casual tower defense game, so don't expect anything quite as intense as something like Rush Royale. Similar to most TD games, you can add new towers, and merge them to get towers of higher levels. You will also occasionally get upgrades for your towers, and more positions to place your towers on the path.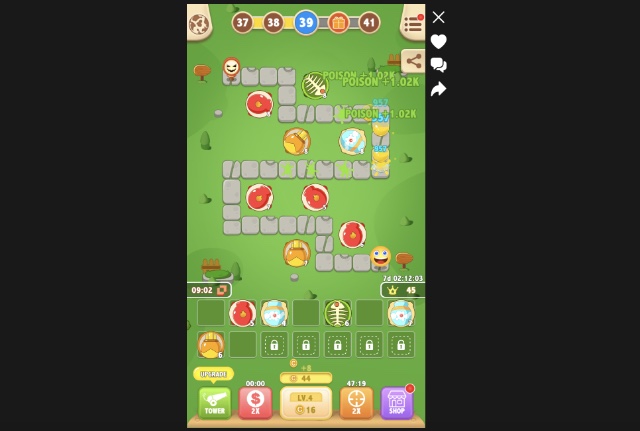 Boss battles get a little tough after level 30 or so, but it's always a lot of fun, and if you fail at beating the boss, you can keep playing the previous level until you've upgraded your towers to a higher level. Also, if you're a fan of these games, and looking for something more intense, you should check out our list of best tower defense games for iPhone and Android.
13. Piano Music Master
Chances are, you have tried one of these piano tile games on your phone before. If that's not the case, let me tell you what it's about. In Piano Music Master, a song plays in the background and you have to keep clicking and holding adjacent tiles to survive. You will also notice that the song plays corresponding to your tile movements, giving you a neat incentive to keep playing.
14. Spriball
Spriball is a Facebook game where you play as a ball that's rolling down from what looks like a building. You will see obstacles along the way and your task is to jump over them and keep going. The game also features gems along the way and you get points for collecting the gems. Overall, Spriball is a neat Facebook game to kill time when you're bored and have nothing else to do.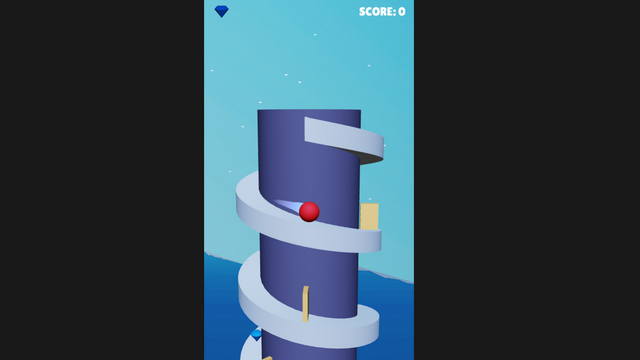 15. Super Dash
If you're looking for a fun platformer game to play on Facebook, you should definitely check out Super Dash. In Super Dash, you have to tap to jump, and you can double-tap to double jump as well. Your mission is simple, collect coins and power-ups such as the star which basically acts as a coin magnet.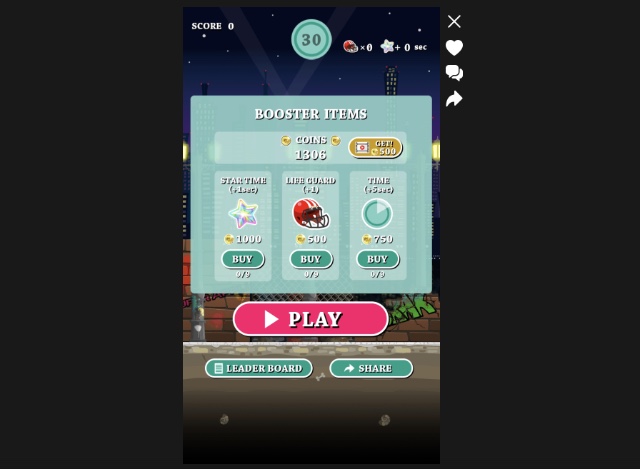 You will also have to avoid the spike strips that come around every now and then and will instantly end your game. The game has a timer, so you need to collect as many coins as you can within the time limit to set new high scores. This is a fun game to play when you're just looking to have some mindless fun on Facebook.
16. Shoot Ball
Shoot Ball is a game that will eat into your time without you even realizing it. That is unless you're bad at it, then it will be really annoying. All you have to do is move your cannon around and shoot all the falling rocks (of sorts) and destroy them. You also have to ensure that the rocks don't come in contact with your cannon — at that point, it's game over. You can upgrade your cannon's shooting speed, power, and even the coins you get by destroying rocks at the end of each round. It's a really fun game if you have lots of time on your hand and you have absolutely nothing else to do.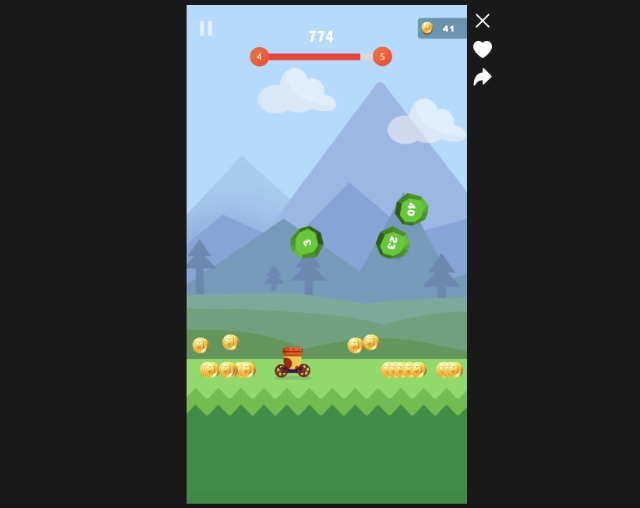 17. Throne Rush
Throne Rush is a simple real-time strategy or RTS game with simple and intuitive gameplay. The concept is the same as most of the RTS games that you are familiar with. You get to make buildings, create an army, battle other people, and defend your kingdom. The game offers really good visuals and I enjoyed playing it. If you love RTS games, you are going to love this one too. You should also check out some of the best strategy games for PC if you want something more intense and fleshed out.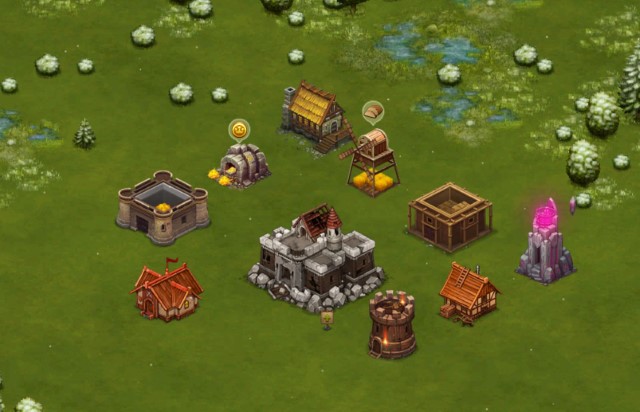 18. Chess
If you like to test your mental faculty, there is no better game than chess to do it. I love the Chess game on Facebook as it not only allows me to play with bots and other players around the world but also allows me to play against my friends in multiplayer mode. You can choose between different game modes which include Blitz, Time Attack, and Classic, each with its own time frame. If you enjoy playing chess in real life, you will enjoy playing this too.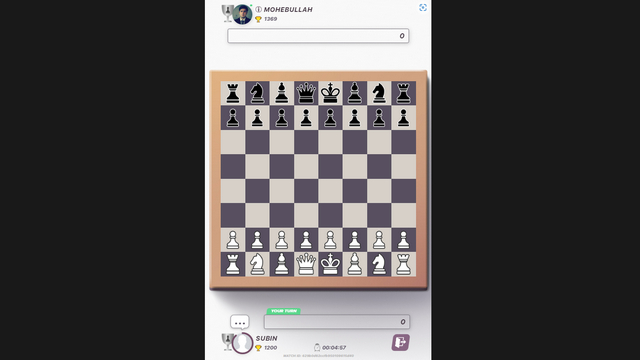 19. Draw Bridge
Do you like connecting the dots? If yes, you would love to play Draw Bridge too. In this game, you will notice bumps in the roads and your objective is to draw lines that will act as a bridge for the car to pass and reach the destination. Like other games, the bumps get more challenging as you progress to new levels. That said, with challenging levels, you can get creative and come up with neat solutions to avoid road bumps.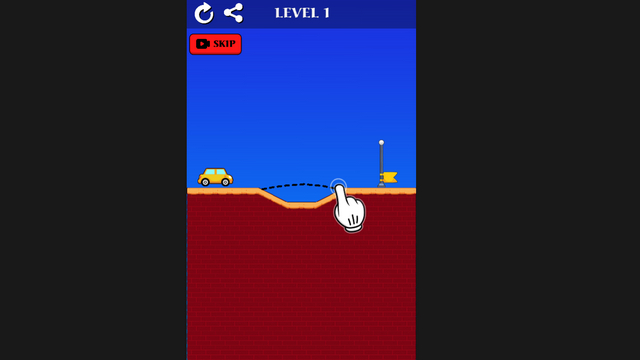 20. Uphill Racer 2
You must have played Fingersoft's Hill Climb Racing game on Android. Well, Uphill Racer 2 is a replica of the game adapted for the web. Like Hill Climb Racing, you get the car and different hill climbing environments. You should go as far as you can without running out of fuel. Speaking of fuel, make sure you pick the red gas cans along the way to refill the car's fuel tank. If you are a fan of Hill Climb Racing, you are likely to enjoy Uphill Racer 2 on Facebook.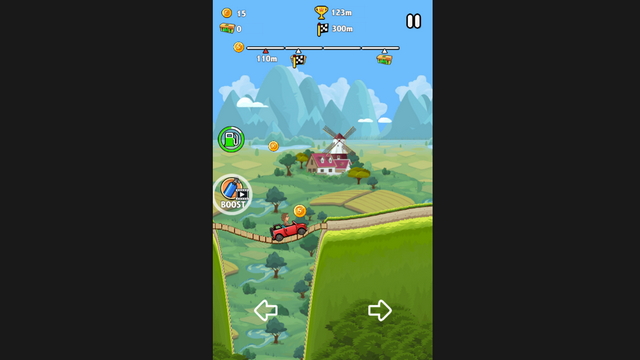 21. Ludo King
There are some games that never seem to lose charm nor do they ever appear to age. And Ludo King belongs to that special category of games. To me, the best part about this game is pretty simple yet addictive gameplay. Thus, you can play it with anyone without having to spend much time on getting a good grip on playing methods.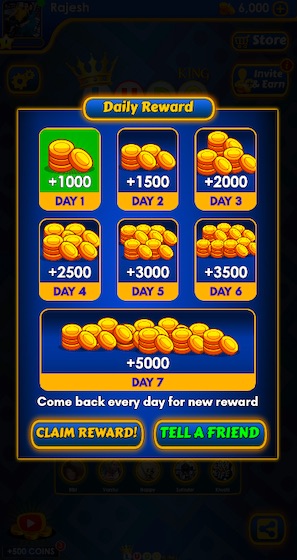 Depending on your mood, you can choose to play this game against a virtual opponent or kickstart a duel with your friend thanks to the online multiplayer mode. With plenty of chances to win a lot of coins and even get on top of the leaderboard, the gameplay is quite fun-loving. Not just that, you can also share your score with your buddies to brag about your dominating performance.
22. Snake Tournament
Of course, the iconic Snake game takes a spot on our list of Facebook games. You can collect particles of any color to grow your snake. Make sure you don't slither into larger snakes as coming into contact with them will kill you. Interestingly, there is also nitro that you can use to go faster. However, it comes with a catch. Using nitro will shrink your snake's size. While we would not always recommend using it, the nitro can be a lifesaver when you're trying to attack opponents in the game.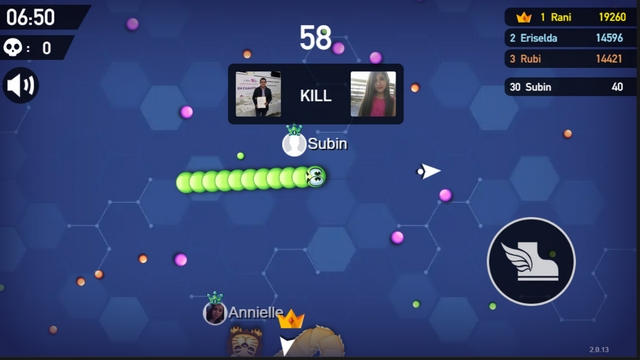 Best Sports Games on Facebook
23. Cricket FRVR
For the folks looking for an exciting cricket game to play with friends, Cricket Fever appears to be a great choice. Being an instant game, it's just a click away from you. And as long as you know the basics of cricket, you will really love playing it. Simply, give your best to score a ton of runs by smashing sixes and fours, and lead your team smartly to defend the total.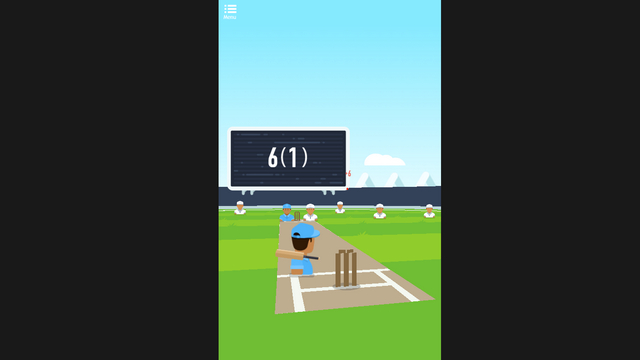 With every victory, you earn points, which not just raise your status as a player but also help you unlock a lot of rewards. So, the next time you feel like getting into a thrilling cricket battle, look no further than Cricket Frvr.
24. Golf Clash
Just like 8 Ball Pool, Golf Clash is a pretty addictive sports game. You will play golf against players around the world on beautiful virtual golf courses. As you rise through the ranks you will upgrade your clubs and unlock tours to compete against pro players. You can even invite your friends and have a one on one match against them in a 2 player mode. This is a fun and relaxing game to play.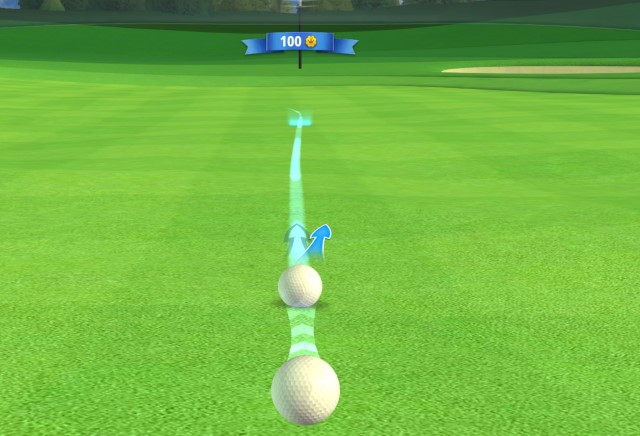 25. 8 Ball Pool
One of the most popular and highly rated games on Facebook is 8 Ball Pool, and I cannot recommend it enough. The game boasts more than 10 million monthly users and offers good graphics. The rules are simple to understand and even if you have never played 8 Ball Pool before, you can learn the basics and get started in just a few minutes.
26. Super Bowling
We have also included Super Bowling, an easy bowling game, under the sports category. The premise of the game is straightforward. You are given a ball, and you have to roll it and knock down as many pins as you can. While you wait for your next bowling alley visit, this game should keep you occupied and give you a similar experience right from the comfort of your home.
Best Word Games on Facebook
27. Words with Friends
Put your vocabulary to the test in Words with Friends on Facebook games. This is a classic game that most likely needs to introduction. You can play with your friends online as you try to use the letter tiles available to you each round to make the highest scoring words on the boards. At the end of the game, the player with the highest score wins.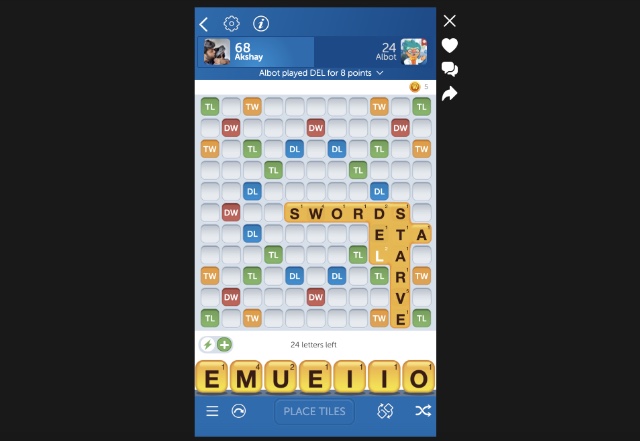 There are multiple squares on the board that offer double and triple scores as well, so whenever possible, make sure you place your tiles on those squares to get even higher scores. This is a great game to play with friends when you're trying to pass some time, while also brushing up on your vocabulary. Plus, unlike offline words with friends, here you will not have to argue with each other about the existence of words, so no need to keep a dictionary handy.
Best Action Games on Facebook
28. Hero Wars
Hero Wars is your classic action game featuring awesome 2D graphics. The game starts you on a journey of a hero who is on a mission to save guardians from a demon. The game is very well made and I loved playing it. My favorite thing about this game is that it's not too hard to play and hence is a great time killer meant for short bursts of gameplay. Also, if you like action games, you should check out our list of best action games for Android while you're at it.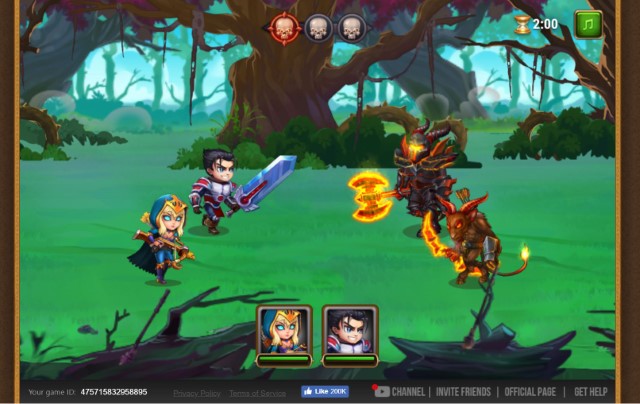 29. Sniper Shooter
Here's one for all the shooting game lovers out there. Sniper Shooter, as the name reveals, is a shooting game where you have a sniper. You are in charge of shooting down enemies that are far away. You get limited bullets in the game and each enemy has health levels. While a headshot immediately eliminates the enemy, you will have to shoot twice or even thrice if your aim is not up to the mark.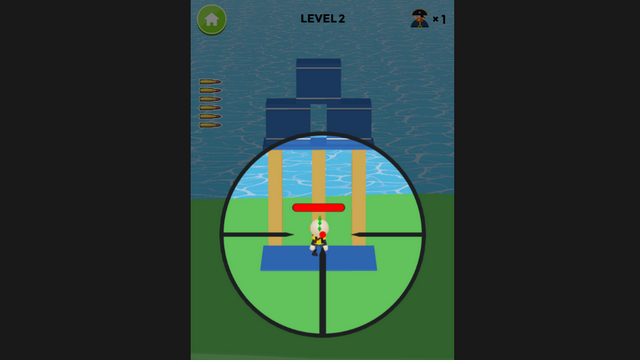 Best Racing Games on Facebook
30. Moto Racing
Moto Racing is a classic online bike racing game where you have to race against opponents while making sure that you don't bump into other vehicles in the traffic. Although Moto Racing's graphics is not something I would call sophisticated, the game is enjoyable and feels fun, especially if you want to mindlessly cruise around after a long day at work.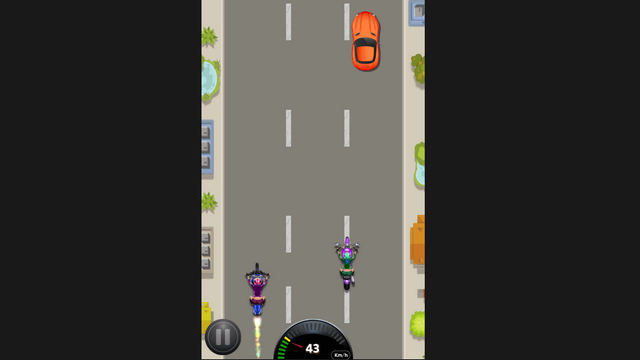 Play Awesome Games with Your Friends on Facebook
Facebook games are a great way to play games that are fun and challenging, but not so taxing on your computer's resources. I also love that most of these games allow me to challenge my friends, which gives them a personal touch or kill some time during the day. Do check the list out and let us know your favorite game among them all in the comments section below. Also, check our list of best offline games for iPhone if you are looking for amazing iPhone games you can play on flights.