Google Chrome is my favorite browser. Not only it is super fast, but it also brings tons of features and extensions which give it an edge over all the other browsers in the market. One of the most underrated features of Google Chrome is its ability to support apps. When I am talking about apps, I don't want you to confuse them with Chrome extensions. While both Chrome apps and extensions are hosted on the web store, they are not the same.
For me, Chrome extensions are special plugins that allow Google Chrome to do specific things. For example, you can use Chrome extensions to manage downloads, save articles offline, customize the look of Chrome, and so forth and so on. Chrome apps, on the other hand, allow you to run full-fledged apps inside Chrome. A good example is the native Chrome apps like Google Drive and Docs. In this article, we are going to take a look at some of the best third-party Chrome apps that one should install in 2020.
Best Chrome Apps You Should Use in 2020
As mentioned above, Google Chrome already comes with some pre-installed apps like Google Drive, Google Sheets, Google Docs, and more. You can find the list of all the installed Chrome Apps either by clicking on the apps button at the top left of Chrome or by using the following Chrome URL:
chrome://apps
Note that this is also the place where you can find all the third-party apps that we will be discussing in this list. So, now that you know how to access Chrome apps, here are the 10 best Chrome apps you should install in 2020.
1. Polarr
Polarr is one of the best photo editing apps for iOS and Android devices. It is pretty simple to use and brings tons of photo editing features which make it best for beginners. However, not many people know that Polarr is also available as a Chrome app which allows you to edit photos right in your Chrome browser.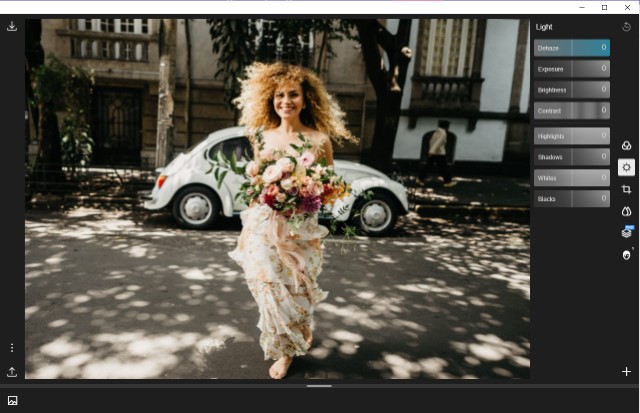 Just install the Polarr app from the Chrome Web Store and launch the app. You can import the photos that you want to edit quite easily. Apart from the basic photo editing features like brightness adjustment, cropping and rotating, color management, you also get access to features like layers, filters, and more. You should definitely check it out.
Install: Free
2. Sketchpad
Sketchpad, as its name suggests, is a sketching app for Chrome which allows users to sketch on a blank canvas as well as images. This is a great Chrome app for anyone who wants to get into light sketching but is afraid to use daunting sketching apps. Sketchpad is really easy to use and its getting started guide can help users get up and running with the app within an hour.
The app offers tons of different brushes in different sizes and patterns. I love its line guidance system which allows me to quickly create straight lines between two points. I was able to create many geometric shapes using just the trackpad of my laptop. There are tons of different coloring and filling options including vector filling. Overall, this is a great sketching app for beginners which is available right in Chrome.
Install: Free
3. Microsoft Word/Excel/PowerPoint Online
Microsoft Office which includes Microsoft Word, Excel, and PowerPoint has long been the go-to software for writing, entering data, and creating presentations for students and professionals alike. However, the desktop apps of Microsoft Office costs a lot and many users cannot afford them. That's where the online Chrome apps of these software come in as they are free to use for all users. The only thing you need for them to work is a Microsoft account which you can create for free if you have not already done so.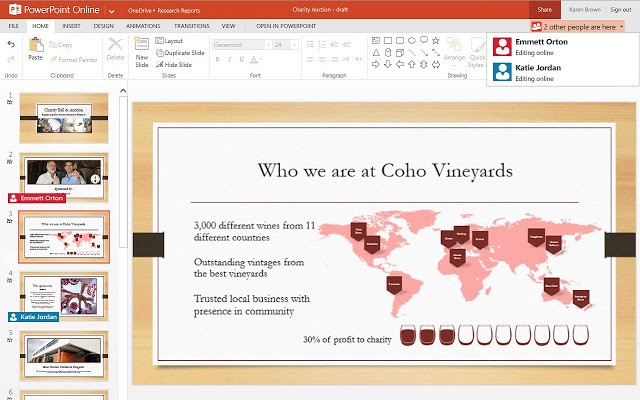 Once you have a Microsoft Account go ahead and download Word, Excel, and PowerPoint Chrome apps and log in with your ID. While these are a stripped down version of their desktop counterparts only the most advanced users will miss the features which are not included here. I have been using Microsoft Word Online for quite a while to collaborate with various overseas writers and I never had a problem with them. This is definitely a must-have application for your Chrome.
Install: Microsoft Word (Free) / Microsoft Excel (Free) / Microsoft PowerPoint (Free)
4. Calmly Writer
While Microsoft Word is great for students and professionals, some users don't need so many features and just want a clean and distraction-free writing environment. For them, Calmly Writer is a great option. The app brings a clean writing environment with a focused writing mode. The text formatting options are hidden in the right-click menu which can be easily accessed.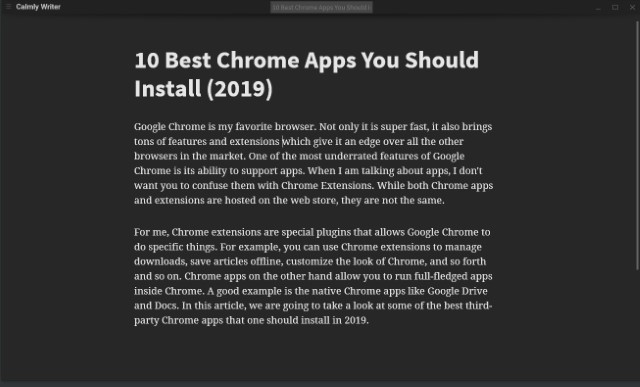 All your work is saved on the cloud so you never lose any progress and can access it any device. Other features of the app include a beautiful dark mode, import and export support for PDFs, word documents, HTML files, and more, word and character counter, estimated reading time, and more. This is a good writing app for users who are looking for a cheap yet beautiful text editor.
Install: Free trial, $4.99
5. All-in-One Messenger
I hate taking out my phone whenever I am working on my laptop just to reply to a message. Also, like most smartphone users, I tend to use a couple of messaging apps and don't want to install all of their desktop counterparts. In fact, some of them don't even offer native desktop apps which is a shame.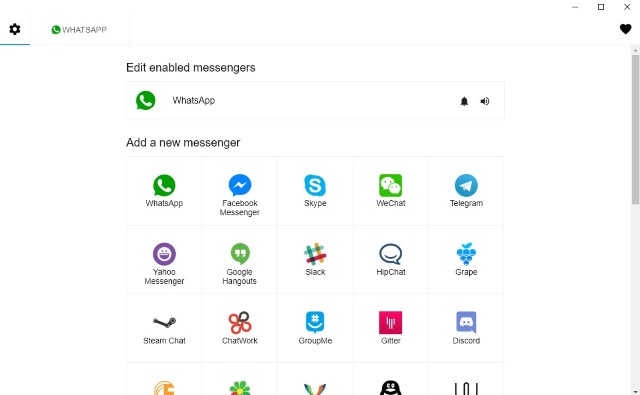 That is why I love the All-in-One Messenger as it allows me to log in to all my messaging apps (WhatsApp, Telegram, Slack, and more) and reply to messages right from Chrome. Being an online writer, I mostly spend my time working in Chrome and it's just easy to handle my messages without opening multiple applications or taking out my phone. This is one of my most used Chrome apps and I highly recommend it.
Install: Free
6. Kindle Cloud Reader
I remain quite busy throughout the day and hence I am not able to read as much as I like. Still, I read more than your average reader thanks to a piece of advice from none other than Stephen King. In an interview, he told that a reader should not only be able to read books in long reading sessions but also in short bursts whenever he or she has time.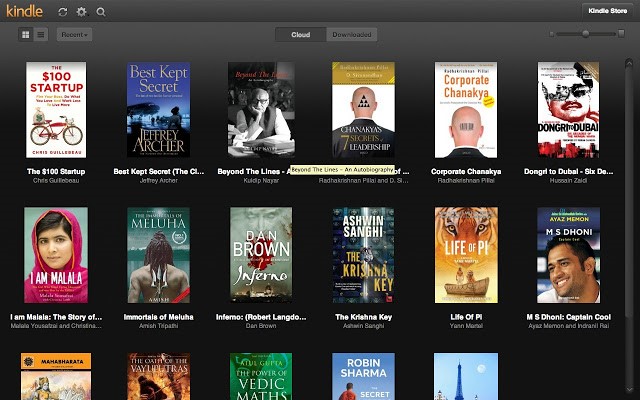 Now, taking out a paperback at work is not plausible for most users including me and hence I love to read on Kindle. While the experience of reading novels on my laptop was not an easy thing to get used to, I don't mind it anymore. Despite Kindle's desktop app offerings I like to use Kindle Cloud Read on Chrome as it is more readily accessible and doesn't eat any space on my laptop. If you read a lot, you should definitely give this a try.
Install: Free
7. Todoist for Chrome
Another great Chrome app is Todoist for Chrome which is one of the best task managers in the world. Todoist is a simple yet powerful task manager which allows you to manage anything from single task lists to big projects. It even allows users to collaborate with other users in a shared task list. The Chrome app supports various themes, the dark theme being my favorite.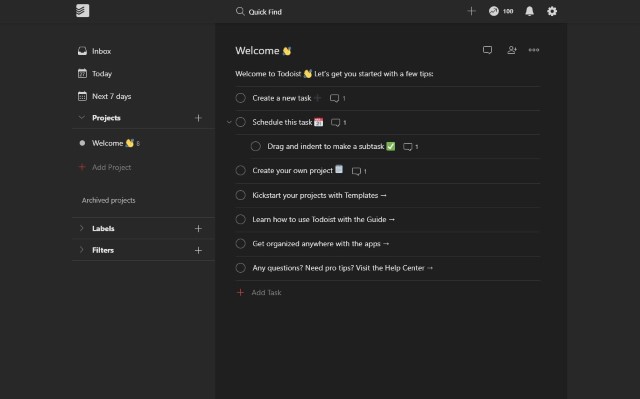 The Todoist Chrome app is free to download and use, however, some of its pro features are hidden behind a paywall. For personal users, the free version of Todoist should be enough. However, if you are someone who wants to collaborate with other users on large projects, you will have to buy the pro version. Todoist offers corresponding Android and iOS apps so you can manage your tasks on the go.
Install: Free, $3/user/month
8. JSTorrent
JSTorrent is one of the best torrent clients for Google Chrome which runs on pure JavaScript. The torrent client downloads files directly to the downloads folder and can easily handle large files which multi-gigabyte in size. It gives users a lot of control over their downloads. It lets you choose the number of torrents you want to concurrently download, shows correct ETA, set download and upload speeds for different torrent files, and more. While this is not the prettiest torrent client on the market, it surely is one of the best when it comes to function. There is only one problem with the app. It has not received any update since October 2016 which might be a problem for some users seeing how this is a paid app.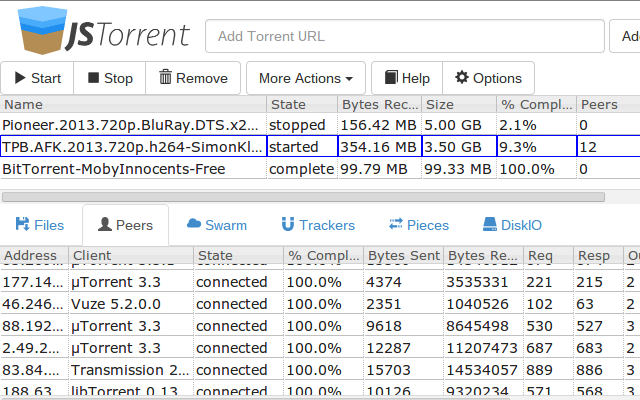 Install: $2.99
9. Pocket
I spent a ton of time reading articles on the web. However, sometimes I come across an article which I want to read but don't have time. In such cases, I use Pocket. Pocket is an offline reader app which downloads and saves articles for reading later. I use the app along with Pocket's extension which allows me to easily capture articles from the web. This is yet another Chrome app that I use a lot. The app is free to download and use with a premium version which unlocks extra features such as no ads, permanent personal backup of all the articles, advanced search operators, tags, and more.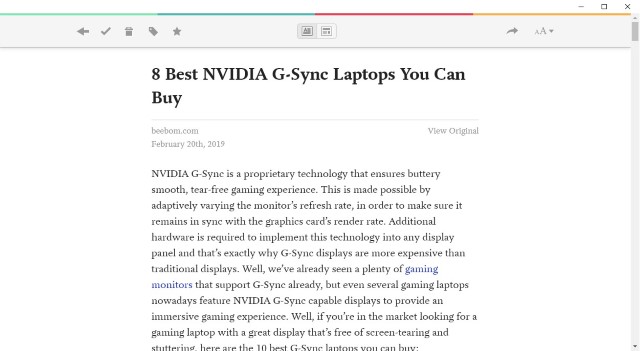 Install: Free, $4.99/month
10. Kami
The final Chrome app that I want to share with you guys is called Kami. Kami is an excellent PDF and documentation markup tool which allows users to easily mark up, save, and share documents. Kami connects directly with Google Drive and Google Classroom, allowing you to easily import cloud documents. Of course, you can also import documents which are locally saved on your computer.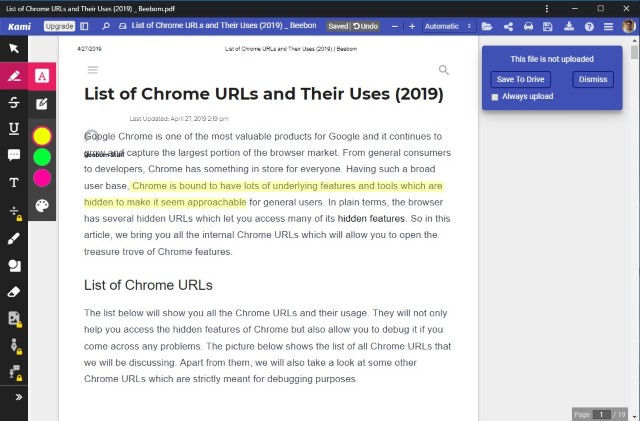 When it comes to mark up, Kami supports a ton of tools including the text tool, draw tool, highlight tool, underline tool, annotation tool, voice, and video annotation tool, and much more. Despite sporting a bit of an ugly UI, I found Kami to be quite useful. While various PDF annotation tools cost anywhere between 10 to 50 USD, Kami allows me to all these things for free.
Install: Free
11. Pixlr Editor
Sure, Polarr is a hot choice for many users who want to apply some effects, enhance the look, edit photos, but it's limited to just image manipulation. You can't create collages, edit photos liberally similar to Photoshop, handle images of various formats and more. And that's where Pixlr comes into play and I say, it's one of the best Chrome apps for full-fledged photo editing in a browser. On top of that, Pixlr recently released a new interface that has layer support, tools like lasso, clone, marquee, and a lot more. Unlike Polarr, where you can just change the color effects, crop image, etc, here you have a full suite of image editing tools.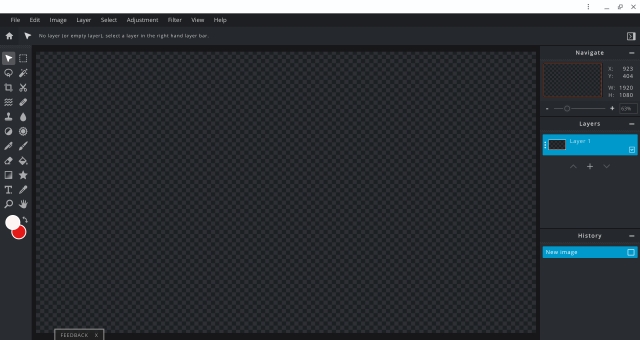 And the best part is that it's not cluttered with advanced features, instead, it still wants to be a simple photo-editing platform for general users. So, if you are someone, who wants a user-friendly app that allows you to enhance, manipulate and also create images then Pixlr is the best Chrome app for photo editing.
Install: Free, Premium plan starts at $3.99/month
12. Screencastify
Screencastify is another powerful Chrome app that you must be familiar with. It allows you to record your screen with your voice and webcam support. And the best part is that it's cross-platform so the app will work on Windows, Linux, macOS and of course, Chrome OS. This extension can help you record tutorials in case you are an educator. While the app is quite good, it puts a watermark if you are recording for more than 5 minutes. To remove the watermark, you will have to subscribe to a premium plan. In that case, you can use RecordRTC as an alternative. It's an open-source extension that offers similar features and does not require any premium subscription. So, depending on your use-case, you can go for either extension.
Install Screencastify: Free, Premium plan starts at $49/year
Install RecordRTC: Free
13. Gravit Designer
Gravit Designer is a top-notch Chrome app for those users who want to create vector graphics in a browser. Yes, you read that right and it's the best-designed app I have ever come across. Basically, it's an alternative to Adobe Illustrator which is preferred by professionals. However, Gravit gives you all that but wrapped in the form of a Chrome app that runs in a web browser. You can create objects, define them using many design elements, create logos, posters, and more.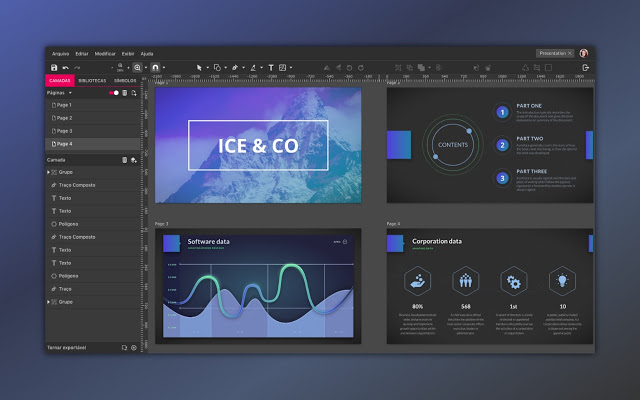 Among other things, it also allows you to design graphics illustrations, create web and app UI, banners for social media and much more. It's clear that Gravit is a professional-grade program for graphics editing and if you are looking for such a program on a web browser then this is the perfect pick for you. In fact, I would say if you are on a move, Gravit Designer would be a better choice than Adobe Illustrator.
Install: Free, Premium plan starts at $49/year
14. Free Rider HD
If you are interested in a bit of physics and want to develop some logical programming then Free Rider HD is the perfect game you should try on Chrome. Unlike other desktop games, it comes in the form of a light Chrome app because it's mostly developed using HTML5. Many users play it for fun, but this game has a strong foundation of basic science principles where you have to draw tracks using physics and particularly, mechanics. Other than that, you can browse several already-made tracks and play as you like.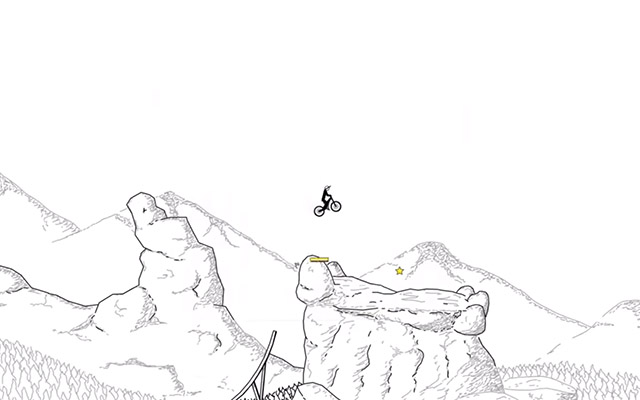 The basic job is to move through rocky mountains, slopes and land safely using accurate speed, torque, angle of trajectory and more. The challenge is to be more precise in your calculation and land on the track without any injury. It's like a physics simulation game and a very good one at that. So, as I said, if you want to visualize physics in a fun game then do play Free Rider HD on Chrome.
Install: Free
15. Chrome Remote Desktop
Chrome Remote Desktop is not for everyone, but if you are one of those users who has to remotely access files from a home computer or resolve issues on your relative's computer regularly then it's a must-have app. And the best part is that it's completely free and works across platforms including Windows, Linux, macOS, Chrome OS, Android, and iOS. Another powerful app for remote control and desktop sharing is Teamviewer, but it's costly and there are some performance issues as well. However, keep in mind, Teamviewer is feature-packed and brings a lot of additional utilities. Apart from that, Chrome Remote Desktop is completely encrypted from end-to-end so no worries on the security front. So to sum up, if you want remote access to computers from virtually any device then Chrome Remote Desktop is one of the best Chrome apps in this regard.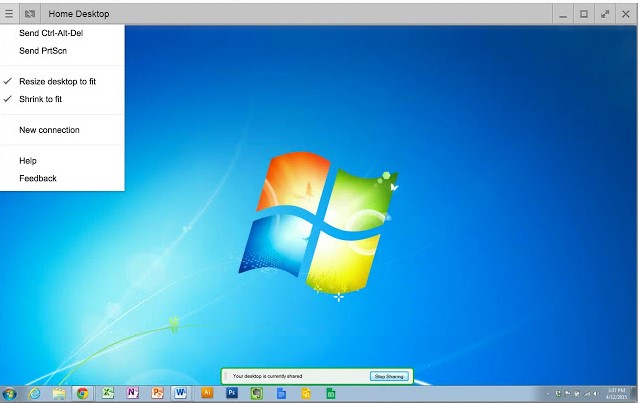 Install: Free
Best Chrome Apps You Should Use
That ends our article of the best Chrome apps that you should use in 2019. If you have gone through our list, I am confident that you have found quite a few useful Chrome apps. Do check the list out and let us know your favorite Chrome apps by writing in the comments section below. Also, if you have any suggestions for us, drop them down too.