The 16″ MacBook Pro has arrived on the expected line. A larger display featuring slimmer bezels, a new magic keyboard with a scissor mechanism, and the robust 100 watt-hour battery make the notebook a top-notch asset for pros. Looking at the form-factor, it's clear that Apple has put more emphasis on functionality than elegance; which is exactly what the doctor ordered in the backdrop of the butterfly keyboard fiasco. As is always the case with an all-new Apple product launch, we have put together an assortment of the best cases, sleeves, and bags for MacBook Pro 16-inch.
Best 16-inch MacBook Pro Cases, Sleeves, and Bags
While most MacBook Pro owners prefer pro-looking suits, some love to go offbeat. We have chosen both classy cases and the trendy covers so the roster can cater to multiple demands. Not to mention, the rugged cases that could be an automatic pick for the folks (including those with butterfingers) who put protection at the top of their priority list.
1. Apple Leather Sleeve
To begin this roundup on a high note, I would like to bring Apple's leather sleeve for MacBook Pro 16″. What stands this sleeve cover out of the rest is the incredibly sleek form-factor. Carved out of high-quality European leather, the cover has a pro look and feel. And with the presence of soft microfiber lining, it's also more than capable to keep scratches at an arm's length.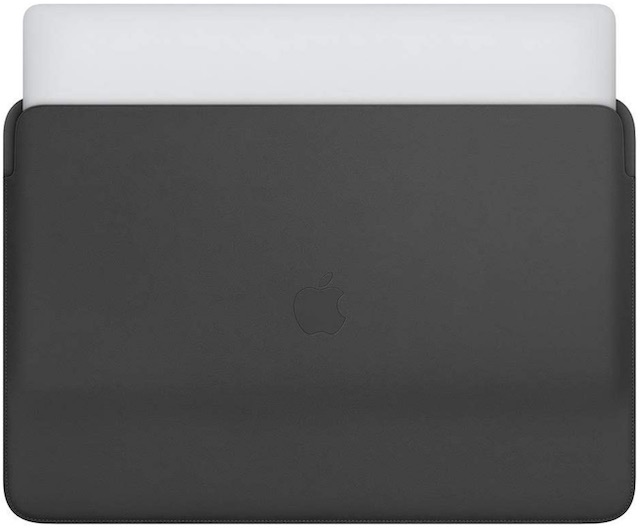 Granted, Apple's leather sleeve is extravagantly priced (just like iPhone 11 Pro Max counterpart) and might not fit into everyone's budget. However, if you wish to pick a premium leather suit for your MacBook without being bothered about the high price, it would be apt to give Apple's offering a look as it belongs to an elite league of MacBook Pro 16-inch sleeves.
Buy from Amazon: $199
2. i-Blason Halo Case
Times when you wish to give a bit more luxury to your MacBook to showcase its famed design, i-Blason Halo case can come into play straight away. The case has a form-fitting translucent design just like the iPhone 11 Pro Max clear cases we have covered in the past.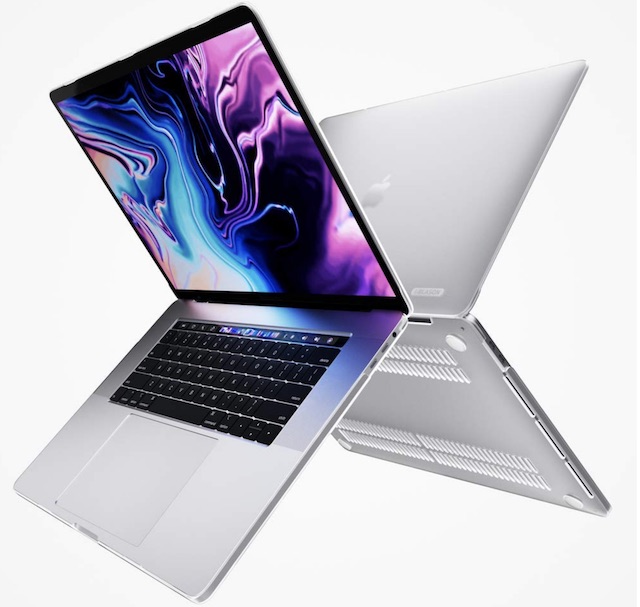 It reveals all the notable aspects of the notebook. Due mainly to the elevated rubberized corners, Halo case has got a bit extra cushion to endure shock. And with the matte finish, the cover also makes a lot more convenient to carry the MBP in hands.
Not to mention, it also offers improved heat dissipation to keep your device cool. Everything considered; i-Blason Halo case deserves a safe spot in your collection of the top MacBook Pro 16-inch cases.
Buy from i-Blason: $30
3. Smatree
Smatree's offering seems to be a fine integration of protection and style. The MacBook Pro 16″ sleeve sports a slim design but without giving up on defense factor. It is made of nylon material and features thick padding for extra resistance against impact.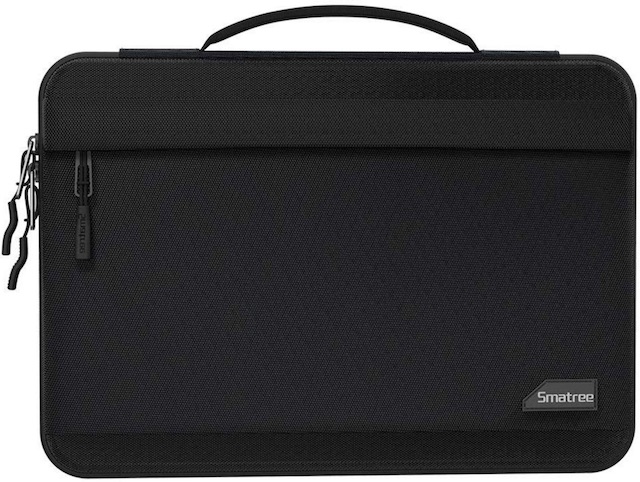 And with the minimalist stitching, it looks primed to make a nice match with your pro outing. Moreover, the sleeve features a separate compartment for storing mouse, adapter, and cable securely. Not to mention the top handle that allows you to carry your MBP a bit more comfortably.
Buy from Amazon: $29.99
4. NATIVE UNION Stow
Just a look at NATIVE UNION Stow and you would know that it's a premium looking sleeve for 16-inch MacBook Pro. The sleeve has an incredibly sleek design that can get along nicely with a pro outing.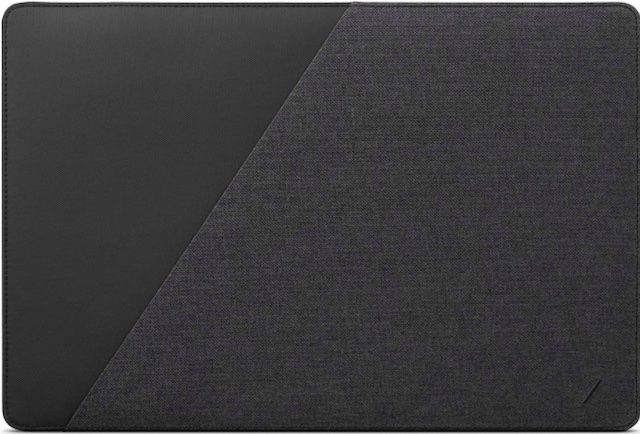 Courtesy the slim form-factor and coated canvas finish, the sleeve is very convenient to carry in hands. On the protection front, NATIVE UNION Stow seems up to the task.
With the durable exterior coupled with the impact-resistant quilted interior, it can fight out minor impact and also keep scratches at a fair distance. Furthermore, there is also an external slot to let you securely keep important docs.
Buy from Amazon: $69.99
5. i-Blason Rugged Case
If protection for your all-new MacBook Pro sits right on top of your demand, iBlason rugged case should be your thing. The cover has an exceptionally shock-absorbing TPU bumper that can endure bumps with ease. Besides, the fortified corners along with the raised edges add an extra layer of defense to the rugged cover.
Thanks to the rubberized corners, you will feel a lot comfortable to hold your laptop. But is this notebook case just about protection? No. The transparent back allows the Apple logo to shine through, thereby allowing the MBP to make its presence felt.
Buy from i-Blason: $42
6. Kuzy
For the folks who adore the sleek design and vibrant colors, Kuzy's offering could be a hot pick. The best part about this slim 16″ MacBook Pro cover is the hard-shell exterior with a soft-touch finish.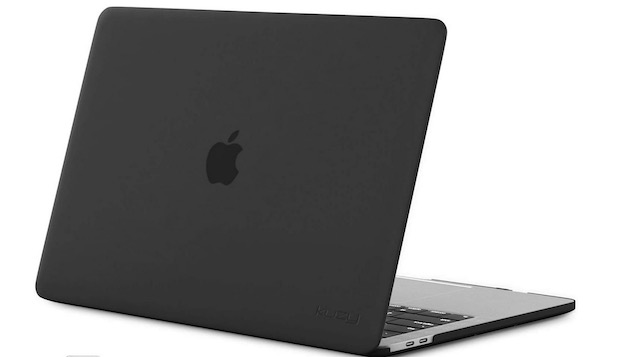 Featuring a soft-touch finish, the cover makes it more convenient to hold the laptop. Besides, it's also quite good at fighting out scratches and fingerprints. So, you can expect Kuzy to retain the good-looking design a little longer.
That's not all, the slim case features a vented design for improved heat dissipation to ensure the notebook remains cool. Additionally, the company also offers a keyboard cover to safeguard the keyboard against dust. Keeping in mind these appreciable features, the $30 price tag seems reasonable.
Buy from Amazon: $29.99
7. tomtoc Sleeve
Should you want to go for a pretty lightweight and compact sleeve for your 16″ MacBook Pro, tomtoc Sleeve would be worth checking out. The sleeve features three layers of protection along with a soft fluffy padding interior that endows a bit of extra cushion. Thus, the sleeve should be able to comfortably resist normal bumps and scuffs.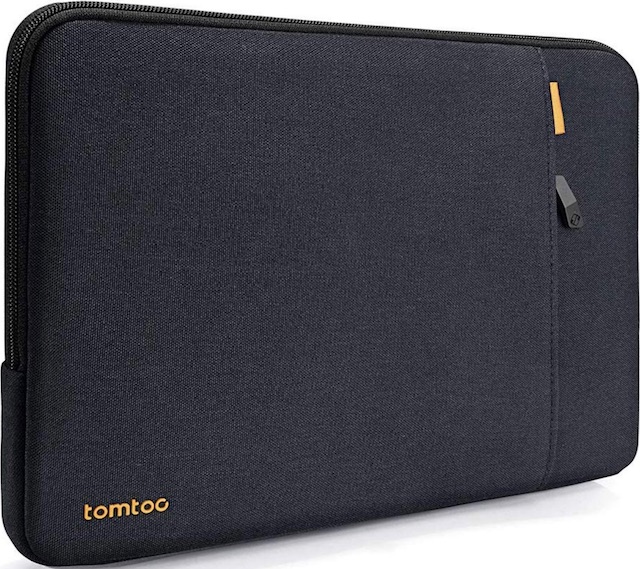 So, you can expect your notebook to stay safeguarded against accidental drops. Beyond protection, tomtoc sleeve features a handy pocket wherein you can keep items like chargers, cables, and more.
What's more, this notebook sleeve also comes in multiple color variants and is priced at $26.99 which is competitive. One more thing worth adding is that you can get it for your 15.6-inch MacBook Pro as well.
Buy from Amazon: $22.99
8. MOSISO
There are some sleeves that seem to appeal to the eyes in the very first impression. This offering from MOSISO is one of them. Sporting a pretty compact form-factor, the notebook sleeve comes with a foam padding layer to withstand shock. Courtesy the smooth neoprene material, the exterior also provides improved hold.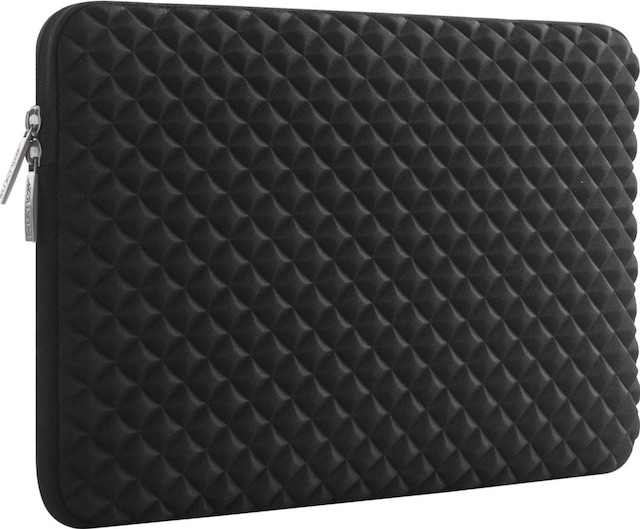 To help you keep small items like mouse and AirPods secure, the cover features additional storage. But what makes MOSISO a great choice is the availability in multiple attractive colors and a highly affordable price ($15.99). In a nutshell, if you want a nice-looking cover for your 16-inch MacBook Pro without having to break the bank, this one has to be your prime pick.
Do note that this sleeve comes in multiple sizes like 12-inch and 13.3-inch which can pair nicely with the MacBook Air.
Buy from Amazon: $15.99
9. CAISON Genuine Leather
Showcasing a handcrafted design, Caison sleeve-cum-case makes for a strong statement. The genuine leather construction with the refined finish adds a pro look and feel to it, while also ensuring the MacBook has the needed protection from impact and scratches.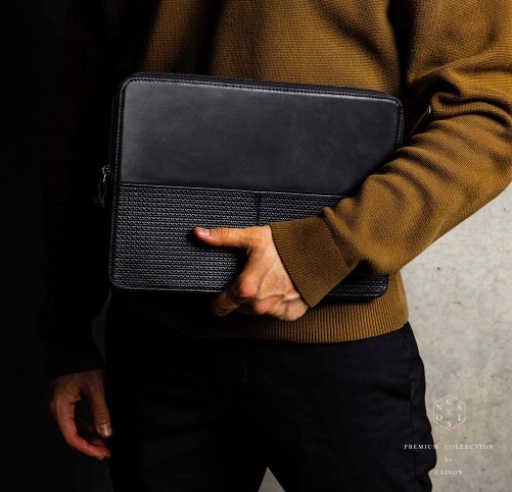 The inclusion of soft plush interior lining further enhances the safeguard against unexpected impact. Being lightweight and slim, the sleeve is pretty convenient to hold. With the top opening zipper, it keeps your notebook secure and also offers easy access.
Notably, Caison genuine leather sleeve comes in multiple color variants including ink black, chocolate, brown, tan, and black. My favorite color variant is chocolate as it looks nice.
Buy from Amazon: $69.99
10. ProCase Kickstand Case
There is a lot to like in the ProCase kickstand case for 16-inch MacBook Pro. First and foremost, the heavy-duty case features exceptionally rugged construction that can fight out even nasty impact.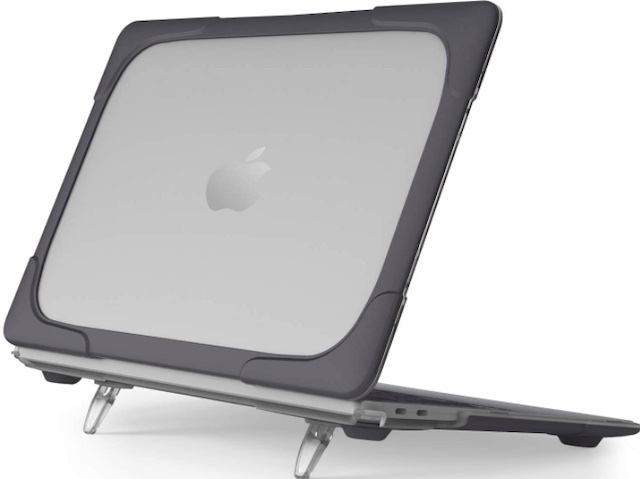 Aside from being impact-resistant, the case also provides a secure grip thanks to the presence of a solid bumper. For all being a heavy-duty cover, it doesn't take away the elegance from the notebook courtesy the clear back.
As for the stand, it allows you to prop up your notebook for enhanced viewing and typing experience. And with the precise cutouts, the rugged case also makes sure there is no pain while accessing ports. In a nutshell, ProCase is undoubtedly the best heavy-duty case for MacBook Pro 16″.
Buy from Amazon: $30.99
11. UPPERCASE SlimSleeve
If you have set your sight on a pretty sleek sleeve case for MacBook Pro 16″, do check out UPPERCASE SlimSleeve. The sleeve is made of vegan leather and features a handcrafted design which adds an authentic touch to it.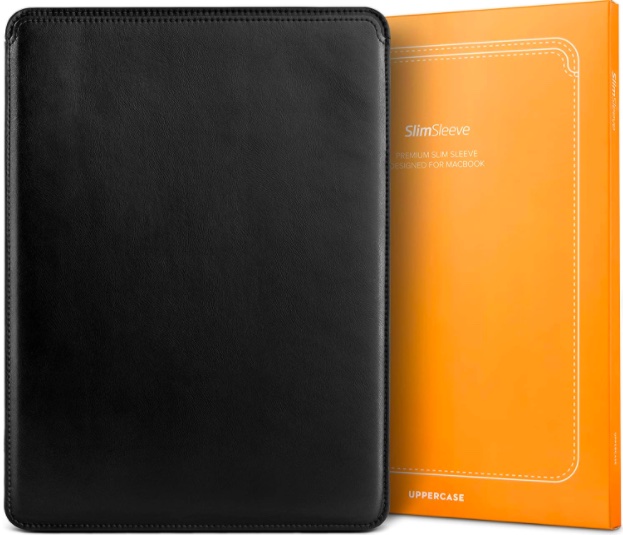 Being form-fitting, UPPERCASE fits snuggly around the 16-inch MacBook Pro. In terms of protection, you can rely on this slim sleeve to withstand impact and also put scratches away.
With the genuine leather exterior, the pouch also provides a better hold so that you can carry your laptop comfortably. At $40, SlimSleeve might seem to be a touch expensive as compared to other sleeves. However, considering the high-quality leather and handcrafted finish, it's worth taking a look.
Buy from Amazon: $39.95
12. Lacdo
Should you want to have a complete travel companion for your 16″ MacBook Pro, this offering from Lacdo could be a better pick. Made of waterproof canvas fabric, the MacBook bag is exceptionally durable. Plus, the presence of shock-absorbing lining enables it to withstand impact.
Moreover, Lacdo features five additional pockets where you can store many other essential accessories like pens, cables, power bank, etc. The zipper keeps your accessories secure, while ensuring you have hassle-free access to your notebook and other accessories.
With the shoulder strap and top handle, you can comfortably carry your notebook, which makes it a great asset for travel. As for colors, Lacdo comes in three colors like red, black, and grey.
Buy from Amazon: $29.99
Choose the Top Sleeves and Cases for 16″ MacBook Pro
So, these are top picks for the new MacBook Pro 16″. Hopefully, these cases have looked in line with your demand. Which one have you chosen for your notebook: a classy sleeve or a sleek cover or a beautiful bag? We would be glad to know the name of the cover that is likely to pair your laptop. Let us know your thoughts in the comments section below.