As the uncertainty around the launch of efficient COVID-19 drugs is still looming large, prevention remains the only safeguard to fight out the pandemic. Recently, I came across a study conducted by Australia's national science agency CSIRO, asserting that the virus responsible for COVID-19 can survive up to 28 days on smooth surfaces such as glass found on phone screens at 20 degrees celsius. If you no longer want to give bacteria any chance to build on your smartphone, these are the 5 best cases to disinfect your iPhone 12 and 12 Pro.
Best Cases to Disinfect iPhone 12 and 12 Pro
So, how are these iPhone 12 cases able to resist microbes? Thanks to the antimicrobial properties, they are equipped to fight out germs to keep your smartphone hygienically clean. Notably, they claim to reduce bacteria growth by up to 99%.
Apart from fighting out microbes, these cases are also equally protective when it comes to enduring shock and thwarting scuff. So, you can trust them to not only keep your device clean but also safeguarded against accidental drops and ugly scratches. That all being said, let's dive right in to explore the roundup!
Note: As of now, there aren't too many iPhone 12/12 Pro cases with antimicrobial properties. So, we have listed out cases only from Speck as its offerings excel in resisting bacterias. As more deserving cases arrive, we will include them in this roundup. 
1. Speck Presidio Perfect
Putting equal emphasis on style and protection, Speck Presidio Perfect stands out as probably the best clear case for iPhone 12 and 12 Pro. Made of high-grade PC material, the clear case features exceptionally durable construction that can survive up to 13 feet drops.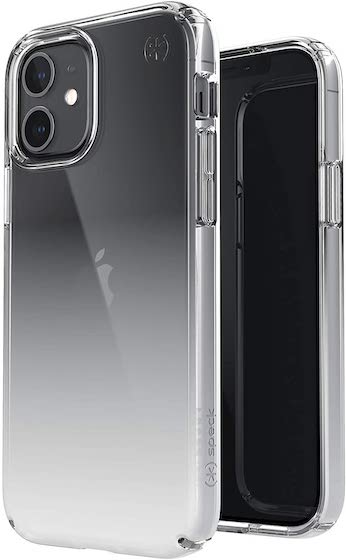 Moreover, Presidio Perfect also features raised edges to offers extra defense to the rear cameras and the expensive OLED display. With the additional coating, it also prevents discoloration and yellowing to remain crystal clear for a long time. Add to that the precise cut-outs as well as a snug-fit design and it looks a worthy companion for the smartphone.
However, what headlines for Presidio Perfect is the ability to deliver a 99% reduction in bacteria growth, which helps it keep the surface clean. In a nutshell, you can count on it to let you disinfect your iPhone 12/12 Pro without harming the style quotient.
Buy from Amazon: $44.99
2. Speck Presidio2 PRO
Sporting a pretty soft-touch finish, Speck Presidio2 PRO is the sort of case that tends to impress you at the very first glance. Crafted with top-grade PC material, the case has a compact form-factor that fits around the edges of the iPhone 12 or 12 Pro.
With the shock-resistant exterior, Presidio2 PRO promises to offer full protection to the smartphone. Thanks to the cushioned corners, it can withstand drops up to 13 feet.
Furthermore, Presidio2 PRO also has beveled edges to protect the OLED display and the rear cameras. As for the pronounced buttons, they are tactile and offer tactile feedback.
Just like Presidio Perfect, it can also provide a 99% reduction in microbes growth to keep the iPhone 12 disinfected. Considering these notable features, Presidio2 PRO seems to be a good pick at $45.
Buy from Amazon: $44.95
3. Speck Presidio2 Grip
Should you wish to give more priority to the enhanced gripping, I would recommend you to check out Speck Presidio2 Grip. The highlight of this case is the grippy design that ensures your palm can feel comfortable while holding the smartphone. With the much-improved hold, it resists slip-offs.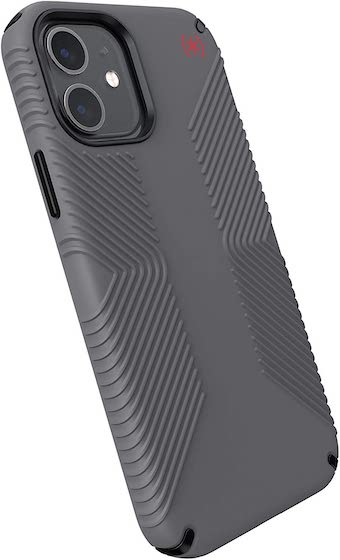 In terms of protection, Presidio2 Grip is equally up to the task. Durable casing along with the shock-absorbing corners enables it to endure up to a 13-foot drop. Besides, the exterior can also resist scratches.
Being antimicrobial, Presidio2 Grip is second to none when it comes to fighting out bacteria. So, you can fully rely on it to keep your smartphone bacteria-free. Overall, it's one of the best cases to disinfect iPhone 12 and 12 Pro.
Buy from Amazon: $44.95
4. Speck Presidio2 Armor
Just in case you want to double down on protection, virtually shutting the door of all the random bumps that may damage your iPhone, Speck Presidio2 Armor is for you. With the rugged PC exterior and cushioned corners, the case is touted to withstand drops up to 16 feet. If it can live up to the claim, your smartphone will remain safeguarded even in the face of a nasty impact.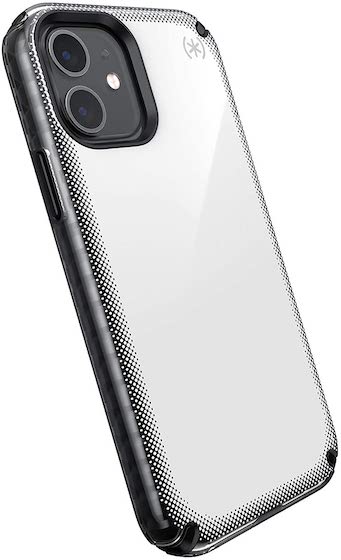 Couple the durable casing with the raised bezel that guards the camera and the touchscreen and you have a heavy-duty case that seems to excel in each aspect. Despite having a protective design, Presidio2 Armor doesn't look bulky at all.
Featuring non-slip sides and a grippy back, the case also scores quite well in terms of preventing slip-offs. As for fighting out germs, it can live up to the mark in resisting bacteria from building up on your smartphone. Taking everything into account, it's probably the best heavy-duty case for iPhone 12/12 Pro.
Buy from Amazon: $59.95
5. Speck CandyShell Pro
For those looking for a comparatively affordable case (under $20) with anti-microbial protection, Speck CandyShell Pro appears to be a better choice. Just like other Speck cases mentioned in this round, it can also reduce bacteria up to 99%. That means you can disinfect your iPhone 12 without having to spend much money.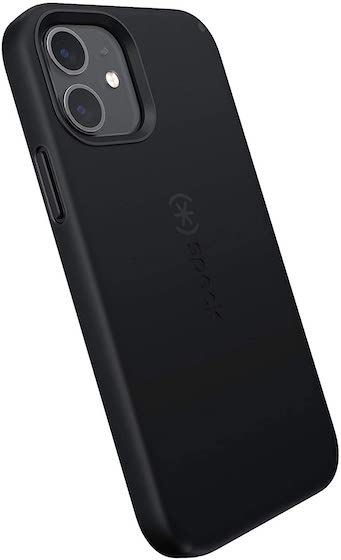 The case features a slim and protective design that can endure drops up to 8 feet. With the presence of raised edges, it also guards the 6.1″ OLED display and the rear cameras against scratches.
Another feature that makes CandyShell Pro worth taking a look at is the soft-touch finish which provides a much-improved grip. So, your iPhone 12/12 Pro can feel comfortable in your hand. Taking everything into account, it's a great accessory for your iPhone.
Buy from Amazon: $19.88
Top Cases to Disinfect iPhone 12 and 12 Pro
That's pretty much! So, these are the top cases that can let you keep your smartphone hygienically clean by fighting out bacterias. Rest assured, we will include more notable iPhone 12 and 12 Pro cases with antimicrobial properties as they are rolled out. So, stay tuned in with us to explore more worthy matches for your iPhone.
Do note that we have also lined up the best iPhone 11 Series cases with antimicrobial properties. Make sure to check them out, if you want one for your device.