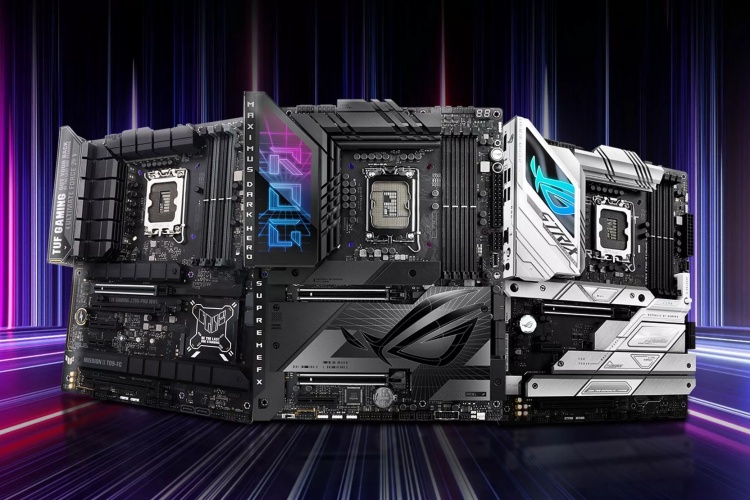 Asus has announced a few new Z790 motherboards, all of which are launching in advance to prepare for Intel's upcoming 14th Gen CPU lineup. This comes apart from the company's world's first 4K 240Hz OLED gaming monitor. Let's look at what are the new features that these motherboards bring to the table.
Asus Releases Three New Z790 Motherboards
To prepare for the next CPU generation and the modern era of computing, Asus' new Z790 motherboards come with support for up to the 14th Gen Intel CPU range and cater to different price points, and they all include new connectivity features, optimizations, and more.
The ROG Maximus Z790 Dark Hero is their high-end offering. It has support for Dual Thunderbolt 4 connectors, along with a next-gen ROG SupremeFX audio with the ESS ES9218 Quad-DAC. They are offering a 20+1 power stage arrangement here so the VRMs will be plenty sufficient, even for the highest-end Intel Core i9 CPUs. There is a single PCIe 5.0 M.2 slot that supports Gen 5 NVMe SSDs, with 4 additional M.2 slots that can accept NVMe Gen 4 storage.
Talking about the ROG Strix Z790-A Gaming WiFi II, this motherboard features a beautiful aesthetic with a white color scheme. It has support for up to 5x M.2 NVMe Gen 4 SSDs. One of the major upgrades is the inclusion of Wi-Fi 7, the newest standard for wireless connectivity. Both the ROG Strix & ROG Maximus motherboards include Wi-Fi 7 support, along with the new ASUS WiFi Q-Antena.
Let's talk about the TUF Gaming motherboard now. This particular motherboard series remains to be a very popular choice among PC builders, looking for a value-for-money focused motherboard. A new feature of the TUF Gaming series is the inclusion of AI overclocking. This feature was previously reserved for the higher-end ROG series motherboards. With this, people who aren't accustomed to custom-tuning their system can easily overclock their CPU.
Asus is also including a new Wi-Fi Q-Antena with the TUF Gaming Z790-PRO. This motherboard sports Wi-Fi 6E connectivity with support for the 6GHz band. It does not include features like Wi-Fi 7 or PCIe Gen 5 SSD support, like the more expensive motherboards. It does have 2x Type-C ports at the USB 3.2 Gen 2 (20Gbps) along with support for 4x M.2 PCIe Gen 4 SSDs.
Are you wondering when are the new 14th Gen CPUs coming out? In the official announcement by Asus, they also stated that Intel will launch its next-gen Core CPUs 'sometime soon'. You can read about everything we know about the upcoming Intel 14th Gen CPU lineup right here, including the rumored release date. As for the new motherboards, we will surely update our best Z790 Motherboards guide with proper details once these officially launch!
---