Anytime I review a 'TUF Gaming' laptop, the expectations are usually all about great performance at a decent price. Asus hasn't let me down with their TUF Gaming laptops yet, and when I got the new TUF Gaming A15 (₹94,990), I could tell that it wasn't going to let me down either. Which is great; after all, what else could I want from it. The new TUF Gaming A15 builds upon the success of the TUF Gaming FX505DT that I reviewed last year. And Asus has taken the smart decision to improve upon last year's laptop, without wasting time on things it got right already. So, to me, that's what this laptop is. An improvement upon what was a solid laptop last year. And if you're wondering whether or not you should buy it, here are my thoughts after using this laptop for almost a week now.
Asus TUF Gaming A15 Specifications
Display
15-inch, Full HD, 144Hz
Processor
Ryzen 9 4800H
RAM
16GB
GPU
Nvidia GTX 1660Ti
Storage
1TB HDD + 512GB PCIe SSD
Ports and I/O
1 x COMBO audio jack
2 x Type-A USB 3.2 (Gen 1)
1 x Type-C USB 3.2 (Gen 2) with display support DP1.4
1 x Type-A USB2.0
1 x RJ45 port
1 x HDMI, HDMI support 2.0b
1 x AC adapter plug
Connectivity
Bluetooth 5;
WiFi 5 (802.11ac)
Price
₹94,990
Design and Build
Right off the bat, Asus has made improvements on the design front. The lid no longer has the angular lines leading to the center with the Asus logo lighting up in soft yellow, or red (as was the case with the FX505DY). This time, the lid is completely flat with no unnecessary lines or graphics. There's the TUF Gaming logo at the very center and while large, it's very subtle and barely visible in most cases. That's something I appreciate, because it makes this laptop look a lot more stealthy.
The logo here doesn't light up, and there's actually no RGB lighting anywhere on the outside. That isn't something I mind, but if you want RGB all over the place on your gaming laptop, this might not be the one for you.
Inside, the display is surrounded by relatively thin bezels, and a rather large chin with the Asus branding. The keyboard is pretty much unchanged from every other TUF Gaming laptop. It has the same RGB backlighting, transparent WASD keys, and a Numpad. There's a trackpad here that has dedicated left and right click buttons, and it's pretty big as well.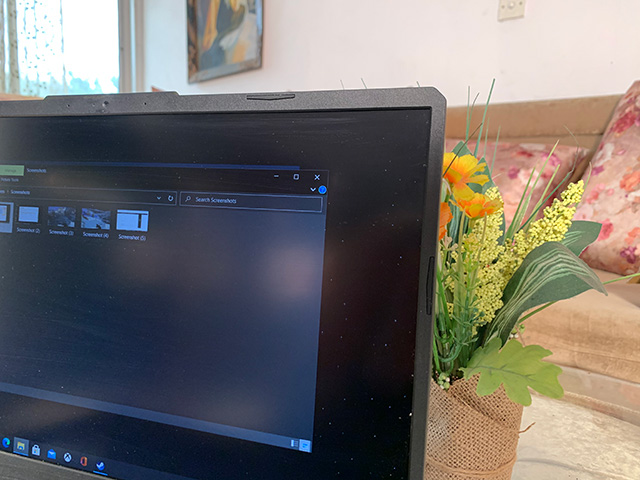 Look, the name is TUF Gaming, and the laptop is built to be tough as well. Asus says the laptop has military grade certifications for build quality, and just like every other TUF Gaming laptop I've tried, this one also feels sturdy enough to handle almost anything. Obviously I didn't push it off my work desk just to see if it breaks, but it does feel sturdy enough to not have problems.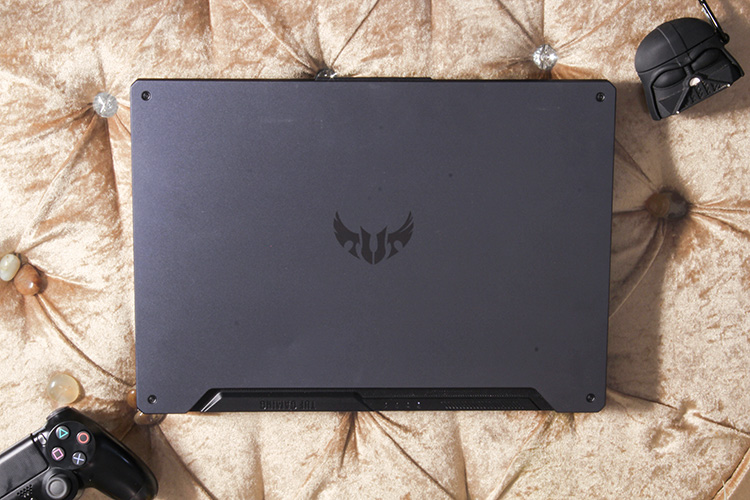 So yeah, the laptop is well built, and looks pretty great to me. The sticker on the lower bezel that says '144Hz' gives me some OCD issues because it's not aligned properly and it's annoying me too much. However, other than that, I have no complaints with the TUF Gaming A15.
Display
The TUF Gaming A15 FA566 comes with a 15 inch Full HD display with a 144Hz refresh rate. That is pretty great, and the high refresh rate sure makes the experience feel a lot better all over the system. Obviously that improvement is much more visible in games where things just look a lot better.
As a general purpose laptop screen also, this one does the job quite well. It gets sufficiently bright for my usage, and the matte finish helps reduce glare a bit. The colours look pretty solid as well, and I really enjoyed watching movies on this (and yes, I binged Lucifer over the weekend on this laptop as well).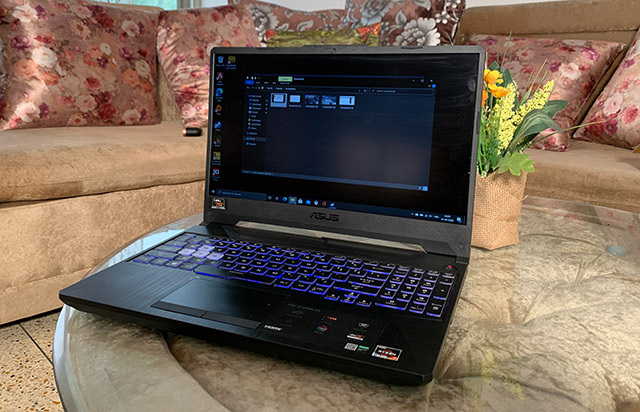 It's a really nice display, as long as you're looking at it head-on. The viewing angles on this laptop aren't too good. For the most part, highlights look fine even at weird off-angles, but the darker colours of the display usually start vanishing as you move off axis. That won't be a problem while gaming, obviously, but if you're sitting with friends and watching a movie (or god forbid that Game of Thrones episode), some people will miss out on what's happening in the darker parts of the movie or TV show.
Performance
When you read specs like Ryzen 7 4800H, 16GB RAM, and GTX 1660Ti, you kind of already know that the performance is going to be pretty great. Fortunately, this laptop doesn't disappoint in terms of performance either.
I did the usual benchmarking on the laptop, and as you'd expect, it scores pretty well in both 3DMark TimeSpy, and in PCMark 10, with 5,627 and 4,709 points respectively.
I also ran a Geekbench benchmark to see how this Ryzen 7 CPU performs, and well, take a look for yourself. This is a pretty decent score, which is great for the laptop. Especially if you're also looking at doing CPU intensive tasks other than gaming here.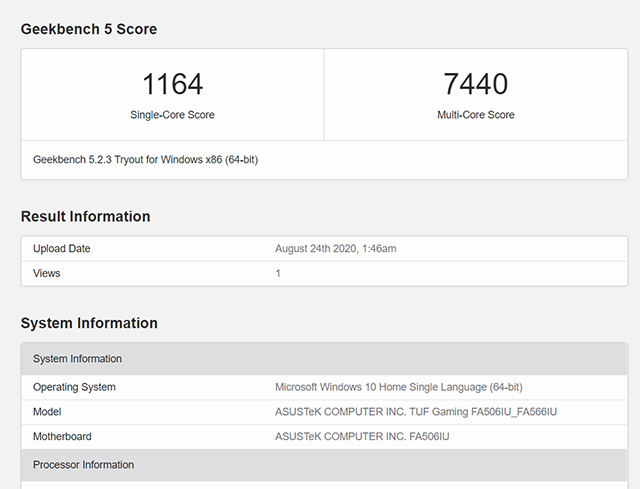 I also played PUBG on the laptop. The game defaults to mostly medium settings across the board. I was getting frame rates between 70 to 80FPS most of the time. That fell somewhere in the mid-60 FPS range sometimes, but that's still completely playable. You can go slightly higher on the graphics if you don't mind reducing the frame rate, or go all the way low to get a much higher FPS count as well.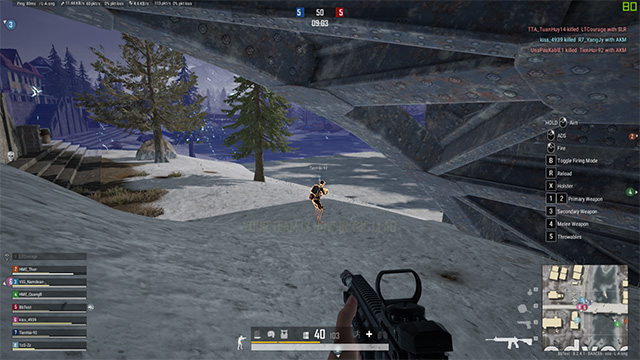 Also, if you're a fan of Apex Legends, that game runs around 100FPS on this laptop with high settings, so you'll not be disappointed.
Keyboard
The keyboard on this laptop is also pretty great. There's really nothing to complain about. The keys are nicely spaced, there's ample travel, and the keyboard is pretty responsive. I have been writing this review on the TUF Gaming laptop itself, and I'm thoroughly enjoying it. There's even a Numpad for anyone who needs it, and there are full size arrow keys instead of those compact arrow keys you'll find in some laptops.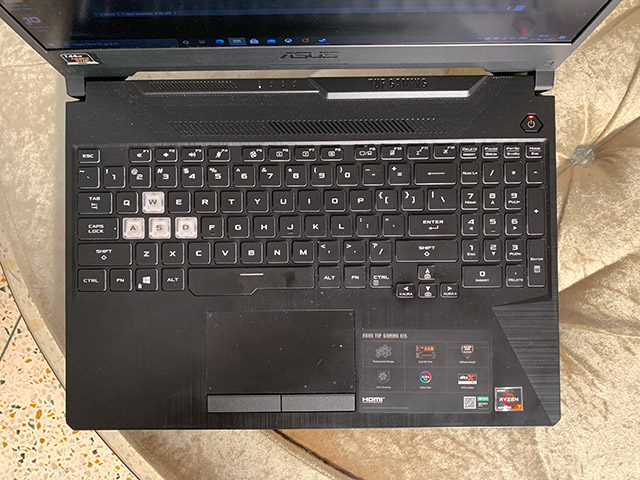 The backlight is pretty good too, it's quite bright, which is great. I really wanted to talk about the slight backlight bleed that happens here, but the WASD keys are completely transparent and most of the time the light coming out from those keys will outshine any backlight bleed you may have noticed. Not sure if that's a good thing or bad, but I personally don't mind it that much.
It's a pretty good keyboard, all things considered. It's good for gaming, it's great for typing and it doesn't have the issues that most laptop keyboards do.
Trackpad
Moving on, the trackpad here is a nice big area where you can use all the gestures Windows affords you. Unlike the FX505DY and DT where the left and right click buttons were integrated with the trackpad, this one has dedicated buttons for those clicks. That means the visible trackpad is all trackpad and not buttons.
It's not the smoothest trackpad I've used, but it's not bad either. I mean, it is a Windows Precision touchpad, so it's obviously not bad, but I feel like it could be slightly more responsive. The trackpads on HP Pavilion x360 laptops are slightly better than this one in my opinion. Still, not a deal breaker by any means. Plus, you'll likely have a mouse connected to the laptop anyway.
Ports, I/O, and Connectivity
I have started to feel as though the TUF Gaming line up is all about what you need and nothing you don't. That holds true for the selection of ports here as well. There is no overload of ports on this laptop, but there are all the ones that you may need or want.
There are 2x USB 3.2 Type-A ports, a USB 2.0 Type-A port, a USB 3.2 Gen2 Type-C port, HDMI port, headphone jack, and an RJ45 ethernet port.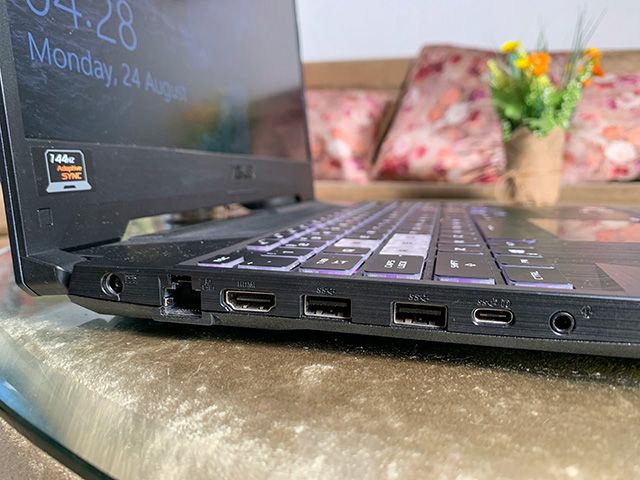 As far as gaming laptops go, that's a great port selection to have. You can connect a mouse, headphones, and even an external monitor if you want. You can use wired internet connections for your multiplayer games, and you have Type-C for expandability as well. The lack of Type-C was a complaint I had with the FX505 last year, and I'm glad to see Asus fixed that this time around.
That said, if you're thinking of using this for creative purposes as well, you should know that there's no SD card reader here. You will have to get a card reader dongle if you're looking to use SD cards with this laptop.
Other than that, the laptop comes with Bluetooth 5.0, which is nice, and WiFi 5 (802.11ac). I wish there was WiFi 6 here, because that would've made it that much more future proof, but for most people 802.11ac is going to be good enough.
Audio
The speakers on the TUF Gaming A15 are great for some things, and not so great for others. Let me get the bad things out first. If you're thinking of listening to music, you should know these speakers won't really offer anything in the way of bass. I would recommend getting external speakers or headphones in order to listen to music.
However, for everything else, these speakers are pretty great. They are loud, and in fact louder than they were on the FX505DT. They don't distort, and they are great for watching movies and TV shows on your laptop. It's a little surprising because these are bottom mounted side-firing speakers, and I was expecting them to sound rather bad. Still, like I said, I watched quite a lot of movies on this laptop and the built in speakers are great for such tasks.
Battery
The TUF Gaming A15 FA566 comes with a 48Wh battery. Same as the FX505DT from last year. However, it does come with more powerful hardware, and somehow still manages a similar battery life. I got around 4 to 5 hours of battery backup from the laptop with usual day to day tasks on around 70% brightness and 'Better Battery' mode.
I didn't try gaming on the laptop without AC power, but that's not something you'll likely be doing either. The point is, if you're thinking of using this laptop as a work and play laptop, you will need to carry your charger to your college, or office.
Pros and Cons
Pros:
Design looks nice
144Hz screen
Good performance
Speaker quality is improved from last year
Cons:
Screen wobbles a lot
Viewing angles aren't the best
Asus TUF Gaming A15 FA566: Should You Buy?
All things considered, should you buy this laptop? I think so, yes. There are a couple of reasons for my recommendation here. For one, at this price of ₹94,990, there aren't many laptops that offer a similar mix of specifications. The TUF Gaming FA566 does almost everything really well, and it checks off quite a lot of things you'd want in a gaming laptop. It looks good, it's built well, it performs great, the keyboard and speakers are decent as well, and it's just an all around nice package.
Plus there aren't a lot of laptops that bring similar specs at a similar price. There's the Nitro 5 from Acer (₹94,990) that brings a 9th Gen Core i5, 1TB SSD, and GTX 1660Ti and a 144Hz screen. However, you only get 8GB RAM here, which means you will have to buy another 8GB stick to get it into dual channel 16GB memory.
There's also the Lenovo Legion Y540 (₹96,990) which also brings similar specs, but is slightly more expensive.
Obviously, the Legion Y540 is also a solid laptop to choose, and so is the Acer Nitro 5. However, the TUF Gaming A15 brings in the latest Ryzen processor, more RAM, plenty of storage, and a decent GPU to boot.
Buy the Asus TUF Gaming A15 (₹94,990)
---
Load More