Asus' TUF Gaming line of gaming laptops have always been a pretty solid deal with great performance. So when the company sent us the TUF Gaming FX505DT with the new Nvidia GTX1650 GPU, I was definitely excited, and why not? The laptop gets a lot of things right, and Asus claims to offer high-end gaming experiences on this laptop, at a relatively affordable price of Rs.81,990. I have been using the TUF Gaming FX505DT for quite some time now, and this is my detailed review of the laptop, so you can make up your mind about whether or not you should buy this, and if you do, what you can expect from it.
Asus TUF Gaming FX505DT Specifications
Display
15.6-inch FullHD Anti-glare display @120Hz
Processor
Ryzen 7 3750H @2.3GHz
Storage
1TB HDD + 256GB PCIe SSD
RAM
8GB
Graphics
Nvidia GeForce GTX1650 GPU with 4GB GDDR5 VRAM
Connectivity
WiFi 802.11ac; Bluetooth 5.0
I/O
2 x USB 3.0 Gen1
1 x USB 2.0
1x HDMI 2.0
1x RJ-45 Jack
1x 3.5mm headphone and microphone combo jack
1x Kensington lock
Battery
48Whr
Price
starts at Rs. 81,990
For Rs. 81,990, the TUF Gaming FX505DT does offer quite a lot of power. There's a Ryzen 7 in there, along with the new Nvidia GTX1650 GPU, and an HDD+SSD storage set up.
Design and Build
The FX505DT comes in a very familiar design, which is fine, since the TUF Gaming line up has always had a decent design language that's neither too out there, nor too shy to show off its beastly side. The outer lid of the laptop has a nice matte finish with an Asus logo in the center which lights up in a soft golden-yellow hue instead of the usual red colors you'd find on other gaming laptops, including the TUF Gaming FX505DY that I reviewed a while back. Personally, I like the combination of black and gold on this laptop.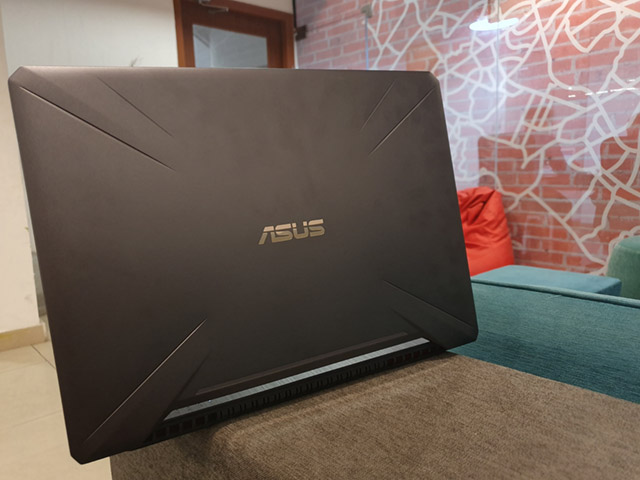 Other than that, the entire outer chassis of the laptop is devoid of any lighting whatsoever, which might be something RGB lovers won't like, but makes the laptop suitable not only as a gaming laptop, but also as a work laptop that you can take into meetings without looking silly.
Once you open the lid up, you're treated to the big, bright, 15.6-inch Full HD display on the laptop, which, as is the case with most gaming laptops these days, has minimal bezels on the top and the sides, and a huge bezel on the bottom with the Asus logo there as well.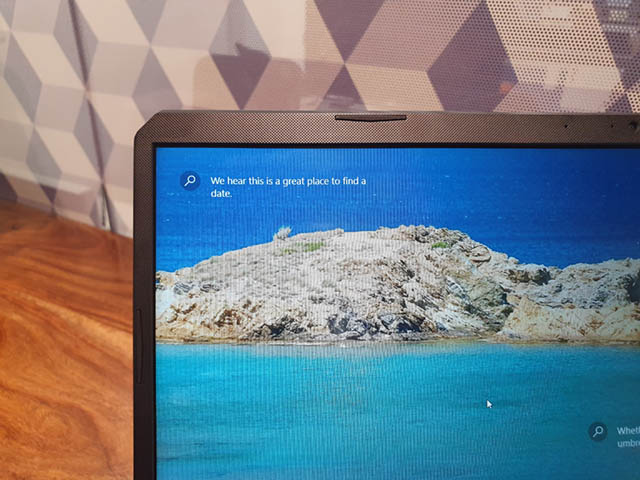 Opening the lid will also throw a huge glow of RGB lighting on your face, thanks to the RGB backlit keyboard, along with the power button on the top right corner, and the trackpad on the bottom. It's a pretty nice keyboard, even though it doesn't feel any different from any other TUF Gaming laptop, and it has transparent WASD keys to make them easily discernible from the rest of the keys.
On the sides you'll find the variety of ports, and the cooling vents with Asus' anti-dust cooling system.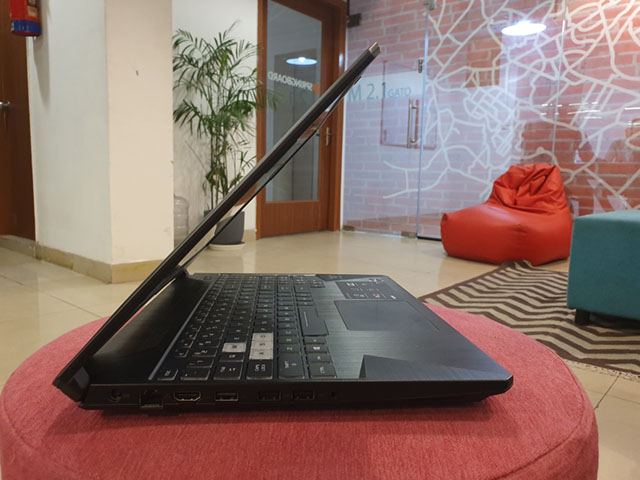 Build wise, the TUF Gaming series is meant to be, well, tough. It's right there in the name, and the TUF Gaming FX505DT conforms to US military grade tests, and can apparently handle drops, high temperatures, humidity, and solar radiation. I obviously didn't test any of these things out, but in my usage of the laptop, I didn't find myself being too careful with how I handled it and it still looks flawless and works perfectly, so I'm sure you don't have anything to worry about.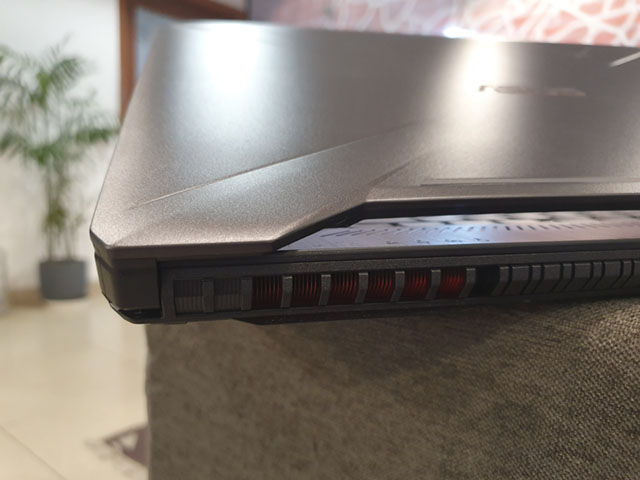 All things considered, the FX505DT is a sturdily built laptop that looks good, and won't be out of place in a gaming room as well as a meeting, which makes it a pretty solid option for people looking for a gaming laptop that can double up as their daily driver.
Display
The TUF Gaming FX505DT comes with a 15.6-inch FullHD IPS display with a refresh rate of 120Hz, and it looks great. Since this is a 120Hz panel, everything on the laptop feels more natural and fluid. Animations look nice and smooth, and playing games like Far Cry 5 is a treat on this laptop.
What's more, the display on this laptop can get pretty bright, and really dim if you want it to, so not only can you use it outdoors or in the presence of lights falling directly on the display (thanks to the anti-glare coating), you can also use it late at night without stressing your eyes out too much.
Media consumption on this laptop is great, thanks to the bright panel, and the awesome color reproduction. Viewing angles are decently good enough as well, but I don't think you'll find yourself in a situation where you have to look at your laptop from a side very often anyway.
Overall, the display on the FX505DT is a really great one. It's not the best at separating shades of black, as I found out while testing the display in the black test, but it's good at gradients, and as far as gaming and everyday use is concerned, the display will not let you down. If anything, games look amazing on this panel.
Performance
With a Ryzen 7, 8GB RAM, and the GTX1650 GPU, the FX505DT brings in pretty solid performance, especially at this price. Having never used a GTX1650 powered gaming laptop before, I wasn't entirely sure what to expect from this one in terms of gaming, but it's safe to say that the FX505DT doesn't disappoint in terms of performance at all.
I tried all the usual things on this laptop, from running synthetic benchmarks like Geekbench, Cinemabench R20, and 3DMark, to playing games like PUBG and Far Cry 5, and the laptop handles everything really well.
Synthetic Benchmarks
In synthetic benchmarks, the laptop scores decently well. Geekbench got a score of 3878 in the single core, and 10550 in the multi-core test, which is good, but I find it slightly weird that thee FX505DY with the Ryzen 5 scored better in thee multi-core test on Geekbench when I reviewed it… not by a lot, but better for sure.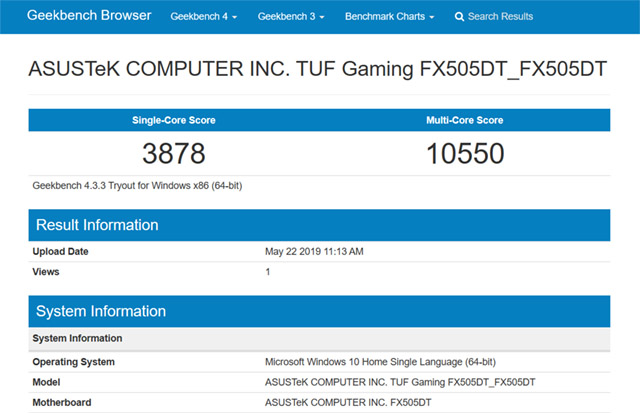 Anyway, in 3DMark, the FX505DT scores 3363 in the Time Spy test, which is ridiculously higher than the score I got on the FX505DY with the AMD RX560X GPU. The laptop also scored 1640cb in Cinebench R20 which is a pretty solid score for a laptop in this price range.
So yeah, as far as synthetic benchmarks are concerned, the FX505DT looks like a pretty solid laptop, but what about real world performance?
Real World Performance
In regular day to day tasks, the FX505DT didn't even break a sweat, and that's not really a big deal since my usual workflow includes some Chrome tabs with wordpress and news sources, a Photoshop session, and maybe a couple of tabs with YouTube and Spotify open in them, and that's about it. Clearly, that's not nearly heavy enough of a workload to make any difference to this laptop.
However, in gaming too, the FX505DT runs really well. In PUBG, the game defaulted to basically High settings, with just Shadows set to Medium and I was consistently getting frame rates over 70FPS which is awesome.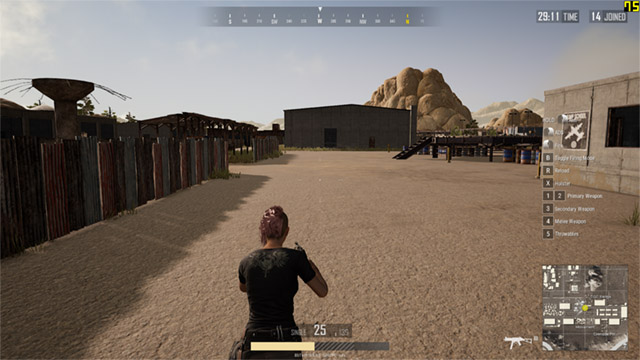 With everything set to High, PUBG ran smoothly over 70FPS at all times, and when there wasn't a lot happening around me, the frame rate jumped as high as 90. Sure, you could set the graphics to Medium or Low and get slightly better frame rates, but 70+ FPS is perfect, and I didn't find the need to set a lower graphics quality in the game.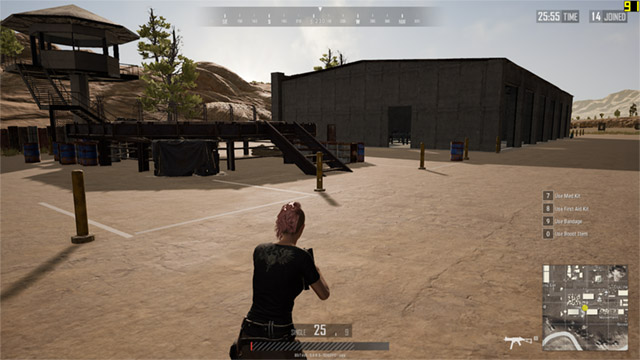 Far Cry 5 did a weird thing where it chose the integrated AMD GPU by default and ran at, like 12FPS in low settings, but change that to the Nvidia GPU inside this laptop, and it can run Far Cry 5 decently as well. Far Cry 5 is a very heavy game, though, and at Ultra settings, I got an average frame rate of 44FPS. That's not too shabby, but the frame rates dropped as low as 23FPS sometimes, and that can be really annoying.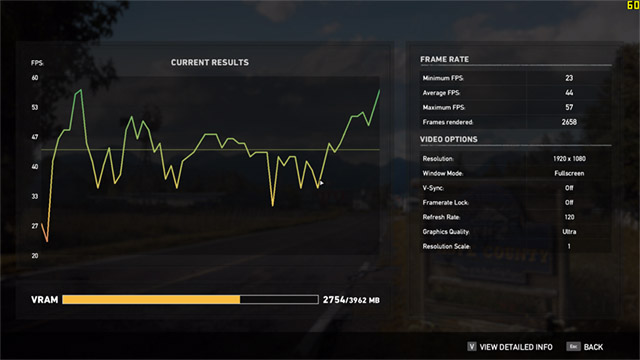 In High settings on Far Cry 5, I got an average frame rate of 47FPS, with the frame rates dropping as low as 35FPS and going as high as 59FPS.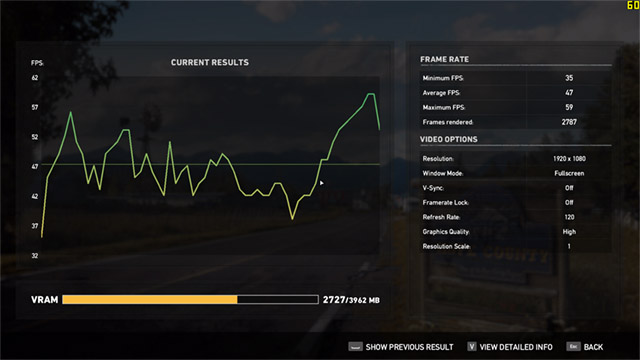 That's decent enough, but personally, I think playing the game on Normal will be the best bet for this laptop. At those settings, I got an average frame rate of 50FPS, with a high of 62FPS and a low of 38FPS.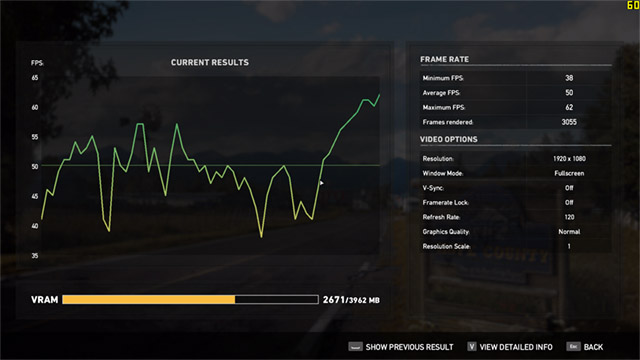 So yeah, performance wise, the FX505DT is a solid laptop, but it does struggle a bit with heavy games like Far Cry 5. Don't get me wrong, Far Cry 5 is completely playable on this laptop, especially if you're good with choosing 'Normal' graphics settings in the game, but if you're thinking of a laptop that can run Far Cry 5 buttery smooth on High or Ultra, this is not it.
I/O and Ports
In terms of ports and I/O, the FX505DT brings all the ports you may need, and nothing extra. There are 2x USB 3 ports, 1x USB 2 port, an HDMI 2.0 port, an RJ-45 ethernet port, and a 3.5mm headphone and mic combo. That's a pretty decent selection of ports, and I honestly don't think a lot more than this is truly needed on a laptop, but the lack of a USB Type-C or Thunderbolt 3 port does make this laptop slightly less future proof than something more expensive that you could buy.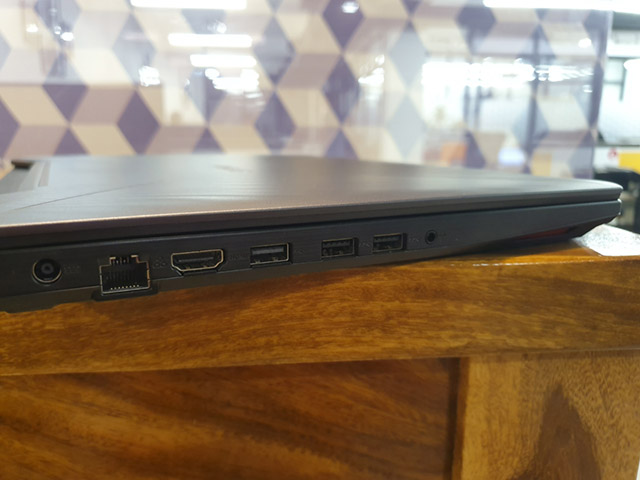 In terms of connectivity though, the FX505DT is on-par with current standards. There's support for WiFi b/g/n/ac (which means you can connect to both 2.4GHz and 5GHz networks on this) and the laptop also comes with Bluetooth 5.0, so you get better Bluetooth connectivity, including lower latency, and a higher range when using Bluetooth accessories with the laptop.
Keyboard
The Asus TUF Gaming FX505DT comes with what Asus calls the 'HyperStrike Gaming Keyboard.' Now, I'm not too certain about the HyperStrike thing here, but I have absolutely no complaints with the keyboard on this laptop. The keys have ample travel, and still actuate at a nice distance to make typing or even long gaming sessions comfortable on the laptop, the slight curve on the keycaps makes it easier to discern between keys while typing or playing games without having to actually look at the keyboard.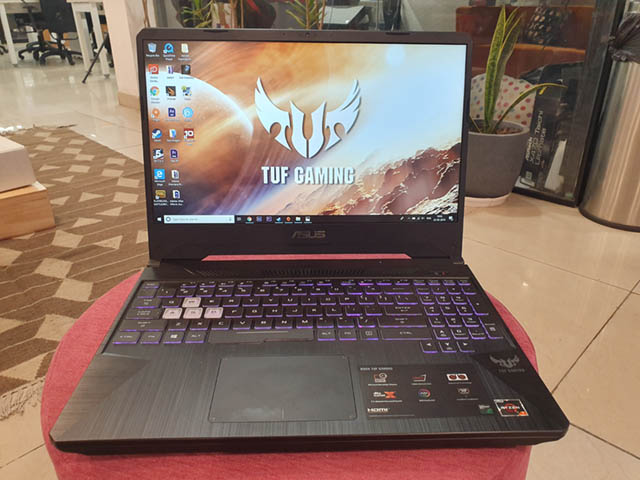 Another thing I really appreciate on this keyboard is the full sized arrow-key layout, which is such a treat to use instead of the cramped layout a lot of laptop makers are now going with.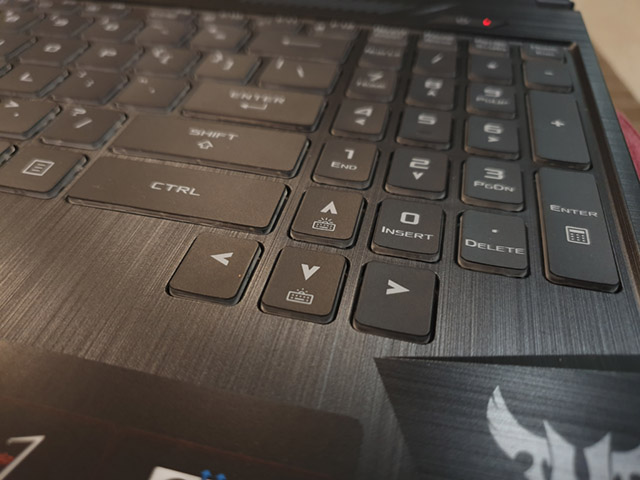 Typing on this laptop is a great experience, and even while typing for hours on end, I didn't feel fatigued thanks to the nice responsive keys here, and the fact that I didn't need to press them too hard to get them to actuate.
Asus has rated this keyboard for 20 million keypresses, which, well, I'm not counting my keystrokes on this laptop, but that's definitely a lot, and this keyboard somehow instills me with a confidence that it won't just break on me — that's something Asus' TUF Gaming laptops probably have in common, since my experience with the FX505DY was similar as far as the keyboard was concerned; including things like the extended spacebar that makes it easier to press in the middle of an intense game, and the fact that this is a full sized keyboard, complete with a numpad that I never used, but FIFA players will definitely appreciate.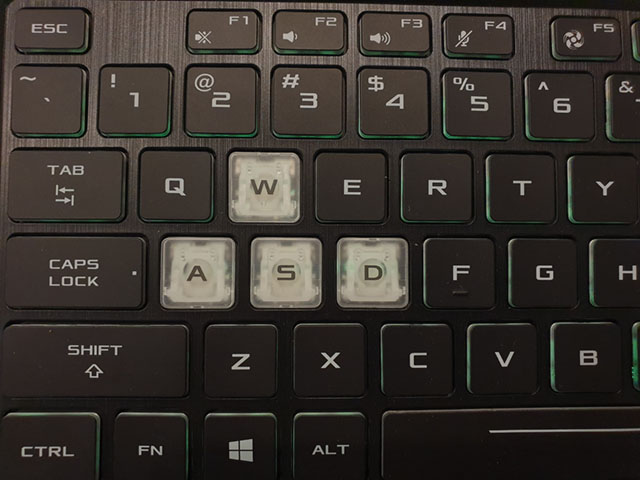 It's a great keyboard, and I don't see any reason to not like this, whether it's for typing, or for playing games — the FX505DT's keyboard is amazing.
Trackpad
The FX505DT features a trackpad design that will be remarkably familiar to anyone who has used or seen a TUF Gaming laptop before. In fact, it's basically the same trackpad — not that that's a bad thing.
The trackpad here is not too big, but it's not small either, but if you're used to using laptops with bigger trackpads, like I am with my MacBook Pro, this might feel slightly cramped. In all fairness though, this is one of the bigger trackpads you'd find on Windows laptops, especially in this price range, so I'm not really going to dock points by claiming that the trackpad here is small. It's actually pretty nice.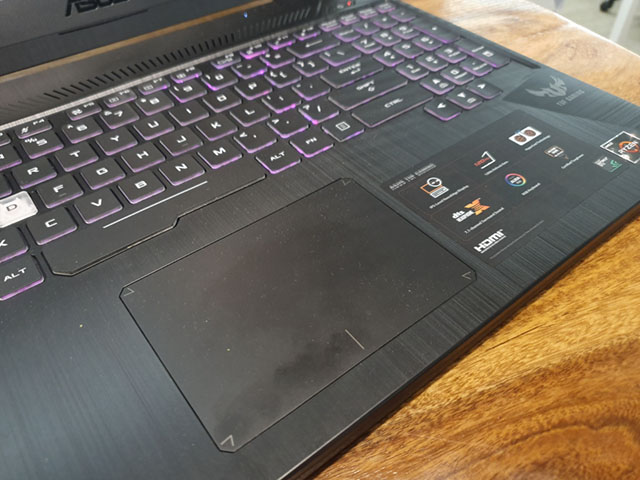 I did have to get used to the trackpad, but it works really well, and while clicking on this trackpad isn't as nice a feeling as it is on something like the HP Spectre, it's not bad either. If anything, it's better than most laptops in the price bracket.
All that said, as gamers, I'm fairly confident you'll be connecting a mouse to this laptop anyway, but for usual day to day usage, this trackpad will definitely suffice.
Audio
I know what you're thinking: you'll be wearing headphones most of the time when you're gaming, but that's not all you'd do on your laptop, is it? If you're watching a movie, or bingeing on a TV show, chances are you'll rely on the built-in speakers on your laptop.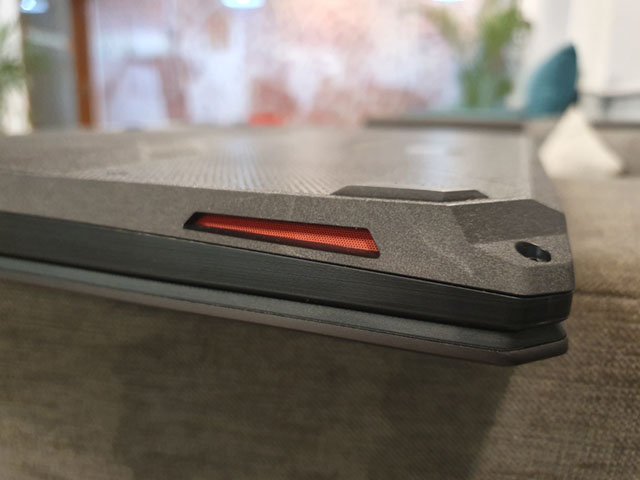 Fortunately, you can rely on the speakers on the FX505DT. They can get decently loud, and they don't distort at maximum volumes, and while the bass isn't all that great (were you really expecting that?), the overall sound quality of the speakers here is solid, and I didn't find myself looking for a Bluetooth speaker every time I wanted to watch something on the laptop, which is awesome.
Battery
The FX505DT comes with the same 3-cell 48Whr as the FX505DY I reviewed earlier, and it performs pretty much the same way. The laptop lasts around 4.5 to 5 hours on regular usage, which is actually pretty great for a gaming laptop, and is also very similar to the battery life you'd find on other TUF Gaming laptops. Still, if you're planning on using this laptop as a regular work machine as well, you'll need to carry your charger along everyday.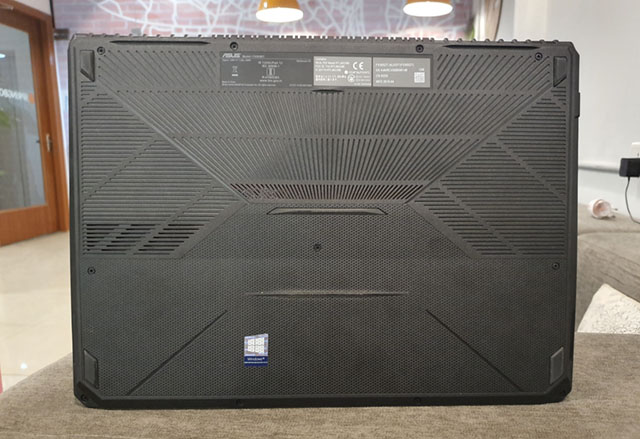 For gaming, however, I don't think the battery life needs to be a consideration, since you'll not be playing games without the charger plugged in anyway, so this part shouldn't be that big a deal for you.
Pros and Cons
At Rs. 81,990, the FX505DT seems like a pretty solid laptop, but as it is with everything, there are two sides to this proverbial coin as well. So let's summarise those.
Pros:
Solid build and design
120Hz display
Good performance
Great keyboard
Cons:
No Thunderbolt 3, or USB-C ports
8GB RAM might not be enough
Asus TUF Gaming FX505DT: A Gaming Laptop Worth Checking Out
All things considered, the FX505DT is a gaming laptop that worth checking out. It brings a lot to the table. There's a good processor in the Ryzen 7, a solid GPU in the GTX1650, a great keyboard, design that's subtle but not too much so, and a solid build. Sure the selection of ports might feel slightly constricting to some, but it's not a deal breaker for sure. However, if you're looking for other options, there are laptops you can check out. Personally, I'd suggest you take a look at the MSI GF63 (Rs. 82,990), which also brings the same GTX1650 GPU, but comes with a Core i7 processor, a 512GB SSD, and even a USB-C port for just Rs. 1,000 extra.
However, if you're looking for a gaming laptop that's built to be tough and can run games well, the TUF Gaming FX505DT is definitely worth checking out once it launches in the next week or so.
Buy the Asus FX505DT (Rs. 81,990; Coming Soon)
REVIEW OVERVIEW

I/O Ports and Connectivity

7.5

SUMMARY

The Asus TUF Gaming FX505DT is a Ryzen 7 powered gaming laptop that comes with Nvidia's GTX1650 GPU. It packs in good specs, and great performance at a pretty affordable price point. If you are looking for a great gaming laptop on a budget, the TUF Gaming FX505DT is one you should definitely consider.