If you're in the market for a gaming laptop, you've probably come across beasts like the Alienwares, and the ROG Strix series of laptops for heavy-duty gaming. However, if you're looking for a gaming laptop that doesn't break the bank and still packs in quite the punch, the Asus TUF Gaming series might be something you'd be interested in. Case in point, the Asus FX505DY gaming laptop that comes in at a starting price of Rs. 59,990 and brings pretty great value for money, along with performance that you wouldn't be disappointed with. Asus was kind enough to send us a review sample of the laptop, and I've been using it for some time now. So this is our review of the Asus TUF Gaming FX505DY laptop:
Asus TUF Gaming FX505DY: Specs
Let's kick things off with the spec-sheet for this laptop. The FX505DY is a budget gaming laptop, and the specs here reflect the obvious in that statement. There's no high-end over the top features here, like the ones you'd find on expensive laptops, but the FX505DY packs in great hardware nonetheless. Here's everything you'll find under the chassis of this laptop.
Display
15.6-inch FullHD IPS LCD 60Hz Anti-Glare Panel
Processor
AMD Ryzen 5 3550H at 2.1GHz, up to 3.7GHz
Storage
1TB SSHD
RAM
8GB DDR4 2400MHz
Graphics
AMD RX560X GPU with 4GB GDDR5 VRAM
Connectivity
Integrated Wi-Fi 5 (802.11 ac); Bluetooth 4.2
I/O
1 x COMBO audio jack
1 x Type-A USB2.0
2 x Type-A USB 3.1 (Gen 1)
1 x RJ45 LAN jack for LAN insert
1 x HDMI, HDMI support 2.0
Battery
48Wh
Price
starts at Rs. 59,990
Asus TUF Gaming FX505DY: Design and Build
As far as the design and build of this laptop are concerned, the FX505DY screams Asus TUF Gaming in every sense of the word. It's a design that has been consistently featured across the TUF Gaming line-up of laptops from the company, and that's perfectly fine. I like how these laptops look like gaming laptops, but they don't scream it out to the world. So you can use this laptop at work, without looking out of place, and you can game on it with just as much ease.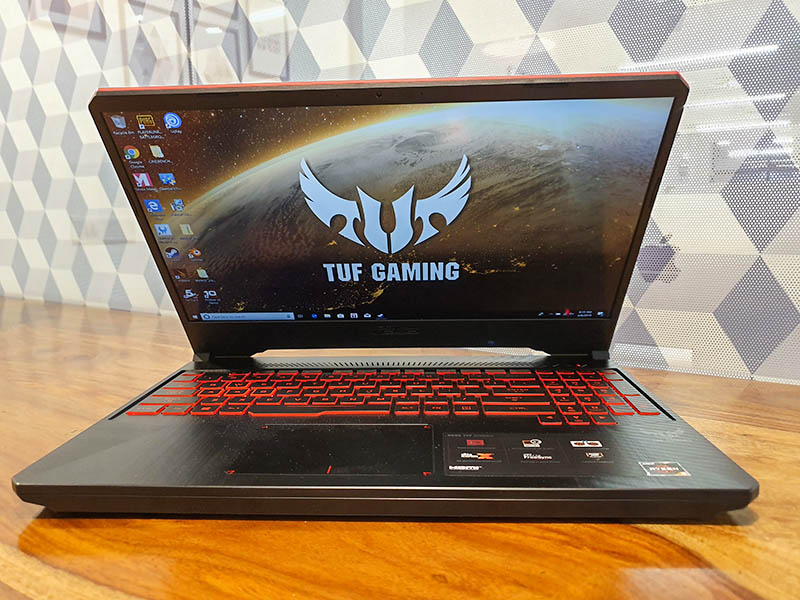 The lid features the same TUF Gaming design, with the Asus logo in blazing-red. It doesn't light up though, like it did on the Asus FX504 gaming laptop we reviewed last year. Asus has opted for a stealthy black color on the lid here and that color scheme goes on all over the laptop, with splashes of red thrown in here and there, adding on to the overall appeal of this design.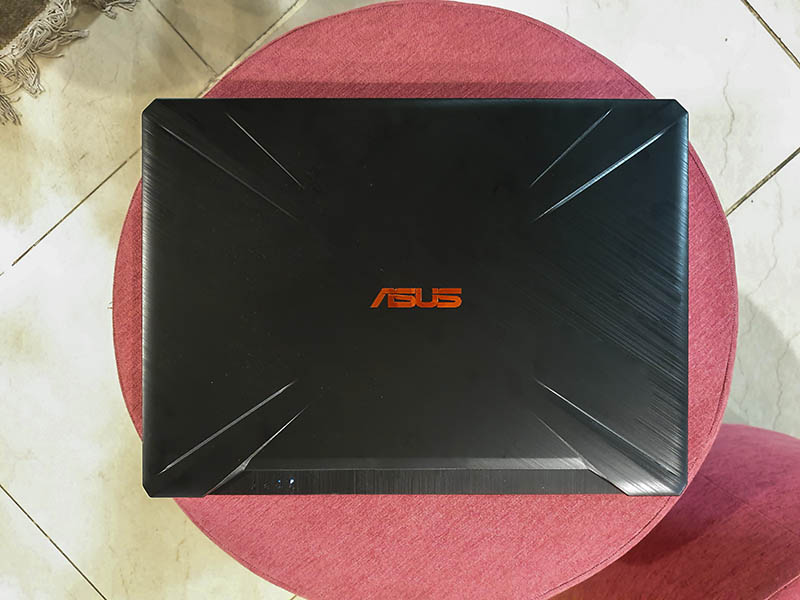 Once you open the lid, the display stares right at you, with a gorgeous bezel-less design all around, except for the massive chin with the Asus logo again, and it's kind of an eyesore, but you get used to it over time. There's the keyboard, with a red backlight, and a power button that's placed on the top right of the base. As I've observed with almost every TUF Gaming laptop I've ever laid hands on, this one too, has a lot of flex in the display. I'm not sure why that is, but it's probably because it's made of plastic. Flexing the display makes the panel change colors and it's kind of scary, so don't do that to your laptop.
Asus TUF Gaming FX505DY: Display
Asus' TUF Gaming laptops have always had displays that look pretty great, and the FX505DY is no exception. The laptop packs in a 15.6-inch Full HD IPS LCD panel, with a standard 60Hz refresh rate. So yeah, it's not one of those 120Hz, or 144Hz panels that you might find in more expensive laptops, but this isn't trying to be an expensive laptop anyway, and for the most part, this display won't leave you wanting.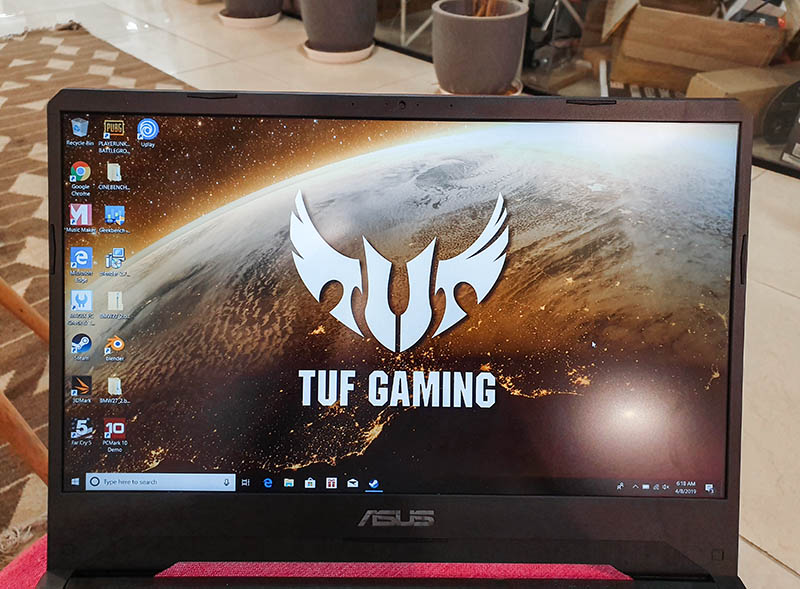 It gets pretty bright, and even though it's not as bright as some other laptops out there, it comes with an anti-glare coating, so even if you're gaming in a situation with lights behind you, you shouldn't have a lot of issues with this panel.
Media consumption on this is a nice experience too, the display isn't the best when it comes to separating shades of blacks, so if you find yourself watching a lot of horror movies, or superhero movies with dark settings, you might have to squint at times to figure out just what is happening there.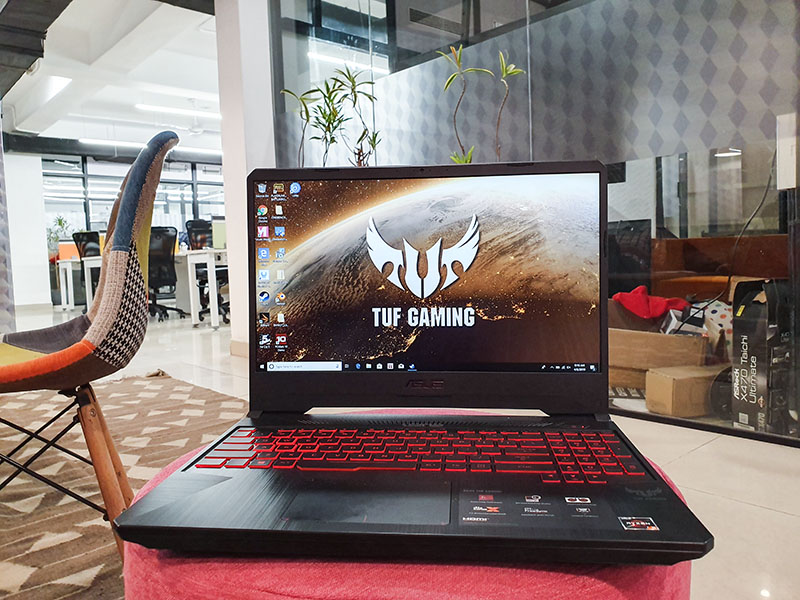 That said, it's a gaming laptop and games look perfectly fine on this panel, so I'm not really complaining about the black separation. The good thing is when I tested gradients on this display, there's no visible banding, which is great.
Asus TUF Gaming FX505DY: Performance
Since this is a gaming laptop, let's move on to one of the most important aspects of it — the performance. The TUF Gaming FX505DY comes with the Ryzen 5 3550H APU with an integrated Radeon Vega 8 GPU and a dedicated Radeon RX560 GPU as well. There's also 8GB of RAM here, and with specs like that, the laptop performs exactly the way you'd expect it to.
In synthetic benchmarks, the laptop scores decently well enough considering its price. Geekbench shows the Ryzen 5 scoring 3,692 in the single-core test and 10,653 in the multi-core test, which is pretty nice.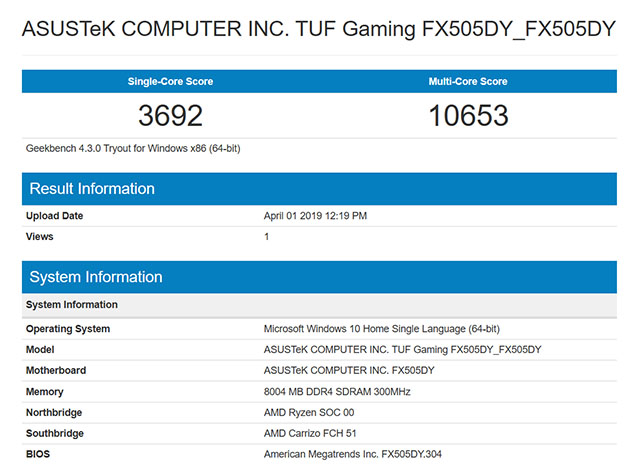 The FX505DY also performs decently well in other benchmarks, scoring 80.26 in the Cinebench R15's OpenGL test, 751cb in the Cinebench R15 CPU test, 1911 in 3DMark Time Spy, and 3,516 in PCMark 10.
While all that is great, none of it really means much unless the laptop can actually handle games well enough too. So naturally, I tried playing a bunch of games on this laptop, including Far Cry 5 and PUBG and the laptop performs pretty well in both the games.
In Far Cry 5, with graphics set to Ultra, the laptop manages to stay above 30FPS, getting an average FPS value of 32 and a maximum of 40. Switching graphics to Normal pushed the average to 47FPS, while the maximum went up to 46FPS. While both of those FPS values are playable for sure, I'd recommend sticking to Low here, which will get you an average frame rate of 42FPS, and a maximum of 51. I played a few hours of Far Cry 5 at low settings, and this game has such beautiful graphics, it looks stunning even on low settings.
I also played PUBG on the FX505DY, and the game worked perfectly fine, albeit on low and medium settings. In low settings on 1080p, the game easily got over 60FPS at all times, and switching to Medium on 720p, the game still managed over 50FPS easily. However, do note that you'll have to install the Radeon software for the RX560X and set PUBG to High Performance otherwise it won't even be playable.
Asus TUF Gaming FX505DY: I/O and Ports
The FX505DY also offers a pretty wide-ranging selection of ports that you can use. The laptop comes with a USB2.0 Type-A port, 2x USB 3.1 Type-A ports, an RJ45 ethernet port for the times when you need a more stable connection for multiplayer games or for LAN parties, 1x HDMI 2.0 port, and a 3.5mm combo jack so you can connect your gaming headset to it.
These ports should suffice you for your everyday gaming needs, and I don't think you'll run into a lack of ports on this laptop. Still, I would've liked a USB Type-C port on the laptop for some semblance of future-proofing at least.
In terms of connectivity as well, the FX505DY has you covered. It comes with support for WiFi 802.11ac, which means it can connect to both 2.4GHz and 5GHz WiFi networks, and there's Bluetooth 4.2 on board here. Yeah, it's not Bluetooth 5.0, but most gaming laptops in this price range don't have that, so it's not like the FX505DY falls behind in any way.
Asus TUF Gaming FX505DY: Keyboard
Moving on to the keyboard, the laptop comes with a full-sized keyboard complete with a number pad — personally, I don't find the need for a numpad much, but if you're playing games like FIFA where the numpad is used for trick moves, or any other game that needs a numpad for additional moves and stuff, this is definitely a great addition to have.
The keyboard follows the same design as you'd find in every other TUF Gaming laptop out there, and that's perfectly fine. There's ample travel, so typing on this keyboard is pretty great, and not tiring at all, and even though this is a chiclet keyboard, it's pretty great to type on, or for playing games for extended periods of time.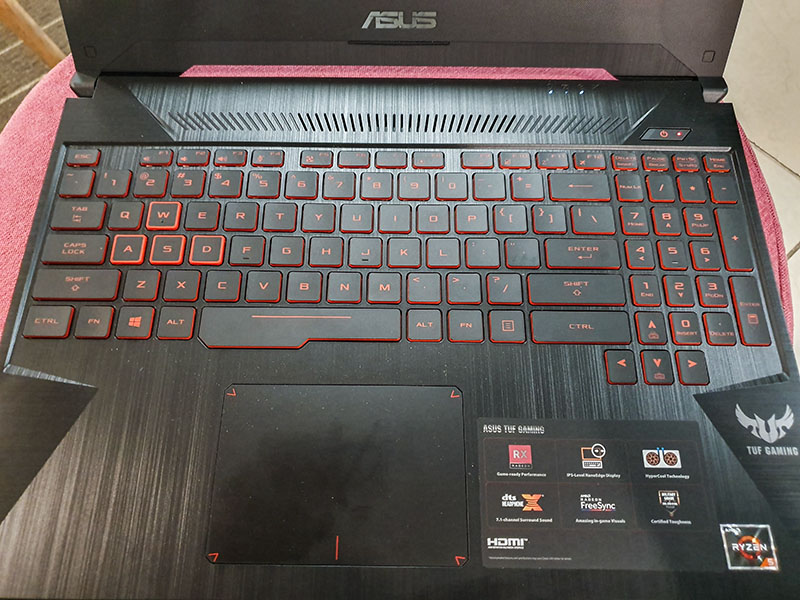 Asus has, thankfully, still kept the slightly curved keycap design on this keyboard, and that's something I really appreciate especially when I'm in the middle of a gunfight and can't really spend time looking at the keyboard trying to figure out where keys end and where to press. It's also great for typing faster, which is something I really like doing, so that's an added bonus.
Asus rates the keyboard for 20 million keypresses, and the design of this keyboard is pretty nice anyway. For one, the space bar features a little extrusion at the bottom which makes it easier to hit when you're trying to jump in the middle of an intense game. An extended spacebar makes false hits a lot less common and I love it. Plus, there's the arrow key layout. Instead of going for a condensed arrow key set up on the laptop, Asus has blessed us with a full sized arrow key layout on the FX505DY. That means you'll spend less time making sure you're hitting the correct arrow keys, and more time immersed in the game you're playing.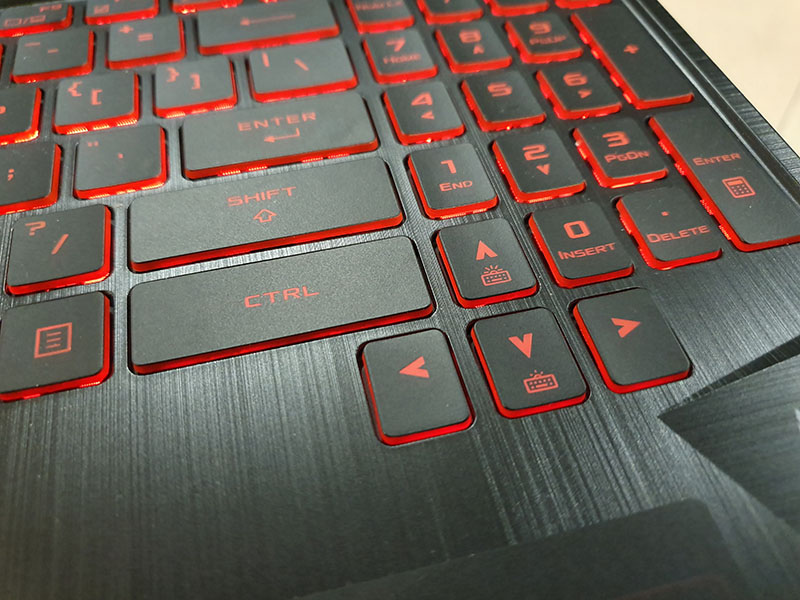 Asus TUF Gaming FX505DY: Trackpad
The FX505DY also features a typically 'TUF Gaming' trackpad design. It's not too big, but it's not small either, and it comes with cut-out corners so it's not really a rectangle in shape. It doesn't, however, mess up at all, and even though I'm used to the massive trackpad on my MacBook Pro, I didn't find the trackpad here annoying at all.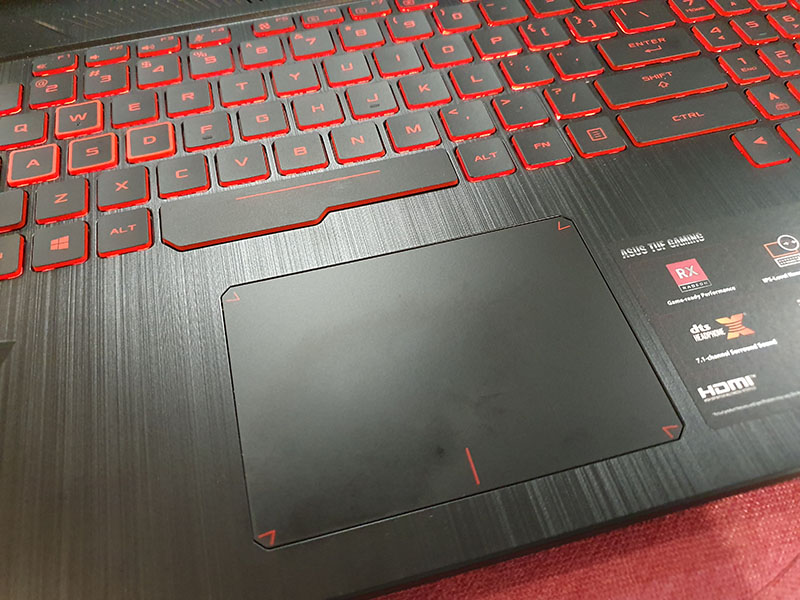 Sure, the clicks aren't as accurate or easy to make as they are on more expensive laptops, but they're not annoying either, which is a common issue I've faced with budget gaming laptops. There's also a handy demarcation on the bottom of the trackpad to separate the left click from the right, and that comes in pretty handy a lot of times.
There's really not a lot to talk about in the trackpad here, it's a pretty standard trackpad with a slightly more 'gaming' design aesthetic to it. But it works fine, and that's what really matters. It's not like you'll be gaming without a mouse attached to the laptop anyway.
Asus TUF Gaming FX505DY: Battery
The Asus TUF Gaming FX505DY comes with the same 3-cell 48Whr battery we saw in last year's FX504 gaming laptop from Asus, and the battery life is pretty much the same as well. The laptop lasts around 5 hours with the "best battery life" setting selected, and that's quite alright, at least to me. Gaming laptops don't really last as long as ultrabooks do, and you shouldn't be expecting them to, anyway.
As far as gaming is concerned, I'm pretty sure you won't be gaming without connecting the charger to your laptop, so it shouldn't be a problem. Still, with the "best performance" setting selected, the laptop does manage to churn out around 3 hours of battery life (while running no games).
Pros and Cons:
While the FX505DY is a pretty great budget gaming laptop, it does come with its own set of pros and cons. Let me take you through them:
Pros:
Great build and design
Solid display quality and good viewing angles
Priced pretty well
Comfortable keyboard
Cons:
No USB-C or Thunderbolt 3 ports
Screen has considerable flex
8GB RAM might not be enough for every one
Asus TUF Gaming FX505DY Gaming Laptop Review: A Good Budget Laptop
All in all, the TUF Gaming FX505DY is a pretty great gaming laptop on a budget, as it brings a pretty great display, Asus' tried and tested TUF Gaming design aesthetics, decent performance for its price, and a bunch of ports that should suffice most of your needs. Plus it's priced pretty well at Rs. 59,990. However, if AMD powered laptops are not your jam, there are others you can consider in this price range, like the Asus TUF Gaming FX504 that comes in at Rs. 60,990 and brings the 8th-gen Intel Core i5, 8GB RAM, and GTX 1050 GPU. You can also check out the MSI GF63 (Rs. 64,990). That said, the FX505DY is definitely a laptop worthy of consideration, and right now it's available for an even lower price of Rs. 49,990 on Amazon which basically makes it a steal deal, so check it out.
Buy the Asus TUF Gaming FX505DY Gaming Laptop from Amazon (Rs. 59,990; currently available for Rs. 49,990)
REVIEW OVERVIEW

I/O Ports and Connectivity

7.5

SUMMARY

The Asus TUF Gaming FX505DY is a budget gaming laptop for the AMD enthusiast who swears by everything AMD. There's a Ryzen 5 3550H, paired with AMD's RX560X GPU, 8GB of RAM, and 1TB of SSHD storage. Priced at Rs. 59,990, the FX505DY is competing directly against every other Intel-powered budget laptop out there, and performs almost just as well. If you're looking for a budget gaming laptop that's usually priced at a steal, the FX505DY is one you should check out.