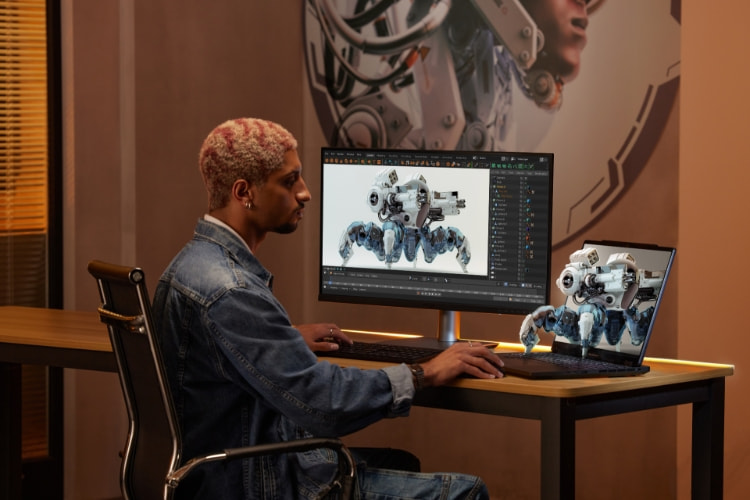 At CES 2023, Asus unveiled an array of innovations including a glasses-free 3D OLED display technology that is going to change how we consume content. It has also launched laptops equipped with glasses-free 3D display tech and several other high-end devices for creators and power users. Read on, to learn more about the technology.
Asus' Glasses-Free 3D OLED Display Tech Announced
Asus introduced Spatial Vision at CES 2023, which includes glasses-free 3D OLED technology. It allows you to enjoy immersive 3D content on a laptop without having to use any wearables. How incredible is that? Asus is using a lenticular lens and advanced eye-tracking camera technology to project distinct images for each eye. It results in an autostereoscopic 3D image to the viewer and gives a 3D-like experience without using 3D glass or any wearable.
This can help creators to view objects in 3D and will save time and money. In addition, the OLED display has a contrast ratio of 1,000,000:1 and a response time of 0.2ms. On top of that, the display supports a refresh rate of 120Hz. So from an OLED display to a high refresh rate panel and 3D experience without using any physical wearable, Asus has brought future innovation to the masses.
3D OLED Workstations for Creators
Asus has launched two laptops with the glasses-gree 3D OLED display technology. The Asus ProArt Studiobook 16 3D OLED (H7604) is one of the remarkable workstations for creators. It comes with a glasses-free 3.2K 120Hz 3D OLED display, which creators and gamers can use to view 3D photos and videos, and even enjoy playing games. On the inside, it features Intel's 13th Gen i9-13980HX processor along with Nvidia's RTX 40 series laptop GPU.
In addition, Asus has introduced the Vivobook Pro 16X 3D OLED (K6604) laptop with the same glasses-free 3D technology. It packs a 3.2K 120Hz 3D OLED display and comes with a 13th Gen Intel Core i9-13980HX processor. For unparalleled graphics, the laptop is powered by Nvidia's GeForce RTX 40 series laptop GPU.
New Zenbooks, ProArt Stations, ExpertBooks, and More
Asus has also launched a great number of laptops at CES 2023 for various categories. There is the Asus Zenbook Pro 16X OLED, which is powered by Intel 13th Gen i9-13905H processor along with the Nvidia GeForce RTX 40 Series Laptop GPU. Then there is the Asus Zenbook Pro 14 OLED for performance and portability. And if you want a laptop that runs faster but stays cooler, you can check out the Asus ProArt Station PD5.
For professional artists who want a wide canvas, the Asus ProArt Display OLED and the ProArt Display PA279CRV are great picks. As for executives who want an ultrabook, the Asus ExpertBook B9 OLED will satisfy all your needs.
Additionally, Asus has launched a Chromebook and Chromebox which include Vibe CX34 Flip and Asus Chromebox 5. For gamers, you can take a look at Asus TUF Gaming A16 Advantage Edition and Asus TUF Gaming F15/17 and A15/17. which are powered by Ryzen 9 Zen 4 CPU, AMD's RDNA3 GPU, and Nvidia's RTX 40 Series Laptop GPU.
---