Right after HP entered the Indian market with new Chromebooks, Asus also launched a series of Chromebooks in India at very competitive prices. Asus Chromebook C223 is one of the entry-level Chromebooks in this lineup, and it starts at just Rs. 17,999. The Chromebook is aimed at students who want to attend online classes, browse the web, and more. Now, I have been using this laptop as my daily driver for two weeks and will take you through my extensive review of the Asus Chromebook C223. We will also see whether it can hold up against a Windows laptop in a similar price range. On that note, let's go through the Asus Chromebook C223 review in detail.
Asus Chromebook C223 Review (2021)
We have enlisted all the segments that we have covered for the Asus Chromebook C223 review. You can expand the table below and jump to a particular section to quickly read about the performance, battery life, and other details.
Asus Chromebook C223: Specifications
Before I share my opinions on this laptop, let's take a quick look at the specifications of the Asus Chromebook C223:
Dimensions
28.60 x 19.90 x 1.73 cm
Weight
1kg
Display
11.6-inch HD panel
Touchscreen
No
Processor
Dual-core Intel Celeron N3350
Graphics
Intel HD Graphics 500
RAM
4GB LPDDR4
Internal Storage
32GB eMMC
microSD Card Slot
Yes, Expandable up to 2TB
Ports and I/O
1x USB 3.2 Gen 1 Type-A
2x USB 3.2 Gen 1 Type-C
1x microSD Card Slot
1x Headphone/Mic Combo
Webcam
Yes, 720p
Connectivity
Wi-Fi 5; Bluetooth 4.0
Battery
4800mAh, Up to 10 hours
Charging
45W Type-C Charger
Design and Build
Beginning with the design of the Asus Chromebook C223, the laptop is lightweight, sturdy, and decently built. As it weighs only 1kg, the Chromebook is highly portable, and you can use it anywhere you want. It also gives an impression of a notebook due to its smaller footprint. It scales to 28.60 x 19.90 cm, and the display size is 11.6-inch, which makes it a great proposition for students and the elderly, who are looking for a compact and easy-to-use laptop.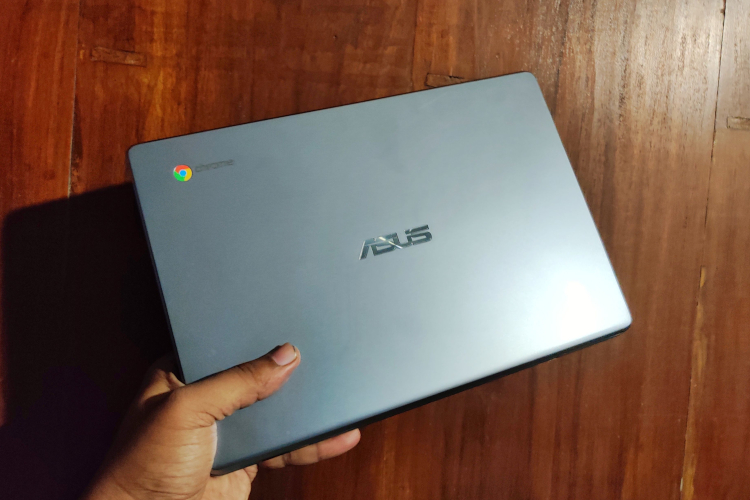 Coming to the build quality, Chromebook C223 has a complete plastic body, but it does not feel cheap. The Chromebook feels sturdy to use, and the ports are laid out properly. For Rs. 17,999, you can't expect premium material and top-notch craftsmanship, but Asus Chromebook 223 does not disappoint with its plastic body. Yeah, the bezels around the screen are simply massive for a laptop releasing in 2021, and the screen-to-body ratio is merely 74%. But, it's no big deal.
Premium materials and a bezel-less screen experience are a tall order at Chromebook C223's sub-Rs. 20,000 price mark.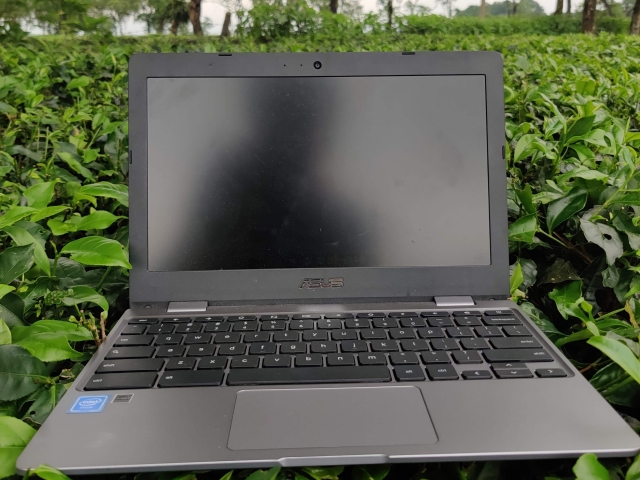 Keep in mind the Asus Chromebook C223 does not have a convertible body and packs a non-touchscreen display. So basically, you can't use this Chromebook in tablet mode. It's an entry-level Chromebook with a justifiable build quality for the price.
Display
The Asus Chromebook C223 comes with an 11.6-inch anti-glare backlit LED panel and has a resolution of 1366 x 768 (HD). It has a 16:9 aspect ratio, which is in line with the traditional laptop form-factor. And as I have mentioned before, this Chromebook does not have a touchscreen panel.
Talking about the display quality, I think it's decent at best. The display has this slight bluish tinge that makes all the content on the screen look cooler. By the way, you can turn on Night Light to change the color tone and make the screen warmer. That means we don't suggest you do any color-sensitive work on this display.
The viewing angles are not good, though, and you won't be able to see anything clearly on the screen at an off-angle. That would make watching your favorite Netflix movies and TV shows with friends and family on the Chromebook C223 less enjoyable.
Apart from that, the display is not super sharp, and if you pixel-peep, you can actually see the pixels here. Having said that, given the price, we can't complain much about the quality of the panel. What I particularly like about the display, though, is the higher level of brightness. Asus claims that the panel can go up to 200 nits of brightness. And well, in my experience, it was indeed true. The display is super bright, and you can comfortably use the Chromebook C223 outdoors.
Performance
Coming to the most important part, and that is, how well does the Asus Chromebook C223 fare in the performance department? This Chromebook packs a Dual-core Intel Celeron N3350 processor clocked at 1.1GHz with Turbo Boost up to 2.4GHz. It is coupled with 4GB RAM and 32GB built-in storage onboard.
In my experience, the Asus Chromebook C223 performed superbly well – better than my initial expectations. I played YouTube videos at 1080p with Twitter, Play Store, and Telegram (Android app), all active at the same time. I even had 4-5 other tabs open in Chrome in the background at times, and the device did not stutter or slow down. I used Chrome OS gestures to move between apps and tabs, and the laptop smoothly handled all my actions with ease.
I also loaded multiple heavy web pages and used Android apps simultaneously, and the Chromebook kept everything in memory, which is pretty impressive given it has only 4GB of RAM. That said, at times, the Chromebook did freeze while using the Telegram Android app and using a couple of Chrome tabs simultaneously. However, the issue did not pop up while using Telegram on the browser.
Apart from that, an interesting result came up when I compared the N3350-powered Chromebook against my 6th-Gen i5-based Windows laptop in the browser benchmark test. I ran the Speedometer 2.0 test on the Asus Chromebook C223, and it scored 24.1, whereas the Windows laptop scored 31.3. Yeah, the Windows laptop did slightly better, but it's a marginal difference of 7 points. It shows that even with an aging Celeron CPU under the hood, Chrome OS works as well as an i5-running Windows laptop.
As for gaming, Asus Chromebook C223 is not meant for it. I tried installing a couple of intensive Android games, such as BGMI and Asphalt 9. But they stuttered a lot and took endless time to load the game, partly due to the x86 Intel processor. When cloud gaming becomes a reality in India with the arrival of Google Stadia, Nvidia GeForce Now, or Xbox Cloud Gaming, you might be able to play intensive games on a low-powered Chromebook like this one.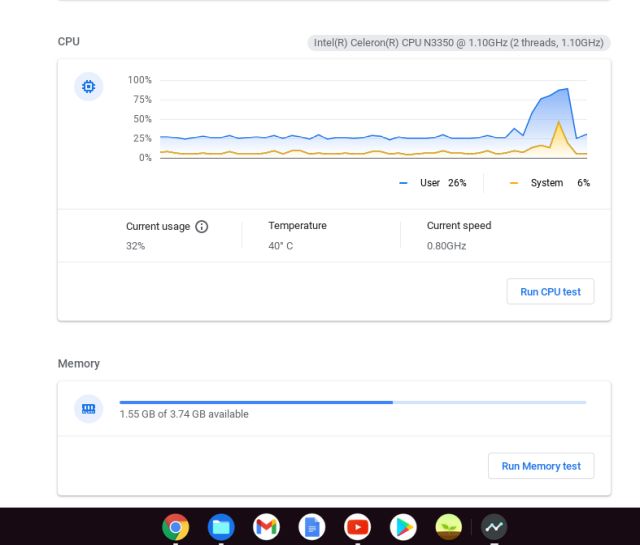 For the record, during my mild to heavy usage, the CPU temperature hovered around 39-degree Celcius to 42-degree Celcius. And that's perfectly fine. Moreover, around 1GB to 1.5GB of RAM was freely available out of 4GB at most times. It goes without saying that this level of performance and efficiency is possible only because of Chrome OS, which is pretty lightweight and less demanding of resources.
Asus could have gone with a newer Celeron N4000 processor instead of the dated N3350 chip to lock horns with its competitors.
While the performance is great, I still think Asus could have gone with a newer Celeron N4000 processor instead of the dated N3350 chip, which is past its prime. Asus has been using the same chipset on entry-level Chromebooks since 2018, while competitors like HP and Acer have moved to newer and better processors. It's time for Asus to up its game if it wants to become a dominant player in the Indian Chromebook market.
App Ecosystem
As many users (especially students) will be buying a Chromebook in India for the first time, you should know what kind of apps you can run on your laptop.
You can run web and Android apps on the Asus Chromebook C223. You can install a PWA version of a website and use it as an app with offline support. You can also use the web version of Microsoft Office on your Chromebook for free and it works well. There are also millions of well-optimized Android apps that you can use on the Chromebook, and they run flawlessly with mouse and keyboard support.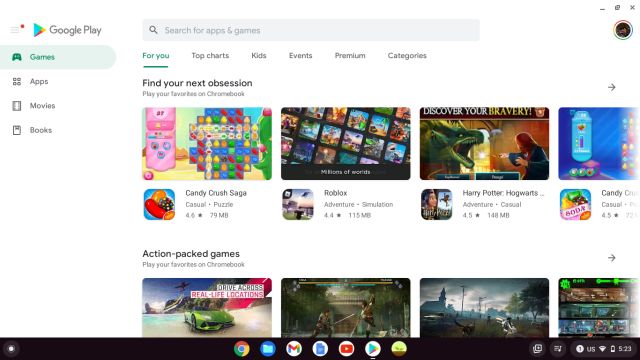 There is also support for Linux, but given the measly 32GB of internal storage and low-powered processor, you won't be able to do much. Sure, you can install a few lightweight Linux apps on this Chromebook, but that's about it. Also, the SD card slot won't help you in expanding the Linux partition.
Overall, I would say, if most of your work revolves around a web browser, then the Asus Chromebook C223 can be a great pick at an affordable price.
Keyboard and Trackpad
Surprisingly, the keyboard and trackpad on the Asus Chromebook C223 are pretty good for the price. I personally use the HP x360 Chromebook, which has a top-notch keyboard, and switching to the Asus Chromebook C223 did feel like an instant downgrade.
The laptop has an edge-to-edge Chiclet-style keyboard with a good 1.5mm of key travel, so typing on this keyboard is satisfactory. It's comfortable to type on the C223. But, I do have to warn you that the keys feel mushy while typing, and there's noticeable flex in the keyboard deck. Also, keep in mind that you don't have a backlit keyboard on the C223.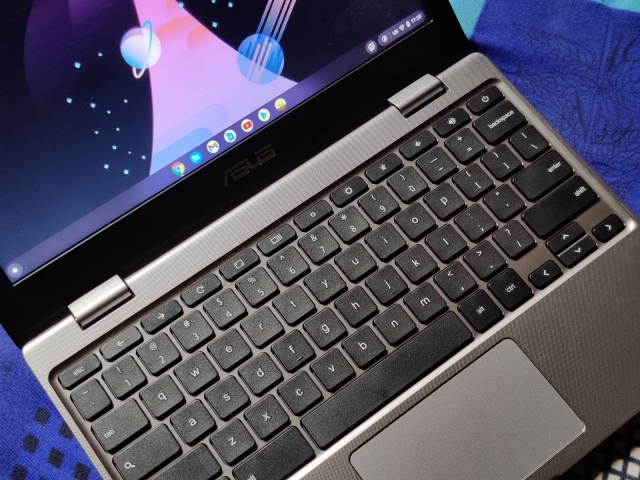 About the multi-touch trackpad, it's fast and accurate. I constantly use the 3-finger and 4-finger gestures on my Chromebook, and the C223's trackpad is quite responsive. So yeah, if you are a student and worried about the typing experience, fret not, as you won't have any major qualms with it.
Ports and Connectivity
As mentioned in the specs sheet above, you get a USB Type-A port and two USB Type-C ports onboard. The best part is that all ports are USB 3.2 Gen 1 type, meaning they offer faster data transfer speeds and other I/O improvements. Particularly, both the Type-C ports (one on the right and the other on the left) support display out, power delivery, and data transfer. You can use either Type-C port to charge your Chromebook, transfer data, or connect to an external monitor.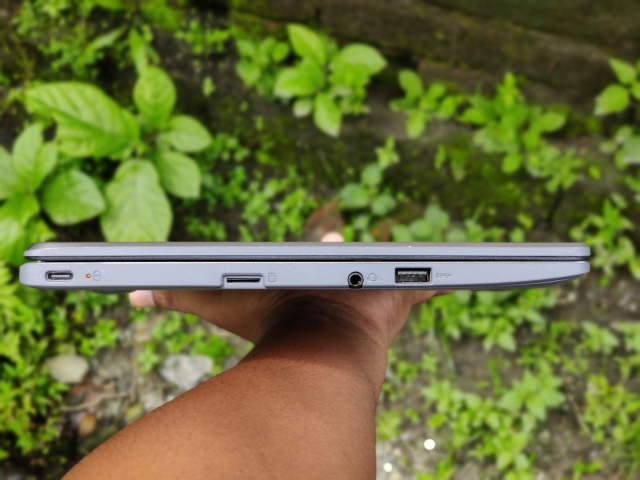 Of course, you will need a Type-C adapter for the HDMI input since the Asus Chromebook C223 does not come with an HDMI port. Apart from that, you have got an audio jack and microSD card slot, which lets you expand the storage by up to 2TB, on the left. Keep in mind, you won't find an Ethernet port on the C223 or any Chromebook, for that matter.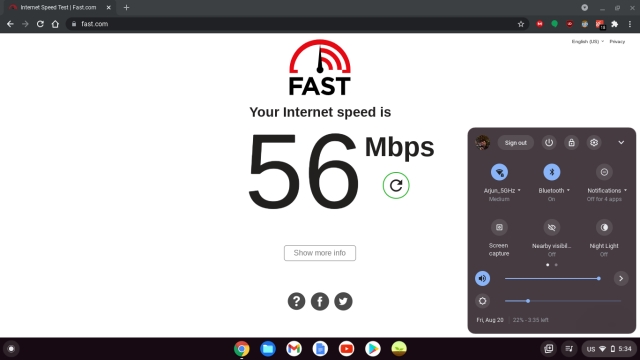 Coming to wireless connectivity, I am impressed that Asus chose to include a dual-band wireless chip on this affordable machine. It comes with Wi-Fi 5 support and can connect to both 2.4GHz and 5GHz Wi-Fi networks. As you can in the image above, I am connected to a 5GHz wireless network at home, and the Chromebook works without any latency issues. Besides that, you also get Bluetooth 4.0 support, and it paired well with my Oppo TWS earbuds.
Audio & Webcam Quality
On the audio front, the Asus Chromebook C223 again exceeds expectations. It has got a loud sound output and the built-in stereo speakers produce a good resounding effect. I played many tracks and videos, both on Spotify and YouTube, and the sound was loud and clear. It was unexpected to see such decent sound quality from a small machine.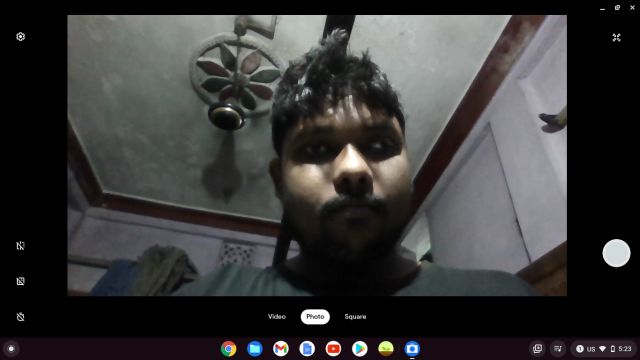 The best part is that Chromebook C223 also comes with a 3.5mm audio jack, so you can plug in your wired headphone and attend virtual classes, watch videos, and more. Not to forget, the Asus Chromebook C223 has a 720p HD webcam and a built-in microphone, meaning you to attend classes using video conferencing apps like Zoom or Google Meet with ease. The webcam's quality is nothing to write home about, but it's usable for your online needs.
Battery and Charging
Finally, coming to battery life, which is a Chromebook's strong suit. Asus claims that the Chromebook C223 can offer up to 10 hours of battery life with its 4,800mAh Li-ion battery. In my testing, I got around 7-8 hours of battery life with mixed usage. And while watching Full-HD videos and operating a bunch of Chrome tabs and Android apps, I got around 7 hours of battery life. Now, that is far better than what budget Windows laptops offer.

But that's not all. The charging speed is phenomenal on the Asus Chromebook C223. With 45W USB-C charging support, you can get the whole battery recharged in about an hour, which is awesome. So, on the battery and charging front, you are absolutely sorted. You would rarely need to look for your charger between work as it will mostly get you through the day with ease.
Asus Chromebook C223: Pros & Cons
To sum everything up we have talked about the Asus Chromebook C223 above, here are the pros and cons of this machine:
Pros
Portable and lightweight
Sturdy build quality
Excellent performance
Great battery life
Extremely fast charging
microSD card slot is available
Bang for the buck
Cons
Average display, bad viewing angles
The processor is quite old
Low internal storage
Not great for running Linux apps
At times, Chromebook freezes while doing intensive work
Mushy keys with flex in keyboard deck
Asus Chromebook C223 Review: Should You Buy It?
If you are a student and want to buy a portable laptop for your studies, online classes, and browsing the Internet, then Asus Chromebook C223 is a fantastic and affordable choice. It offers great performance and battery life at half the price of a Windows laptop, and I have no reservations about recommending the Asus Chromebook C223. However, do keep in mind that you won't get access to many full-fledged apps and will need to work inside a browser.
There are ways to run Windows apps on a Chromebook, but it uses Linux and requires a powerful processor. The Asus Chromebook C223 does not cut it because of the Celeron chip on the inside. All in all, if you want an easy-to-use and compact laptop at an affordable price for your young kid, you can go for the Asus Chromebook C223. If you can shell out a few thousand bucks and expand your budget a little over Rs. 20,000, go check out these two options as well. If you want a more sturdy build, bigger storage, and more powerful chip, turn your attention towards the HP Chromebook 11a (Rs. 22,990).
As for Windows enthusiasts, you won't get the best experience on a Celeron chip, but this budget offering from AVITA (Rs. 21,479) could be a decent pick for the price. Which one are you going to buy? Let us know in the comments section below. Also, if you have any questions about the Asus Chromebook C223, ask them in the comments as well.
Buy the Asus Chromebook C223 from Flipkart (starts at Rs. 17,999)
---
Load More