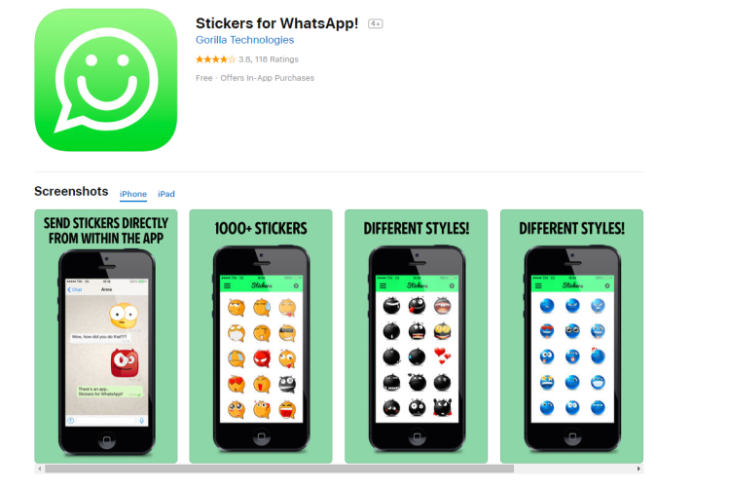 Apple may delete all "WhatsApp Stickers" from the App Store as these apps have found to be violating the company's guidelines for developers, according to WABetaInfo, which is a reliable source for all things WhatsApp.
The main reason why Apple could take the decision is that, "there are too many apps with similar behaviour and the design of these apps is the same," WABetaInfo tweeted on Sunday.
In October, WhatsApp announced in a blog-post that it is adding support for third-party developers to build sticker apps for WhatsApp for both Android and iOS users.
APPLE IS DELETING ALL WHATSAPP STICKERS APPS FROM THE APP STORE!

— WABetaInfo (@WABetaInfo) November 18, 2018
Designers were asked to "publish your sticker app like any other app on the Google Play Store or Apple App Store and users who download and install your app will be able to start sending those stickers right from within WhatsApp."
Post this announcement, the Apple App Store has been flooding with these sticker apps.
Apple argues that apps should not depend on other apps to function, but the sticker apps require WhatsApp to be installed, according to WABetaInfo which is not affilated with WhatsApp Inc.
However, no official statement about this has been released by Apple or WhatsApp as yet.
Of course, you can continue using WhatsApp stickers till Apple makes its official stance known. It could be possible that Apple would want the apps to be updated to match its guidelines before letting them back in. After all, WhatsApp is one of the biggest apps on the platform and restricting its feature set may not be in the best interest of Apple.
With Inputs from IANS