Apple's much anticipated annual fall event is right around the corner, and the Cupertino giant is expected to announce its all-new iPhone 15 lineup, new Apple Watch models, and other hardware products. Like every year, the rumor mill is buzzing with leaks and rumors for all the upcoming devices, and it will continue until the event day. Now, if you are curious about what products Apple will launch at its Wanderlust event on September 12, we have compiled this guide based on leaks and rumors. So, let's get right into it.
iPhone 15 Lineup
Undoubtedly, everyone is most excited about the iPhone 15 announcement at the upcoming launch event. Like last year, Apple is expected to unveil four different models in the iPhone 15 lineup — the standard iPhone 15, iPhone 15 Plus, the iPhone 15 Pro, and a larger iPhone 15 Pro Max.
The iPhone 15 and the iPhone 15 Plus will arrive as the successors to the iPhone 14 and 14 Plus, while the iPhone 15 Pro model will replace the iPhone 14 and 14 Pro models, respectively.
There's also a wild rumor that has recently surfaced, suggesting that Apple plans to rebrand the iPhone 15 Pro Max as the "iPhone 15 Ultra" at this year's launch event. Analysts are skeptical about this change, so take it with a grain of salt. Also, the iPhone 14 lineup is probably the last series where we will see the Alert Slider (mute switch), as Apple is expected to replace it with a mappable Action button. That said, here is a roundup of what to expect from the iPhone 15 series:
iPhone 15 and 15 Plus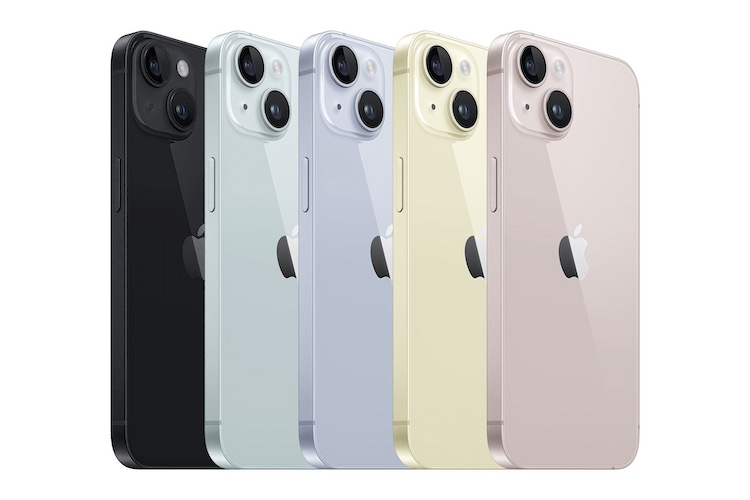 Arguably, the best thing Apple is doing with this year's iPhones is replacing the lightning port with a USB-C port for charging and data transfer. This is to comply with EU legislation's law that requires electronic makers to adopt USB-C by 2024. Along with this, many reports, credited to Bloomberg and other industry analysts, suggest that even the iPhone 15 and 15 Plus will include the Dynamic Island, which is something you currently only get on Pro models.
Other features, including the 60Hz AMOLED display (a huge bummer!), last-gen A16 Bionic chipset, and dual rear cameras, will also be found onboard. The new iPhone 15 lineup will also be the first to run iOS 17 features out of the box.
iPhone 15 Pro and 15 Pro Max
Apple is known for not making drastic changes to the design of the iPhones; both the Pro models are expected to have slimmer bezels that will certainly improve the looks and the content-consuming experience for users. The company is also likely to switch from a stainless steel alloy to Titanium alloy on the iPhone 15 Pro models, which will enhance durability and in-hand feel. In addition, you will also get a USB-C charging port, Dynamic Island, and a 120Hz ProMotion display on the Pro variants.
So don't be confused if you see a price bump of at least $100 on the iPhone 15 Pro and 15 Pro Max models. While this rumor is less likely to become true, the iPhone 15 Pro Max model is also expected to bring a periscopic lens for better optical zoom.
Apple Watch Series 9
Like every year, Apple is also expected to release a new iteration of its Apple Watch — the Apple Watch Series 9 in 2023. However, buyers expecting an overhaul in terms of design will likely be disappointed again, as the Series 9 will carry the same design language as the Apple Watch Series 8.
But, one thing that might make some buyers happy is that the Apple Watch Series 9 will come with a newer, faster processor. According to Bloomberg's Mark Gurman, the S9 chip will be based on the A15 Bionic chip used in the iPhone 13, iPhone 14 (non-Pro models), and other devices.
The new chip will result in better efficiency, performance, and battery life enhancement. This will be complemented by the latest features introduced in watchOS 10, including widget support on Apple Watch, mental wellbeing, and more.
Apple Watch Ultra 2
Last year, Apple dropped a bomb when it released the Apple Watch Ultra, costing a whopping $799. It targeted more adventurous, sports-oriented Apple Watch users. Along with the larger 49mm body size, the Apple Watch Ultra was designed to be tough and rugged and had several niche features than a standard Apple Watch. It was also the first Apple Watch to introduce an Action button, which is now coming to iPhone 15.
While there are not many rumors about this one, a Weibo user, Setsuna Digital, claims that the 2nd gen Apple Watch Ultra will be lighter than the current one, possibly due to the 3D printed parts Apple is rumored to be using.
USB-C AirPods Pro Case
While you won't get to see a new AirPods model being unveiled at this event, there is a high probability that Apple will introduce a new USB-C charging case in line with the new iPhone 15 lineup for the current-gen AirPods & AirPods Pro model. This way, Apple can pitch that you won't have to carry different charging cables to seamlessly charge your devices. This is plausible, as it will benefit buyers planning to buy the AirPods in the future.
Brand New Accessories
Since Apple will launch the new iPhone 15 models and Apple Watch 9 & Ultra models, we believe we will see many new accessories such as cases, cables, watch bands, and more. Here are all the accessories we expect Apple to launch at the event:
iPhone 15 Color-Matched USB-C Cables
As the new iPhone 15 models will come with a USB-C port, many rumors and leaks on X (formerly Twitter) suggest that Apple will ship new braided USB-C cables in the box, replacing the current lightning ones. Also, the color of the cables will match the iPhone 15 models they are being shipped with. Rumors also suggest that the new cables will be 1.5 meters long instead of 1 meter.
New iPhone Cases and Apple Watch Bands
If we go by the tradition of Apple September launch events, the tech giant will also release new cases for iPhones and watch bands for Apple Watch in a variety of fresh colors. An X user, DuanRai, shared that Apple is planning to ditch the leather case with the iPhone 15 series, and it has been corroborated by 9to5 Mac and X user ShrimpApplePro. The leather cases will be replaced by a new case made out of sustainable material. Moreover, a new Apple Watch band made out of woven fabric will be released at the event.
iPhone 15 Pro Thunderbolt USB-C Cable
According to an X user, Majin Bu, Apple has reportedly tested a Thunderbolt cable for the iPhone 15 Pro and Pro Max models. This cable will support the USB4 Gen 2 standard and speeds up to 40 Gbps. The length of the cable is rumored to be 0.7m, which is shorter than the currently available Thunderbolt 4 Pro cable (1.8m).