Apple announced the iPhone 15 and iPhone 15 Pro series at its annual event held in September 2023. You can read about the various new features and upgrades to the new flagship iPhone models. In this article, we are discussing how Apple has improved the iPhone 15 series box packaging (across all models) by employing a new verification system for sealed units.
iPhone 15 Boxes Have a New Verification Feature
When you buy a new iPhone, you can tell whether it is a sealed product or not, by looking at the outer packaging and factory seal condition. However, some shady retailers and resellers are able to sell used or refurbished iPhones with sneakily resealed packaging. It can be hard to tell if a new iPhone box is legitimate or a scam. So, Apple has silently added a new verification feature to iPhone 15 boxes.
This was first spotted by X (formerly Twitter) user MajinBuOfficial. Basically, by shining a UV light on the back of the iPhone, a hologram is displayed through which the iPhone 15's authenticity can be verified. There are UV-light-sensitive QR-code labels at the top & bottom of the new iPhone 15 boxes. We checked the same on our iPhone 15 Pro Max box, and you can see it right here: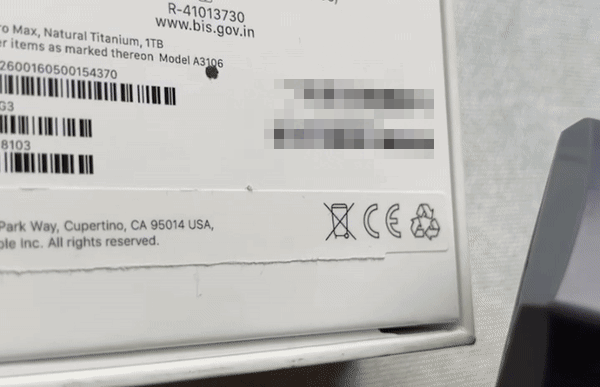 If you are buying a new iPhone, you can use this UV light label verification check to verify the authenticity of the product. Along with that, you should definitely verify you get full warranty coverage from the date of purchase. You can easily do this by inputting the iPhone's serial number on this page of Apple's website. Also, make sure to buy your iPhone from a reputable source. Your options include online or offline Apple Stores and authorized resellers.
While you're here, consider checking out the best iOS 17 features, many of which are available on older iPhone models too. What are your thoughts on the latest iPhone 15 box packaging with UV light labels? Do you think it will reduce the number of scams? Let us know in the comments below.
---