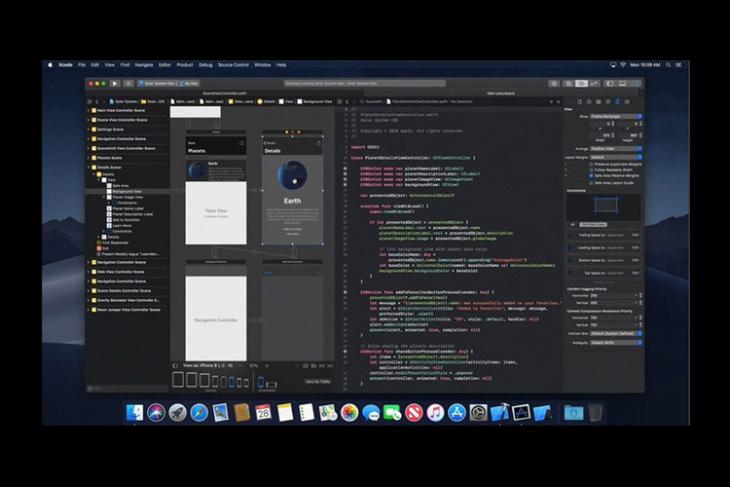 Apple's WWDC 2018 is about to kick off in a few hours and the company is expected to announce a number of key upgrades to its software suite, including macOS, tvOS, iOS, and watchOS.
The company is expected to reveal details about the successor to macOS High Sierra, which might grab a large share of the attention due to rumors about incoming cross-platform app support.
Ladies and gentlemen, I give you Xcode 10 on macOS 10.14. Dark Appearance, Apple News, App Store w/ video previews pic.twitter.com/rJlDy81W4W

— Steve Troughton-Smith (@stroughtonsmith) June 2, 2018
The next version of macOS might also feature another great addition to the software if a recent leak from renowned developer Steve Troughton-Smith is to be believed. Smith has posted images of macOS 10.14 which reveal interesting finds about Apple's upcoming operating system. The images showcase an OS sporting a fresh new dark theme, which is believed to be a new toggle-able option added to macOS.
The leak comes from a video link which appears in the Mac App Store API, that also reveals that the next version of macOS will feature a new App Store app with video preview support. It also highlights a new Apple News app and gives us a first look at Xcode 10, Apple's integrated development environment (IDE) for macOS which helps developers make new apps on the platform.
A native dark mode will undoubtedly please a lot of fans as the current dark theme option on macOS only changes the appearance of the menu bar and the dock. The full dark theme revealed in the leak, however, changes every aspect of the OS, giving it a different appeal altogether.
The leak also gives us a look at a new Mac wallpaper that looks like mountains or sand dunes shot at twilight, which suggests that Apple might name the next version macOS Mojave. A report from 9to5Mac on the matter also suggests that Apple might release two new wallpapers with macOS 10.14 – a day and night variant to match the light and dark system themes.
As of now, Apple hasn't revealed any information regarding the dark mode, but we can expect to learn much more about the changes coming to macOS during the WWDC event which starts later today.