Google's system-wide dark mode has been one of the most welcome features in Android 10. However, the feature lacked a native option to schedule the dark theme to turn on at a specific time you desire. But worry not, a developer has made it possible through an app named "Automatic Dark Theme for Android 10".
As mentioned earlier, the app's interface lets you choose specific times to automatically activate and deactivate the dark theme. The app turns on dark mode at 10 pm and switches to light mode at 7 am by default but you can set the time that works the best for you.
Upon installing the app, you will be provided with instructions for granting it write-secure-settings permission inorder to toggle themes. But, do not worry as this is a one time process. To get started, turn on USB debugging on your phone and run the following ADB command from your PC.
adb shell pm grant com.cannic.apps.automaticdarktheme android.permission.WRITE_SECURE_SETTINGS
After running the above command in your PC, tap on the "Check permission" button to gain access to the app.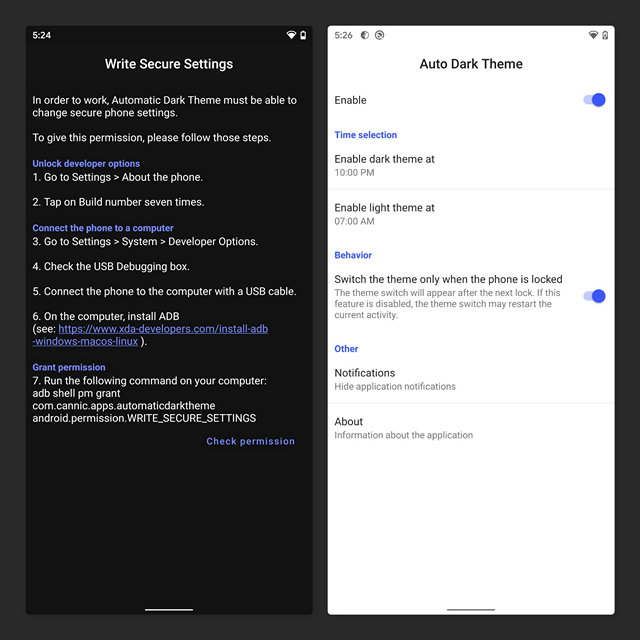 You can also turn on the toggle that says "Switch the theme only when the phone is locked" to switch themes only when your smartphone is locked. This will make sure that the current activity does not get affected by the theme switch.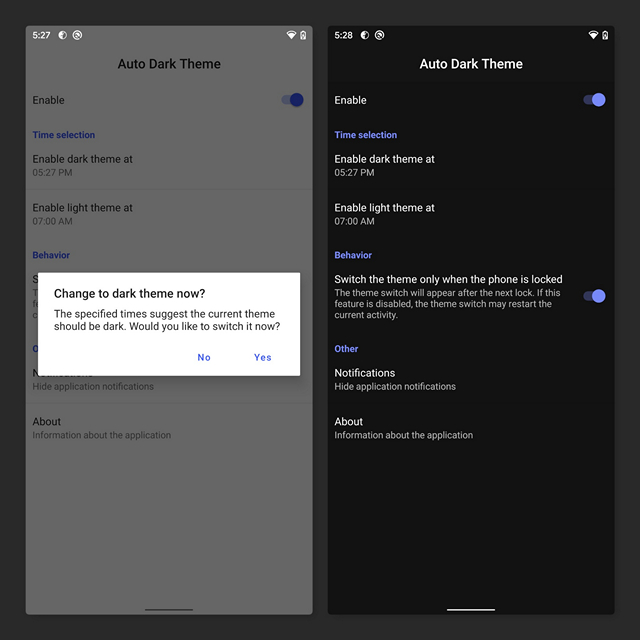 The developer has also stated that an option to turn on dark mode at sunset and turn on light mode at sunrise is already in the to-do list. To sum up, this is a must-have app for anyone who wants automatic theme switching capabilities on Android 10.
The app is free to use and does not have any ads or in-app purchases. Check out the app from the link given below and let us know what you think about the app in the comments below.
Download Automatic Dark Theme for Android 10 (Free)