At the ongoing Computex trade show in Taipei, AMD has unveiled a bunch of new Ryzen powered systems from Acer, Asus, Dell, HP, Huawei, and Lenovo. Here's a quick look at all the Ryzen powered systems that were revealed during the company's keynote at Computex:
Dell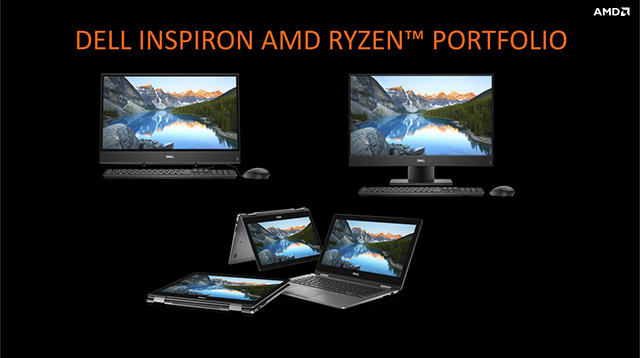 Dell's SVP and General Manager for the Consumer and Small Business Product group, Ray Wah, showcased the company's Inspiron Ryzen portfolio, featuring two Ryzen powered all-in-one PCs, Ryzen powered Inspiron 15 5000 notebooks, a Ryzen powered Inspiron 13 7000 2-in-1 notebook and the Inspiron Gaming Desktop 5676 featuring a second-gen Ryzen desktop processor coupled with Radeon graphics.
Asus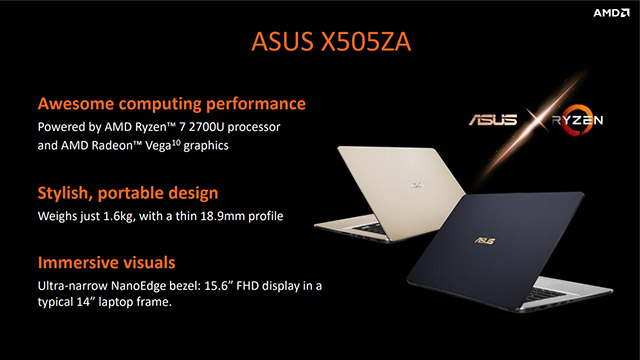 Asus' Senior Director for Global PC and Phone Marketing, Marcel Campos, took to the stage and unveiled two new Ryzen powered notebooks – the Asus X505ZA and the Asus X570ZD – featuring AMD Ryzen 7 2700U processors, coupled with AMD Radeon Vega graphics on the former, while the latter included a Nvidia GeForce GTX 1050.
Lenovo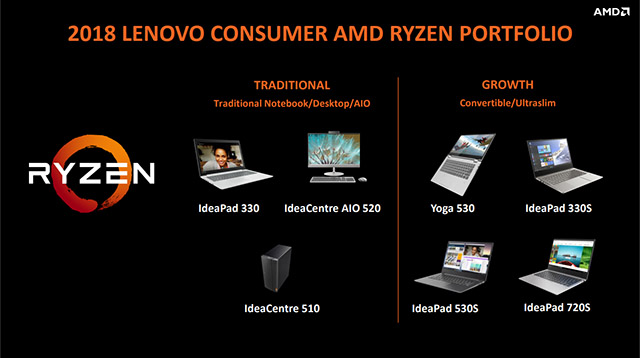 Lenovo also showcased a whole bunch of AMD Ryzen powered notebooks and PCs, with the company's VP for Consumer PC Product and Portfolio Management, Tony Chen, showcasing the lineup. Lenovo's AMD Ryzen powered portfolio now includes: the IdeaPad 330, the IdeaCenter AIO 520, the IdeaCenter 510, the Yoga 530, the IdeaPad 330S, the IdeaPad 530S, and the IdeaPad 720S.
Huawei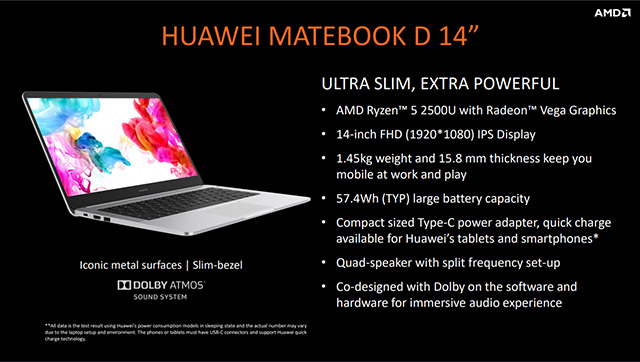 Chinese smartphone manufacturer Huawei, represented by Michael Young, GM of Xunwei Technology, also unveiled an AMD Ryzen powered Matebook – the Matebook D 14″ – which features an AMD Ryzen 5 2500U CPU with Radeon Vega graphics, a 14-inch FHD display with slim bezels, weighing in at just 1.45kg.
Acer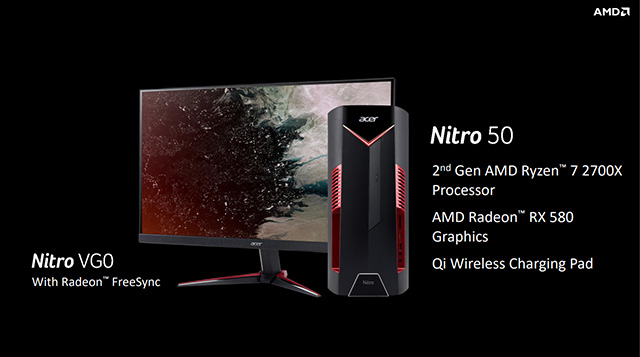 Lastly, Acer's GM for Consumer Notebooks and IT Products Business, Jerry Hou, revealed two Ryzen powered desktops – the Nitro 50 and the Predator Orion 5000 – featuring Ryzen 7 2700X chips.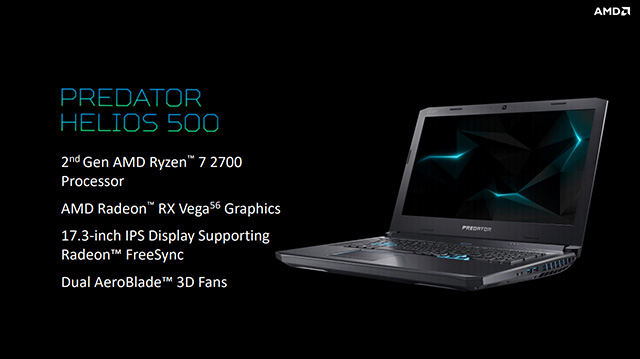 Acer also unveiled a Ryzen powered variant of the Predator Helios 500 gaming notebook, which includes a second-gen AMD Ryzen 7 2700 CPU along with Radeon RX Vega graphics.
While on the surface it looks like AMD is ready to take on Intel in the notebooks category, one must remember that the number of SKUs pales in comparison to what Intel already has. The question is whether Ryzen can make enough of a dent in the market to bring these manufacturers back when the time comes to refresh these models, which is how Intel has managed to solidify its hold on the market.