AMD is probably experiencing its best period in the world of computing, thanks to the huge success of the Ryzen series. The range of processors introduced by AMD took the fight to Intel by introducing higher processors with more cores and threads. Now, after launching the Ryzen 2400G and the Ryzen 3 2200G last month, the company is gearing up for the launch of its second-generation Ryzen CPUs.
While AMD has tried its best to keep a tight lid on details about the new CPUs, leaked slides have surfaced suggesting incredible performance from the upcoming range.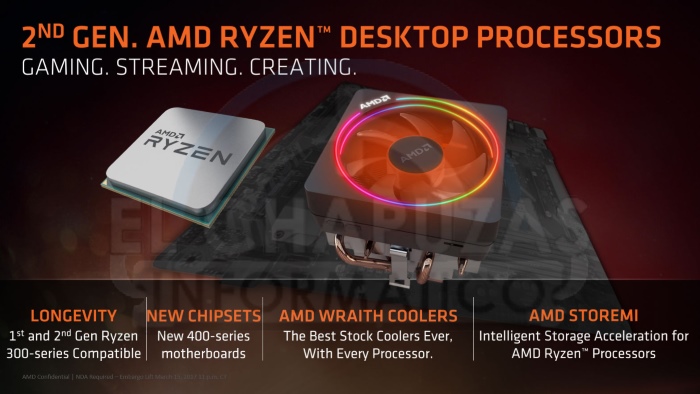 It must be noted that this is not Ryzen 2 based on Zen 2, but instead the Zen+ architecture chips that will be launched this year.
According to the leaked presentation slides, courtesy of El Chapuzas Informatico, AMD will be introducing the flagship Ryzen 2700X for $369 along with three other Ryzen processors, the Ryzen 7 2700 non-X for $299, which is also 8-core and 16-thread, and two 6-core/12-thread parts: Ryzen 5 2600X and Ryzen 5 2600. However, while many had speculated the release of a Ryzen 7 2800X, as per the current leaks, it seems like AMD is not adding a 2800X to the lineup at this time. As such, the entire AMD Ryzen 2000 series looks like below:
| Model | Cores/Threads | Base Clock | Turbo Clock | TDP | Price |
| --- | --- | --- | --- | --- | --- |
| Ryzen 7 2700X | 8C/16T | 3.7 GHz | 4.35 GHz | 105W | $369 |
| Ryzen 7 2700 | 8C/16T | 3.2 GHz | 4.1 GHz | 65W | $299 |
| Ryzen 5 2600X | 6C/12T | 3.6 GHz | 4.25 GHz | 95W | $249 |
| Ryzen 5 2600 | 6C/12T | 3.3 GHz | 3.9 GHz | 65W | $199 |
| Ryzen 5 2400G | 4C/8T | 3.6 GHz | 3.9 GHz | 65W | $169 |
| Ryzen 3 2200G | 4C/4T | 3.5 GHz | 3.7 GHz | 65W | $99 |
Dubbed the Pinnacle Ridge series, the new AMD Ryzen series will feature clock speeds up to 4.35 GHz and will be including the Wraith Prism cooler with the flagship model while offering the Wraith Spire and Stealth coolers to other CPUs.
Additionally, AMD is also introducing two new 400-series motherboards: the X470 and the B450 chipsets for the AM4 sockets. According to AMD, the new motherboards will feature an advanced design for optimized memory routing as well as optimized VRM and power layout for CPU overclocking. Apart from that, the new chipsets will use lower idle power and are designed in accordance to the 2019 CEC energy requirements.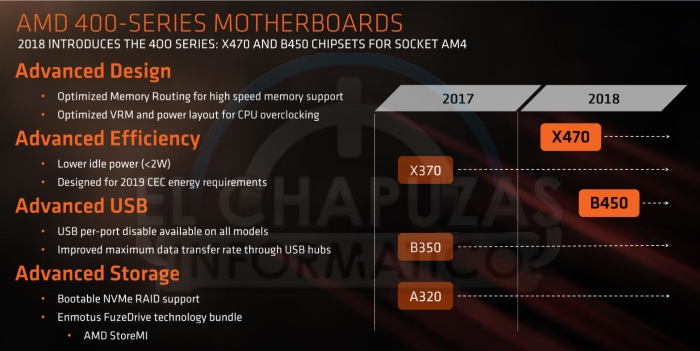 In terms of performance, AMD has put new Ryzen against Intel Coffee Lake's flagship, the i7-8700K. AMD claims 2700X will be 7.7% slower on average. However, compared to the Summit Ridge R7 1800X the new CPU will offer 5% better framerates.
The 2nd-generation AMD Zen+ processors are said to sport intelligent features, such as Precision Boost Overdrive, which is meant to increase the clock speed even higher than XFR. The new chipsets will also have "Pure Power", which is said to improve processor energy efficiency in day-to-day tasks. AMD's Ryzen 2000 series is also said to sport Neural Net Prediction and Smart Prefetch features, which will allow the processor to automatically anticipate the data your applications need for peak performance.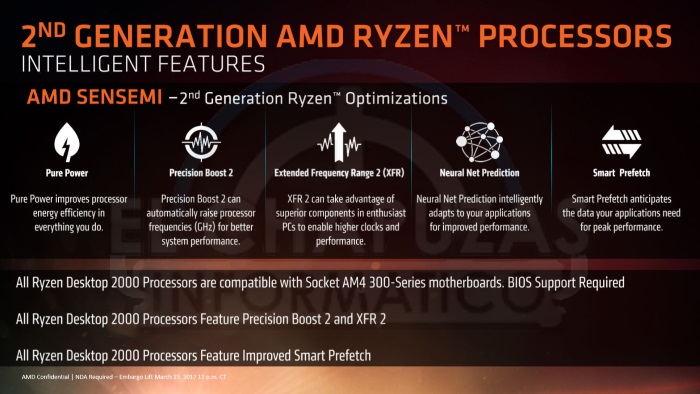 All the Ryzen Desktop 2000 Processors are compatible with Socket AM4 300-Series motherboards but will require a BIOS update, which was also the case with the previously launched 2200G and a 2400G CPUs. According to the leaks, all manufacturers will post optimized BIOS updates in March 2018.
According to the leaks, the X470 motherboards are to be launched on April 19. While there is no word on the release date, this could be the launch date of Ryzen 2000 desktop series as well.