After unveiling its latest range of 'Raven Ridge' APU chips at the CES tech show last month, AMD has finally launched them in the US to a largely thunderous reception from the tech media. A part of its highly-successful Ryzen lineup, the chips come with Vega graphics that have been incorporated into a whole of of products including Intel's mobile CPUs. The processors launched yesterday are the Ryzen 5 2400G and the Ryzen 3 2200G desktop APUs (Accelerated Processing Units) with four Zen cores apiece. The chips are distinguishable from the regular Ryzen chips without integrated graphics by the 'G' at the end.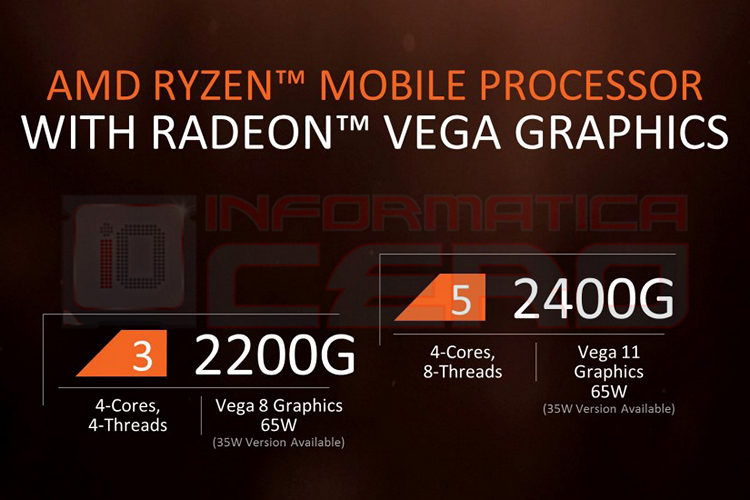 Ryzen 5 2400G
The Ryzen 5 2400G is the more powerful of the two APUs launched by AMD, and is built on the 14nm FinFET process. It is a multi-threaded, quad-core Zen processor with a base clock of 3.6 GHz and a turbo of 3.9 GHz. The graphics chip comes with 11 Vega compute units and, has a default clock speed of 1250MHz. The 2400G supports dual-channel DDR4 2933MHz RAM and has a 65W TDP. It comes with a $169 price-tag, and is available for purchase across all major online and offline retail outlets across the US.
Buy the Ryzen 5 2400G from Amazon: ($169.99)
Ryzen 3 2200G
Like the 2400G, the 2200G is also a 14nm quad-core processor, but unlike the more powerful chip, this one doesn't offer simultaneous multi-threading. It comes with a default clock speed of 3.5GHz and a turbo clock of up to 3.7GHz. It also comes with Vega 8 graphics (with a base frequency of 1100MHz) instead of the Vega 11 found on the more powerful chip. However, like the 2400G, this one also supports dual-channel DDR4-2933 DRAM, and has a TDP of 65W. In terms of pricing, it's the more affordable of the two with an asking price of $99.
Buy the Ryzen 3 2200G from Amazon: ($99.99)
Specifications
Ryzen 5 2400G
with Vega 11
Ryzen 3 2200G
with Vega 8
CPU Cores/Threads
4 / 8
4 / 4
Base CPU Frequency
3.6 GHz
3.5 GHz
Turbo CPU Frequency
3.9 GHz
3.7 GHz
TDP @ Base Frequency
65 W
65 W
L3 Cache
4 MB
4 MB
Graphics / Compute Units
Vega 11 (11 CUs)
Vega 8 (8 CUs)
Compute Units
11
8
Base GPU Frequency
1250MHz
1100 MHz
DRAM Support
DDR4-2933
Dual Channel
DDR4-2933
Dual Channel
Price (MSRP)
$169
$99