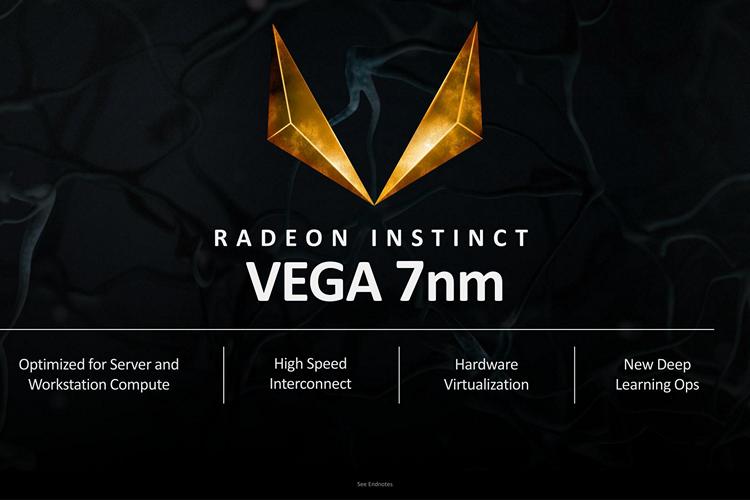 In addition to demoing the 32-core Threadripper monster that's all set to hit the retail shelves in a few weeks, AMD also revealed further details about its upcoming Radeon GPUs at the ongoing Computex 2018 in Taiwan. But instead of showing off any mainstream gaming GPUs, the company Tuesday showed off its next-generation 7nm Radeon Instinct silicon that the company says is the world's first 7nm GPU chip.
Made from GlobalFoundries' 7 nm (7LPP) process technology, AMD says that new GPU chips have been designed specifically for deep-learning algorithms, and will be used as part of the company's Radeon Instinct series accelerators for AI, ML and similar applications.
They come with as much as 32GB of HBM2 video memory, and according to the company, offers 35% more performance over the last generation chips that were based on the 14nm node. The upcoming chips are also said to to have twice the power efficiency of its predecessor, which means, they can do the same amount of work with half the power consumption. The lowered density also allows for die sizes to be shrunk down drastically.
AMD's 7nm Radeon Instinct GPU is already in sampling stage right now and the company says that it will be launched in the second half of this year. There's no word on how these chips will be priced, but we expect to hear more on the subject in the coming days. Most mainstream users, however, will be more interested in seeing how long it takes for the company to introduce the new features to the next-gen 7nm Radeon Vega GPUs
---