The days of watching movies and TV shows on a cable connection are fast passing by. Set-top boxes are being replaced by internet streaming services that provide a plethora of TV shows and movies for users. Plus, they recommend new things to watch, which makes the experience a lot more personal than cable TV ever was. Netflix has been the unchallenged king of the streaming game for quite some time now, and when it launched in India, last year, it quickly captured a lot of attention. However, Amazon also recently launched their streaming service dubbed "Amazon Prime Video" in India, aiming directly for the Indian market share and competing against Netflix.
With both these services finally having arrived in India, you may be wondering which one to choose. So, if you're planning on ditching cable TV for an internet streaming service, here is a full comparison of Amazon Prime Video vs Netflix India:
Interface
One of the first things you'll see when you sign up for either of the two services in question, is the interface. Personally, I believe that a good UI/UX is one of the core features a service should have. While both Amazon Prime Video, and Netflix have a good interface, personally, I like the way Netflix looks more than Amazon's offering. Plus, Amazon Prime Video's navigation seems to be just slightly more complicated than that of Netflix.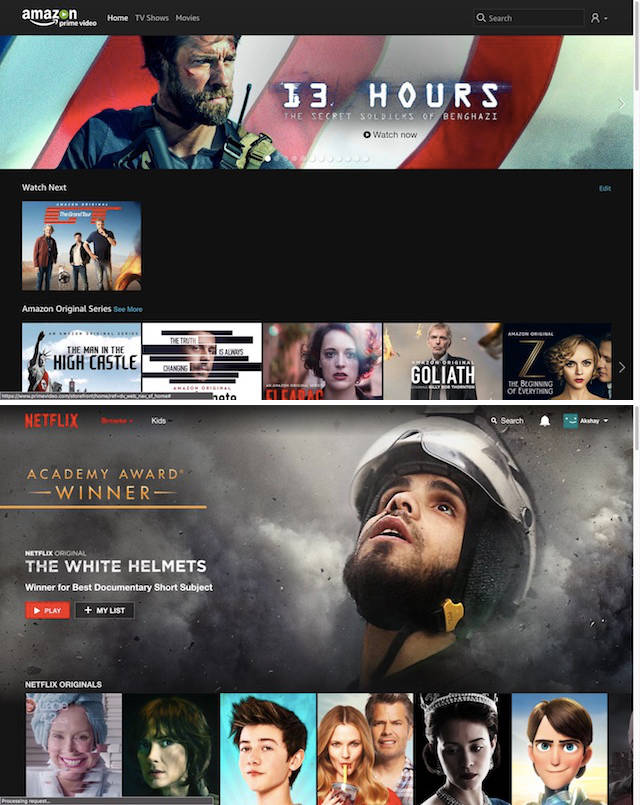 One of the first things I noticed about the interface, was the way search works on both of these services. Netflix provides real-time results based on what you're typing in the search box. This is really helpful, as it saves a lot of time, and has become expected nature from any search field. However, in Amazon Prime Video, you will have to type out the entire query, and then hit "Return/Enter" to get the results. This sort of attention to detail is quite important, especially when it comes to paid services like Netflix, and Amazon Prime Video.
Another important thing to note is that once you've subscribed to Netflix, every single movie, and TV show on their catalog is available to you. There are no hidden charges, and there are no rentals. That is what one expects after paying for a service. However, in Amazon Prime Video, a lot of the content is stuff that the user will have to pay for, even though they already paid for the Prime membership. That's rather unexpected, and could be a deal breaker for a lot of people.
Playback Interface
Ironically, Amazon Prime Video's playback interface looks better than Netflix's. This could be because it's designed with minimalism in mind, and the button icons used are thin, and modern. Netflix's playback interface looks just a tad dated, but it works better than Amazon's.
There are a number of features in the playback interfaces of these two services; each of them is unique, and you will have to make a choice between which features you want more:
In Prime Video, you get the option to change the quality at which you want to stream the video. Plus it even displays an estimate of how much data will be used on an hourly basis, which is definitely a nice touch.
In Netflix, however, you get an "episode list" button, which shows the list of all the episodes in that particular season of the show.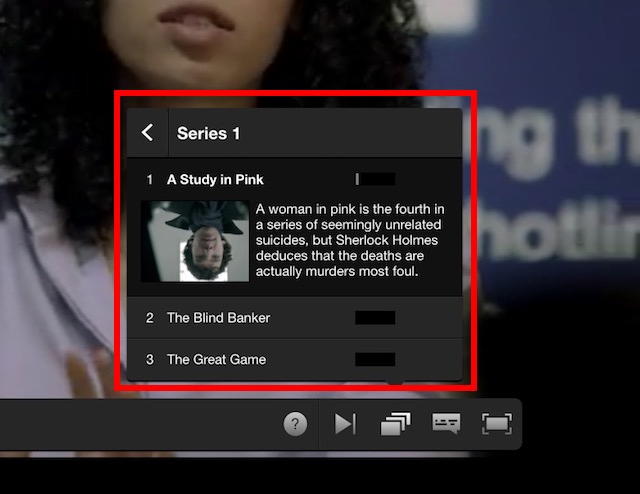 Amazon Prime Video offers customisability options for subtitles, so if you need to make the subtitle text larger, or smaller, or make it have a background to make it easier to read, Amazon Prime Video will let you do that. However, no such feature exists in Netflix. The subtitles are the default size, and font, and you can't change it.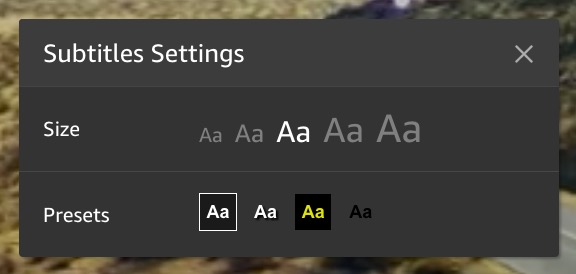 Another great feature in Amazon Prime Video is what Amazon calls "X-Ray". This feature shows details about the scene currently on the screen. It shows information like the actor in the scene, the song playing in the background (if any), and even has the option to view the entire cast, and do a lot more.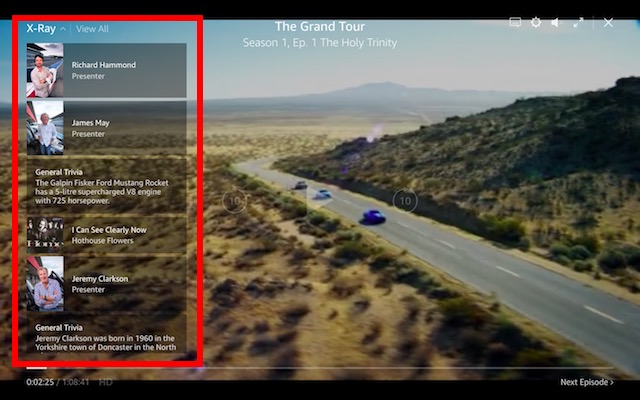 Catalog of Shows and Movies
When considered in terms of the number of TV shows, and movies available on each of these services, there are a number of factors to consider. According to JustWatch, Amazon Prime Video has a lot more titles in its catalog, than Netflix does. But whether this is a bad thing, is subjective. Like I mentioned earlier, a lot of the movies available in the Prime Video catalog are paid, or have to be rented. For this to be an apples to apples comparison, I don't think we should really consider the movies that we have to pay for, even when we've already paid for the subscription. Which basically boils down to this, the number of titles in both these services will probably be within a similar range.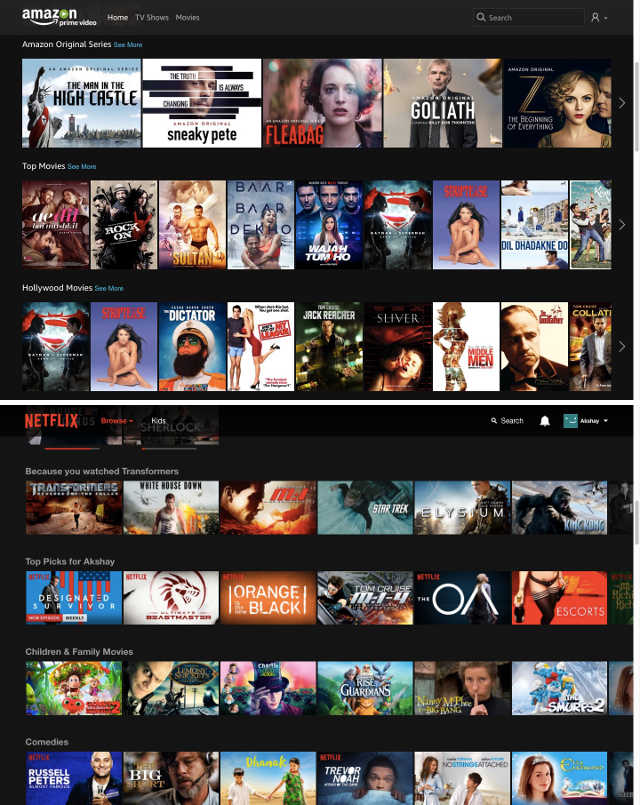 However, Netflix has a lot of in-house TV shows that are widely acclaimed, and you can't watch them elsewhere. So, if you're a fan of TV shows like House of Cards, Daredevil, Jessica Jones, and more, Netflix is the clear winner. However, for all other cases, the two are very closely tied, with Amazon Prime Video probably having a couple hundred more titles, in fact.
Netflix also has a huge catalog of "Netflix Originals" available in Netflix India, along with a catalog of Bollywood movies as well. Amazon Prime Video, on the other hand, does include a lot of Amazon Original TV shows, and quite a number of Bollywood movies too. However, Indian content is quite lacking in Amazon Prime Video.
Also, Netflix doesn't censor any movies, or TV shows, but Amazon Prime Video does. In fact, Netflix recently added a number of movies (without censoring them) to its catalog that Amazon Prime Video censored on their catalog, indirectly indicating that they will not censor media on their platform, which is something that I personally like about them.
While both Netflix, and Amazon Prime Video have Indian content, the collection is still not that extensive as one might like. If you're mostly looking for Indian content, you might want to check out services like Hotstar instead. Hotstar even has a premium service, where you can watch popular shows like Game of Thrones just minutes after they air in the United States. If Netflix, and Amazon Prime Video are not to your liking, you should definitely try out services like Hotstar, and ErosNow.
Supported Devices
One of the many advantages of using an internet streaming service for your entertainment needs, is the fact that you can access them on almost any device that is connected to the internet. However, the device support between various internet streaming services varies ever so slightly.
Netflix works on a lot more devices than Amazon Prime Video does. Both of these services work on computers, smart TVs, as well as Android, and iOS devices. However, Netflix also works on Blu-ray players, PlayStation, and Xbox devices, as long as they are connected to the internet.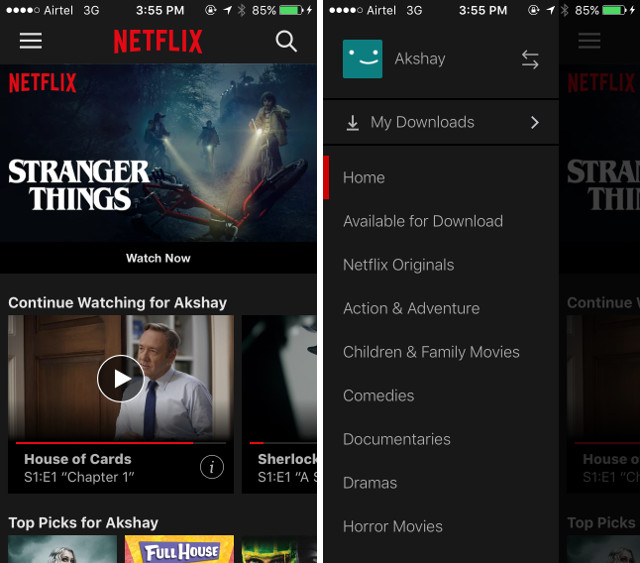 Also, thanks to a better interface, the Netflix apps provide a much better UX, therefore being preferred by a lot of people. Netflix's user base is more than 90 million users, as of Q4 2016. That's quite a big number.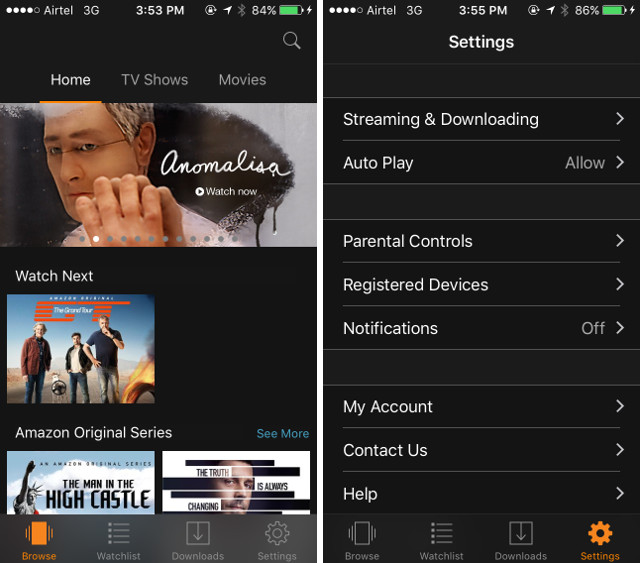 Video Quality
I've used quite a bit of both the Amazon Prime Video, and Netflix streaming services. One thing I noticed, was that Netflix always pushes the best possible resolution, depending on the internet speed. However, while Netflix was playing House of Cards in a decent resolution (720p), Amazon Prime Video wasn't able to do the same. Instead, it chose to play the video at what looked like 480p, even though I had selected "Stream quality: best".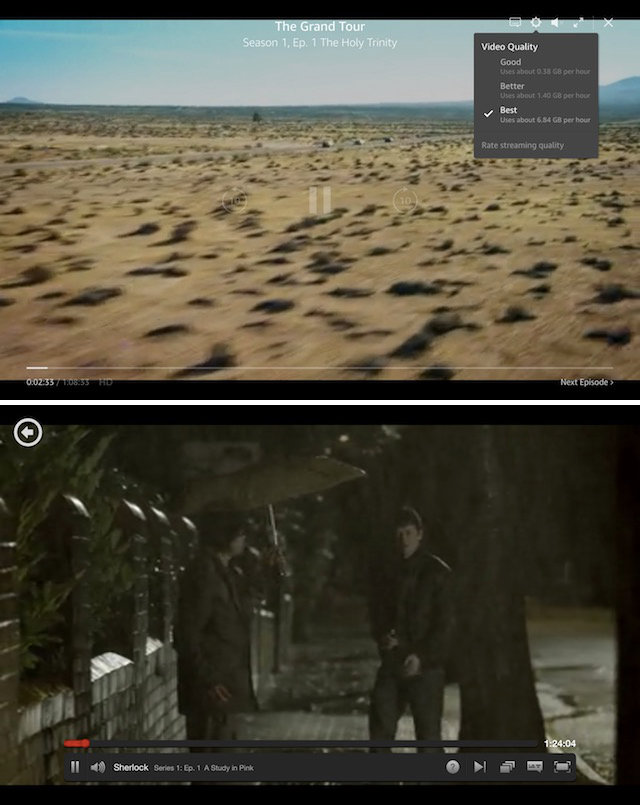 The point is, that while it might just be a local issue, personally, I have felt that Netflix offers way better video quality, even with a spotty connection. Whereas, Amazon Prime Video doesn't perform very well on low speed networks.
Pricing
Pricing is one of the most important things when it comes to subscriptions; nobody wants to get an expensive subscription if the advantages aren't that great. Amazon Prime Video comes included with Amazon Prime subscription (which will set you back by Rs 999), which also includes things like free one-day delivery, and two-day delivery, along with the other benefits of being a Prime member.
On the other hand, Netflix plans start at Rs 500, which is decent enough, except Netflix plans are monthly, whereas Amazon Prime is a yearly subscription. Plus, in the lowest tier of Netflix plans, you will not be able to watch the TV show, or movie in HD.
So basically, Amazon Prime Video has more affordable plans than Netflix does. However, keep in mind that Prime Video also has quite a lot of titles that require separate payment, which, in turn, makes it less affordable as well.
SEE ALSO: How to Use Netflix VR on Google Daydream Platform
Amazon Prime Video vs Netflix India: Verdict
What this all boils down to is this: both Netflix, and Amazon Prime Video have their own pros and cons. While Amazon Prime Video is much more affordable on its face, than Netflix is, it also has the drawback of having a lot of movies that you will have to rent (or buy!) in order to watch. That may not be a big deal, but I prefer the way Netflix handles things. You pay for the subscription, and everything inside is included in the price; no hidden costs. Also, in a country like India, where the internet speeds are still not at par with the world, Netflix has the advantage of having a better video quality at lower internet speeds, than Amazon Prime. Netflix also works on a lot more devices than Amazon Prime Video does, giving me the freedom to watch my favourite TV shows, on whatever device I want to watch it on. Which is why, I personally chose Netflix over Amazon Prime Video. However, it's completely up to you.
Both these services come with a great catalog of TV shows and movies in India, and you can't really go wrong with either one of these. Unless you like Netflix shows, and you go with Amazon Prime Video… then you can go wrong. If neither Netflix, nor Amazon Prime Video is to your liking, you can check out other services such as Hotstar, and ErosNow, that have a much larger collection of Indian movies and TV shows. Hotstar and ErosNow both have a free tier as well, which is definitely a plus.
So, what do you think about Amazon Prime Video, and Netflix? Which one do you prefer? Let me know what service you're using, and why, in the comments section below.