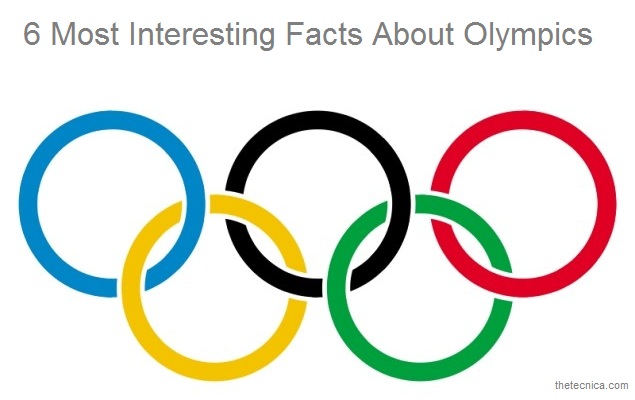 Lately i have been spending a good amount of time on Reddit and today when i was browsing through the TIL section of Reddit, i came across some very interesting and fascinating facts about Olympics.
And, Today that London Olympics 2012 begins, 10,500+ Athletes from over 204 Nations will participate in this Royal Rumble. So, This is the best time to share all these Facts with you,
Here i go,
1.  Father of the modern Olympics, Pierre de Coubertin won one gold medal in literature at the 1912 Summer Olympics for his poem Ode to Sport.
Art competitions were part of the Olympics from 1912 to 1948, but were discontinued later on.
2.  Olympic rower, Bobby Pearce, stopped in the middle of race to let a family of ducks pass. And still won.
In the quarter final Bobby Pearce was leading the French opponent when a family of ducks strayed into his lane. Pearce momentarily stopped rowing to let the ducks pass, he still won. In the semifinals and finals he defeated his opponents with ease and became the first Australian to win gold in the single sculls.
3.  Brazil couldn't afford to send 82 athletes to LA for 1932 Olympics, so loaded them onto a ship full of coffee and made them sell it on the way to fund the trip.
As per Wikipedia, "As the Great Depression had stuck the country, the delegation of 82 athletes travelled in a ship, the Itaquicê, selling coffee along the way to fund the trip. Since the San Pedro authorities charged one dollar for each person who disembarked in the Port of Los Angeles, the organizers only let out of the ship the athletes they felt had a chance to win medals plus swimmer Maria Lenk – the first South American woman to compete in the Olympics – to spend less. Afterwards, the Itaquicê went to San Francisco to sell more coffee, and there the water polo, rowing and athletics competitors got financed and authorized to leave, but 15 athletes still remained on the ship and did not compete."
SEE ALSO: Top Apps For London 2012 Olympics [Infographic]
4.  Dimitrios Loundras was the youngest person to win an olympic medal at the age of 10 years 218 days.
He was a Greek gymnast who competed in the team parallel bars event at the 1896 Summer Olympics in Athens. His Team won Bronze medal.
5.  Athletes can compete as independent Olympians (not under a country's flag) at the Olympic Games.
Athletes compete as Independent Olympians for various reasons, including political transition and international sanctions. This year also in London 2012 Olympics we have 4 athletes (expected) who will compete as Independent Olympic Athletes.
6.  Olympic gold medals haven't been solid gold since 1912, gold medals today are 92.5% silver and 6 grams plated gold.
Actually, Trend of awarding  Gold, Silver and Bronze medals started at the 1904 Olympics. Before that, In 1896 Olympic Games, the winners were awarded silver medals, while the runners-up got bronze medals, In 1900 Olympics winners received trophies or cups instead of medals.
Among all the 6 interesting olympic facts, Which one is your favorite and why? Let us know in comments below the post.
Credit for this post goes to All Redditors.
SEE ALSO:
Today I Learned, 4 Most Interesting Facts About Bitcoin