Have you ever been in a situation where you wanted to download a YouTube video, or a video from any other site, as an MP3 file? We have, too. A lot of times, when you need to download one of your videos or some music from 'No Copyright Sounds', you are probably looking around for websites to help you do this. Well, you don't need to do that because, as it is with most things, there's an app for that. 4K YouTube to MP3 is a software that lets you download and convert videos from YouTube, Instagram, TikTok, etc as MP3 files.
Note: This software allows you to download any video from YouTube and other sites. Please make sure you're not downloading copyrighted content. Doing so is a punishable offence. Use this tool responsibly, and within legal boundaries.
Easy to Use UI
First and foremost, 4K YouTube to MP3 (download) offers a really clean design and a friendly user interface. That's something most similar apps lack, and it lends great usability to this software. You get a minimal looking home screen, complete with some of the most popular video services from where you might want to download videos as MP3 files.
Click on any one of these sites and you're taken straight to the website. Here, you can search for the video you want to convert and download, and that's pretty much it.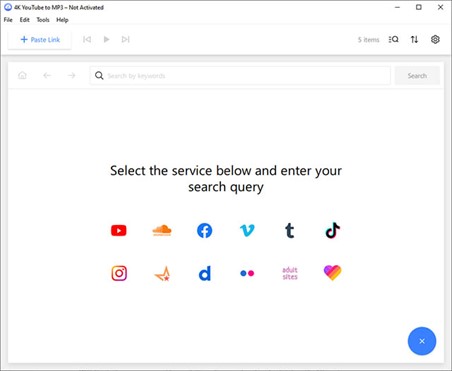 The settings button as well as downloads list are both easily accessible here as well, so you can quickly adjust any settings you want, and look through all the videos you've downloaded with the software. It's pretty cool.
Features
4K YouTube to MP3 offers a plethora of features that make it worth using, here are some of the most impressive features on offer.
Search Through Downloads
If you download a lot of videos as MP3 for your use, your downloads list will undoubtedly be a long list of names. That would make it a nightmare to look through and see which videos you've downloaded. Fortunately, 4K YouTube to MP3 offers a downloads search feature.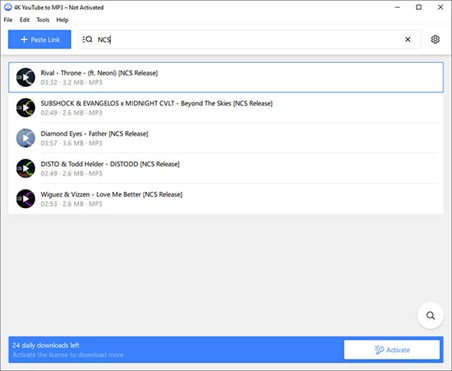 With this feature, you can quickly search through your entire downloads list and find the video you are looking for.
Sorting Options
Another feature that will prove very useful for people with a huge downloads list is the new sorting option in 4K YouTube to MP3. This is fairly self-explanatory, but basically you can sort your downloads list alphabetically by their name. This can be done either from A to Z, or in reverse order from Z to A.
Built-in Browser
4K YouTube to MP3 comes with a browser built in. That means you can use the app itself to go to YouTube, Instagram, or any other website and find the video you want to download as MP3. Once you're there, just click on the Download button and the software will start downloading the video to your computer.
Download Entire Channel
One of the most useful features that I found while using this software is the download entire channel option. Basically, if you download a lot of videos as MP3 files from a particular YouTube channel (like No Copyright Sounds), 4K YouTube to MP3 will ask you if you want to download the entire channel in one go. That can be very useful, especially if you are trying to download your entire channel's library as audio files for any reason.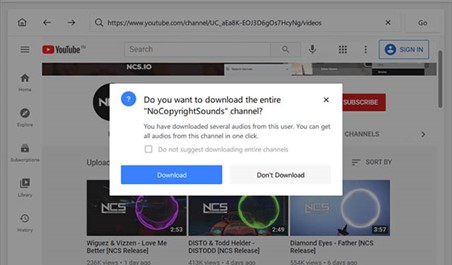 Plentiful Settings
4K YouTube to MP3 also offers a bunch of settings that can help you customise your experience the way you want. Simply click on the settings cog in the app and you can adjust the download preferences. Here, you can change the audio quality, as well as the audio format you want to use. You can also change the download path.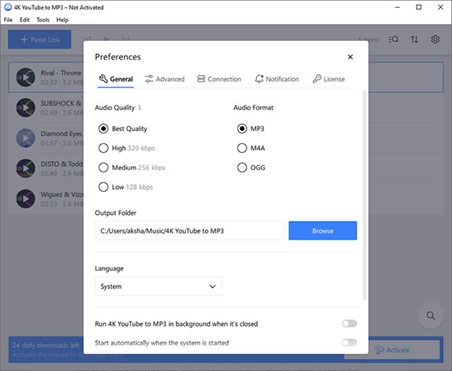 You can also set limits on the download speed available to the app, plus you can change the notification settings here, and even purchase and activate a license for the software if you want.
Pricing and Fees
4K YouTube to MP3 is free to use. However, the software does offer a license that you can purchase to unlock additional features such as unlimited downloads, concurrent downloads, no ads, as well as the ability to download entire channels, etc.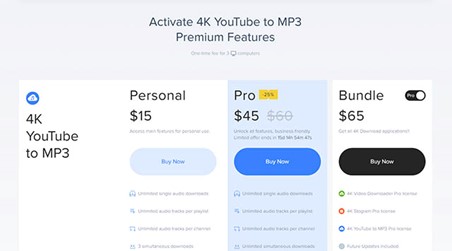 Licenses start from $15 for a Personal license, and go all the way to $65 for a Bundle that also includes licenses for 4K Video Downloader Pro and 4K Stogram Pro along with 4K YouTube to MP3.
Easily Download 4K Videos as MP3 Files
4K YouTube to MP3 is a nifty, free to use software that makes it very easy to download videos as MP3 files. The software supports a plethora of video hosting websites including the likes of YouTube, Instagram, TikTok, and others. Plus, you can download converted videos in a bunch of formats and even choose the quality you want.
Check out 4K YouTube to MP3 (website)