A short while after Apple sent out press invites for its annual iPhone launch event which has now been confirmed to be taking place on September 12, press images of the huge 6.5-inch iPhone, and the 5.8-inch iPhone have leaked out.
The leak comes courtesy of 9to5Mac and shows the two new iPhones in a Gold color that we saw with last year's iPhone X when it passed through FCC, but was never made available for sale. This time around though, it seems as though Apple will let customers buy the new Gold variant in at least the two, more expensive, OLED display touting iPhones that are expected to be priced around $899 and $999.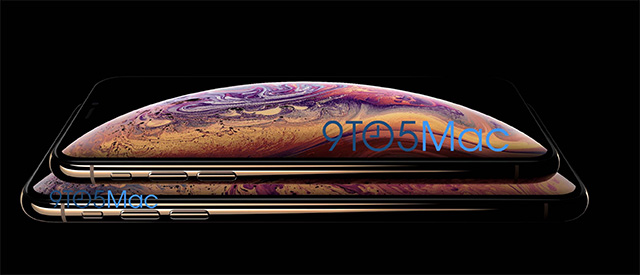 The report from 9to5Mac also claims that the new iPhones (both the 5.8-inch and the 6.5-inch variants) will be called iPhone XS — a name that I've been quietly hoping was incorrect thanks to the sheer weirdness that is the naming scheme that might follow. However, 9to5's tipster Guilherme Rambo has been exceedingly accurate with his leaks around iPhones, and it seems to be pretty much a confirmation that the new iPhone will indeed be called the iPhone XS.
Coming back to the image, however, the two iPhones don't show off much that we wouldn't expect on an iPhone. The wallpaper does make it look as if there's no notch on the phones but everyone is pretty sure it's just a strategically chosen wallpaper and nothing more — an assessment that I agree with.
Anyway, you can feast your eyes on this iPhone XS press image while you wait for the official unveil of the device on September 12.