Love it or hate it, Xiaomi's MIUI is one of the best custom Android skins out there. The custom skin comes with plenty of interesting features not found in AOSP and it's even better with MIUI 11. However, the overall look is too colorful, and some people, like me, prefer the look of stock Android. Well, if you're someone who owns a Xiaomi device running MIUI but would rather fancy the stock Android look, read on, as we discuss 12 of the best MIUI themes that you can install on your device to make it look like you're running stock Android:
Note: If you're using a Xiaomi device, please open this article on your mobile device to directly be transferred to the official Theme Store from the links. This will make your life much easier.
Best MIUI Themes For A Stock Android Look
I've tried the following themes on my Poco X2 running MIUI 11. All the themes worked perfectly without any problems. Most of the themes will also work with older MIUI smartphones. With that out of the way, let's get to our list, shall we?
1. Pixel Experience Dark
Pixel Experience is arguably the best MIUI theme on the official Xiaomi theme store. I say this for two reasons: the theme has been well designed keeping fonts, wallpaper and dark mode in sync with Pixel 4's aesthetics. And secondly, it doesn't slow down the device after applying the theme which is awesome. In addition, the icon shape has the Google Material design language and all are in uniform shape giving a very stockish look on MIUI. Above all, there are many customization options including the 'text lock screen clock' which is available on Pixel devices and much more. So to put it straight, if you want the best MIUI theme to have a Stock Android experience on MIUI 11 then Pixel Experience Dark is the perfect pick.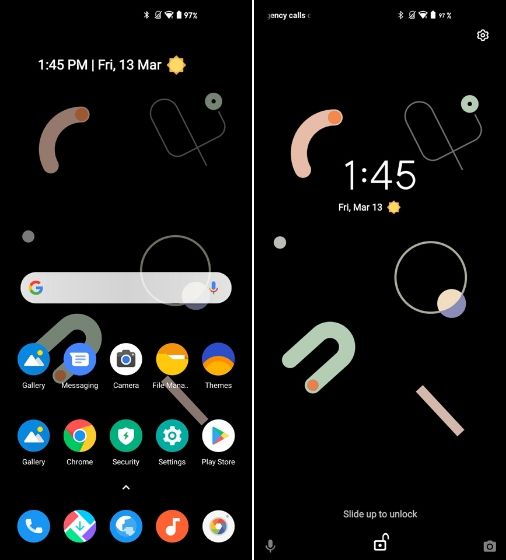 Download: (Free)
2. PixPie Dark
PixPie Dark is another heavy theme that completely changes the look of your MIUI device to a Stock Android device. In more ways than one, you would find that the theme is starkly similar to OxygenOS and also has elements of Google's Pixel software. And I love the blend of two distinct and hugely popular stock Android skin. As I said it's a complete theme– unlike other themes which only change your wallpaper and icon– this will change your lock screen, system elements like status bar, notifications, quick settings panel, icons and of course, the wallpaper. On top of that, PixPie Dark is an up to date theme and supports the new MIUI 11 version on a range of Mi, Redmi and Poco devices.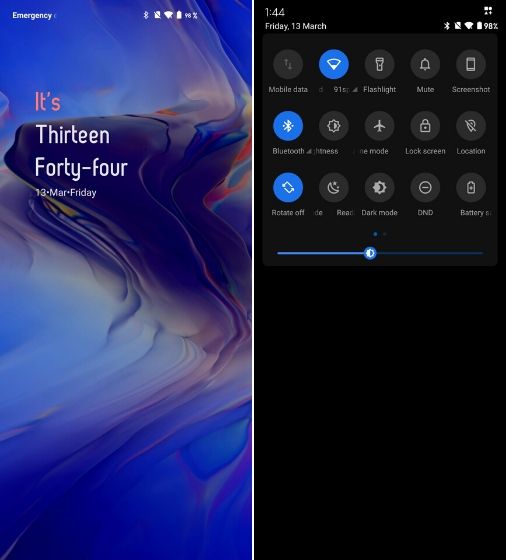 Download: (Free)
3. Pixel Q Light
If you are fond of light mode then I would recommend the Pixel Q Light theme on MIUI which is as good as the other two themes mentioned above. It comes with the classic Google Wallpaper, Material designed icons, a clean and separated quick settings page and more. The theme also applies to the core Settings page and keyboard making the whole user interface light and vibrant in classic Google fashion. What I love the most about this theme is that it's pretty lightweight and does not bog down your smartphone in any way. Also, you have got the Stock Android look on the lock screen with two quick functionalities on either side. All in all, if you are looking for the best MIUI theme to make your Xiaomi device look like Stock Android then Pixel Q Light theme will not disappoint you.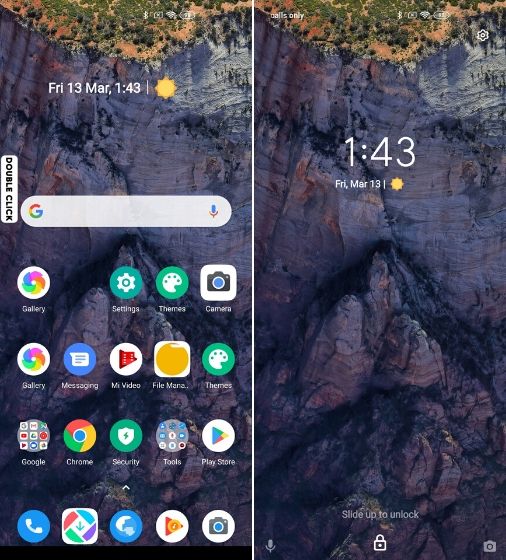 Download: (Free)
4. Android Go v2
Android Go v2 is very reminiscent of the Android Go OS — a stripped-down version of Stock Android. Incidentally, Xiaomi has also released a device called Redmi Go which comes with Android Go OS. So if you want that simpler look on your MIUI-based device then Android Go v2 is a top-notch theme. It completely simplifies the UI with essential apps on the home screen and less-cluttered quick settings panel. Apart from that, it brings down the overall RAM usage to naught because it just has a memory footprint of 2.3MB which translates to better performance. I would say if you have a low-tier Redmi device then apply this Android Go theme for a stockish look and better performance.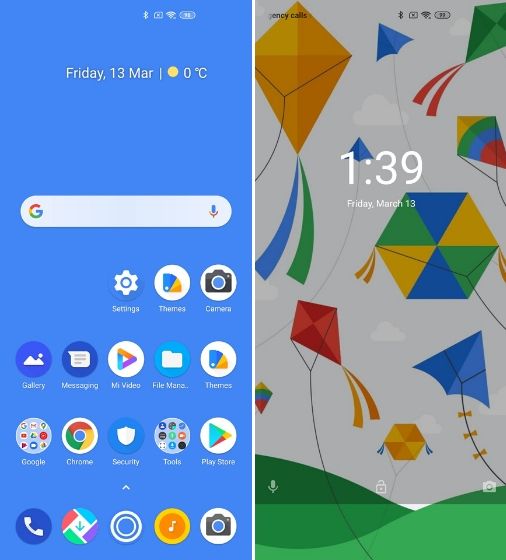 Download: Open the Themes app and search for 'Android Go v2'
5. Android 10 Dark DWM2
Android 10 Dark DWM2 theme is for those users who want complete dark mode but in Google's Material design language. It uses a Stock wallpaper from the Pixel device and changes the icon shape to circular for a uniform look. Other than that, the home screen grid size is 5×5, but if you want more of a Stock look then you can enable the App Drawer from our article on MIUI 11 hidden settings page. Furthermore, the dark mode extends to other system apps as well like the Dialer, Mi Browser, Settings and more. This theme also changes the font to condensed Roboto font and it looks pretty good on a Xiaomi device. To put it straight, if you want the Stock Android experience in complete dark mode then do check out this theme.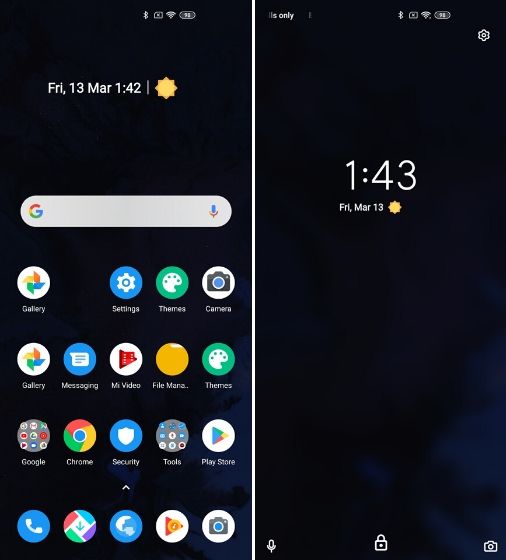 Download: Open the Themes app and search for 'Android 10 Dark DWM2'
6. Android P
Android 10 is here, so you can't be blamed for looking for a theme that resembles the new look. The Android P theme is based on Android Pie, and as you can see, it showcases the same white and blue theme all over the place. In fact, the quick settings icons are so well designed that anyone would easily mistake your device as one running actual Android 9 Pie. If you fancy the whites and want your device to look like Android P, well, then this might just be the perfect theme for you.
Download: (Free)
7. Pineapple
Well, Android P turned out to be Pie and not Pineapple, but it is a great theme nonetheless. In fact, it is one of the cleanest themes of the lot and looks a lot like Android 9 Pie. The theme offers a clean dock, along with Android Pie styled quick settings toggles. The lockscreen, on the other hand, is slightly off the mark on my device, since the theme doesn't support 18:9 ratios. Nonetheless, if you can look past the lockscreen, you get a near stock AOSP experience, which is kind-off what this list is all about.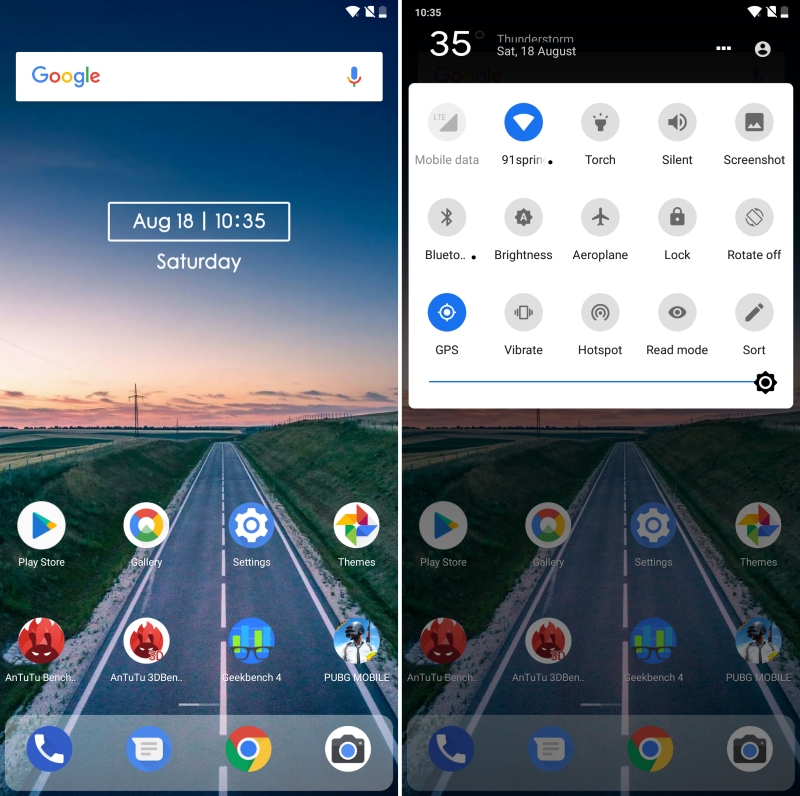 Download: (Free)
8. Pure Android P
Pure Android P is another MIUI Theme that is based on Android 9 Pie. The theme has one of the cleanest looks out there, and really does a great job of replicating the overall look of Android Pie. The quick settings icons have a shadow of their own, and actually look like a mix between Android Pie and MIUI. The theme comes complete with a still image of Pixel 2's live wallpaper and looks pretty neat. However, the lockscreen might be something that has a divided opinion, since it looks pretty much like the homescreen only. Nonetheless, it gives you access to customizable shortcuts which is always a plus in my book.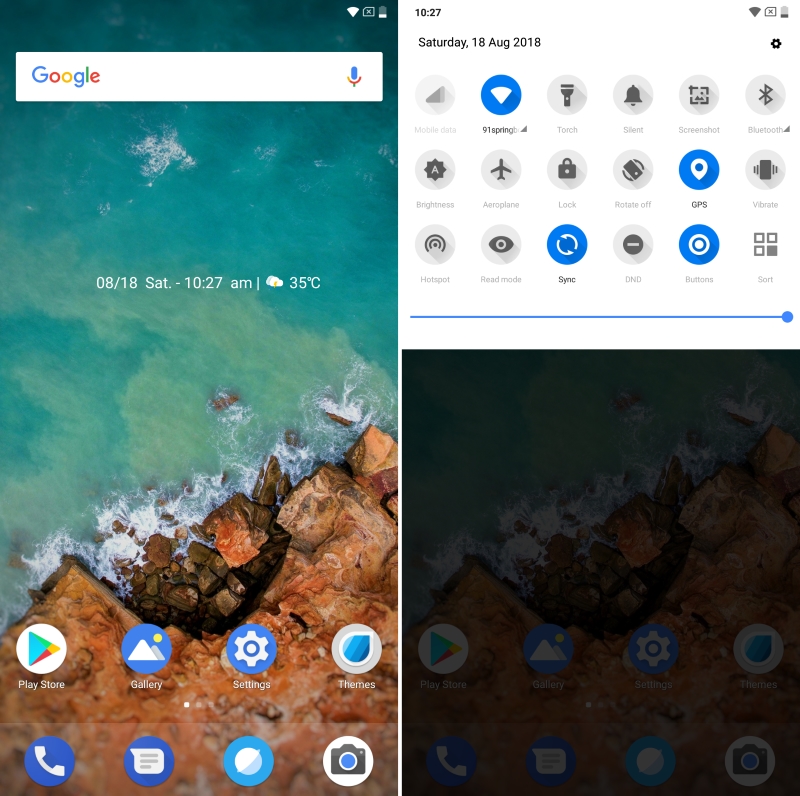 Download: (Free)
9. Android One
Android One is one of the cleanest forms of Android available to OEMs, and the same can be said for this theme right here. The Android One theme looks pretty similar to those found on Android One devices, boasting of the circular icons, folder icons, the Pixel widget, and much more. The icons in the status bar also resemble the AOSP ones quite closely. Personally, I fancy this theme a lot, simply because it does not add a lot of bells and whistles, but looks plain simple, just the way Stock Android should as well.
Download: (Free)
10. Android Origin
Origin is an open-source theme project that brings Android 8.0 Oreo's basic look to your Xiaomi device. It's free to download and comprises of the translucent dock, rounded icons, notification shade and lock-screen similar to stock Android. It brings about a change in the quick settings as well and looks pretty similar to stock AOSP. The theme also comes with a cool set of wallpapers, so if you're looking for an MIUI theme that resembles AOSP perfectly, then Android Origin is easily one of the top picks.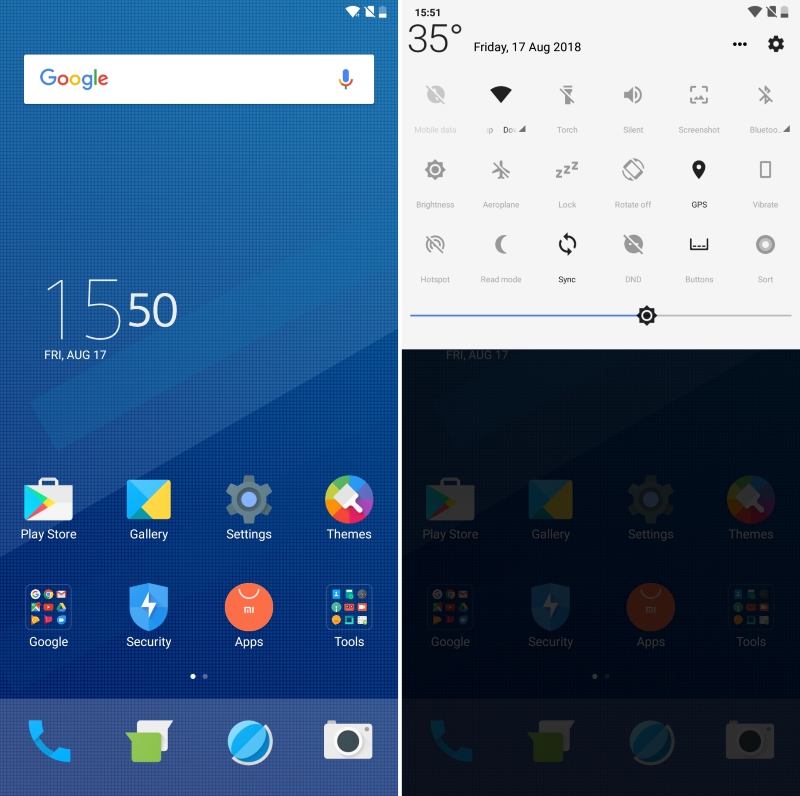 Download: (Free)
11. Oxygen 999
Stock Android is great, but there are certain things I love about OxygenOS as well, especially with the way that it merges Stock AOSP with its own UI elements. Well, if you share the same emotions, the Oxygen 999 theme is for you. The theme provides you a stock Android Nougat homescreen, lockscreen and in-call experience. While you do not get any additional customization features, the fact that the overall look is the same as OxygenOS should suffice for most users. The theme literally makes your device look like the OnePlus 3/3T, which I personally fany a lot, but it does come with the cost of an ill-rendered lockscreen.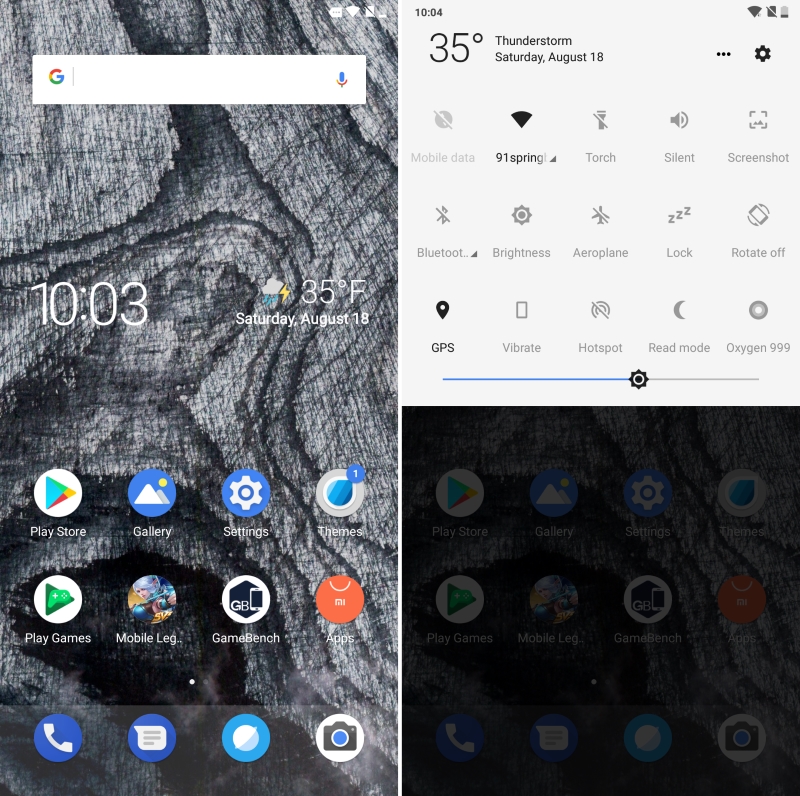 Download: (Free)
12. AOSP Extended
No no, I am not asking you to install the AOSP Extended custom ROM on your device, despite it being one of my favorite ROMs out there. Nonetheless, the AOSP Extended theme aims to give you pretty much the same "extended" look on your MIUI device. The AOSP Extended theme comes circular icons along with a dark grey/black theme all around. I especially love the quick settings in this theme, that offers a transparent look to the background. The theme is one of the most stable that I've used, and while it isn't AOSP per se, it is quite better in every sense, thanks to the stability and the custom icons.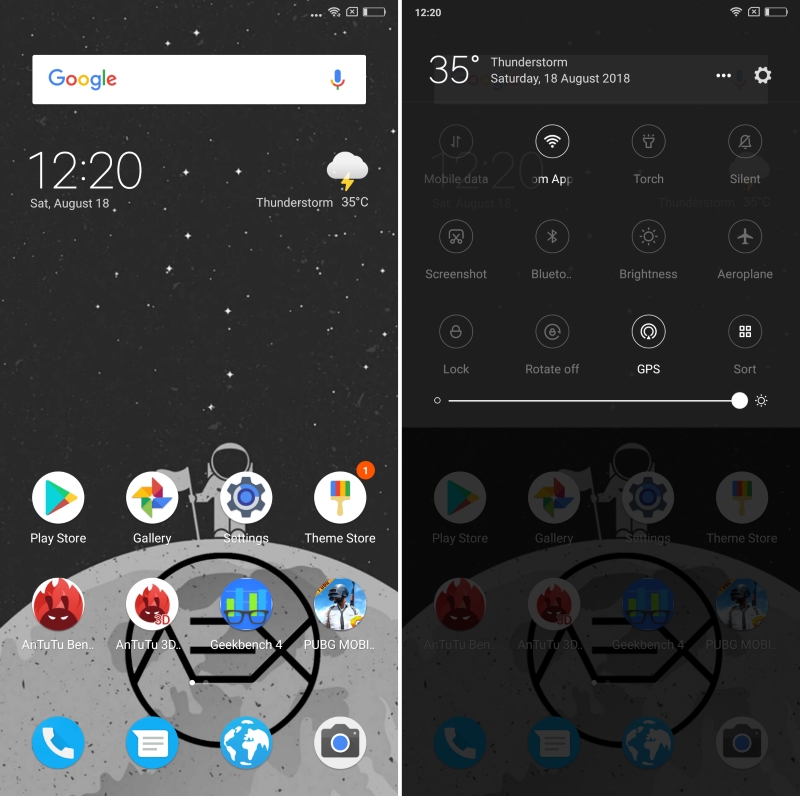 Download: (Free)
Rock That Stock Android Look on Your MIUI Device
Theming is one of the best parts about customization in Android, and MIUI gives you the option to mix and match the capable parts of a different set of themes to get the experience you want from the device. You can use Xiaomi's native theme customizer to select a combination of icon packs, lock style, dial pad, status bar and more to replace the native MIUI look. While there are plenty of themes available on the Mi Theme Store, the above ones should help you in getting a stock Android look on your colorful MIUI theme. Try these themes and let us know about your favorite theme in the comments below.
---
Load More