Google's tradition of giving Android enthusiasts an early peek at what the upcoming flavor of Android looks and feels like is long-running and we'd been waiting on the debut of Android Q for weeks. Well, our wait finally came to an end last night when Google released the first official beta build of Android Q and it looks quite awesome.
Android Q doesn't make any influential changes to the core experience that we've grown accustomed to with Android Pie, with a number of significant upgrades and features. I've been using Android Q Beta 1 for a while now, and here are 10 new and exciting Android Q features:
New Android Q Features
Note: We tried out these features on the Pixel 3 XL and the Pixel 2, running the first beta of Android 10 Q (build number QPP1.190205.018.B4)
1. Improved Privacy
Google seems to have had enough with the Android-iOS privacy banter and is taking major strides with its latest flavour of Android. Android Q comes with a renewed focus on privacy and you now have added control over permissions doled out to specific apps, along with runtime permissions for enhanced security.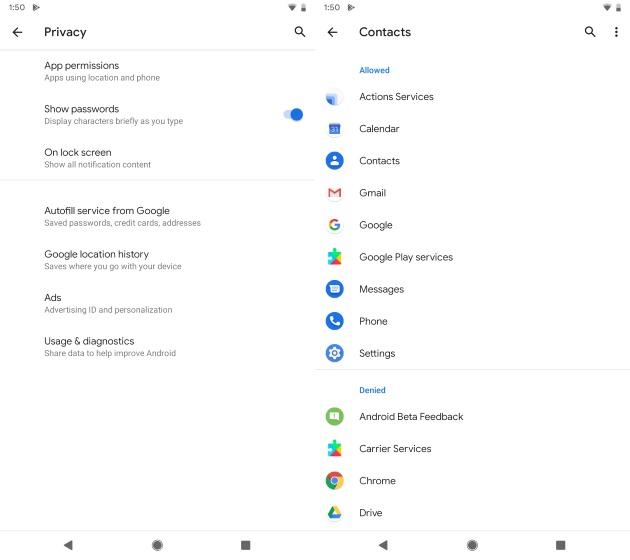 Android Q also strives to elevate the user experience by cutting down on interruptions. It will now block background activities from launching an activity, especially a fullscreen one, which will be a boon for Jio and Xiaomi users. This version is also limiting access to non-resettable device identifiers, such as your IMEI and serial number, among other things.
2. Location Security
Adding to the aforementioned privacy options, Android Q also lays emphasis on location and how permissions for the same are granted to apps. Earlier you used to grant an app location permission once during app setup and it always had access to it, however, that changes greatly with this Android version.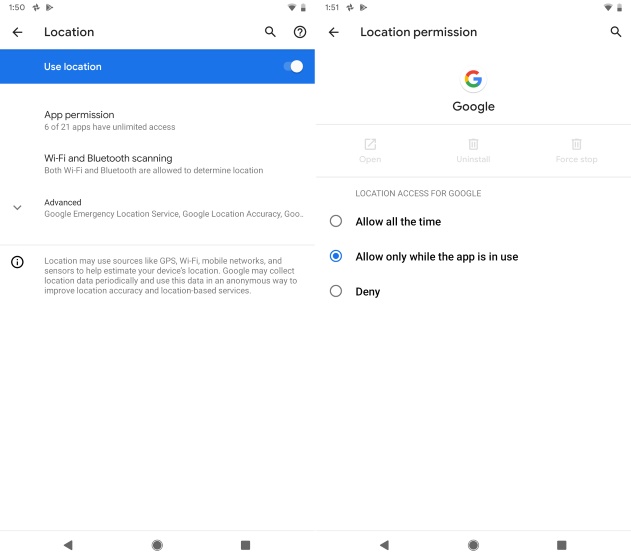 Now, when an app requires the location permission, you don't grant it for a lifetime. You will see a pop-up with the option to grant the permission only for the time when the app would be open and in use. This is similar to what Apple did to iOS a long time ago, especially after allegations of cab companies tracking riders even after the ride was over. You don't need to worry about it any longer, thanks to a more robust permissions control system.
3. Dark Mode is Here
Well, kind of. You must have seen the myriad of leaks about the system-wide dark mode coming in tow with Android Q and it's true. However, the first beta build doesn't carry an option to enable the same, instead, it has even removed the dark theme option which we have available in Android P.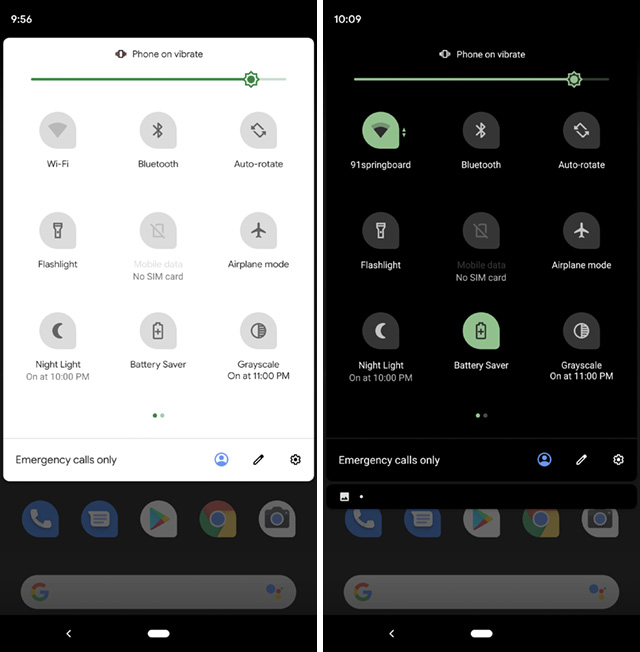 While there isn't a dedicated option to switch to a dark mode in Android Q settings, you can still check out the upcoming true dark mode (AMOLED users, rejoice) in a few simple steps. We've compiled a quick guide to enable dark mode in Android Q that you can check out.
4. Theming Options
Google's mobile OS has also taken its first step towards theming with Android Q. It now comes with a dedicated theming section that allows you to change the accent color (pick between blue, black, green & purple), the font (currently just two options), and the icon shape, which was possible in Android P as well.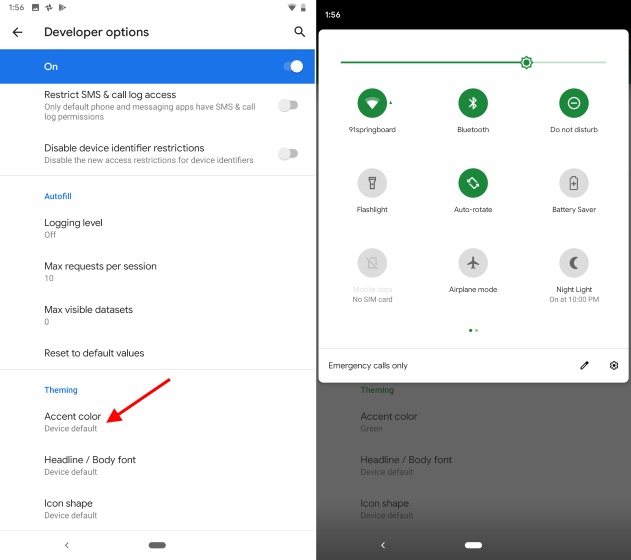 You can go to "Settings -> System -> Advanced -> Developer options" and scroll to the very bottom to check out the theming features available in Android Q. It is barebones in the current form (probably for use by OEMs to differentiate builds) but let's hope Google pays some attention to it to give us a full-fledged theme customizer in upcoming betas.
5. A New Navigation Gesture
I know, we had all been expecting the back button to vanish and Google completely relying on the pill in Android Q, but the Beta 1 build doesn't bring the same in tow. The navigation gestures have been retained in their current form, the same as Android 9 Pie – except for one minor addition that makes switching between apps easier.
Google seems to have taken cues from iPhone X's gestures, which are super good and fluid, and adding a new gesture to switch between apps. You can still use Android Pie's right flick on the pill to jump between recent apps but it's janky and slow. This new arc-like gesture on the other hand, where you slightly pull up on the pill and swipe to the right, is snappier because of fewer animations.
6. Force Desktop Mode
Yes, the rumors were true. Google is working on a Samsung Dex-like 'Desktop Mode' feature that would transform your smartphone into a PC experience. Android Q includes the 'Force Desktop Mode' toggle under Developer Options, away from the average users, and it will come with free-form window support that was introduced with Android Nougat.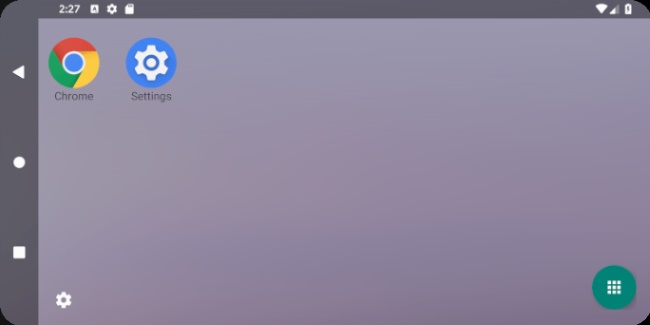 This feature is still pretty half-baked and unsupported on the Pixel series due to lack of HDMI out support on the phone's USB-C port. If you are still eager to test it out though, then the folks over at XDA Developers have figured out a nifty way to view the Desktop Mode on a PC or even your Pixel as well (seen in the screenshot above).
7. Native Screen Recorder
This Android version would possibly find a place in history since it brings in tow, for the very first time, a native screen recorder that you can use. Yeah, Android Q hosts a screen recorder, however, it still appears to be in development and the UI isn't the best.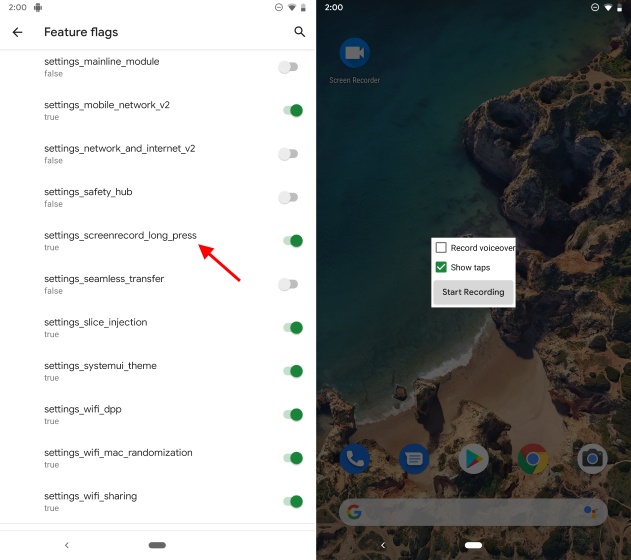 You can see for yourself in the screenshot above that it looks oldish. But, it gets the job done for now and it could get better in the upcoming betas. Wanna try it out? Check out our guide on how to enable the screen recorder in Android Q.
8. New Sharing Pane
One of the major pain points of Android, apart from the sluggish update rollout by OEMs, has been the sluggish sharing pane, but that has changed with Android Q Beta 1. Google has finally made the sharing pane snappier and it now loads up surprisingly fast as compared to Android Pie, the most recent stable version of the OS.
In addition to speed improvements, the sharing pane also comes with minor UI changes, the clipboard button (with the URL of the link) at the very top, and the Sharing Shortcuts feature that only further strives to speed up the sharing process. It would allow users to share stuff to a specific feature within the app (like Instagram Stories) straight from the sharing menu.
9. Easy Wi-Fi Connectivity
When you jump into the Wi-Fi settings pane in Android Q, you wouldn't really notice any major design changes but the beta update brings an 'Easy Connect' feature for secure & faster sharing of Internet services. You can now share your Wi-Fi connection with friends via a QR code or connect to one via the same right from the Wi-Fi settings pane.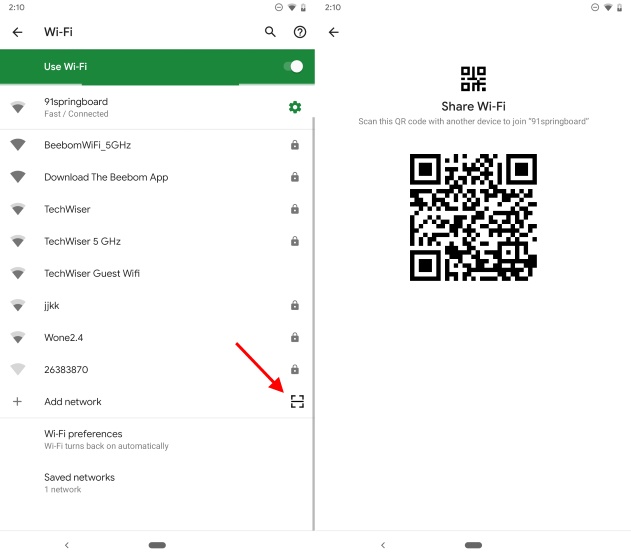 Google's focus on privacy has also given birth to the random MAC address feature, which will be enabled by default, to hide your device's original MAC address from others.
10. Undo Accidental Icon Removals
The default Pixel Launcher that comes in tow with Android Q Beta 1 has also snagged a menial, yet nifty feature that can solve your homescreen mishaps. If you've mistakenly deleted an app icon from the homescreen, the launcher will now show a "floating undo button" at the bottom so you can revert the same.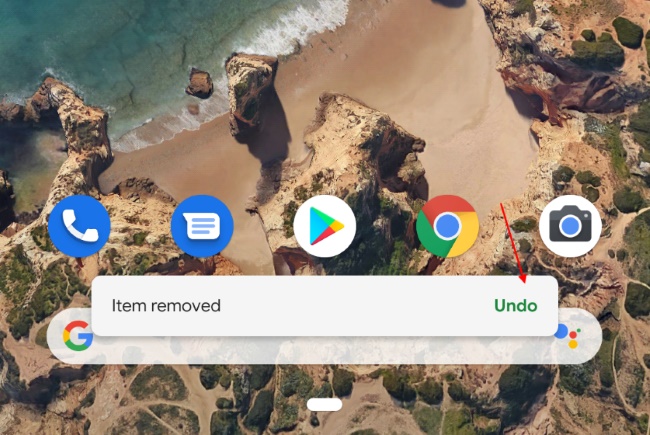 This feature is limited to the Pixel Launcher and doesn't work with third-party launchers. However, we can expect major third party launchers to add this feature in future updates.
Android Q Developer-Centric Features
After all, this is officially the first Android Q Developer Preview and its primary purpose is gathering feedback from developers on what works and doesn't from the community. So, here are all the developer-centric features in this Android version:
1. Foldable Support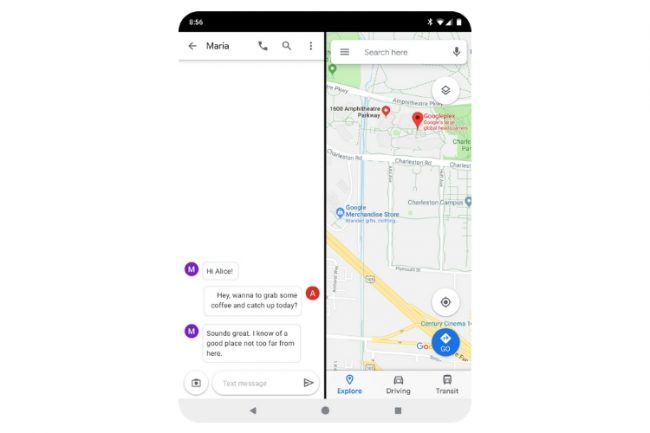 Google had announced Android support for foldable devices towards the end of last year and it's now improving the same with Android Q by defining multi-resume and how apps will look on those contorting devices. The Android Emulator has been updated to support multiple-display type switching as well, so developers have a go at it.
2. Dynamic Depth Format

Multiple camera setups on our smartphones now capture a ton of data and that includes depth data, which is super useful for portrait effects. Google states this data is usually discarded, but not with Android Q, which will store a Dynamic Depth image that a developer can request to offer custom bokeh options, create 3D images, and more.
A dynamic depth image contains a JPEG, XMP metadata related to depth elements, and a depth and confidence map embedded in the same file.
3. New Audio/Video Codec Support
Android Q also introduces support for open source video codec AV1 for high quality streaming, HDR 10+ for devices that support it, and audio encoding using Opus as well.
4. ART runtime improvements
Google has made significant improvements to ART runtime, making apps load faster by identifying and precompiling regularly executed parts and consume less memory when you're opening it the next time.
5. ANGLE on Vulkan
Vulkan handles the graphics responsibilities of your Android device and Google is now looking to extend performance benefits, as well as consistency, by adding a graphics abstraction layer, dubbed ANGLE, and designed for high-performance OpenGL use-cases. Experimental support for the same is already available in Android Q Beta 1.
6. Neural Networks API 1.2
We cannot complete the tea party without talking about AI, especially when Google is in the picture. Android Q comes with an improved version of Neural Networks API (NNAPI), adding 60+ optimisations for object detection and image segmentation.
SEE ALSO: How to Install Android Q Beta 1 on Your Pixel Devices
Android Q Beta 1: An Enhanced Android Pie Experience
With Android Q, Google appears to be laying more focus on privacy and security rather than the aesthetics of the mobile software. There are almost negligible changes on the forefront, but there's a lot happening behind the scenes here and I'm really excited to witness Android shape up into a better version of itself.
Have you installed the Android Q beta on your Pixel device yet? What are your favorite features? Let us know your thoughts in the comments below.