Xbox's E3 2018 presentation finally came to an end, and just as expected it was crammed with new games and titles.
Microsoft partnered with a lot of gaming studios to showcase not just their own console exclusives, but also some of the other hot and upcoming titles from other studios. In fact, the whole presentation consisted of a total of 18 exclusives and 15 world premiers of games. So, without wasting any time, let's get right into it:
Halo Infinite
Microsoft kicked off its E3 2018 presentation by showcasing one of the most anticipated exclusives, Halo Infinity. Halo Infinite is a new Halo game that appears to include a giant world associated with it, and vehicles like the classic Warthog. While there's not much gameplay in the trailer, it does also show Master Chief slotting what might be Cortana into the back of his helmet.
According to 343 Industries, this new game will be "the next chapter of the legendary franchise," and it will be available on both Xbox One and Windows 10 PCs. However, there is no information yet about the game's release date yet.
Ori and the Will of the Wisps
Created by the Austrian indie developer Moon Studios, Ori and the Will of the Wisps is a beautiful platformer which was revealed in a new trailer at Microsoft's E3 2018 presentation.
Microsoft had earlier announced Ori and the Will of the Wisps at E3 2017, which is the sequel to 2015's Ori and the Blind Forest. It's basically a side-scrolling platformer with puzzle-solving elements. The new trailer features gameplay footage of action in forests, caves, jungles and other environments, and a variety of creatures including a giant arachnid-looking beast of some kind.
Ori and the Will of the Wisps is scheduled to be released in 2019 on Windows 10 and Xbox One.
Sekiro: Shadows Die Twice
Next up, we have FromSoftware, who is working in close collaboration with Activision, and their next game is called Sekiro: Shadows Die Twice.
The basic concept of Sekiro: Shadows Die Twice is to give players control of a "hard-hearted warrior whose mission is to rescue his master, a young lord, and exact revenge on his arch nemesis." Sekiro will take place in the Sengoku period of Japan and will probably have the same style of intense combat action and difficulty, as other titles from FromSoftware.
Sekiro: Shadows Die Twice is scheduled for release in early 2019 to PlayStation 4, Windows PC and Xbox One.
Fallout 76
While Bethesda's E3 conference is only a couple of hours away, Bethesda Softworks' Todd Howard chose to reveal the first trailer of their upcoming title, Fallout 76, at Microsoft's E3 presentation.
According to Todd Howard, Fallout 76 is going to be "four times bigger" than 2015's Fallout 4 and will be set in the Appalachian Mountains of West Virginia, 20 years after the devastating nuclear strike that created a post-apocalyptic landscape of the Fallout canon. Additionally, it will be the prequel to all of the series' current titles. The players will emerge from Vault 76 in the Shenandoah Valley, tasked with rebuilding society a quarter-century after nuclear weapons have devastated the land.
We expect to hear more about Fallout 76 at Bethesda's E3 2018 showcase. As of now, there is no mention of a release date for the game. However, you will be able to pre-order the game on June 15th from the Xbox Store.
The Awesome Adventures of Captain Spirit
The next game on this list comes from Dontnod Entertainment, which is set in the universe of Life is Strange. Called The Awesome Adventures of Captain Spirit, the game will be a self-contained story.
The story follows Chris, a 10-year-old boy who dreams of adventure. The game is based on an original story and aims to allow players to experience the fantasy world of a child's imaginations. Apart from the trailer, Dontnod also states that the game will "give you glimpse into Life is Strange 2's brand-new story… but only if you're clever enough to piece the clues together."
What's more is that the game will be available for absolutely free on the Xbox Store from June 26th.
Crackdown 3
We already knew that Crackdown 3 had been pushed back to a 2019 release date, but we had expected to see some new gameplay footage of the game at this year's E3. Thankfully, Microsoft did not disappoint and gave us a new look at Microsoft's flashiest exclusives.
While the first trailer had showcased skyscraper-scale destruction, the new trailer falls closer in line with the supercop gameplay of the original Crackdown. It features Terry Crews' character, who runs around and shoots things. Oh, and he apparently love to yell, like, a lot!
Crackdown 3 is scheduled for release in February 2019 and is going to be an Xbox Exclusive. What's more is that the game will be available for free to Xbox Game Pass subscribers right at its launch time.
Nier: Automata
Something that we had been waiting for a long time is finally happening. Nier: Automata, which was a timed exclusive for the PS4 consoles, is making its way over to Xbox.
A special Become As Gods edition will hit the Xbox Store, bundling the base game, the 3C3C1D119440927 expansion, and a slew of in-game skins and accessories, including a Grimoire Weiss-themed robot companion. The Japanese RPG had a mind-bending story, conceived by Nier and Drakengard director Yoko Taro, and a snappy combat system refined by Bayonetta developer PlatinumGames.
Nier: Automata will be available on Xbox Store on June 26th, 2018.
Metro Exodus
The eagerly anticipated first-person shooter, Metro Exodus, was also showcased at Microsoft's presentation, revealing a new trailer along with the release date for the game as well.
https://www.youtube.com/watch?v=686FVeMU-o8
Similar to previous Metro games, there's plenty of mutated creatures being gunned down, but most importantly it looks like the tense, unsettling atmosphere isn't lost amongst the bombastic gunplay. Apart from that, the ongoing narration highlights that there will be a strong emphasis on storytelling, which is good news for those that have been following Artyom's journey from the start. The gameplay demo opened with a man giving a speech about survival, before quickly showing off a variety of weapons and customization options.
Metro Exodus is scheduled for release on February 22, 2019 for PlayStation 4, Xbox One, and PC.
Kingdom Hearts III
For those of you who are Disney fans, this might be the biggest announcement from Microsoft's conference for you.
As the conclusion to the core trilogy of games, focusing on Sora, Donald, and Goofy's adventures through Disney-themed worlds, the third game looks to expand its scope even further while still showing that it has still got its charm and plenty of heart. The new trailer sees Sora, Donald Duck, and Goofy encounter Elsa, Anna, Olaf, Sven, and Kristoff from Frozen. Other characters featured are Rapunzel from Tangled, Hercules, and the Monsters Inc.crew.
Kingdom Hearts III will release on January 29. 2019 for Xbox One and PlayStation 4.
Sea of Thieves
Sea of Thieves has been one of Microsoft's biggest success stories, especially for the year 2018. At their E3 2018 presentation, Microsoft and Rare debuted a new trailer for Sea of Thieves, showcasing new and upcoming content for the game.
Sea of Thieves' world continues to evolve in the wake of The Hungering Deep. Over the next few months, Cursed Sails and Forsaken Shores will deliver new features, declare new challenges and show new threats. Cursed Sails is said to add a new ship type, and Forsaken Shores will add a whole new area to set sail.
The Cursed Sails DLC is set for July, while Forsaken Shores will follow in September.
Forza Horizon 4
Another year, another E3, and yet another Forza. Microsoft has announced the sequel to 2016's Forza Horizon 3 – and it is accurately named Forza Horizon 4.
https://youtu.be/VmQNo8xtcAg
Forza Horizon 4 will see players traveling to Britain and will feature the same arcade style open-world gameplay that Forza Horizon is known for. Apart from being heavily optimized for Xbox One X, with a 60 FPS mode, the major addition to this year's Forza is dynamic seasons. Seasons will change throughout the gameplay and dramatically affect how the world looks and how cars will drive. Forza Horizon 4 also features a shared open world, where the other cars that players encounter are actually other players, who'll you'll be able to race against and with in real time.
Forza Horizon 4 launches on October 2nd for Xbox One and subscribers to Microsoft's monthly Xbox Game Pass subscription will be able to play the game for free.
We Happy Few
Microsoft also announced a new surrealist adventure game from Compulsion games and publisher Gearbox, We Happy Few.
The game takes place in a psychedelic, fictional version of England, where players must survive as society disintegrates around them. It's a dystopian future that tells an alternate, darker version of World War II — one where the ramifications of the war are still felt all the way in the 1960s. There's also the influence of drugs, plenty of mime-looking coppers to run away from and a combination of survival, RPG and even roguelike elements to navigate throughout.
We Happy Few is set to be released on August 10, 2018.
PlayerUnknown's Battlegrounds
PlayerUnknown's Battlegrounds remains one of the biggest games in the battle royale genre, and it was present at Microsoft's E3 2018 showcase as well.
https://www.youtube.com/watch?v=4rG9noTfb4A
On top of the release of the game's third map, called Sanhok and schedule to release later this month on PC, a trailer was shown during Microsoft's E3 2018 press conference that revealed that the map would also be coming to Xbox One later this summer. It also teased the game's fourth snow themed map later in 2018. Apart from that, the trailer also revealed that War Mode, the popular squad deathmatch mode from the PC version of the game would be heading to the console version in the near future along with other featured game modes.
The new update for PUBG on Xbox One is to be released in Winter 2018.
Tales of Vesperia
Bandai Namco will release Tales of Vesperia: Definitive Edition on Xbox One this winter, which aims to bring back the classic RPG game to the Xbox One.
The game which launched exclusively on Xbox 360 in the West, all the way back in 2008 is all set to get a remaster, which will include additional content as well as characters. As evident from the trailer, the studio hasn't changed much in the past decade, but the cutscenes from the still look as beautiful as they did then.
Tales of Vesperia will be coming to Xbox One, PS4, PC, and Nintendo Switch this winter.
The Division 2
While we've known about this title for a good amount of time, Ubisoft finally showed off Tom Clancy's The Division 2 for the first time at Xbox's E3 2018 show. Apart from the trailer, the studio actually showed off some gameplay footage as well.
The Division 2 moves from the frigid winter of lower Manhattan to the sweltering, swampy heat of Washington, D.C., in the summer. The extended gameplay demonstration showcased Division operatives accepting missions, cooperating to complete them, and the high danger posed by the post-apocalyptic landscape in the nation's capital. It seems as if the sequel will be picking up where the new and improved version of the original left off.
The Division 2 will be released on March 15, 2019, and will be available on the PlayStation 4, Xbox One and PC.
Shadow of the Tomb Raider
Teased a couple of months ago, Square Enix chose Microsoft's E3 2018 showcase to show off the complete trailer for their upcoming title, Shadow of the Tomb Raider.
The trailer shows Lara solving puzzles inside of a Mayan temple, then making a dangerous escape down a rushing river. The trailer refers to a "cleansing," an event she triggers by pulling a knife from its resting place inside the temple.  The action-adventure title's gameplay is a mix of set-piece traversal, combat with more traditional series of puzzle solving. While the original two games in the series were developed by Crystal Dynamics, Square Enix's Edios Montreal studio is taking the reigns for this next installment, which is being called the final chapter in Lara's origin story.
Shadow of the Tomb Raider will launch on Sept. 14, 2018, on PlayStation 4, Xbox One and PC.
Session
Montreal-based indie developer Crea-ture Studios has showcased their upcoming skating game, Session, and boy, does it look fantastic.
Session is played with a dual-analog control scheme, à la Electronic Arts' old Skate series, where each stick controls one foot. When not skating, players will be in Filmer Mode, capturing footage of their tricks for the purposes of editing and sharing it. The camera system for Filmer Mode is inspired by the VHS-quality skate videos of the '90s, according to the developer. That being said, not much is known about the gameplay at this time.
As of now, there is no word on when Session will be out for interested users. However, it will be a timed exclusive for Xbox One.
Black Desert
Microsoft's E3 2018 presentation was also the host to a first look at Black Desert, the upcoming MMORPG game for the console.
Black Desert is an MMORPG based in a fantasy realm ruled by magic and disturbing creatures. The game's trailer showed off some of the characters that players will be able to play as, and demonstrated some of the environments players will be able to explore.
Microsoft announced that the beta for Black Desert begins in Fall 2018, with players available to register for the beta now.
Devil May Cry 5
One of the biggest anticipations of this year's E3, Devil May Cry 5 was finally showcased during Microsoft's presentation.
Devil May Cry 5 appears to be a direct sequel to Devil May Cry 4 and will see the return of franchise protagonists Nero and Dante. It seems that Nero, star of Devil May Cry 4, will be back as a primary playable character. In Devil May Cry 5, Nero will be joined by his partner Nico. According to Capcom's official description, "Several years have passed in Devil May Cry 5 and the threat of demonic power, long since forgotten, has returned to menace the world once again. The demonic invasion begins with the seeds of a "demon tree" taking root in Red Grave City. This hellish incursion attracts the attention of the young demon hunter, Nero, an ally of Dante who now finds himself without his demonic arm, the source of much of his power. As Nero heads to Red Grave City in his motorhome named "Devil May Cry" with his partner Nico, he ruminates on how everything started. The loss of his demonic arm, the demonic invasion, and Dante's unknown whereabouts. Things must be settled once and for all."
Devil May Cry 5 is scheduled for release in Spring 2019.
Jump Force
During Microsoft's E3 press conference, Bandai Namco announced a new 3D fighting game called Jump Force along with a reveal trailer. If you're a manga or anime fan, this one is probably the best news you'll hear all year.
The game brings together four huge franchises into a single game – Naruto, Dragon Ball, One Piece, and Death Note. Nods to each franchise were featured in the trailer and a few of your favorite characters were shown battling it out in what seemed to be a destroyed metropolitan area in the United States.
Jump Force is set to launch sometime in 2019 for Xbox One, with more details about other consoles to come in the coming months.
Dying Light 2
Dying Light 2 is finally here, and thanks to the trailer and gameplay footage shown at Microsoft's E3 2018 presentation, the game looks darker than ever.
The trailer focuses on how dire the situation of the survivors of the zombies has become, while also showing off the verticality of the gameplay. As explained by the game's narrative designer Chris Avellone, each players' decision will impact the world they interact with, in a different way, modifying the storyline accordingly. "It allows you to carve out your own world," Avellone explained, before stating that things will get even darker during the night.
While there is no news about a release date yet, Dying Light 2 is expected to release for both Xbox One and PS4.
Battletoads
Apart from Sea of Thieves, Rare's side-scroller will make its return in 2019, as showcased on Microsoft's E3 presentation.
Battletoads was a legendary side-scroller of the 8-bit computing console gamers, and the game is all set to make its return in 2019. The game will feature "body-morphing genre mashups, three-player couch co-op, 4K hand-drawn 2.5D graphics, and broad non-specific feature declarations."
While there is no exact date, that game will come out in 2019.
Just Cause 4
While one would presume that Square Enix would reserve this game for their own show, it is also a fact that Xbox's presentation was probably the biggest at E3 2018, and as such, it was the perfect stage to reveal Just Cause 4.
Playing as Rico Rodriguez, players will go up against "The Black Hand", the world's most powerful private army in the fictional South American country of Solis. The game brings back the much-heralded wingsuit from the previous installment, along with the parachute, helicopters, fighter jets, tanks, boats, and cars that will be available to Rico as he blows his way through the massive, open world.
Just Cause 4 will release on December 4, 2018, on PC, PS4, and Xbox One.
Gears Pop
One of the most interesting takes at Microsoft's GoW franchise is Gears Pop, which is coming to your mobile devices pretty soon.
Gears of War Pop was revealed today during Microsoft's E3 2018 press conference. It will be a mobile game that combines the third-person shooter with Funko Pops. Apart from the short reveal trailer, not much is known about the game. That being said, we expect it to feature a fun twist towards the franchise.
Gears Pop will be available for both Android and iOS devices, sometime in 2019.
Gears 5
If you thought Gears Pop was the only game from the franchise, think again, since the most awaited sequel to the franchise is finally here – Gears 5!
Gears 5 will star Kait Diaz as the main protagonist. While there aren't many details about the story known as of now, the new game has been described as "the biggest, most beautiful Gears world ever created." It will have support for 4K Ultra HD resolution, HDR, and will run at 60 frames per second.
Gears 5 will be available on both the Xbox One and Windows 10 when it does release next year.
Cyberpunk 2077
Right when Phil Spencer was about to leave the stage and bid everyone goodbye, the biggest announcement of the event was here – Cyberpunk 2077!
The trailer opened with a narrator saying poverty and other social issues had made his city the worst place to live, and yet, everyone wants to be there. It then showed a train emerging into a dazzling city of dreams, a metropolis of giant buildings adorned with dazzling screens, where the organic skin is meshed with futuristic tech. The narrator describes himself as a "dreamer" before opening a case with a rifle in it. Viewers were then treated to montage of violence, with punk-stylised figures brutally attacking each other. While the gameplay is still a mystery at this time, the trailer was just the thing people wanted to keep the hype high. For those of you unaware, the game is an RPG that is at least loosely based on Mike Pondsmith's tabletop game Cyberpunk 2020.
Cyberpunk 2077 will release in 2019, for Xbox One, PS4, and PC.
Other Studio Acquisitions
Apart from all the games that Microsoft showcased, they also announced that they had acquired not one, but a total of 5 gaming studios.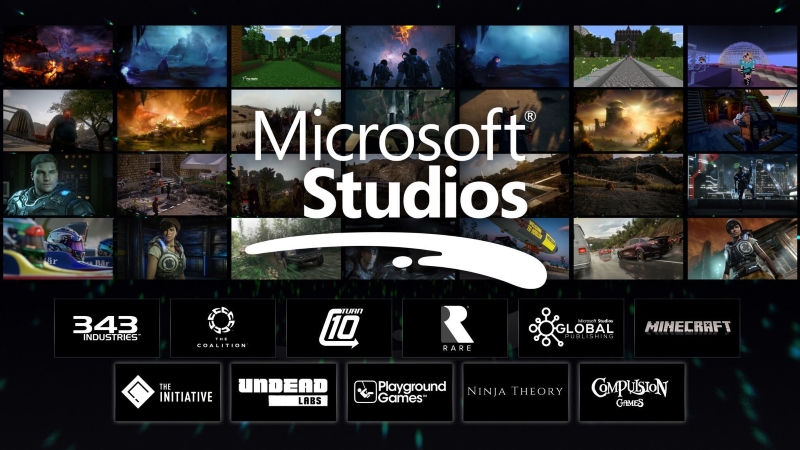 The Initiative, Undead Labs, Playground Games, Ninja Theory, and Compulsion Games; are all now a part of Microsoft Studios. These studios will continue to operate with Microsoft's resources and are expected to release Xbox exclusives in the coming time.
On the whole, Microsoft's E3 2018 conference was one of the best presentations in recent times. Truth be told, they might have practically won E3, by announcing almost all the games that fans wanted and had been asking for, and then some. For me, the new Gears 5 and Cyberpunk 2077 were the biggest announcements. But what about you? Let us know your thoughts in the comments below!