Although the Fortress itself is a sight to behold, the Duke Wriothesley is a fascinating character and someone you don't want to mess with. Wriothesley, the manager of the Fortress and a friend of Neuvilette's is a Cryo character of Fontaine and a Catalyst with a unique fighting style. In this guide, let's look at the best builds for Wriothesley in Genshin Impact, including some of his best weapon options.
Best Wriothesley Builds
The best way to build Wriothesley is by using the 4-piece Marechaussee Hunter artifact set combined with his signature weapon, Cashflow Supervision. Since Wriothesley sacrifices his HP for an attack boost and gains HP using charged attacks, Marachaussee Hunter is tailor-made for Wriothesley. Cashflow Supervision takes care of Wriothesley's Crit Rate requirements and increases Attack Damage and Speed, whereas Maracheussee Hunter increases both his Normal and Charged Attack and Crit Rate as he loses or gains HP. This combination is easily one of the best builds for Wriothesley.
4-piece Marechaussee Hunter (Best Artifact set for Wriothesley)
4-piece Blizzard Strayer (Great if you have enough Crit values but need Cryo damage bonus)
4-piece Echoes of An Offering (Increases his overall damage from Normal and Charged attacks)
4-piece Shimenawa's Reminiscence (Increases ATK% and Normal, Charged, and Plunging Attack Damage by 50%)
| Artifact | Main / Sub-Stat |
| --- | --- |
| Flower | Flat HP / Crit Damage ≡ Crit Rate > ATK% > ER |
| Feather | Flat ATK / Crit Damage ≡ Crit Rate > ATK% > ER |
| Sands | ATK% / Crit Damage ≡ Crit Rate > ER > ATK |
| Goblet | Cryo DMG Bonus / Crit Damage ≡ Crit Rate > ATK% > ER > ATK |
| Circlet | Crit Damage ≡ Crit Rate / ATK% > ATK >ER > EM |
For Wriothesley, you need to stack up as much Crit Rate and Damage as possible since most of his damage comes from just raw Crit stats and the Attack% sub-stats. Prioritize Attack percentage on the Sands and sub-stats with Crit Rate and Crit Damage, balance the crit Ratio, and have at least 60% Crit Rate and 220%+ Crit Damage.
Both Marechaussee Hunter and Blizzard Strayer should help you with the Crit Rate and you can solely focus on increasing his Crit Damage. However, if you don't have good Blizzard and Marechaussee artifacts, you could pair him with Nymph's Dream and Shimenawa's for increased Normal and Charged attack damage. As for the stats' importance: Crit Damage ≡ Crit Rate > ATK%.
Wriothesley Talents
To find out where most of Wriothesley's damage comes from, let's have a brief look at his Talents and Passives
Normal Attack "Forceful Fists of Frost": A series of five consecutive blows dealing Cryo Damage. This is where most of his damage comes from.
Charged Attack "Icefang Rush": Unleashes a massive Cryo punch that deals Cryo AoE Damage.
Elemental Skill: Wriothesley sacrifices a small portion of his HP and enhances his Normal and Charged Attacks to deal more damage. Increases his Interrupt Resistance, and when his HP is above 50%, it will enhance the Repelling Fists of Normal Attack: Forceful Fists of Frost and increase its Damage. When such an attack hits, it will consume a fixed amount of Wriothesley's HP. HP can be lost this way once every 0.1 seconds. This effect will be canceled should Wriothesley leave the field.
Elemental Burst "Darkgold Wolfbite": Unleashes a massive AoE Cryo Attack knocking enemies afar. This is a series of five Cryo attacks.
Wriothesley Passives
Passive-1 – There Shall Be a Plea for Justice: When Wriothesley's HP is less than 60%, he will obtain a Gracious Rebuke. The next Charged Attack of his Normal Attack: Forceful Fists of Frost will be enhanced to become Rebuke: Vaulting Fist. It will not consume Stamina, will deal 50% increased DMG, and after hitting will restore HP for Wriothesley equal to 30% of his Max HP. You can gain a Gracious Rebuke this way once every 5s.
Passive-2 – There Shall Be a Reckoning for Sin: When Wriothesley's current HP increases or decreases, if he is in the Chilling Penalty state conferred by Icefang Rush, Chilling Penalty will gain one stack of Prosecution Edict. Max 5 stacks. Each stack will increase Wriothesley's ATK by 6%.
Passive-3 – The Duke's Grace: When Wriothesley crafts Weapon Ascension Materials, he has a 10% chance to receive double the product.
Best Weapons for Wriothesley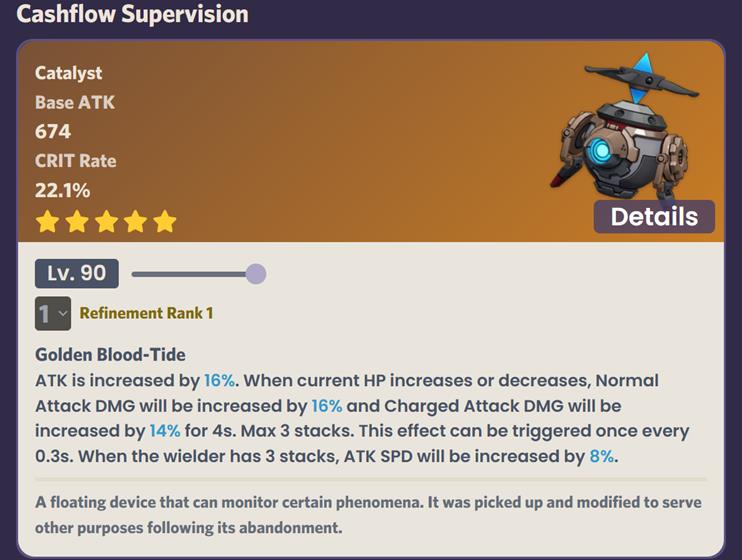 There are lots of good Catalysts in the game but some of the best weapons for Wriothesley are the following:
Cashflow Supervision (Best Weapon for Neuvillette)
Tulaytullah's Remembrance (Second-best. Takes care of Crit Damage)
The Widsith (Excellent F2P 4* option. Covers Crit Damage)
Flowing Purity (Increases the overall Attack)
Wriothesley Release Date
Wriothesly was last available in Genshin Impact 4.1 on October 17. We do not have info about his re-run since there are lots of five-stars that are currently in the queue that haven't had their re-runs in years. However, it's safe to assume that he may re-run during Natlan's story quest.
Genshin Impact 4.3 is almost upon us and if you've already pulled for Furina and were successful in obtaining her, the Wriothesley-Furina eternal freeze combo will definitely help you conquer the Abyss.
---
Load More