The control devil is back in the world of Chainsaw Man in the form of an adorable girl Nayuta. But is this adorable person really as innocent as she appears or will the devil in her unleash a new problem for our hero, Denji? Will we get to see a glimpse of Makima in this little girl in Chainsaw Man? Let's find answers to these questions and learn everything we need to know about Nayuta in Chainsaw Man.
Nayuta in Chainsaw Man: All you Need to Know (2023)
Spoiler Warning: This article contains major spoilers for Chainsaw Man manga Part 1 and Part 2. So make sure to read the manga and watch the anime to avoid ruining your experience. 
Nayuta: The Control Devil Reborn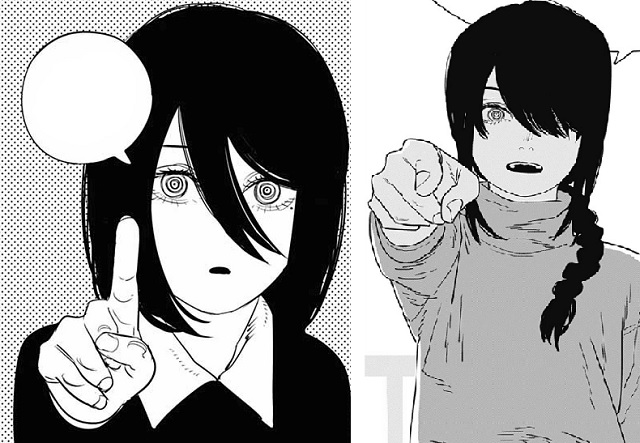 Nayuta is the newest human form of the Control Devil in Chainsaw Man. She came into existence after the death of Makima at the end of the first part of the Chainsaw Man manga series. In its newly incarnated body, the Control Devil, Nayuta, is a young Chinese girl with short dark brown hair, looking nothing like her previous form.
Though, thanks to her yellow and red eyes, anyone can make the connection between her and Makima. At the moment, she is under the care of Denji, the Chainsaw Man, who acts like an elder brother to Nayuta.
Meanwhile, when it comes to her personality, Nayuta is not too dissimilar from an average young teen. She behaves childishly and even uses her powers for slightly mischievous acts. But she is also caring towards Denji and shares some of his habits. You can easily identify hints of Denji in the way Nayuta talks and laughs. Though, as per him, she is quite smart and wistful.
Is Nayuta in Chainsaw Man Evil?
While Nayuta's powers as a control devil can be extremely overwhelming, she doesn't do anything with malicious intent (at least, not right now). Instead, she only uses her powers out of the care of Denji or just to have a little fun as a child. However, we have no way of knowing how her personality might change as time passes. She is a variant of Makima after all, and the absolute love for dogs is quite prominent in both of them.
Nayuta: Powers and Abilities
Nayuta or the control devil has the following abilities in Chainsaw Man:
Immortality: Much like every devil in the manga, Nayuta is immortal and gets reincarnated even when she dies. At least, as long as Pochita doesn't consume her.
Mind Control: Living true to her name, the control devil can influence anyone's mind and make them do whatever they desire.
Memory Manipulation: She can erase and manipulate the memories in anyone's head. This applies to humans, hybrids, fiends, and devils.
Healing: Nayuta can consume blood and flesh to rapidly heal herself.
Contracts: Being a devil, Nayuta has the ability to form contracts with humans in exchange for power.
If you want to know more about Nayuta's abilities, we suggest you explore our dedicated guide to Makima, the former control devil. Even in her reincarnated form, her abilities are more or less the same.
Frequently Asked Questions
How old is Nayuta in Chainsaw Man?
While we don't have any confirmation of the same, as per her appearance, Nayuta is anywhere between 8 to 10 years old.
Are Makima and Nayuta the same person?
Since Nayuta is a reincarnation of Makima, both of them are the same devil and share the same abilities. However, both of them are unique individuals with different mindsets, personalities, and even goals.
Is Makima coming back to Chainsaw Man?
Nayuta is the replacement of Makima not only physically but also spiritually. So, it is highly unlikely that the latter will ever return.
What is the relationship between Denji and Nayuta?
Nayuta is the adoptive sister of Denji. They care dearly for each other but Nayuta often takes her protective nature to another level.
Meet Control Devil's Reincarnation Nayuta in CSM
Just like that, you are now familiar with the adorable yet dangerous reincarnation of the control devil in Chainsaw Man. But, Nayuta isn't the only powerful devil in the Chainsaw Man manga's plot. We suggest you also meet all the most powerful devils in Chainsaw Man before venturing further into her story. Also, while you are at it, you should get to know Power in Chainsaw Man. Before Nayuta came along, Denji had a similar fun and friendly relationship with her. With that said, do you think Nayuta will end on the same path as Makima? Or, will she be something much more terrifying? Tell us in the comments below!